So much grief — especially the specifically bottomless despair of grieving a family member lost to suicide — is about surrendering any semblance of power you ever imagined having over the world you still, somehow, continue to live and breathe in. For Sydney (Sophia Lillis of Sharp Objects), the surly self-described "boring 17-year-old white girl" at the center of the new Netflix series "I Am Not Okay With This," that powerlessness has become augmented by something else she isn't sure how to name, but the friend she confides in about it is quick to refer to it as "superpowers." When she's angry, Sydney destroys things with her mind. In one scene she knocks over an entire library of bookshelves without moving, in another she throws a rock at a road sign and it promptly flies out of its concrete base and bumbles onto the gravel lining the railroad tracks it once announced. In the basement, she gets so riled up about her Dad not leaving a note when he killed himself that her brother's pet hedgehog suddenly dies upstairs. ("Banana was only 12 in hedgehog years," she writes in her diary. "I murdered a tween.")  She doesn't know how to talk about these powers, let alone control them, but there's a lot she doesn't know how to talk about: how much she misses her Dad, how much she resents her Mom and how strong her feelings are for her best friend, Dina (Sofia Bryant). Like … her feelings feelings.
Yes, like so many shows that have come before it, I Am Not Okay With This has a lesbian protagonist and a trailer that betrays no trace of this essential fact, instead seemingly doubling down on what is a pretty evidently ill-fated romance with Stanley Barber, her geeky neighbor who forms an oddball kinship with Syd because Syd is lonely while Dina is swept up in the throes of her new romance with a popular football player, Brad Lewis (Richard Ellis). All I'd heard about the show before watching it was that it was like Stranger Things, so it was a genuine relief that this time, the boyish weirdo with a reluctant smile and hidden depths actually turned out to be queer.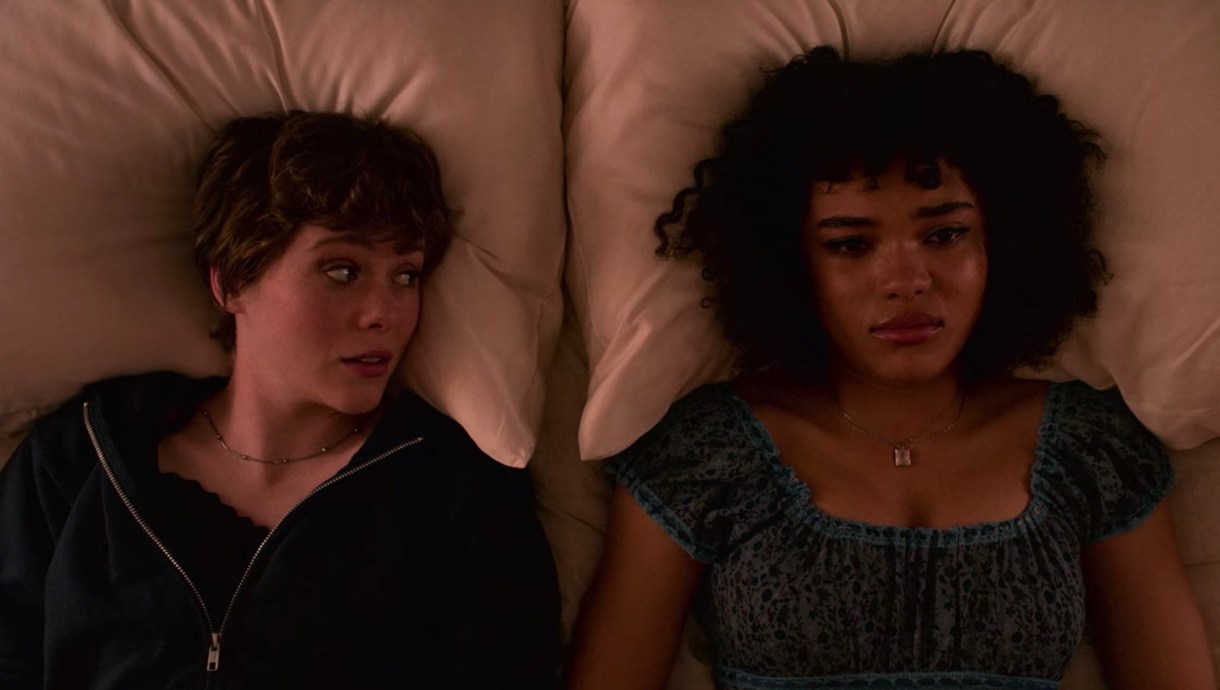 There's something vaguely John Hughes about I Am Not Okay With This, too, although the characters' inexplicable but admirable appreciation of '80s power pop, vintage fashion, VHS and cassette-focused stereo systems might be partially responsible for that vibe. There's also an obvious Breakfast Club homage in Episode Five. It's actually unclear when, exactly, the show is meant to take place, although it seems to be the present or something close to it. I found myself collecting clues along the way: the '90s are far enough in the past to be assigned the last era in which anybody wore panty hose, Sydney and Stanley text on smart phones, Stanley's got Bring It On in his video collection, the Kraft Maracroni and Cheese at the grocery store is the current design (debuted in 2010). Sometimes it felt like the creators just didn't want to have to tell a story about adolescence that wasn't stockpiled with the artifacts of their own.
The kids in Sydney's world possess the many timeless qualities tying them to the seriocomic high school genre at large: a vested interest in clumsy sex and mediocre drugs, impulsive priorities, tense relationships with struggling authority figures. But there's also a keen respect for the autonomy and emotional depths of its young characters, including Sydney's precocious young brother, Liam (Aidan Wojtak-Hissong), a budding chef who keeps getting bullied at school and wishes his sister and Mom would stop fighting so much.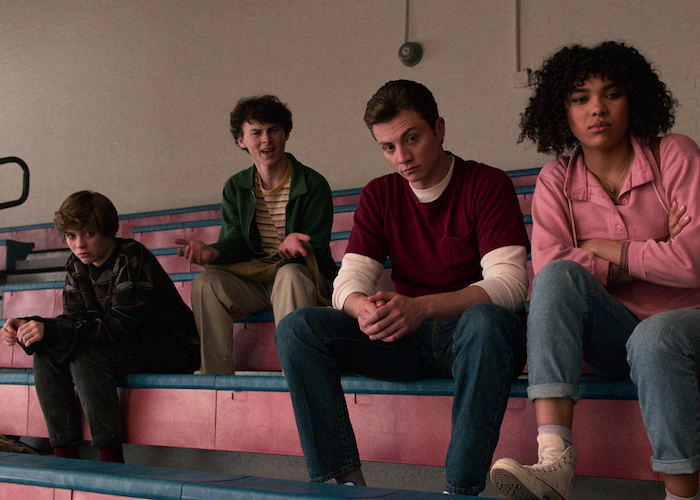 Jonathan Entwistle adapted the series from a graphic novel by Charles Forsman, just as he did for his other Netflix series, The End of the F**king World. There are clear stylistic similarities between the two: the threading voiceover by an unimpressed teenager, breathlessly brief flashbacks and flash-forwards, unfortunately short episodes. I'm not familiar with the graphic novel or if Sydney was queer in it and the one review I read of it didn't inspire any desire to become familiar with it or its details.
A lot of what "I Am Not Okay With This" explores around grieving a parent resonated with me — like Sydney, my Dad was my closest friend when he suddenly died while I was a teenager. Like Sydney, my relationship with my younger brother was deeply weird and tentative in the immediate aftermath of his death. It's easy to avoid detection or to confront your emotional sinkholes around just about everybody else, it's hard to truly hold space with the one person who shares your specific experience — like the gravity of it could break you apart. Like Sydney, how estranged I felt from my peers at the time seemed deeply unfair, like how was I supposed to handle that AND this? Appearing normal enough to overwhelm the communal knowledge that I was the sad kid with the dead Dad is no small feat, and it isn't hard to imagine, honestly, that battling emergent telekinetic powers would be the next step on that emotional ladder. It's the same type of alienation, really, just on a more intense scale.
There's also a lot that doesn't happen in the series' very short first season (seven episodes clocking in at between 20-30 minutes each) — Stanley is fine and funny and all, but I often wished we'd get a little less of him and a little more of Dina, whose backstory remains an empty book. Some conflicts between Syd and her peers felt a little shallow, relying on the genre itself to fill in the blanks. Still, it builds to some dramatic reveals and I was shocked to realize I'd watched the entire thing after a twist that I'd already decided was exciting enough to warrant staying up a little late to watch the rest. Alas, it was over, and I was awake, and so instead of staying up late to watch the rest, I stayed up late to write this and now you can too.