Mild spoilers for Stranger Things Season Three ahead
However you chose to celebrate (or not celebrate) your Fourth of July, I hope you had a restful holiday. Independence Day has never really been my thing for a lot of reasons, so like many queer nerds, I spent most of the day drinking chocolate-peanut butter milkshakes and binge-watching the new season of Stranger Things.
I couldn't have been more delighted with that decision when, as the 4AM sunshine crept purple and orange light through the blinds of my Detroit apartment and mind-flaying monsters from The Upside Down terrorized my computer screen, I was treated to the sweetest little coming out scene.
Robin: Do you remember what I said about Click's class? About me being jealous, and like, obsessed?
Steve: Yeah.
Robin: It isn't because I had a crush on you. It's because… she wouldn't stop staring at you.
Steve: Mrs. Click?
Robin: Tammy Thompson. I wanted her to look at me. But she couldn't pull her eyes away from you and your stupid hair. And I didn't understand because you would get bagel crumbs all over the floor. And you asked dumb questions. And you were a douchbag. And — and you didn't even like her and I would go home and just scream into my pillow.
Steve: But Tammy Thompson's a girl… Oh.
After a summer of scooping ice cream together, '80s teens Steve "The Hair" Harrington and Robin now face an army of Russian spies who have been building a super-spy lair underneath their small-town Indiana mall (Stranger Things, amirite?). They've survived physical and chemical torture only to be saved by Dustin and Erica, the 10-year-old scene-stealing kid sister of another member of the crew. Now they're face first in a public bathroom toilet, puking out their guts and the last of the truth serum that the Russians forced on them. There's literal gooey monsters from the under-earth on the horizon and an entire world to save.
But first, there's this quiet moment. A teenage girl risking it all to tell her truth to the only real friend she's made in months. The boy that everyone assumed she was falling for, because nobody in 1985 small Midwestern towns ever thought any different. In fact, being an out queer teen in a 1985 small Midwestern town could've had the kind of ending that would make one wish for the fleshy, convulsing monsters to come to life instead.
"Yeah," Robin replies as the full weight of her confession colors Steve's face.
It's gut-punching, the weight of the moment not lost even in the midst of armed enemy agents and a gaping portal to another physical dimension. Silence sits between them on the cold tile, and flickering overhead lights, just long enough for the audience to wonder if Steve is going to live up to the worst inclinations of the 1980s high school jock archetype he's based on. Then, relief: "Tammy Thompson, you know, she's cute and all, but… I mean… she's a total dud."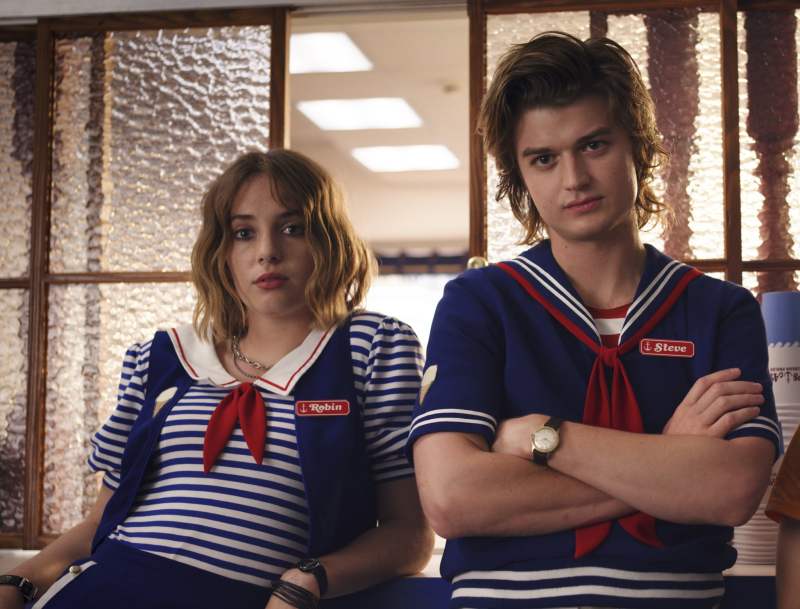 That's right gay nerds, you can exhale and rejoice! Robin, Stranger Things' Season Three breakout star of a snarky teen nerd rebel, is batting for Team Lesbian. The set up is meant to be a surprise, her coming out doesn't occur until the season's third act. Still, if I can be honest with you, I had her pegged right away. Robin sparks on screen, she has a perfect comeback for every asinine comment Steve throws her way, her chill level is epic, and she speaks something like five languages! There's no way, no way, that a character that cool could be straight.
Robin and Steve eventually team up with the rest of the team to save the Hawkins Indiana day once more! Well-timed to its Netflix debut, the entire third season takes place over the week leading up to the town's Fourth of July celebrations, and if you're already guessing that means the Battle Royale takes place with fireworks overhead, you would be absolutely right. Some critics have called Stranger Things 3 its strongest outing yet. I'm not sure I agree; the first season is pretty much as close to 80s nostalgia catnip perfection that I can imagine any television show reaching. Still, Season Three is full of scary thrills, off-the-wall teenage adventures, and creepy Winona Ryder stares into the oblivion. Basically, what I'm saying is that in its third season Stranger Things smartly leans into what already made it great. PLUS THERE'S A LESBIAN!
By the way, Robin is played by Maya Hawke, daughter of 90s film legends Ethan Hawke and Uma Thurman. I didn't know where else to fit that little tidbit, but I bet you're glad to know it! Watch Stranger Things in a group with your friends and live out your dreams of being the cool kid who has all the "insider Hollywood knowledge." Also, watch for teen girls kicking monster ass to a Madonna soundtrack. And the lesbians. Always watch for the lesbians.