After eleven years as a Professional Lesbian Television Writer, I'm pretty damn good at predicting if the show's gonna have a gay element before pressing play on the first episode. Get Even pinged hard: an ensemble of teenage girls, an elite high school requiring blazers, misandrist undertones, a Ragtag Bunch of Misfits. A number of minutes into the first episode, my suspicions were confirmed, and then, unfortunately for us all, quickly disposed of for many additional episodes and then re-addressed in short spurts right near the end!
By then of course it was too late. I'd put my time in. I was gonna write about this damn show!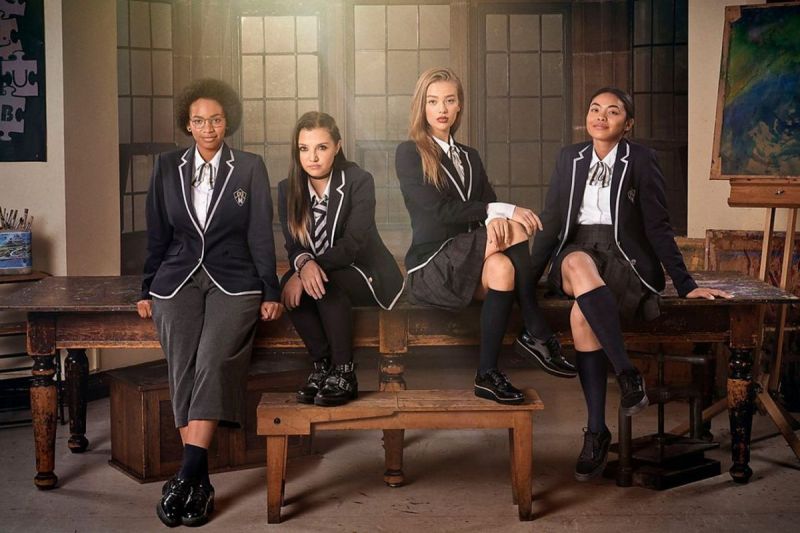 Get Even, originally produced for the BBC iPlayer and released across the pond in February, is the story of four schoolgirls at the prestigious Bannerman Independent School who band together to fight injustice and the men who perpetuate it. (Like Foxfire!!!). We've got overachieving Academic Athlete Kitty Wei, rebellious Bree Deringer, v pretty Olivia Hayes and nerdy Margot Rivers. After landing in detention one ambiguous spring afternoon, 90 seconds of complaining about boys being evacuated before women and children during a fire drill transforms them into a motley crew of revenge artists determined to get back at the bullies — students and administrators alike. They call their little club "DGM" — Don't Get Mad. The reason for that is that they don't get mad, they get even. Like the title of the show! Get Even!!!!! They proceed to have secret meetings on the roof, loud-whisper in movie theaters, and engage in staged altercations designed to enable scheming.
DGM is mid-plot against popular asshole Ronny Kent, who has spread nudes of innocent nerdy Mika Cavanaugh on whatever dark magic links every phone in high school to every other phone in high school on TV these days, when he turns up dead. DGM is framed via a neatly letter-pressed calling card.
Aside from his "friends," a majority of the student body reacts to this death — and another death that follows it — like they react to most events of the show, with low-level sociopathy. When two girls who are close friends get into a petty verbal dispute on the campus grounds, they are almost immediately surrounded by giggling classmates with cameraphones, eager to capture these sick burns on tape even though everybody else is taping the exact same thing, which is kind of like going to a Taylor Swift concert.
In another scene, a popular girl steals the diary of [Spoiler] and then stands on a cafeteria table and reads it out loud while everybody ROFLs at [Spoiler] having written things like "I feel like I'm finally making some real friends here. Amber invited me to lunch today. She's so cool!!" HAHAHAHAHAHAAHAHAHAHAHAH
The story also involves somewhere between 2 – 10 boys, 50-90% of whom are straight and white. All of these boys looked exactly the same to me, which was confusing. At the same time, I didn't care.
Most compelling of the group is Margot, a Black teenager recently moved to the UK from the US with her doting family. She eschews extracurriculars in favor of playing computer games online and the series finds herself suddenly entertaining a number of gentleman callers. Played with understated charm by Bethany Antonia, she ends up carrying the heart of the show for us all. Generally speaking I think all of the actors were doing their best.
Headlines of other reviews I blithely scanned recommended viewing it and suggested this program was a delightful conglomeration of so many of our favorite things, such as Pretty Little Liars and Gossip Girl. This is inaccurate. The characters of Get Even are pencil drawings on bar napkins compared to the portraiture of Pretty Little Liars. PLL had its faults — a truly neverending list of faults, to be sure — but it did create distinct, specific characters who embodied nuance and conflict beyond simple archetypes. Get Even could benefit from a few character-building details; proper nouns are few and far between. It felt formulaic — something an algorithm determined would succeed and then spit out.
The first episode drops a hint or two that Amber, a very mean and very attractive popular girl who basically lives in a castle, might have feelings for her best friend, Olivia. I can't tell you how this resurfaces because it happens too late in the series to not be a spoiler. You will have to see for yourself!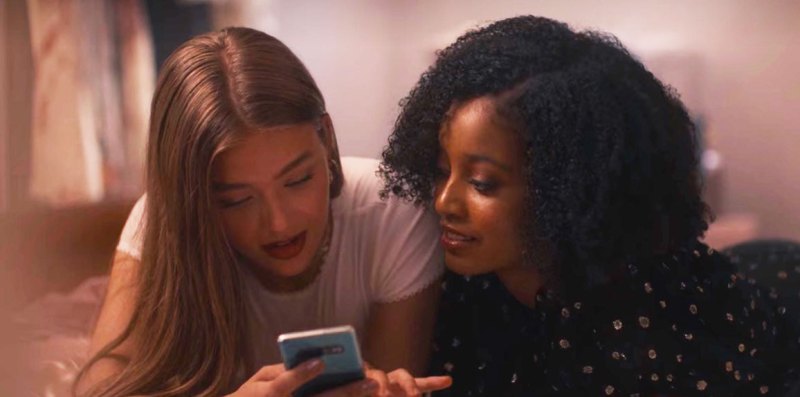 Get Even never really distinguishes itself from other shows in the creepy teen revenge cannon (the aforementioned as well as The Lying Game, Riverdale, Dare Me, The A-List, 13 Reasons Why, Elite, etc.) but it is perfectly competent at being exactly what it is and precisely what you expected. The incompetent detectives are straight out of Rosewood. Everybody's parents are exactly what you think they will be and the plot proceeds exactly as you suspect it might. In that way, watching Get Even is entirely unlike being alive in the world right now, especially because it aims to actually punish the bad guys rather than grant them unilateral political power. So I guess on that level, I would in fact recommend watching it.
Despite everything — despite even myself — I was relatively engaged with the narrative, have a surprisingly intense investment in the outcome of the queer storyline, and therefore I very much hope to see this event return for a second season and when it does, I will likely binge it in one night. (Depending on what else I have going on that weekend) Otherwise it will simply linger in my heart and brain as a brief shimmer of Navy blue blazers, passive-aggressive fencing, guyliner and indoor pool parties that I might not even remember watching at all in a few months. I guess we'll find out!!!! Donate to our fundraiser!
---