What TV shows could you watch on Hulu if you want to see some gay, lesbian or  bisexual women characters? Hulu's original content keeps getting more queer and there are so many television programs for the LGBT audience. What's lesbian and streaming on Hulu with lesbian, bisexual, queer, trans and gay characters? What streaming TV shows on Hulu have LGBT content? These are questions you may have asked a search engine that brought you RIGHT HERE, where we will answer them!
---
Hulu/Channel 4, One Season, 6 Episodes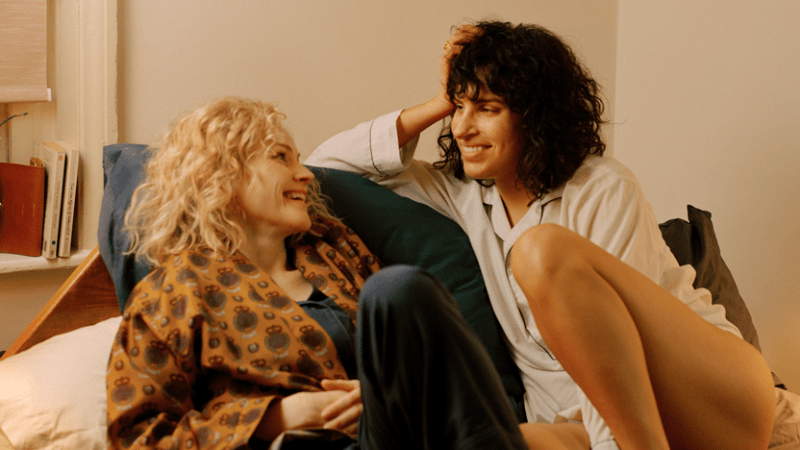 The Bisexual sets itself apart by featuring a diverse group of lesbian friends in addition to focusing on the queer protagonist's narrative and feels entirely authentic. "Akhavan has done something truly brilliant here," wrote Heather Hogan in her review. "She's created a show for an audience that understands the joke 'Bette is a Shane trying to be a Dana' and then centers it on a character who's meant to make everyone who gets that joke a little uncomfortable."
Showtime, 6 Seasons, 70 Episodes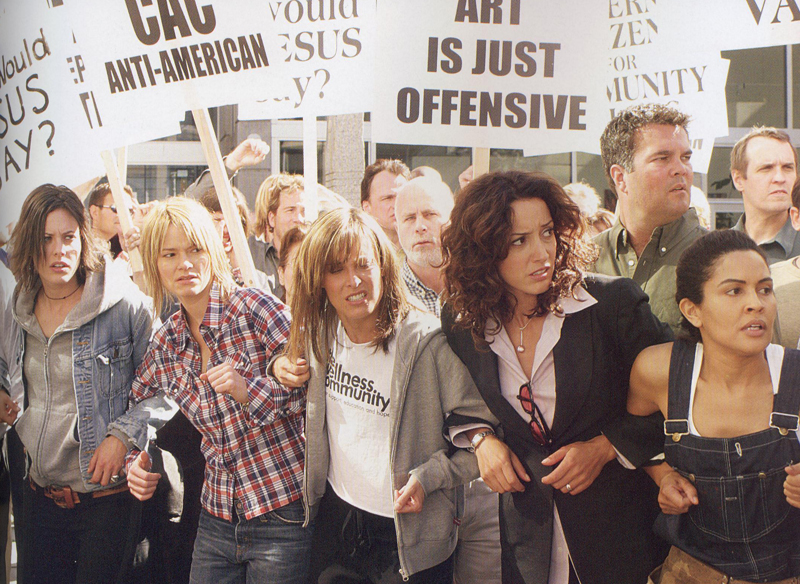 If you've not already seen The L Word then I imagine you have your reasons, like that most of it wasn't very good, or that you have no interest in the lives of a bunch of glamorous lesbians in Los Angeles living, laughing, loving, and going gay for Shane. But being snowed in might be your big chance to get to know our girls! We've even provided you with an L Word Watcher's Guide.
Cartoon Network, 5 Seasons, 160 Episodes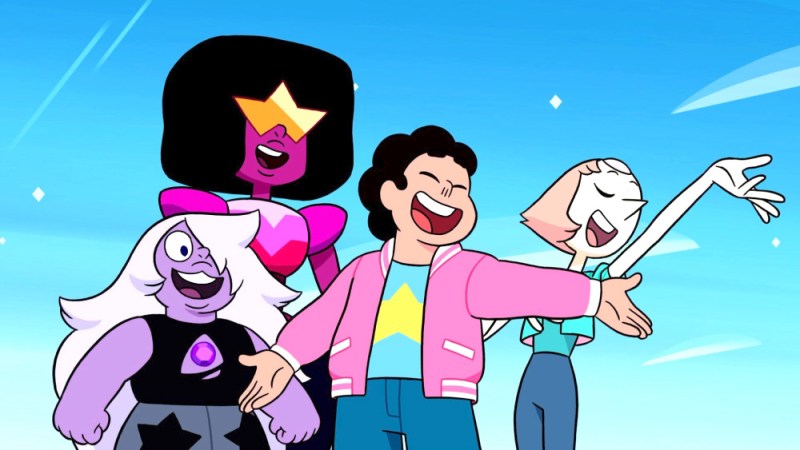 Steven Universe explored more adult themes more fully than nearly every non-animated show on TV: family, grief, depression, commitment, betrayal, duplicitousness, forgiveness, puberty, gender, gender presentation, sexuality — and it does so in a way that's warm and engaging and funny and, most of all, hopeful.
Hulu, 3 Seasons, 33 Episodes
This unfortunately wrapped-up but undeniably excellent comic book adaptation follows a group of fierce, supernaturally talented teenagers challenging the abhorrent compromises their parents made, supposedly in their best interest, for a "better world," at the expense of, you know — human lives, wealth inequality, and our planet. Virginia Gardner literally shines as Karolina Dean, a human-alien hybrid initially hiding her superpowers and her lesbianism 'til coming out near the end of Season One and starting a relationship with her crush, cynical goth Nico Minoru. At times it fumbles, having bit off more than it can chew thematically and w/r/t sheer population, but it still manages to combine the easy joy of a teen drama with the satisfying anxiety of suspenseful sci-fi.
Hulu, One Season, 8 Episodes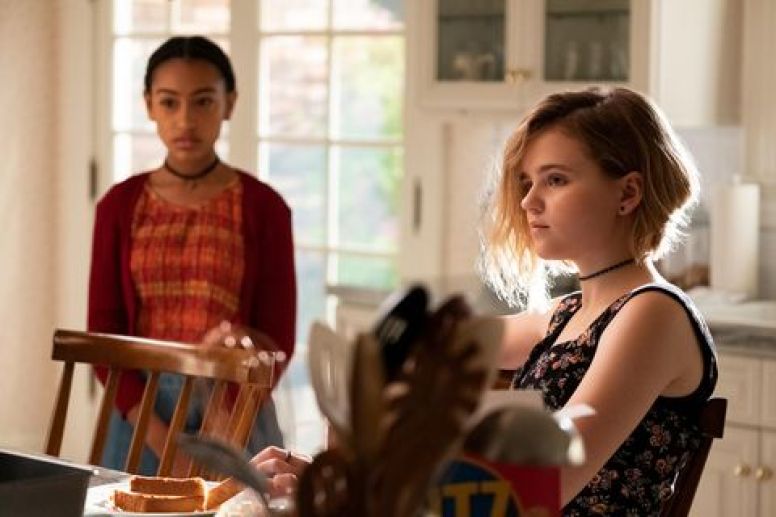 This adaptation of the bestselling book adds some queer elements that weren't explicitly present on the page for the characters of Izzy and Mia Warren (played by Kerry Washington, who produced the series with co-star Reese Witherspoon). Set in an affluent Ohio suburb in the '90s, Little Fires Everywhere is a searing investigation of class, race and the idea of "good white people."
Shrill (2019 – 2021)
Hulu, 3 Seasons, 22 Episodes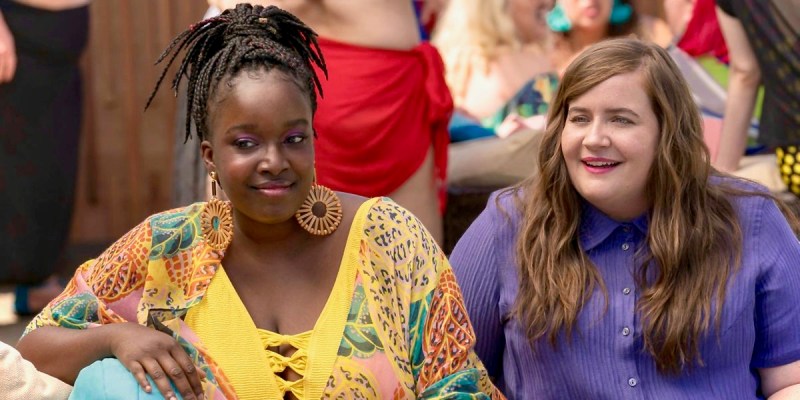 Aidy Bryant stars in this adaptation of writer Lindy West's memoir, in which she navigates the world as a young journalist in a fatphobic world. Her best friend, Fran, is a black British lesbian with all the self-confidence Annie herself lacks.
Freeform, 3 Seasons So Far, 50 Episodes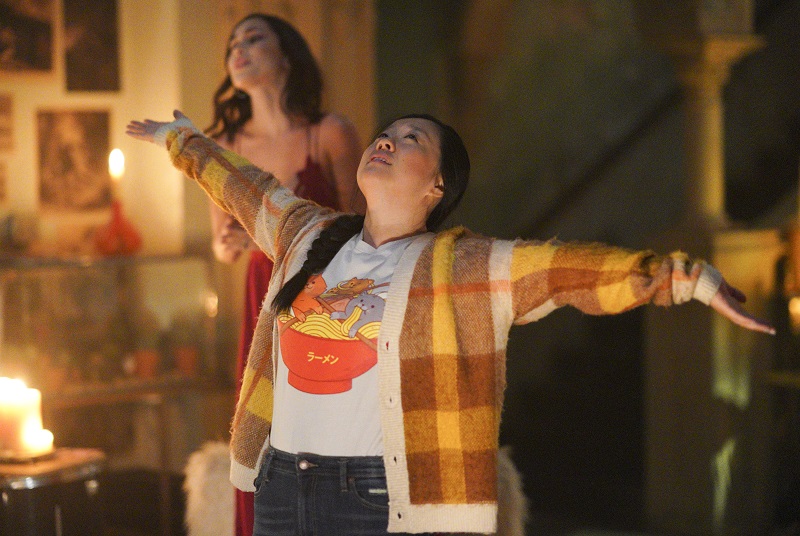 Good Trouble picks up where The Fosters left off: with Mariana (Cierra Ramirez) and Callie (Maia Mitchell) headed north, from their sleepy San Diego suburb to the bright lights of Los Angeles, to start their new jobs. But sooner than you think, you'll find yourself falling for all the residents of the communal space where Callie and Mariana live. Among them: Alice Kwan, the soft-butch lesbian who's trying to get over her ex-girlfriend and get her comedy career started. Malika, who moves into The Coterie after a difficult upbringing and becomes Alice's best friend, also has a queer storyline in Season 3. RB Butcher joined the case in Season 2 as Lindsay Brady, a comedian who offers to mentor Alice.
BBC, 3 Seasons So Far, 24 Episodes
Killing Eve's first season was the Fleabag of 2018: a smart, female-focused Phoebe Waller-Bridge project that intrigued and delighted us all. The complicated and decidedly sexual obsession of these two women with each other is the stuff lesbian dreams (and memes) are made of, and fittingly will be their respective undoings. While Villanelle's queerness is front-and-center throughout, the relationship between Vilanelle and Eve remains a hot topic of the queerbaiting debates.
Comedy Central, 5 Seasons, 50 Episodes
Broad City, which ended its run last year, reflected an emerging queer zeitgeist but also helped construct it, delivering a breathlessly fresh take on sexual fluidity. In addition to concluding with two out queer Jewish leads, it advanced the conversation around female sexual desire and exploration. This included both its acknowledgment of bisexuality as an identity that transcends romantic relationships and its centering of a goofy, self-indulgent, transformational, hilarious and undeniably epic romantic friendship unlike anything we've seen on television before.
The WB, 7 Seasons, 144 Episodes
You know the deal: in every generation, a slayer is born? And eventually her witchy best friend Willow realizes that she's gay? Groundbreaking for its time — the first network television show to show lesbian girlfriends in bed together! — you will have to wait for Season 5 for the lesbian parts.
Channel 4, 7 Seasons, 61 Episodes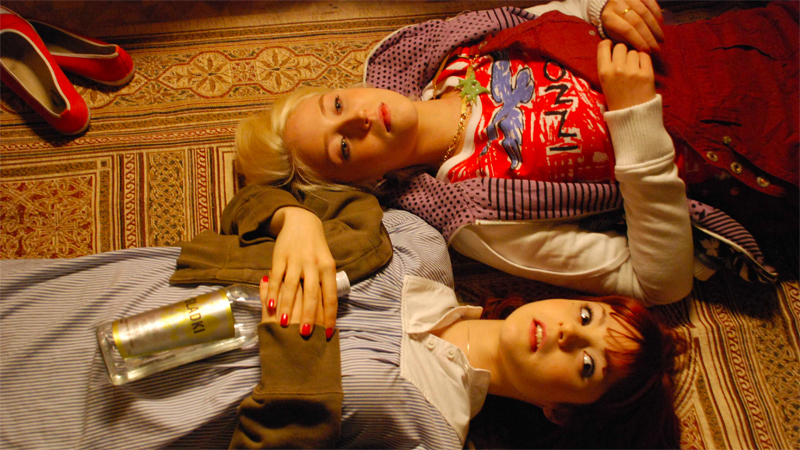 Extraordinarily uneven but so much fun, Skins introduced weirdos worldwide to four rounds of teenagers in Bristol dealing with all the rough stuff: shitty parents, eating disorders, drug abuse, mental illness, sexuality and so much more. Queerness amongst the men is present from the jump — and the first two seasons are masterful television you should watch regardless — but the lesbian Naomi/Emily storyline that changed so many tender lesbian lives happens in Series 4 and 5.
Hulu, 4 Seasons So Far, 46 Episodes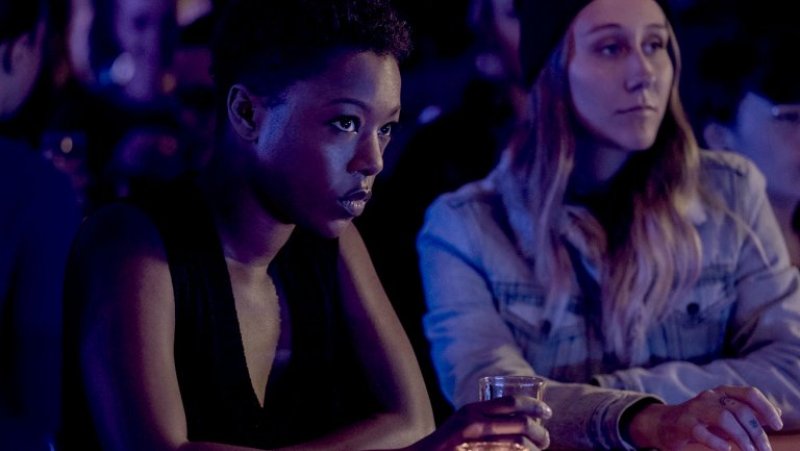 This brutal show is dripping with artistry and performed by a magnificent cast, capable of communicating entire worlds without a single spoken line. Lesbian characters Moira (Samira Wiley) and Emily (Alexis Bledel) get bigger stories as the series progresses into a dystopian nightmare gradually unraveling at its fundamentalist seams. It's not a pleasant world to witness, yet it remains a seductive watch. Every moment of dark humor is hard-won, like freedom itself.
Hulu, One Season, 8 Episodes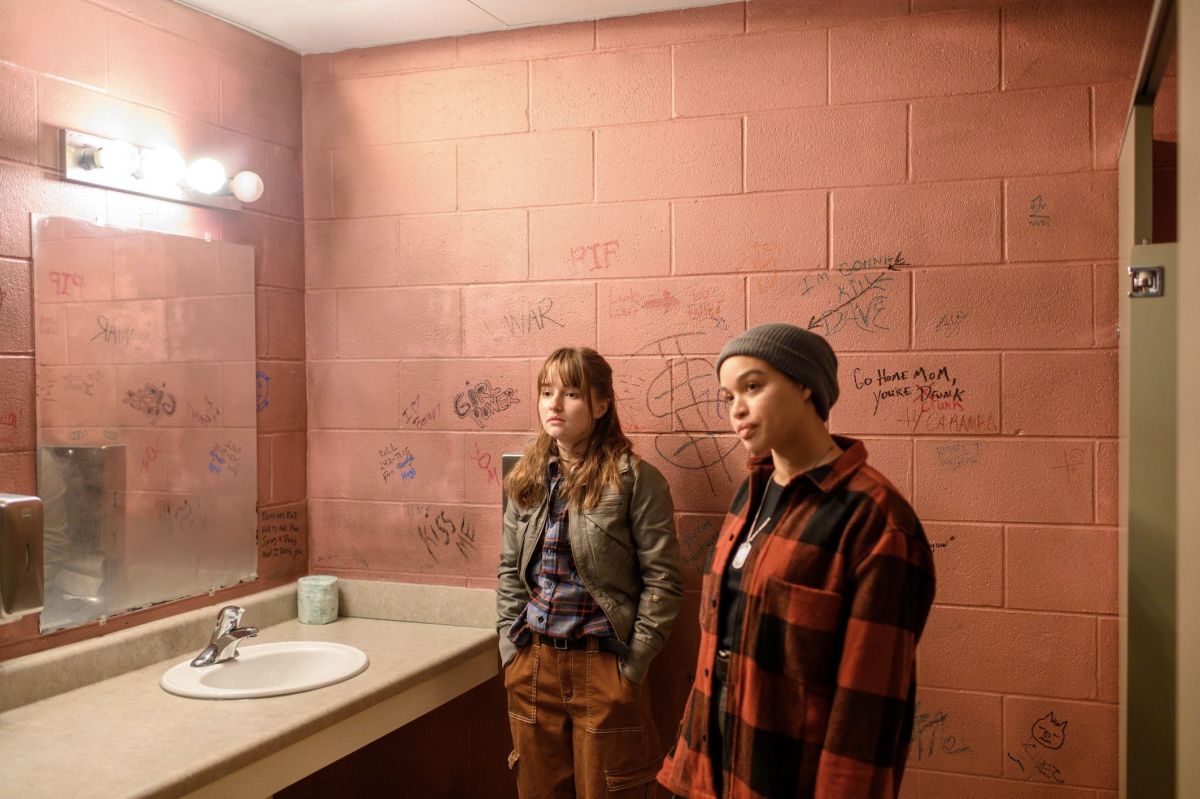 Based on Beth Macy's non-fiction book tracing the opioid crisis from multiple angles: The Sackler family who got rich lying about a highly addictive drug, the Purdue Pharma salespeople trained to exploit doctors and shortchange patients, the D.A.s and other government employees attempting to build a case against Purdue and, finally, residents of a small coal mining down in Virginia that becomes ground zero for the epidemic. In that town we meet Betsy, a closeted lesbian coal miner whose on-the-job injury leads to a prescription that leads, soon enough, to addiction.
OWN, 5 Seasons So Far, 65 Episodes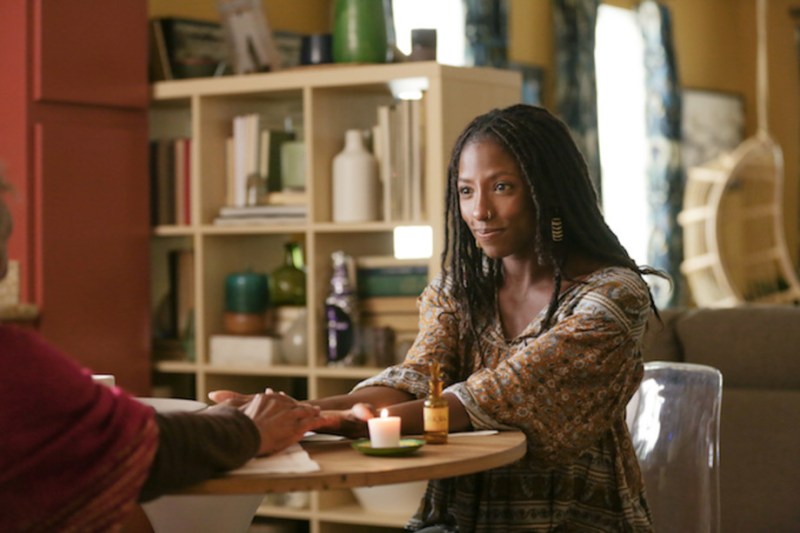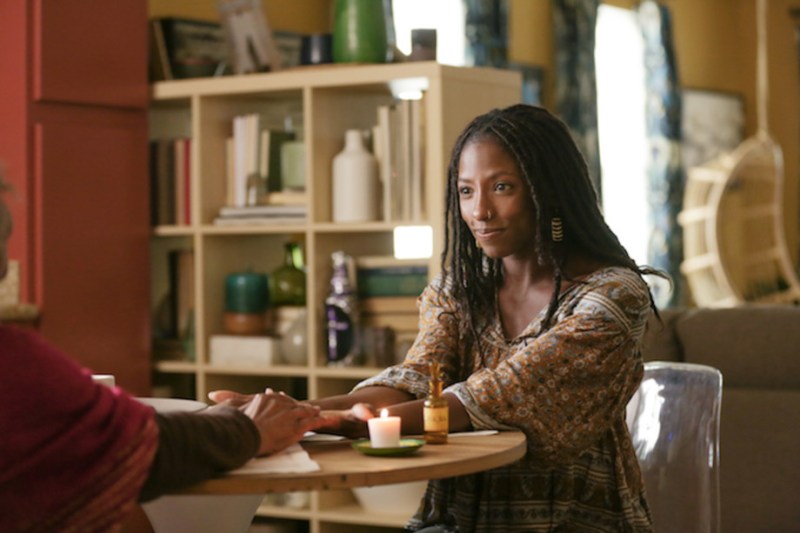 Queen Sugar is a beautifully shot family drama about how three adult siblings come back together in the wake of a family tragedy and struggle to take over their family business. It's poignant, loving, politically aware and certainly one of the most moving portrayals of a black family over the last five years. Rutina Wesley stars as Nova Bordelon, the middle sibling, and a pansexual journalist/activist/spiritual healer/medical marijuana grower. Nova's a major character throughout, but unfortunately her queerness is handled unevenly. So if that's your main interest, pay closest attention to Season One and Season Four.
Freeform, 5 Seasons, 52 Episodes
Season One of The Bold Type captured our entire summer with its smarts and relevance and humor and beauty. The first season grounds its romantic emotion in a storyline between two queer women of color, one of whom is a Muslim immigrant. Seasons Two and Three have been a bit hit or miss, but Season Four really managed to exceed our expectations of how terrible it could get and it went downhill from there!
Freeform, 2 Seasons So Far, 20 Episodes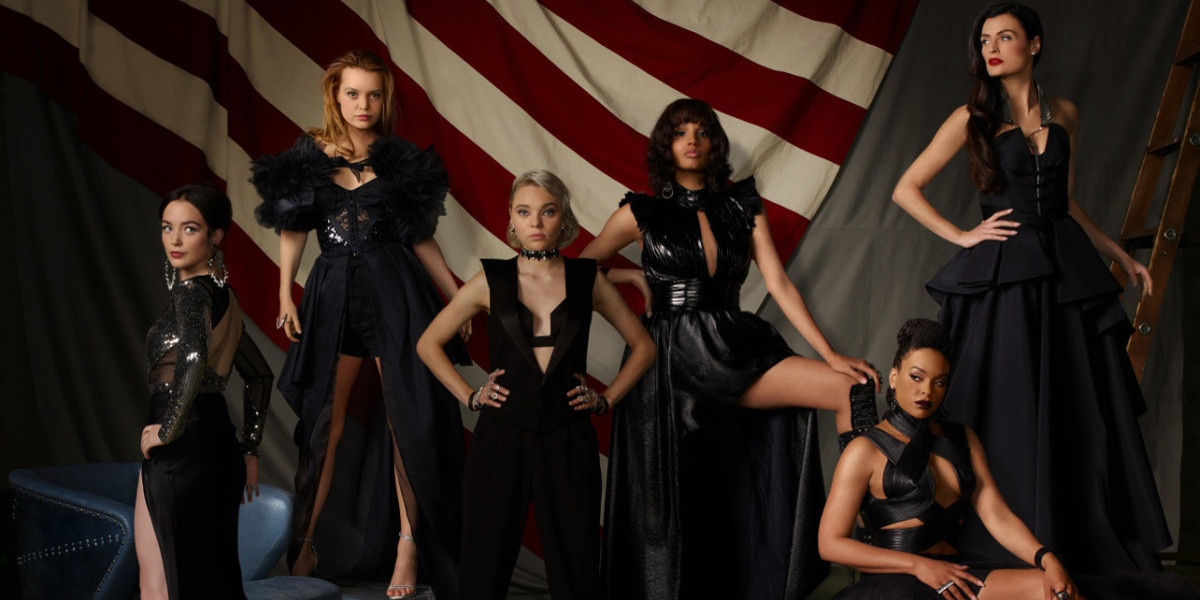 Three young witches with basic training in combat magic are being trained to defend their matriarchal country against "looming terrorist threats" with supernatural tactics and weapons. This re-imagining of a world where the witches escaped the Salem Witch Trials by striking a deal with the government to serve in the military has a queer protagonist and a queer antagonist!
Freeform, One Season, 10 Episodes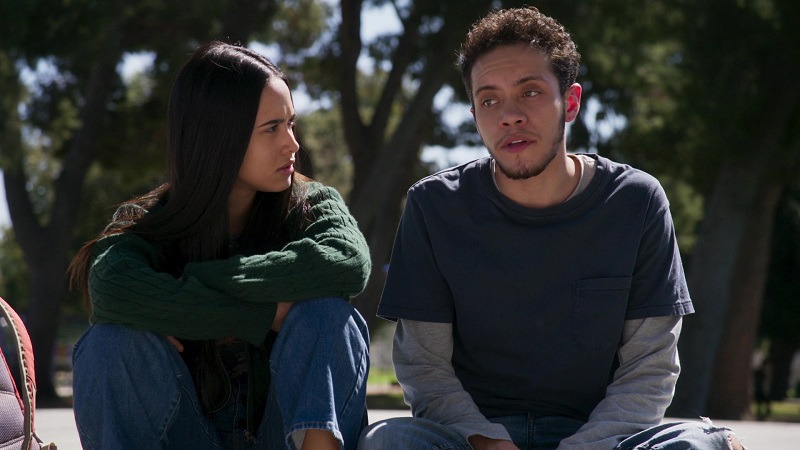 Like the original series, the 2020 reboot of Party of Five is about five children — Emilio, Beto, Lucia, Valentina and Baby Rafa — left to fend for themselves after the loss of their parents. But unlike the original, the parents aren't lost in a car accident, they're lost to an inhumane immigration policy. And while that story alone would make Party of Five worth watching, the slow reveal of Lucia's sexuality over the course of its first season makes the show truly compelling.
Freeform, 4 Seasons So Far, 51 Episodes
This usually delightful, funny and smart Black-ish spin-off brings daughter Zoey to college, where her tight-knit group of besties includes Nomi Segal (Emily Arlook), a Jewish bisexual whose story takes a few unfortunate turns, including a close relationship with her professor played by the one and only Kate Moennig.
ABC, 2 Seasons So Far, 18 Episodes
Three adult siblings: one in the 1%, one middle class and one barely hanging on; navigate their very difficult relationships with each other. The middle sibling, Sarah (Caitlin McGee) is a child therapist who has two kids with her wife Denise (Sasheer Zamata).
Fox, 8 Seasons, 153 Episodes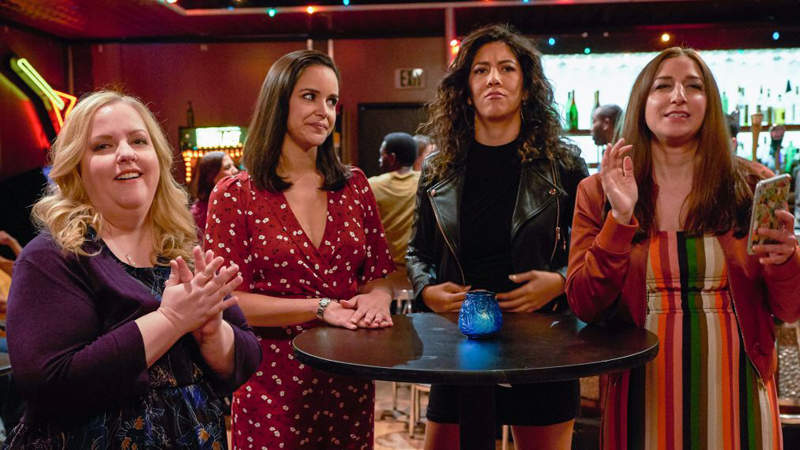 In 2018, Stephanie Beatriz and her character Rosa Diaz both came out as bisexual on Brooklyn Nine-Nine. The show celebrates earnestness and friendship in a way that proves you don't have to be mean or cynical to be really fucking funny.
Hulu, One Season, 10 Episodes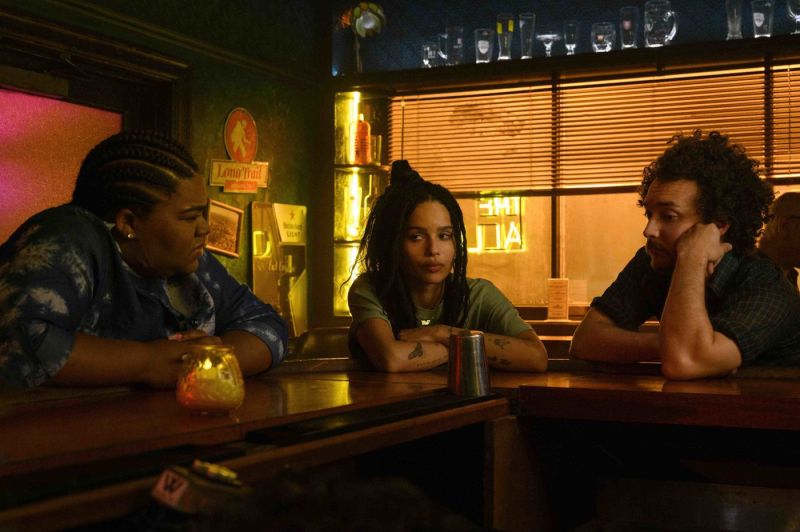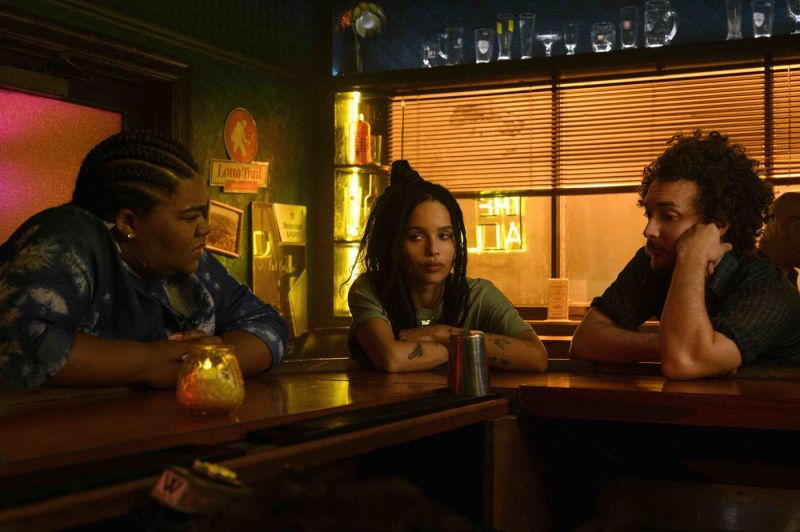 Although Rob's relationships with women aren't central to the plot, Zoe Kravtiz's character is a smart, wry, endearing hot bisexual mess on this truly delightful re-imagination of the original film (starring John Cusack as Rob), which was based on a Nick Hornsby book. Updated for the current era with a diverse cast of clever, passionate and musically-obsessed hipsters.
Woke (2020 -)
Hulu, One Season So Far, 8 Episodes
Keef Knight is a Black cartoonist on the up-and-up who avoids controversial material in his work — but after being traumatized by an encounter with the police, he gains the ability to see and hear inanimate objects talking to him and is increasingly aware of the racial microaggressions that infiltrate his life. He eventually befriends Ayana (Sasheer Zamata), a lesbian reporter who calls him out.
Utopia Falls (2020)
Hulu, One Season, 10 Episodes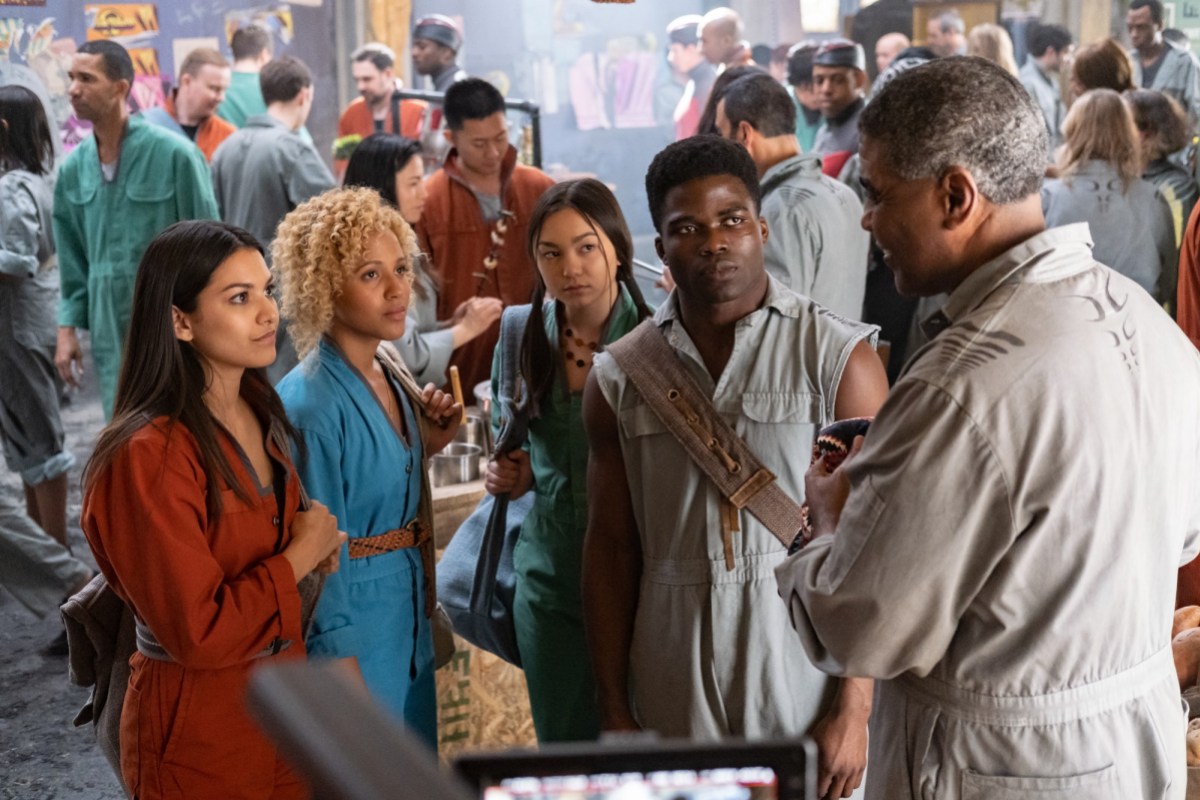 It's hundreds of years in the future and New Babyl, the last living colony on earth, has divided into different sectors for specific industries, from which 24 candidates are chosen to compete in The Examplar performance competition. Six of these candidates are followed by the show's narrative, including sexually fluid Brooklyn and dancer Sage.
The Last Man On Earth (2015 – 2018)
Fox, 4 Seasons, 67 Episodes
It's 2022 and a cataclysm has wiped out the entire population of earth except for one man: Phil Miller. Eventually he locates additional stragglers, including Australian political nerd Erica Dundee and the woman she eventually falls in love with, Gail Klosterman, a chef and former restaurant owner. Their romance blooms!
FX, 10 Seasons So Far, 113 Episodes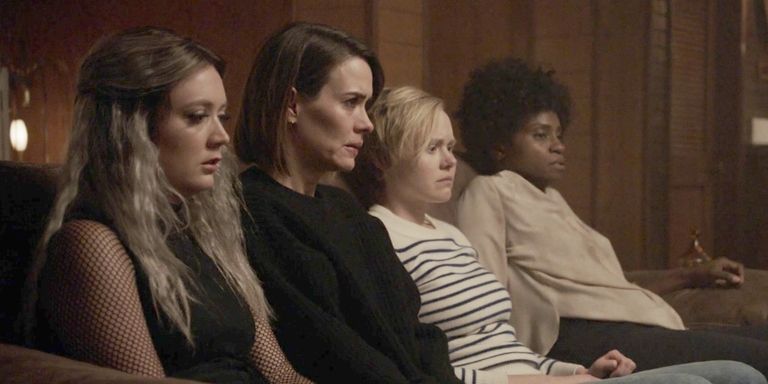 The American Horror Story franchise is erratically queer, depending on the season, but like all Ryan Murphy projects, somebody's always gay and someone gay always dies! Season Two, Asylum, has a really original and complicated lesbian character, Lana Winters (Sarah Paulson) who is institutionalized for her sexual orientation and loses her wife (Clea Duvall). Season Seven, Cult, is pretty bad, but it too gives Sarah Paulson a starring role — this time, she's a Midwestern lesbian very upset about Trump. There were peripheral queer and trans characters (or central queer characters whose queerness was not really centered) in other seasons, such as Freak Show, Murder House, Apcalypse, 1984 and Hotel.
Fox, 5 Seasons So Far, 70 Episodes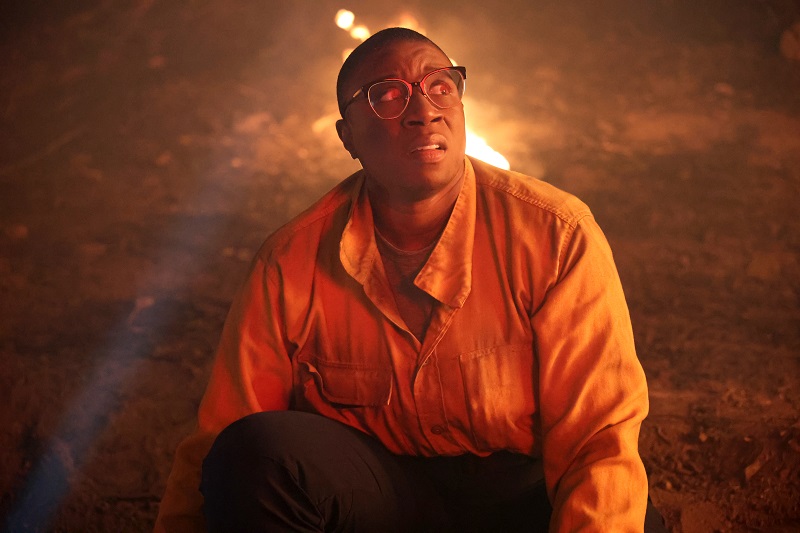 This departure from typical fare for the Ryan Murphy and Brad Falchuk follows the fast-paced lives of First Responders  — cops, paramedics, 9-1-1 dispatchers and firefighters — as they tackle all manner of bizarre disaster. Aisha Hinds plays Hen Wilson, a Black lesbian member of the squad. Her relationship with her wife, played by Tracie Thoms, gets a bit of screen time in more recent seasons as they decide to start a family.
Claws (2017 – 2022)
TNT, 4 Seasons, 37 Episodes

Five manicurists in a Florida salon enter the wonderful world of organized crime. Judy Reyes plays Annalise "Quiet Ann" Zayas, the salon's butch bisexual lookout, doorman and enforcer. It's a lot of campy fun and also Niecy Nash!
Casual (2014 – 2018)
Hulu, 4 Seasons, 44 Episodes
Smart, irreverent family comedy Casual centers on Valerie (Michaela Watkins), who, along with her daughter Laura (Tara Lynne Barr), moves in with her dating-app-founder brother Alex (Tommy Dewey) after her divorce. In Season One, Alex dates a poly bisexual woman named Emmy, and in Season Two, Laura has a thing with a female friend — and it seems for a bit that that is the end of it, but nope! Laura is bisexual and continues dating and having things with other women through the series' four seasons. However you do have to suffer through four seasons of Alex, a very entitled white man!
Hulu/ITV, 3 Seasons, 24 Episodes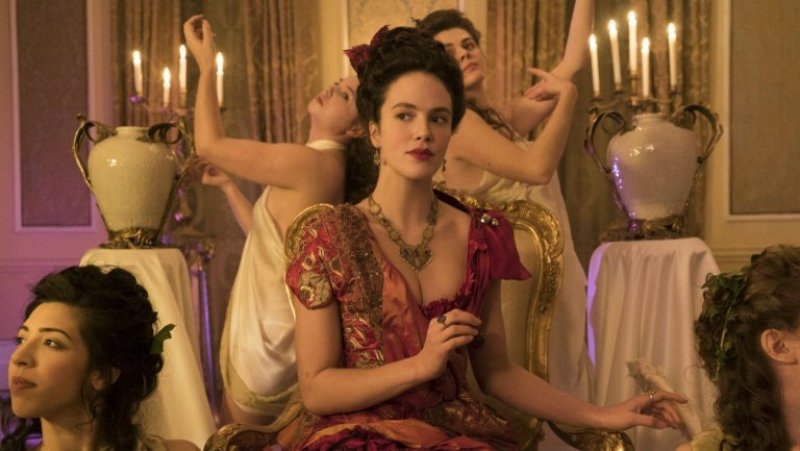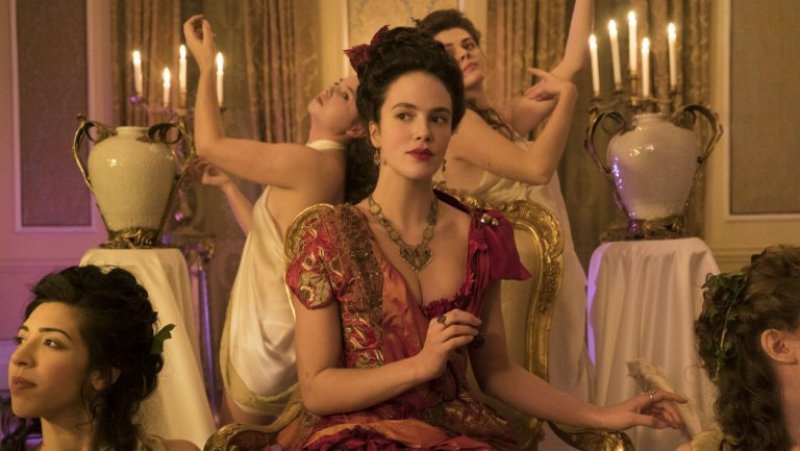 I declared Harlots the most accurate portrayal of indoor-market sex work ever represented onscreen in Season One — surprisingly more resonant to me as a former sex worker than any contemporary portrayals — and its extra queering in Season Two made it moreso and then some. If Season One was about sex work, Season Two is about the reality that what's done to sex workers is inextricable from what's done to all women — the lessons about power, violence, solidarity and struggle in stories about sex work are ones that the larger conversation about gender ignores at its peril. Season Three I would prefer not to discuss, thank you.
Adventure Time (2010-2018): Cartoon Network, 10 Seasons, 283 Episodes
Adventure Time is easily the most influential show in Cartoon Network's history; echoes of its style and themes reverberate far beyond kids TV. And really Adventure Time never was kids TV. Yeah, it was animated and as silly as bing bong ping pong. But as it evolved, it became as philosophical weighty and psychologically curious as Battlestar Galactica. Fans of Princess Bubblegum and Marceline enjoyed growing canonical support of their favorite couple over the seasons, both on-screen and in spin-off comic books — but they'd never actually confirmed their relationship physically until the series finale.
Younger (2015-): TV Land, 7 Seasons, 84 Episodes
Younger, about a woman in her 40s who is forced to pass as a woman in her 20s in order to land a job, is a delightful brain break that will pass time without asking much of you. It's unexpectedly funny and a genuinely great depiction of friendship between women. It gets better as the years go on (so be prepared the first season is not a reflection of its best work). Be on the lookout out for Debi Mazar as lesbian Maggie and Molly Bernard as pansexual Lauren, both are the respective best friends of the two protagonists.
East Los High (2013-2017): Hulu, 4 Seasons, 61 Episodes
Ser Anzoategui (Vida) made their small-screen debut playing Daysi in this show about a group of interconnected friends at a high school in East LA. The first season has a coming out arc that ends pretty brutally, but it's a show that tackles a lot of social issues and was Hulu's first with an all Latino cast and crew, filmed in Los Angeles.
Light as a Feather (2018-2019): Hulu, 2 Seasons, 26 Episodes
Light as a Feather started out as a fun campy horror/teen drama that happened to have a gay character in its main ensemble, and it was all fun in games through Season One and most of Season Two. It had the Final Destination "cheating death" kind of spook factor, mixed in with some supernatural twin stuff and secrets upon secrets upon lies. Season Two gave the queer lead, named Alex of course, a girlfriend, but the end of Season Two took a bit of a turn re: its queer characters…
Please Like Me (2013-2018): Pivot/ABC2 Australia, 4 Seasons, 32 Episodes
Emily Nussbaum writes that this "gorgeously made, psychological observant comedy" "lets vulnerable people own their jokes." Centered on a twenty-something named Josh, a queer and "persnickety, self-abnegating student living in Melbourne." Hannah Gadsby plays lesbian character Hannah starting in Season Two.
Siren (2018-2020 ): Freeform, 3 Seasons, 36 Episodes
A mysterious mermaid arrives in a small fishing town to look for her captured older sister, who was abducted by the military, which obviously leads to her getting into a throuple with Marine Biologists Ben and Maddie.
Rosewood (2015-2017): Fox, 2 Seasons, 44 Episodes
A classic procedural in a lot of ways, Rosewood was about a kind and charming forensic pathologist who solved crimes with his scientist sister week after week. His sister, Pippy, also happened to be a lesbian, in a realtionship with a woman who goes by TMI that was established before the show begins. It's not often we see a pre-existing queer relationship in a main character, Pippy and TMI will quickly laugh and nerd their way into your heart.
Black Sails (2014- 2017): Starz, 4 Seasons, 38 Episodes
Eleanor Guthrie will win you over within approximately 30 seconds of her being on your TV screen, I guarantee it. A bisexual businesswoman on the pirate island of Nassau, she has to fight to keep her power at every turn, but fight she does. Her tenuous and angsty relationship with her favorite sex worker Max is one for the ages, and they aren't the only two queer women we meet over the course of the series. (Buckle your boots for the pirate Anne Bonny.) Just… maybe stop watching before episode 406.
This Way Up (2019-): Channel 4/Hulu, 2 Seasons So Far, 12 Episodes
This cute comedy centers on Aine, an Irish woman living in London who returns from rehab to re-make her life. Her sister, Shona, realizes she is bisexual and dates a co-worker, Charlotte (Indria Varna) in Season One.
Star (2016-2018): Fox, 3 Seasons, 48 Episodes
Star is a musical spin-off of TV juggernaut Empire that is in many ways sharper and smarter (no less overly-dramatic or seemingly illogical) than its predecessor. If you'd love discovering an often overlooked series about three working-class teenage girls doing everything in their power to go after their music superstar dreams, you'll find something to love here. Simone, Star's younger sister and 1/2 of the core musical trio, comes out as bisexual in the second season. Star also stars Amiyah Scott as Cotton Brown, in the first series regular role for a trans woman actor in TV history, and Queen Latifah as the girl's mentor/mother-figure.
The First (2018): Hulu, 1 Season, 8 Episodes
Lisa Gay Hamilton plays Kayla Price, a former mission commander and a lesbian in this show about the first human mission to Mars. Her wife is played by Tracie Thoms, of course. Kayla is part of the main ensemble but her sexuality doesn't come up very often.
Saving Hope (2012-2017): ion, 5 Seasons, 85 Episodes
This Canadian medial drama featured Dr. Sydney Katz, a "take-no-prisoners medical prodigy and Orthodox Jewish Doogie Howser" who's struggled all her life with her feelings for women. In Season Three, she had a relationship with OB/GYN Maggie Lin.
Power (2014-2020): Starz, 6 Seasons, 63 Episodes
Anika Noni Rose (that's Princess Tiana to you) turned heads when she took off her crown to play dirty cop LaVerne "Jukebox" Ganner in Season Three and Season Four of Power. Although she plays a minor role in Power (the series available free on Hulu), Jukebox's role is bigger in the spin-offs available to Starz subscribers.
Better Things (2016-): FX, 4 Seasons So Far, 40 Episodes
Pamela Adlon plays Sam Fox, an actress with three kids she's raising in Los Angeles, surrounded my minor queer characters and noted cameos, including Sam's agent, Tressa. But most prominently — there's some very interesting sexuality and gender stuff happening with Sam's child Frankie. It was the first female-led show on FX .
E.R. (1994-2009): NBC, 15 Seasons, 331 Episodes
Doctor Kerry Weaver (Laura Innes) was one of the first major lesbian characters on television, but her treatment is consistent with the times, which were not great times for our people. Kerry joins the show in a recurring capacity in Season Two but her lesbian storyline doesn't begin until Season Seven, when she falls in love with staff psychiatrist Kim Legaspi (Elizabeth Mitchell).
Letterkenny (2016-): Hulu, 10 Seasons So Far, 67 Episodes
This quirky Canadian comedy is full of quick-witted, fast-talking folks with very specifically Canadian humor that somehow seems universally hilarious. It seems all of the women are canonically queer, though the only real on-screen proof we get of that is when Katy (Michelle Mylett) walks out of the bathroom with Mrs. McMurray (Wynonna Earp's Melanie Scrofano) having obviously just hooked up. Still, it's fun to see when the references do pop up, including but not limited to when Katy joins the boys in lusting after the town darling.
Y: The Last Man (2021): FX on Hulu, One Season, 10 Episodes
Based on the problematic graphic novel series, Y: The Last Man only got one season to present its more evolved television adaptation: a dystopia where everybody with a Y chromosome is wiped out except for one lazy white cis dude and his monkey. Trans actor Elliot Fletcher plays a lead role as Sam, the best friend of Olivia Thirlby's Hero Brown. There's also a lesbian biogeneticist and a lot of queer and trans filler characters.
The O.C. (2003-2007): Fox, 4 Seasons, 92 Episodes
Marissa and Alex's sweeps-week romance left an imprint on an entire generation of bisexual girls delighted by this unexpected gift given to us in one of the era's buzziest and most popular teen dramas. It remains a delicious, dated and soapy watch.
Mrs. America (2020): FX on Hulu, Limited Series, 9 Episodes
Cate Blanchett, Tracy Ullman, Rose Byrne, Uzo Abuba and Melanie Lynskey are just some of the wildly talented women at the forefront of this history of the feminist movement in the 1970s and its fight against conservative activist Phyllis Shalafley (Care Blanchett), specifically. Bria Henderson plays Black lesbian early Ms. magazine editor Margaret Sloan-Hunter. In episode five, Ari Graynor shows up as Brenda Feigen, a feminist activist and attorney who falls for Jules, a lesbian photographer portrayed by the one and only Roberta Colindrez. In Episode 7, we briefly glimpse Midge Costanza and Jean O'Leary, a lesbian couple who pushed for inclusion in the feminist agenda and within the Carter administration.
Fresh Off the Boat (2015-2020): ABC, 6 Seasons, 116 Episodes
Fresh Off The Boat is an endearing and hilarious family sitcom all about a Taiwanese-American family living in Florida in the 90s. It contains a small but heartwarming teen coming out storyline and is sharp in its comedic voice.
The Bridge (2013-2014): FX, 2 Seasons, 13 Episodes
Based on the Danish-Swedish series Bron/Broen, this crime drama is set on the U.S./Mexico border where a murdered body on a bridge between El Paso and Juarez bring together detectives on both sides of the border while the El Paso Times investigates in parallel. Queer actress Emily Rios plays Adriana Mendez plays a young reporter for the Times, who is a Juárez native.
---
Other Shows on Hulu with Small-to-Medium Lesbian and Bisexual Characters/Storylines:  Empire, NYPD Blue, The Librarians, Nip/Tuck, The Purge, Shut Eye, Top of the Lake: China Girl, Vikings, Mistresses, Pretty Little Liars: The Perfectionists
Other Shows on Hulu with Minor-to-very-Minor Lesbian and Bisexual Characters/Storylines: Bones, Cougar Town, Desperate Housewives, Friday Night Lights, The Mindy Project, Private Practice, The Only Murders in The Building, Parenthood, Snowfall, UnReal, Weeds, Nine Perfect Strangers
---
Other streaming lists: