The first thing I need to say about Hulu's limited series Dopesick is that the wigs are terrible. Unforgivable. As Bim Adewunmi noted in a Buzzfeed article about bad wigs for Black characters in 2018, "Bad wigs are the noxious fumes that crowd out everything else; they slowly fill the frame until that's all you can focus on, that distinct lack of life-sustaining oxygen."
Dopesick's first grave wig-related error occurs mere minutes into the first episode when noted corrupt homosexual Kathe Sackler (Jamie Ray Newman) strides into the stately wing of an art museum owned by her rancorous family, and I initially assumed her character was in fact intended as a wig-wearer and wondered aloud if she was Orthodox, which a quick Google affirmed she was not. I was in fact supposed to look at a wig best suited for a lesbian character in an offensive SNL skit from the '90s and think, "Ah yes, that is Kathe's actual hair! Brilliant!"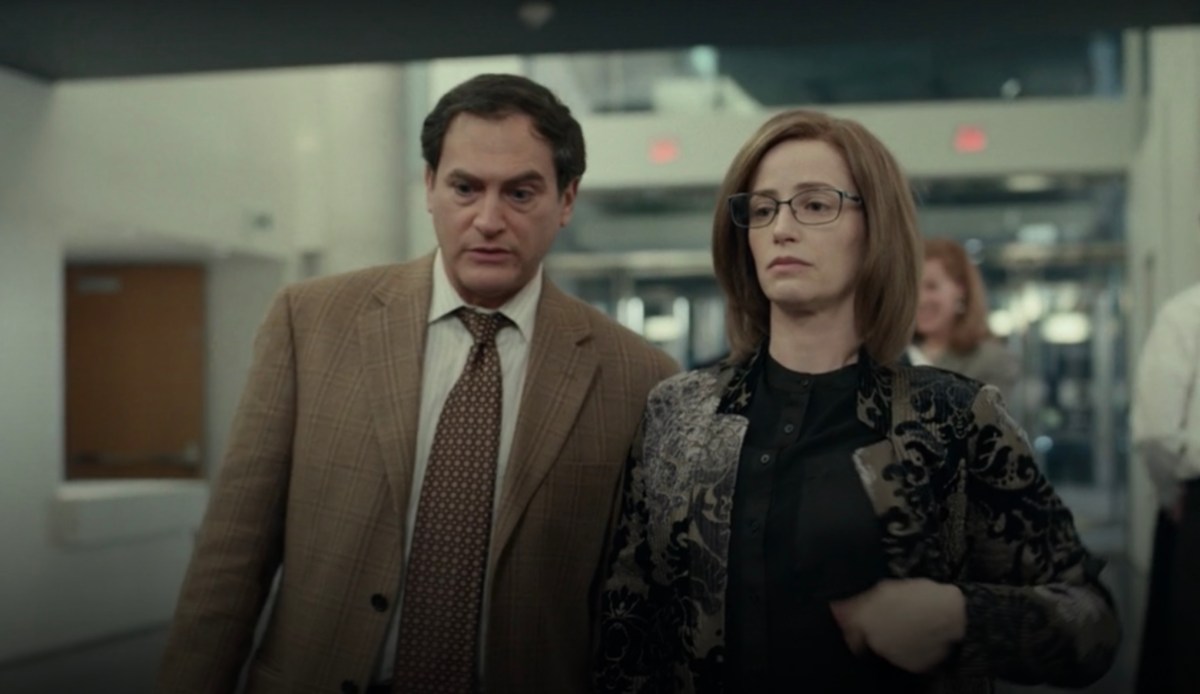 Eventually, her wig was overshadowed by the sheer audacity of fellow soulless rich person Martin Willis (R. Keith Harris)'s bald cap / wig that summoned a child dressing up as their Dad on Halloween.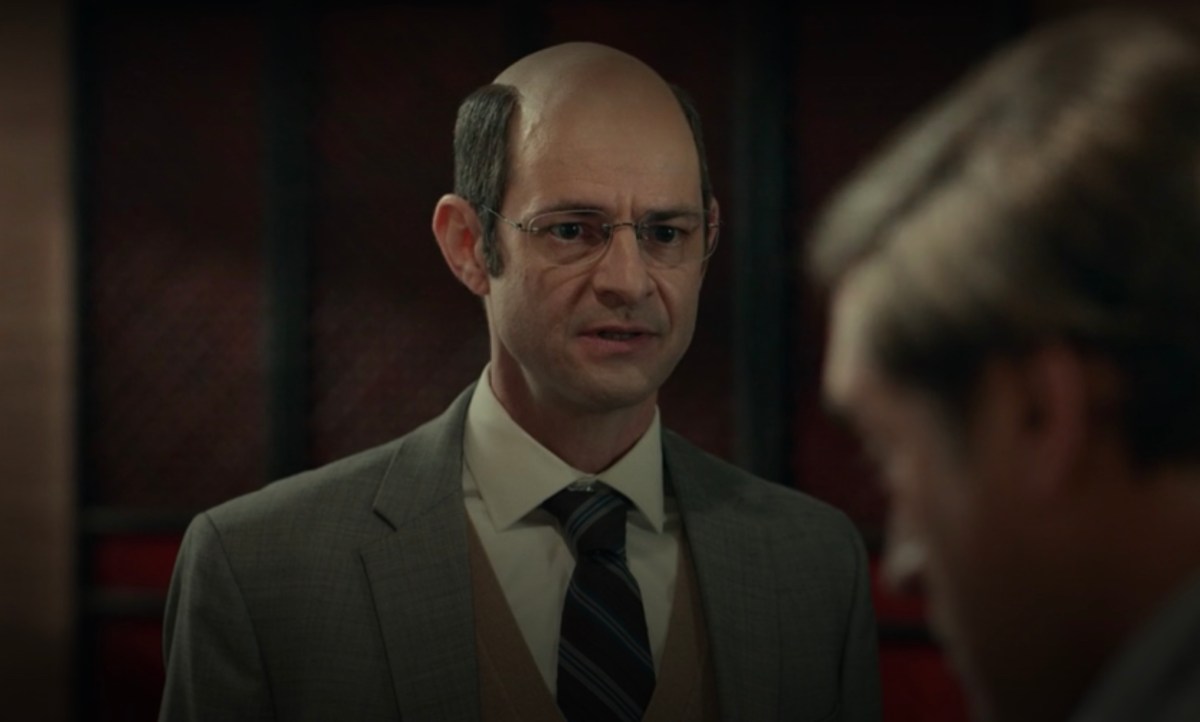 Meanwhile, Amber (Phillipa Soo)'s bisexual bob floated precariously on the verge of falling right off her head. In this screenshot you might assume she is doing some sexual role-playing, like "I'm a dancer at the Kit Kat Club and you're a writer from America," but I assure you, that thing is not situational, she wears it for eight straight episodes in every conceivable scenario.
And finally, Bridget Meyer (Rosario Dawson)'s wig line, as described by Autostraddle Editor-in-Chief Carmon Phillips, "looks like a Tyler Perry production took a trip to Party City."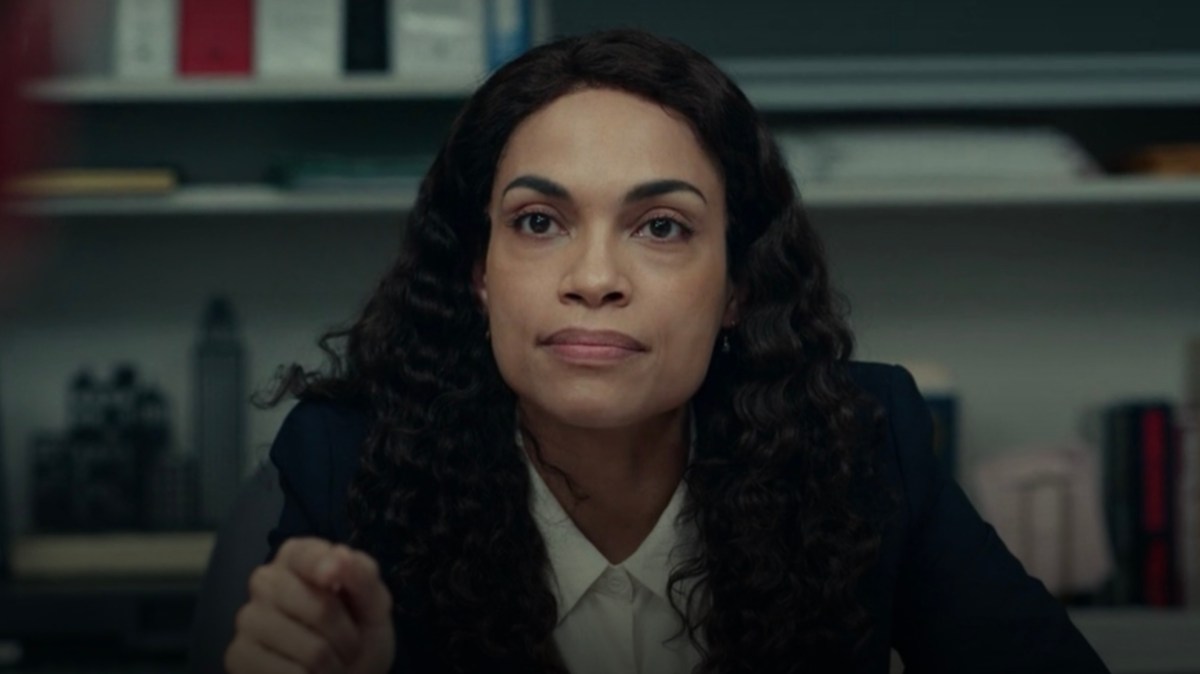 Thank you for your time I am now prepared to talk about the show itself.
---
Dopesick, inspired by Beth Macy's best-selling book Dopesick: Dealers, Doctors and the Drug Company that Addicted America contains six paired storylines, each confronting the opioid crisis from a different angle.
Firstly we have the Sacklers and their associates, most prominently OxyContin's top mastermind Richard Sackler (Michael Stulhbarg) and then the young and money-hungry Purdue salespeople recruited to push their dangerous drug and accordant collections of lies to doctors in vulnerable parts of the country, encouraging prescribers to open their mind to treating even mild-to-moderate temporary pain with opioids despite the potential for addiction.
We have the government: Assistant U.S. Attorneys Randy Ramseyer (John Hoogenakker) and Rick Mountcastle (Peter Sarsgaard) and their new boss John Brownlee (Jake McDorman), all based on real people who saw the crisis brewing in Virginia and took steps to stop it; and DEA Agent Bridget Meyer (Rosario Dawson), an amalgamation of several real-life personalities. Working in the Diversion department, Bridget is the tenacious public servant pushing against a corrupt and complacent agency refusing to address a growing crisis.
And finally, we have the citizens of one of those vulnerable areas, a small mining community in Virginia: beloved small-town doctor and widower Dr. Samuel Finnix (Michael Keaton) and then one of his patients, Besty Mallum (Kaitlyn Dever), a miner prescribed Oxy following a work injury.
Betsy and Dr. Finnix are fictional characters and neither appears in Macy's book, although they are likely inspired by her work chronicling the opioid-impacted citizens of Lee County, Virginia.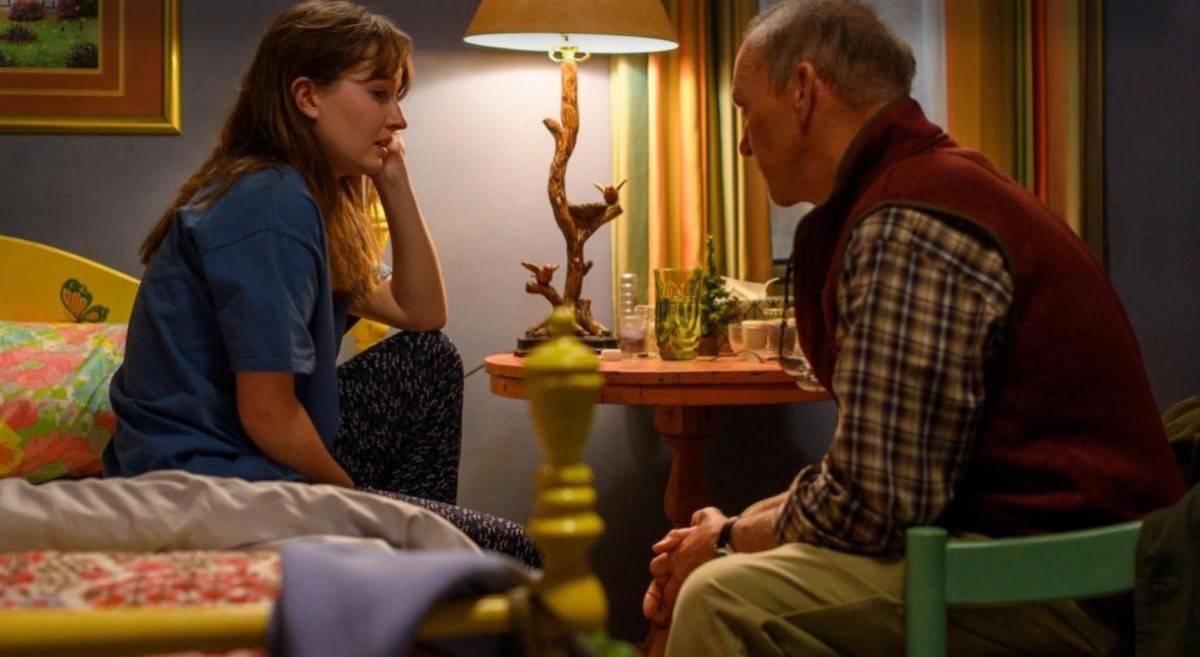 Betsy Mallum is a closeted lesbian when her story begins in the late '90s, proud to be the only woman working the mines with her father and a team of coal-stained, black-lunged, hard-drinking men. She escapes her well-meaning and very religious parents for her secret girlfriend's trailer, always sparkling with Christmas lights, where they take off their hoodies and flannels and dream of a life lived openly in Eureka Springs. Her girlfriend is ready to skip town, but Betsy's scared to leave behind her work and her family.
Then, after a severe back injury suffered on the job, her prescription for Oxycontin (doled out by a still-skeptical Finnix, attempting to believe the lies he's been sold by his own personal Purdue Pharma salesperson) quickly turns into a destructive addiction, and the next major accident in her mine is one she caused herself while too medicated to function. Her dependencies destroy her relationship and eventually her body, trading one secret shame for another, chemical one. Dever's performance is raw and heartfelt and easily Dopesick's most compelling portrait: much like Dever's character in Unbelievable, Betsy is vulnerable in ways she can't quite articulate herself, strong enough to have made it this far but only by an inch, teetering always on the edge of something dark and permanent. Her story ends up becoming a perhaps not unfamiliar one in which familial homophobia (A scene in which Betsy attempts to come out to her mother is particularly searing) eventually takes a backseat to what one must realistically note is a far greater threat to her well-being.
Addiction is a consistent issue in LGBTQ communities and for LGBTQ people isolated from community, and Dopesick handles that intersection well. It's unclear at this point (only the first six episodes are currently available on Hulu) if Betsy will live through this. If she doesn't, I don't know where dying in a story about lethal drugs fits in to the Bury Your Gays conversation, but I'd be willing to forgive it.
Michael Keaton's Finnix is humbled and compassionate, capturing how easily doors to despair can swing open and suck you in, how even the most care-focused professionals can find themselves completely undone. He's also a rare source of support for Betsy when the story begins; understanding that self-acceptance and authenticity is a crucial element to a patient's health, too.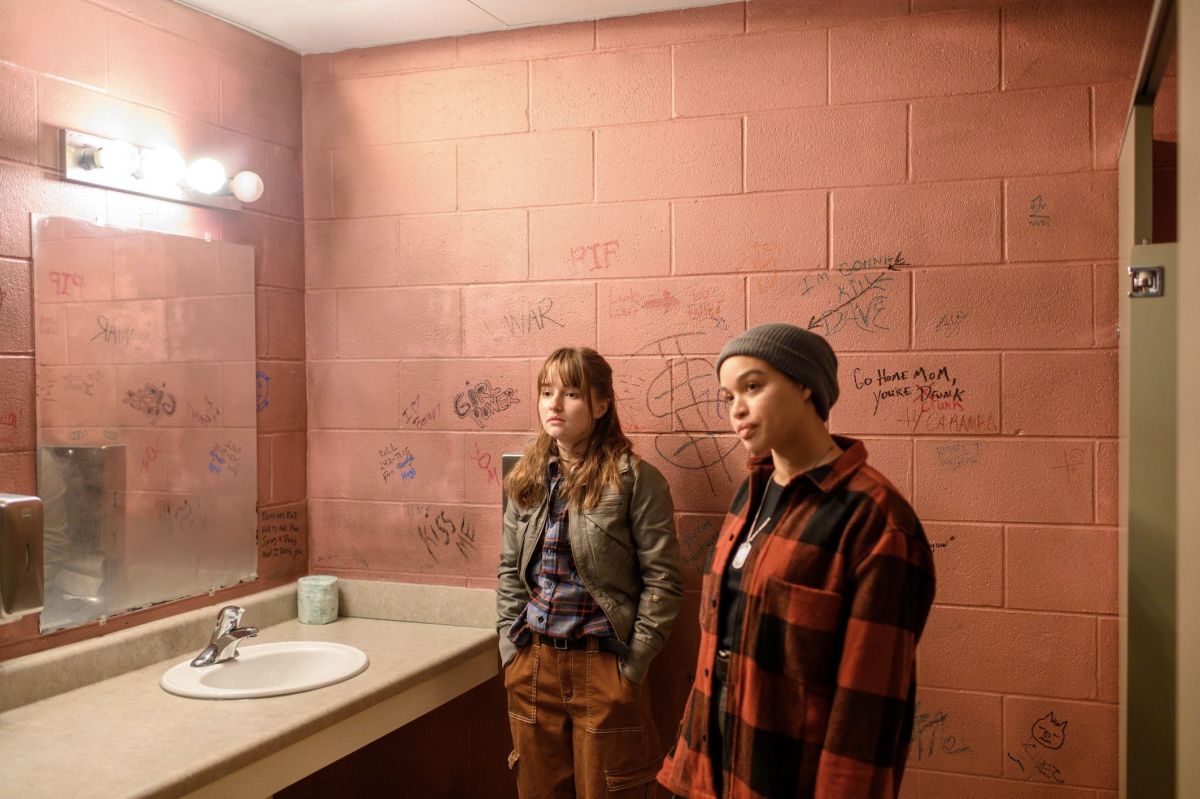 Although OxyContin's highly addictive nature is well-known at this point, Macy's book and the series — as promised by its title — hammers home what many other opioid addiction documentaries and special episodes haven't always done: users were and are not simply chasing highs, they were escaping the physically unbearable lows, the skin-crawling, sweaty, restless, anxious, nauseating, heart-pounding brutality of dopesickness itself, making relapse not only tempting but unfortunately logical. Dr. Finnix's struggle becomes the vehicle for another story central to the book's case: that drugs like Methadone and Suboxone — while often dismissed by rehab, professional associations and 12-step programs as just another addiction to the point that they are now "far more tightly regulated than the painkillers that have gotten people hooked in the first place" — can be many addicts' only hope for a normal, productive life free of Oxycontin, Fentanyl or Heroin.
Placed side-by-side against scenes of the Sacklers doggedly pursuing higher profits and incentivizing salespeople to get richer and richer for every doctor they convinced to prescribe higher dosages in higher quantities — including actually encouraging their salespeople to target and encourage "pill mills" — the absolute sociopathy of the entire crisis is underlined, again and again. At that same level of trouble we find Ramseyer recovering from a medical procedure and coming face-to-face with doctors who've been so profoundly seduced by Purdue that they refuse to prescribe him anything BUT Oxycontin.
Unfortunately, rather than sticking to a traditional framework in which events unfold in order over a period of calendar time, Dopesick jumps from year to year and story to story, guiding us by a time-ticker that snaps back and forth from the nineties into the aughts. It's a bewildering choice, sacrificing the profound narrative potential of a story remarkable in part because of how long it took for the government to take action against Purdue Pharma, how relentlessly salespeople and payrolled "expertswp_postsco-opted and invented medical terminology and passed off ideas as studies while the potential for this crisis was already plain. The story is a series of frustrating setbacks and unforgivable stalls — literally going backwards in time is a painful whiplash we simply don't need.
Characters from different story clusters are always popping up in each other's narratives, further complicating our ability to keep track of what the fuck is happening and when. Rather than witnessing a crisis building up over time, we just hop all over the space-time continuum like Marty McFly dressed up as his Dad in a bad wig.
I read Dopesick last week, have seen The Crime of the Century twice as well as The Pharmacist among other opioid crisis focused documentaries, have read maybe ten longform articles about Purdue, The Sacklers and the opioid crisis as well as all the AG's full complaint in the recent Massachusetts lawsuit — and I still can't keep track of these time jumps or understand the choice to employ them.
This haphazard structure made the plainly unnecessary elements of the story moreso, such as Meyer's relationship and eventual divorce from her husband, although he does fill a hole in the heart of reluctant SVU fans who dearly miss Raul Esparza. It's curious why we spend so much time there instead of, for example, introducing another important element of Macy's book: how race impacted not only patient experience, but the press and government response to the epidemic, and how little progress was made against Purdue until the drugs started popping up in wealthy white suburbs.
There's also nuance missing around Oxycontin's usefulness for many pain patients whose lives have been made possible through closely monitored prescriptions written by careful, informed doctors. The characters who suggest Oxycontin is useful for anything besides end-of-life pain for hospice patients seem to always be the bad guys in Dopesick, which isn't always the case.
Ultimately, Dopesick creates a kind of collage for the viewer — the pieces are all there and resolutely compelling, they just aren't put together properly. In its best moments Dopesick is a stirring portrait of a series of individual lives impacted by their relationship to the same drug, and these intimate moments we witness — from salesman swapping deceptive sales tips in bed to a father violently attempting to get in between his addicted daughter and the backpack of drugs she pawned their possessions to obtain — resonate in a way that simply hearing about those stories through a documentary never could. If, of course, you can handle the wigs.