---
Whether you're ready to buy your first strap-on harness or upgrade your current one, the choices can be really overwhelming! There's a lot of straps out there! With all the variety and types and price points to wade through, it can be hard to know where to start or where to go next. Variety is the spice of life and I am here to help you find the perfect harness to slide over your hips no matter where you are in your strap journey. It's important to note not every strap-on will work with every body. For people with penises, underwear styles are highly recommended, however other harnesses can work great as well! My number one recommendation is trying a harness on IRL if possible, many sex shops will let your try strap-on harnesses over underwear or pants. If that's not an option or comfortable, my second recommendation is to try a style you're interested in one that isn't super expensive. After you get an idea of how it fits and works for your body, you can upgrade to a nicer brand/style/material!
Beginner Strap-On Harnesses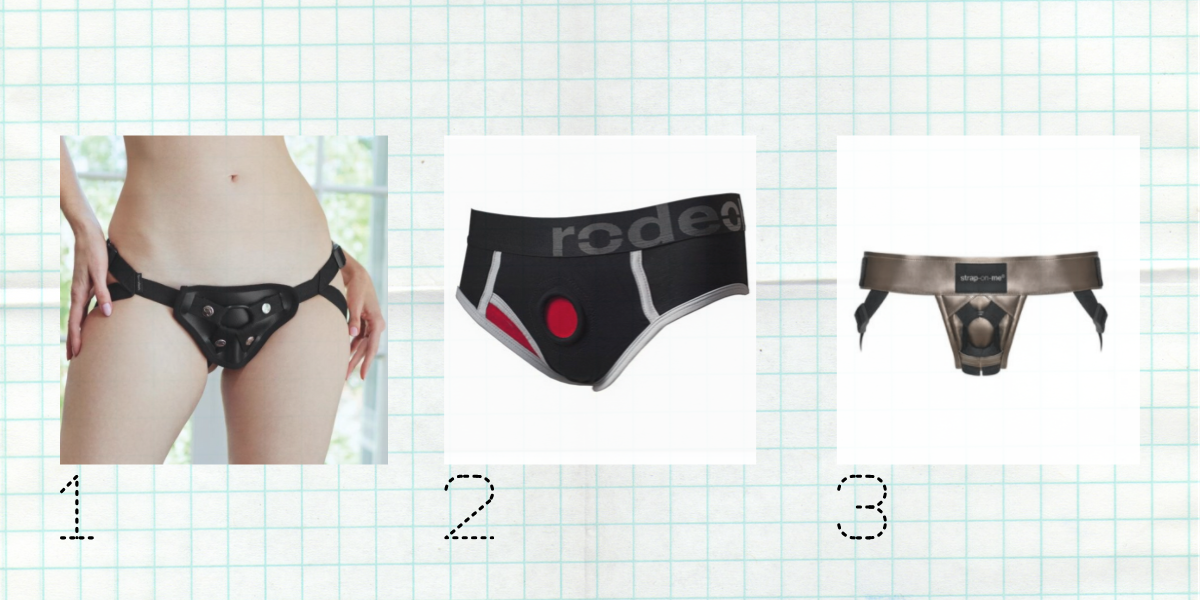 When I talk about beginner straps, I'm talking about a strap-on harness that might not be your forever harness. When first trying to explore fucking with a strap-on you want something that is going to be simple to use and not be wildly expensive. You're exploring! It's new! It might not be a sex act you actually want to invest big bucks in and that's okay!
1) Ember Harness — This is the harness I recommend the most to folks who are just starting out on their strap-on journey! If you want something simple and a harness that's going to not break the bank, this is your next purchase.
2) Rodeoh Classic Brief + — The classic Rodeoh! We all knew it was going to be somewhere on this list! Underwear style harnesses are so easy to put on, literally just pull them up! Unlike other underwear-style harnesses mentioned later, this one isn't the most sturdy, and over time (and washes) the fabric can stretch. That being said, it's an affordable harness to use as a jumping-off point.
3) Strap-On Me Vegan Leather Curious Harness — This vegan cutie is adjustable with elastic thigh straps and velcro on the waist. That's right! Velcro! Genius for those that want to strap up in a hurry and get down the business! The padded front allows some cushion between the end of a dildo and the pubic bone making it comfortable to boot.
Intermediate Strap-On Harnesses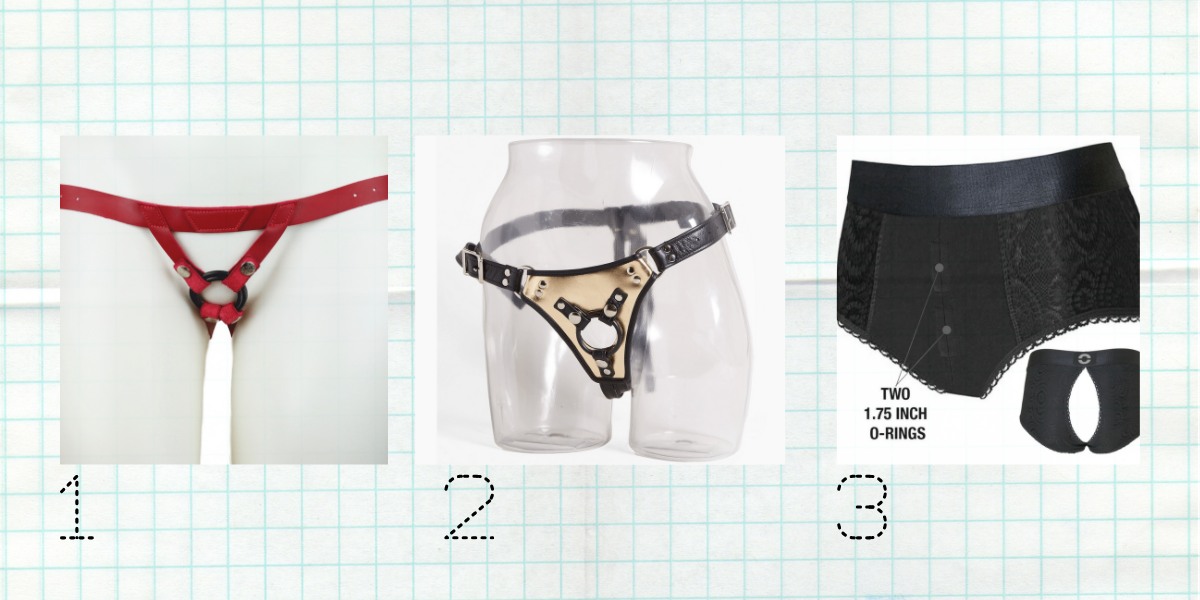 These are harnesses that are a bit higher quality than the beginner harnesses. They might be a bit more complicated to put on but that means they'll be more sturdy during play-time. These are harnesses worth investing in.
1) Kookie Int'l Leather Regimental Harness — Leather harnesses tend to be the harnesses that allow the wearer the most control. Since they're literally strapped against your body, they prevent shifting of the dildo during use. This harness comes in different colors and the leather is super soft and subtle against your skin.
2) Metallic Gold Low-Rider Harness — So you can find the Low-Rider Harness in other colors, but why would you want to? A jock-style harness that fits low on your waist, it'll give comfort! It'll give control! It'll give rock star! And who doesn't want to feel like the main character when they're blowing their partner's back out!
3) High Rise Black Crotchless Panty — This is a great harness for those that have tried strapping and now want to add some extra elements. The exposed back means there's so much more room for play here–your partner's finger in your ass or a butt plug perhaps–just to give your imagination a jumping-off point!
Advance Strap-On Harnesses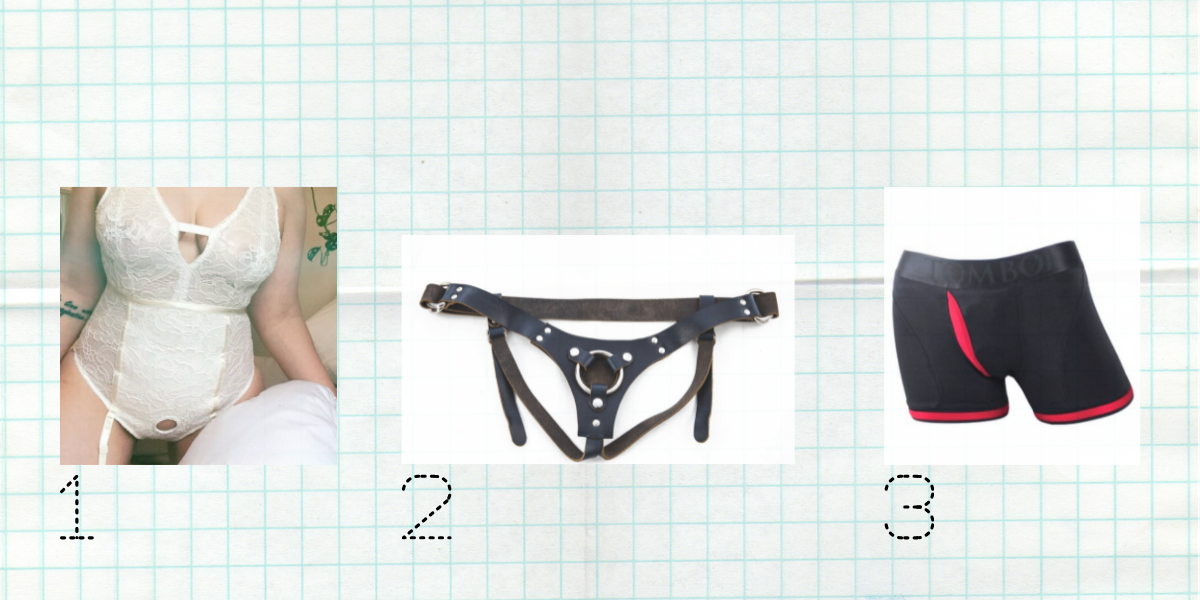 These are fancy! And HOT. The strap-ons here are more of an investment, in both money and the care that they might need but they're going to look really fucking good on your body. Not only will they make you the sexiest version of yourself, but they're also incredibly well-made to give you the most control during your fuck fest.
1) Off The Tounge Roslyn Crotchless Strap On Bodysuit — Mommy? Sorry. Mommy?! Off The Tongue makes absolutely delicious harnesses that are an aesthetic dream. Well-made with a customizable sizing option, this bodysuit harness is as unique as it is functional.
2) Switch Leather Co. Ramona Harness — The Ramona Harness isn't just slick–it's smart too. This harness which is made of high-quality leather can be worn above or below the hips. This means you can wear it in the way that best fits your body and comfort. This leather also feels amazing against your skin if you're into that sort of thing.
3) Spareparts Tomboii Boxer Brief Harness — This harness comes packed with ways to enhance your experience. There's two O-rings, meaning you can put the dildo where it fits best for your partner and penetrating position. This underwear harness also comes with multiple pockets to add a bullet vibrator for the wearer's enjoyment. Also, rejoice, it's packer-friendly if you want to pack and strap simultaneously.
One Strap-On Harness To Rule Them All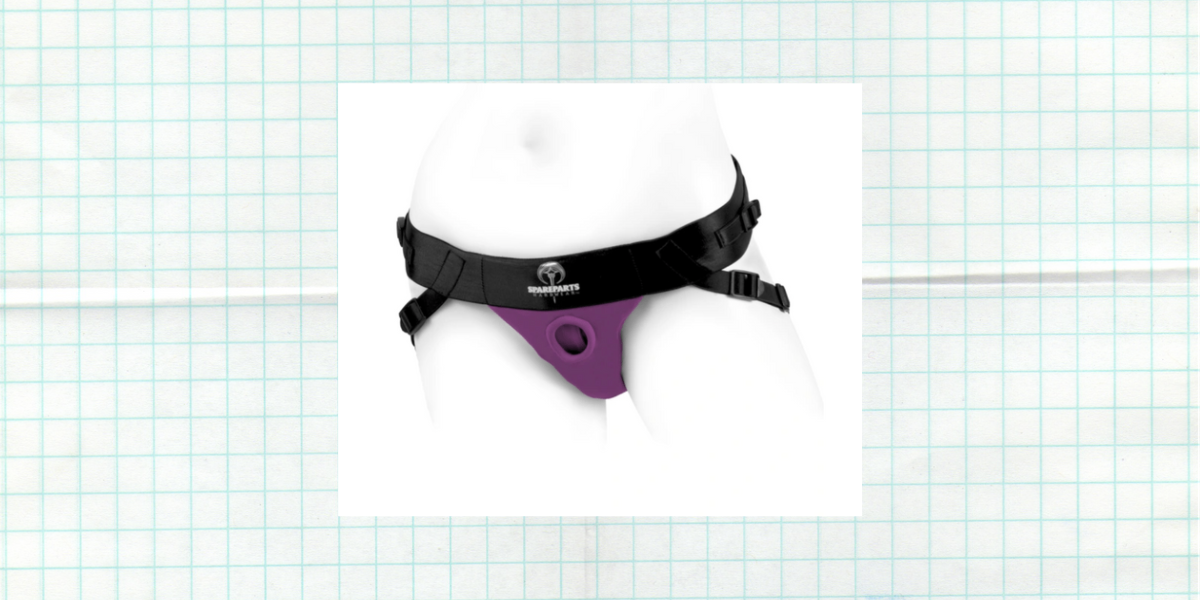 Spareparts Joque Harness — Listen!!! The reason there's so much variety in harnesses is because what works for one person will not work for another. That being said, there is one harness I always find myself recommending over and over again. The Spareparts Joque Harness is surprisingly versatile, comfortable and is, in my humble opinion, a strap-on worth seriously considering! This cloth harness fits a wide range of body sizes making it a great option if you want to share a harness with a partner. Its wide strap helps distribute weight so it's not digging into your skin. This strap-on is incredibly comfy while being snug and sturdy at the same time. Add in that it's machine-washable and this strap-on is a win all around.