Hello and welcome back to Boob(s On Your) Tube! This is one of those weird times of year where we're kind of between TV seasons, but don't you worry, we've got your Brooklyn Nine-Nine information all ready to go. This week Natalie ran down all the TV cancellations and upfronts. Valerie Anne recapped a couple of frustrating episodes of Supergirl. Carmen recapped that gloriously sexy episode of Vida and wrote a goodbye love letter to our girl Dr. Arizona Robbins. Here's what else!
---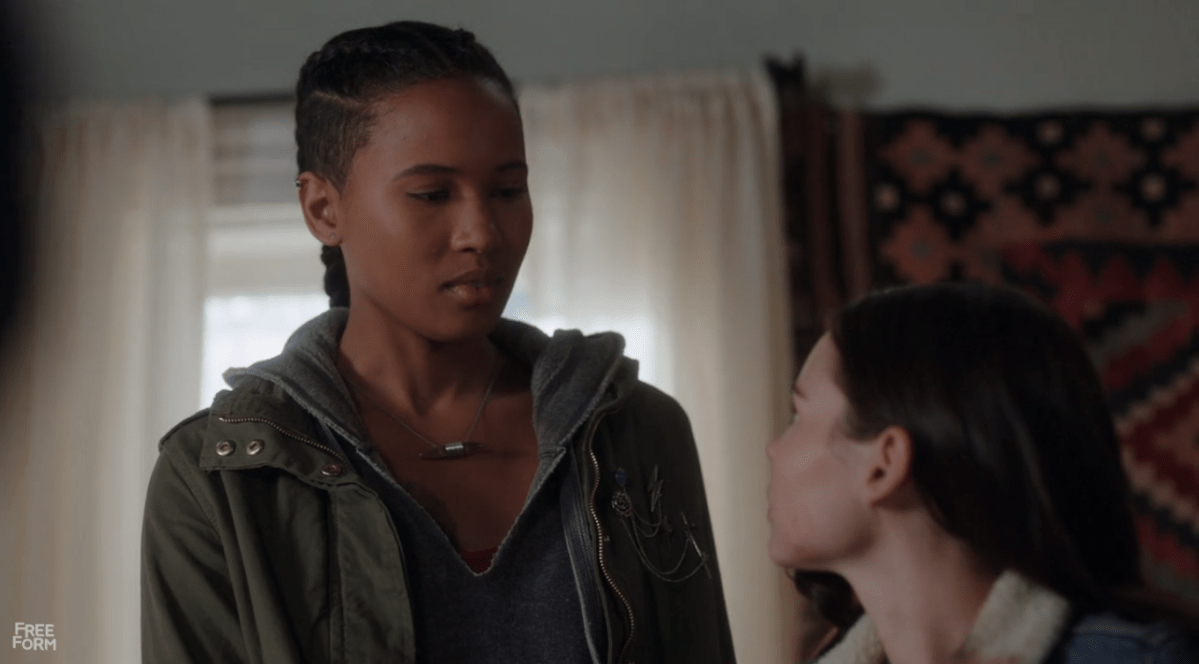 So, Season 1 of Siren has come and gone. And if I may be frank, I don't believe it reached it's queer potential. It had some interesting things to say about the dangers of what happens when men feel like they own or "deserve" a woman, or are owed something. The very first story about mermaids interacting with humans in this lore involves a man being jealous his wife returned to the sea after he got rid of their half-human, half-mermaid baby. His jealousy and anger lead to him slaughtering all the mermaids he could find. The mad scientist who kept Ryn's sister captive for weeks saved her life and then all but demanded another song from her, being like, "But I saved her," as if that meant she had to do whatever he wanted now. Luckily, he was the only one who felt this way, and was sent away. He was so distraught he walked right into the sea, a classic symptom of the siren's song.
But what could have been a really beautiful woman-man-mermaid throuple kind of fell apart. Ryn loves both Ben and Maddie, but Ben got TOO obsessed with the mermaid because of her siren song and the throuple became unbalanced and toppled over. Maddie even said that they used to make their decisions together, including about Ryn, and she loved that, but then Ben started to go off on his own and she was feeling like she was being shut out. In the last minutes of the finale, Ryn says she's not good for Ben, but that, "Ben is love. Maddie is love, too." Then she gives Ben a final kiss and her classic, "Bye bye." Maddie never got another kiss, but the show was renewed for an extended second season, so they have at least 16 more episodes to sort this out. And Ryn says she's not good for Ben, but Maddie has always been able to keep her head straight (well, not straight) about Ryn so maybe Ryn and Maddie will get together for a while, as both women are currently taking a break from Ben. Ben found out he was related to the man who sired a slew of part-mermaids, including Helen, and Maddie got a call from her estranged mother in the finale, so maybe she's more tied into this myth than she knows, too. Overall, I found the lore interesting and even though it didn't reach its queer potential, the potential is still there, and since it somehow survived the over-fishing of network TV during renewal season, they still have time to reach it.
---
In what was ALMOST the series finale of Brooklyn Nine-Nine (but is thankfully only the season finale, since NBC saved it from Fox's cruel cancellation), the glorious Gina Rodriguez graced our screens. Rosa and Terry were out on a mission on their own, and Terry was talking about how Rosa should get back out there and find her soulmate (being careful to use gender-neutral language, which Rosa teased him about sounding like he Googled "how to talk to your bisexual friend" which was great because a) he definitely did exactly that b) she said "bisexual" out loud again c) it was very funny.) Rosa is protesting when their Lyft rolls up and the driver is Gina Freaking Rodriguez and Terry's face does a VERY EXCITED thing which is also coincidentally what my face was doing.
Rosa tries to get Terry to drop it but then they have to call her again because they left Amy's veil in her car. This time when Gina appears, she gets out of the car in rom-com slow motion and Rosa's eyes practically bug out of her head cartoon style. Also coincidentally what my face was doing. Based on how fun the very small amount of flirting they got to do in this episode was, I really hope they can snag Gina for a few episodes in the new season on NBC, because I think those two would make a really fun pairing.
---
Boobs Tube Special Edition: Mini-Catch Up on Netflix's Santa Clarita Diet and Dear White People (Just In Time For Your Holiday Weekend Streaming Needs)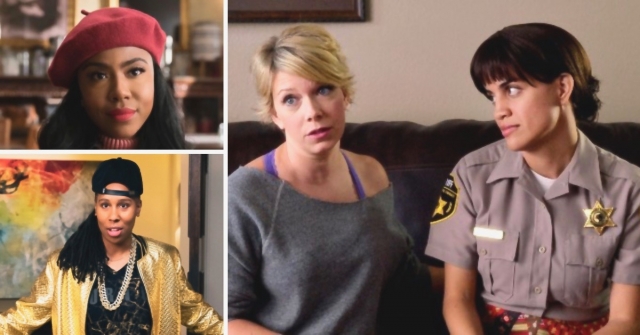 Happy Friday, y'all! And if you are reading this from the United States, Happy Memorial Day Weekend! The long weekend that's the (un)official kick off to summer! YAAAAAY! What are you going to do with your extra free time? Is your answer, "I'd like to binge something on Netflix?wp_postsIf so, then I'm here to have your back!
In the last two months, Netflix released new seasons of their original series Santa Clarita Diet and Dear White People. Though very different in tone, both shows specialize in dark, mostly off-ball, and often very smart humor. They also both featured out queer women of color actresses actually playing queer women of color on television! It's like a unicorn getting it's rainbow wings! I'm going to give you a relatively spoiler light round up of both shows so you can make an informed binging decision for your weekend. If you've already seen the show, please chat away in the comments. If you haven't, happy streaming!
First up is Santa Clarita Diet. The most important thing to know is that Drew Barrymore is a zombie. She's also a suburban housewife, and she's trying to keep the whole zombie thing a secret. In the first season, her neighbor Dan — who happened to be the town Deputy — almost figured out her secret, so he had to die. Now in the second season, the dead Deputy's wife is dating his old partner, Deputy Anne!
Deputy Anne is played by out queer actress Natalie Morales. She's investigating the whereabouts of Deputy Dan after he stopped showing up to work (on the count of he died last season, but she doesn't know that yet). Lisa, her girlfriend and Dan's widow, is super sex positive and very vocal about it. They are both sort of very funny side characters to the main plot, and Anne in particular becomes more essential to the core storyline as the season progresses and her investigation picks up!
Ok, Dear White People. You probably already know, but Dear White People had some real struggles with its lesbian representation in the first season. That said, I still found it to be a stylized and smart — if at times very uneven — exploration of being a black student at a predominantly white college or university. Thankfully, the second season only grows stronger from the first. And it comes bearing the bittersweet gifts of having two smaller, but also better executed, black lesbian plots.
One such plot comes from Kelsey Phillips, the roommate of Coco, one of the central protagonists. Kelsey had a tiny role in Dear White People's first season. She served as comic relief thanks to her Hillary Banks valley girl vocal inflection, all around ditzy personality, and her love for her dog, named Sorbet. Her waters get a bit deeper in the second season, where she plays a crucial supporting role in Coco's stand alone episode. Part of that role involves her coming out as a lesbian. Welcome to the team, Kelsey!
The second plot comes at the hand of out lesbian actress Lena Waithe (who really needs no introduction at this point). Dear White People enjoys parodying black popular culture through the eyes of the students on campus. In the first season, Shonda Rhime's Scandal got the brunt of the lampooning, and this year the show sets it sights on VH1's Love and Hip Hop franchise. Lena Waithe stars in the "show within a showwp_postsas rapper P. Ninny — who is very obviously a butch lesbian, even though she hilariously swears she is not. That is, until she can't hide it anymore. The mini arc plays out over a variety of episodes and Lena Waithe's charisma leaps off the screen, as always.
Also potentially relevant to your interests: Dear White People has a series of Tessa Thompson cameos that as far as I'm concerned are worth the entire binge by itself. And has a sweet baby gay love story for the young black male protagonist, Lionel.
---
Quick Hits
Critical Role Campaign 2, Episode 19: "The Gentleman's Path"
I haven't watched last night's episode yet but as soon as I got back from camp I watched last week's and even though they TECHNICALLY haven't said the literal words yet, I feel more confident than ever that Beau and Yasha are gay for each other. I don't know if either of them ID as lesbians or bisexuals or what but all I know is they have a thing for each other and they both have very low charisma stats. Travis called their watch together "youth trip flirting" because it was so awkward and Ashley said, "We've gotta start somewhere," implying (to me) that they're in this for the long haul. Also Marisha-as-Beau called Yasha "so fuckin' hot" and I love her/them for it. — Valerie Anne
Picnic at Hanging Rock
Riese is streaming this Amazon six-part mini series adaptation of the cult classic 1975 movie as we speak! I don't know much, but I am very excited! Here's Riese's live dispatch from her streaming session, "This show is beautiful. I love it.wp_postsWhew!! If you want to stream ahead, use this weekend to get on it! Riese says that she'll have something written up for you next week! AND RIESE WRITING ABOUT POP CULTURE IS ALWAYS A TREAT!! (The caps are all mine. Sorry! Told you I was excited.) — Carmen