Slight spoilers ahead for season two of She's Gotta Have It
As I watched the second season of She's Gotta Have It, released on Netflix last Friday, I couldn't stop thinking about Nola Darling. I realize that sounds painfully obvious; after all, the pansexual Brooklyn artist is the protagonist, narrator, and titular character of the show. But my mind was less focused on the specifics of the nine-episode dramedy itself, and instead wandered — grappling with the intertwined legacies that Nola has left behind in black film, black feminist critique, and the developing canon of black queer television and cinema.
OK, that's a lot to write out all at once. It's not hyperbole to say there are very few characters like Nola Darling. She casts a shadow that spans over 30 years and two storytelling mediums. Barely a handful of other black women characters can say the same, and if you begin discussing black queer women, I think it's arguable that Nola stands all her own.
1986's She's Gotta Have It was the breakout film of a young Spike Lee's career. It created one of the most instantly recognizable comedic characters in modern black cinema (Mars Blackmon, originally played by Lee and now taken on by Anthony Ramos). It also sold itself as a serious exploration of black women's sexual agency. It's that description that has left the film almost uniformly derided by generations of feminist critics. The movie ends in a graphic date rape scene that punishes Nola for her own perceived sexual liberation. bell hooks' essay on the subject, "Whose Pussy is This?," has become so canonized that it's still taught in introductory gender classes decades later.
In both the film and Netflix interpretations of She's Gotta Have It, Nola self-identifies as a "sex-positive, polyamorous, pansexualwp_posts(though the subject is barely touched upon in the movie). Somehow, it never seriously occurred to me before this weekend that one of the most looming and controversial black women on film of the last 30 years happens to also be queer. Looking back historically, representation for lesbian, bisexual, and queer women in cinema has been desperately low. If you narrow those markers to black women, it nearly becomes a kiddie pool. Yet, here is Nola Darling. Stubbornly proud of sexuality, two-dimensional and sloppily drawn, and ultimately abused by a man that she trusted. She's simultaneously iconic and purposefully never allowed to simply be.
In the 2017 press tour leading up to the Netflix remake's first season, Spike Lee admitted that ending the film in a rape is the biggest regret of his career. The television series takes a different path for Nola, but the first season remained almost irreparably uneven, particularly as it related to her — more well-rounded but still under-explored — queer sexuality. Despite hiring a variety of black women to work with him on the revamped project, Lee insisted on directing every episode. Nola suffered for his creative shortcomings.
Lee also directs every episode of She's Gotta Have It's second season. A question that haunts me: If Nola Darling is one of the most famous, even if uncomfortable, black queer women in pop culture — what does it mean for us that nearly everything about her is so closely tied to the man who created her? Spike Lee's influence over the last two generations of black film is indescribable; his fingerprints have indirectly touched or influenced almost every creator we enjoy today. I'm happy he won his long deserved Academy Award in March. But, he's still famously sexist. With the notable exception of 1994's Crooklyn, he's never had a real interest in developing black women on screen beyond serving as a foil for the men around him.
What's merciful about Season Two of She's Gotta Have It is that, for once, Spike Lee loosens his grip just enough to let a black woman character speak for herself. She's given wide space to selfishly explore her own desires and responsibilities on no one's terms but her own. This iteration of Nola Darling is finally, and sublimely, allowed to step into the light of summer. For a character previously defined almost exclusively by who she slept with, she spends much of this season blissfully alone. She paints and works on photography and builds deeper platonic relationships with the chosen family she's created. She leaves New York and travels to Martha's Vineyard, to Puerto Rico. She eats dinner and drinks wine with her parents. A struggling artist, she gets mentored by real life greats Carrie Mae Weems and Amy Sherald. This is a Nola Darling who is doing the hard work of getting her shit together, and the process of watching her do so is resplendent.
So much so that on Sunday night, as I was working on this review, I texted a friend in what could have been a whisper: I think I actually like this season of She's Gotta Have It?
As I fell deeper in love with Nola, I couldn't help but also feel a bit mad. This Nola Darling is one of the most well-developed queer black women I've seen on screen. She's self-aware and independent and passionate. She messes up and tries again. She weighs heavily what it means to sell out for your art or stay true to serving your community. Her artwork, even though its fictional, challenges pre-conceptions in a way that's reminiscent of controversial black visual artist Kara Walker.
Still, she's conceived and directed by a man I fundamentally cannot bring myself to trust when it comes to telling women's stories, especially queer women's stories. 30 years after the fact, I'm not sure that Spike Lee can ever undo the damage he caused in the original iteration of Nola Darling. I certainly don't think he can do it while also pigheadedly standing right in the middle of a mess of his own creation. As much as I enjoyed this season, I never lost track of the lingering pain at hand.
This was most felt in the Season Two's first episode, which has a graphic lesbian sex scene between Nola (DeWanda Wise) and her girlfriend, Opal (Ilfenesha Hadera). I couldn't get past who I already knew was behind the camera. Despite it's length and technical accuracy, it felt uncomfortable and dishonest, especially when compared to the great work in this arena being put forth by queer women of color creators like Tanya Saracho.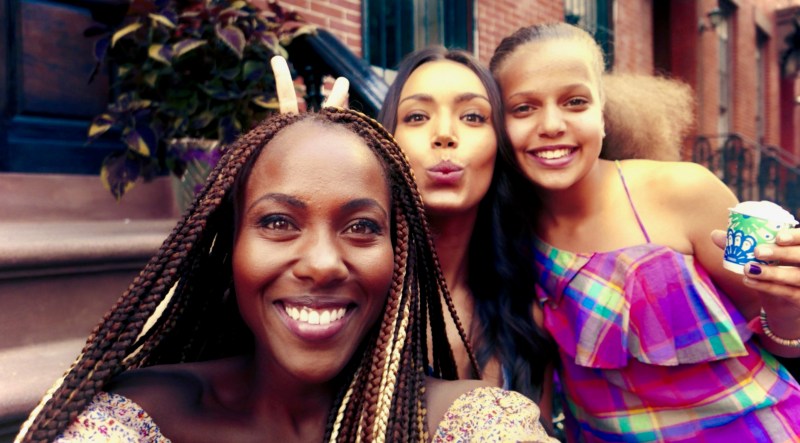 Nola and Opal break up very early on in the second season. That means that in the 18-month lapse between Season One and Season Two, Nola has matured in a stable, committed relationship with a woman. She's become a maternal figure to Opal's daughter, Skylar (Indigo Hubbard-Salk). By all measures, Opal and Nola are happily in love together — more than that, they're sickeningly cute! It's a disappointing decision on behalf of the writers to have all of that character development happens off-screen.
Nola doesn't have another lasting relationship all season; her break up with Opal becomes the catalyst for her self-discovery. DeWanda Wise's silent performance in first few minutes following their break up, as Stevie Wonder plays overhead, is transcendent. Wise's performance throughout the second season is magnetic, and I'm incredibly excited for her bright career ahead. (A quick aside, I also think that throwing out all of your exes things with Meshell Ndegeocello blaring from your speakers is one of the most cliché queer black girl things I've seen on screen, but I did laugh a bit from recognition.) In the wake of her relationship with Opal, Nola — utterly crushed and stripped emotionally naked — finds a way to pick herself up from the ashes. The entire series is better for the reset.
That doesn't mean that Opal — or Skylar — disappear from the season, they remain a part of Nola's community. Mekka and Clorinda, two of Nola's friends from the first season, also remain as mainstays. Mekka's plot in the first season was plainly disrespectful to working class and poor black women, but it finds itself way to more solid and satisfying territory in Season Two. Nova's previous romantic relationship with Mars turns solidly platonic, another move that strengthens the second season and provides the series with its most moving episode to date.
Episode seven, "#OhJudoKnow?,wp_postsfinds Mars and Nola, along with other friends, on a service trip to Post-Maria Puerto Rico. Familiar with Lee's work in documentaries like HBO'sWhen The Levees Broke, I had braced myself to be devastated and inconsolable. Instead I was greeted with nothing short of a love letter to my home island and our people. His care with Afro-Latinx culture left me feeling seen, held, and nurtured by the details of his work. In fact, it's perhaps the most poignant tribute to Puerto Rico I've seen by someone who isn't of Puerto Rican descent. There's also a Rosie Perez cameo that's so delightful you have to see it for yourself.
As always, Lee's warmth and intimacy for black aesthetics and black culture is his greatest strength. The references embedded throughout She's Gotta Have It are too numerous to name. Some of them are subtle, some designed to hit you directly over the head, all of them are welcome. Few people know how to depict the beauty of blackness on screen the way that Spike Lee does.
I was asked if you have to watch the unfortunate fist season of She's Gotta Have It to dive into the more rewarding second. You absolutely do not. If you are a quick study or comfortable with Google for any blind spots, it's very easy to pick up. In the second season of She's Gotta Have It, Spike Lee has finally found his best and most self-determined black adult woman protagonist of his 30-year career. Perhaps, given Lee's checkered and disappointing past, that is not saying much. It is true, nonetheless.