Derry Girls is quickly approaching the top of my favorite ever comedies list and season two's penultimate episode, "The Prom," showcases exactly why. After a rousing performance of an original song called "Monday Morning, I Love You" by Jenny's a capella group, Sister Michael introduces a new student named Mae all the way from Donegal and announces the upcoming '50s-themed prom. Everyone's eager to add Mae to their friend group because she's a fresh face and also because she's Chinese. She shoots down Jenny & Co., but is intrigued by Erin & Co., after Orla casually tells Mae it doesn't matter if she joins their friend group because they already have a lesbian.
Clare's sexuality hasn't been mentioned much this season, outside the group's rainbow pins — Clare wears two because she's a power gay — but this week it takes center stage. She considers asking James to prom because her options are limited, but Erin says she'd be proud to be on Clare's arm as her date. A promise that lasts about two minutes as Erin notices a guy she once had a crush on breaking up with his girlfriend and coerces him into agreeing to go to the dance with her. Clare's disappointment doesn't last long: Almost immediately, Mae shows up and says she'll go with Clare.
Michelle, of course, ends up with two dates. Orla, of course, brings a very dapper Granda Joe to the dance. And Erin's crush, of course, stands her up. It's predictable, but also perfect — including James rushing in wearing Doctor Who cosplay to save Erin's night.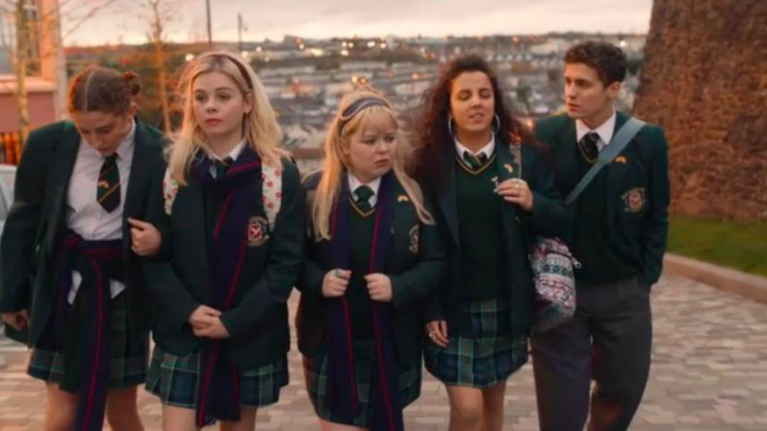 What's not predictable, but is somehow still so cathartic is seeing what a non-issue Clare's sexuality continues to be, and in the '90s. It'd be excellent if she had a real date (though she does seem to have a legit crush on Mae at first), but up until the moment James swoops in to whisk Clare off to prom in her Easter dress, there's never been a real romantic situation on the series, which revolves always around these girls and their friendship. It's an especially amazing feat on a show that skewers everything in sight — there are plenty of jokes around Clare's lesbianism, but never about Clare's lesbianism. (It's something actress Nicola Coughlan noted in an interview between seasons: "It would have been a lot easier if it was that scene in a drama series, because you would have played it totally straight. But we were like, 'How are we going to do this without it seeming like we're making fun of the wrong parts of it, and not honouring the fact that this is a struggle that so many people go through?'")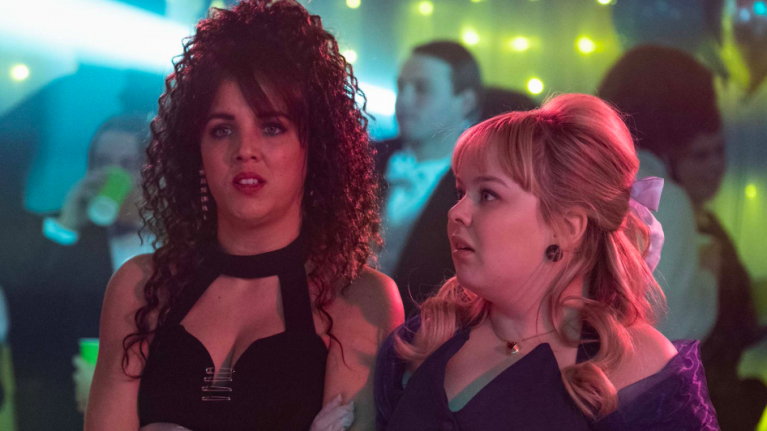 Mae, it turns out, is nuts. She decides to exercise vindication on Jenny for buying the dress she wanted by Carrie-ing her when she accepts her Prom Queen trophy. James is the first one to realize what's happening, and everyone springs into action to save her once they get it. Clare tries to fight off Mae; Michelle and Erin try to pull Jenny (and her trophy) off-stage — but it's too late. Buckets of tomato juice come splashing down from the rafters and soak them all.
While that's happening, Gerry finally fixes the TV that's been broken in the living room all episode, and everyone finds out about the Good Friday Agreement. As the teens wrestle on stage at prom, the adults rushed into the streets to celebrate peace — and The Cranberries sing the world's most famous protest song.
Shows that make you belly laugh every week are rare. Lesbian characters on comedies even more so. Marrying representation, humor and hope, in 2019? Well, that's a gift.
Thank you John #Peace #Goodfridayagreement pic.twitter.com/h5B1Qrutsb

— Lisa McGee (@LisaMMcGee) April 2, 2019