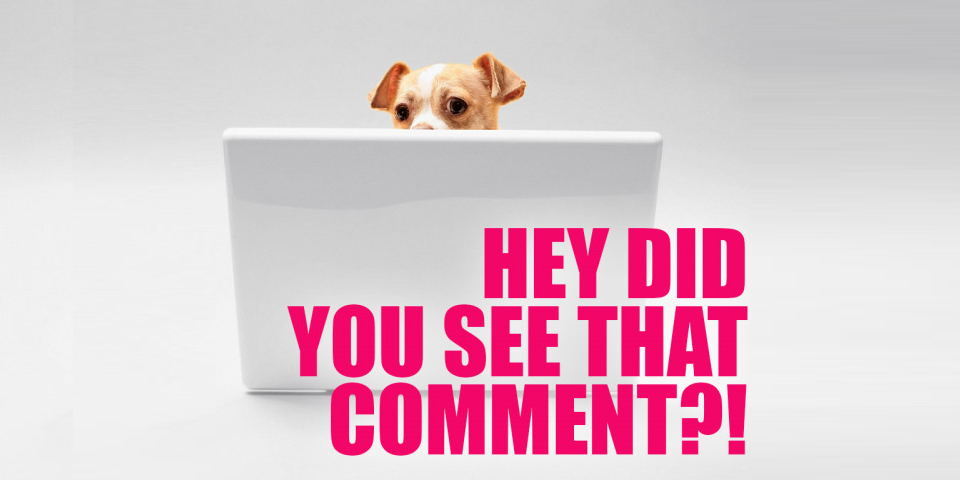 Hi-hi! Hi! It's Cyrus! I know it looks like I'm Queer Girl, but that's because I'm guest-posting from Queer Girl's account! Queer Girl is my human! I am Queer Girl's dog! She says I don't have the right permissions to post on my own. And I guess I don't know what permissions are, but if they're anything like the permission I may or may not have to growl at big dogs in the park and also to eat trash from the bathroom wastebasket when my human isn't looking, I think it's safe to say I'm gonna do it anyway. So hi hello! Here is a list of things I've done today:
+ Sat in a planter in the sun (this is my favorite place to sit, because I can eat salad while I'm up there! By salad I mean weeds. I don't have "permissions" to eat weeds either, but I sure do love them!
+ Growled at the dog door
+ Barked INTRUDER ALERT when the big truck came by and stole our garbage (RIP garbage)
+ Forgot how the dog door worked
+ Wiggled my whole body a LOT in a reunification dance when my human got home from that place she goes every day for so longggg
+ Lifeguarded my human while she took a bath in the death bath, I call it the death bath, I know I have some cousins who like water but it is DANGEROUS and I can't believe my human likes it. Thanks to my vigilance, no one drowned
+ Oh and I loved you! (It's true! And like I know I haven't met most of you, but here's a thing I do with people I love, and I always love the people my human loves: I put my head down and butt my forehead up against their chest or their arm in a really good little greeting cuddle. Would you like a little internet cuddle from me?)
This week, in an incredible feat of daring and smarts that would rival those of any Australian Cattle Dog, and a step forward for positive canine representation everywhere, Carol took over Autostraddle for April 1st! Read Carol's letter from the editor, and also the amazing saga of the neighborhood dog who wouldn't stop barking! Carol served as fashion inspiration for the newest Find Your Fit, and Rachel even pitched in with some canine decorating tips! Carolstraddle day was a real gray-letter day, let me tell ya.
Queer Girl would like me to tell you that also this week, Chani Nicholas did Autostraddle's birth chart, a person AND a theme which are both extremely big deals to the humans of Autostraddle!
Rachel wrote about dating with pets (about which I would like to say: dogs are the best and anyone who doesn't have one is highly suspect, don't @ me).
Kayla wrote this very good thing: For Your Consideration: This Stupid F*cking Juice. Although Kayla, I"m not sure you should call the juice stupid, I am pro-food and pro-juice and if you don't want to drink it I definitely will, can you please put it on the floor for me?
Jessica wrote about The Walking Dead, Tara Chamblers, and the power of seeing a gay character in a zombie storyline for the very first time. I feel like I can connect with this; I'll never forget the first time I watched Homeward Bound.
And then, as my human always says, there were your comments! (Queer Girl took editorial control over the comment award names, because I was going to make every single one of them the Who's A Very Good Human? You Are! Award.)
---
The Fairest Of Them All Award to Sally and Coral: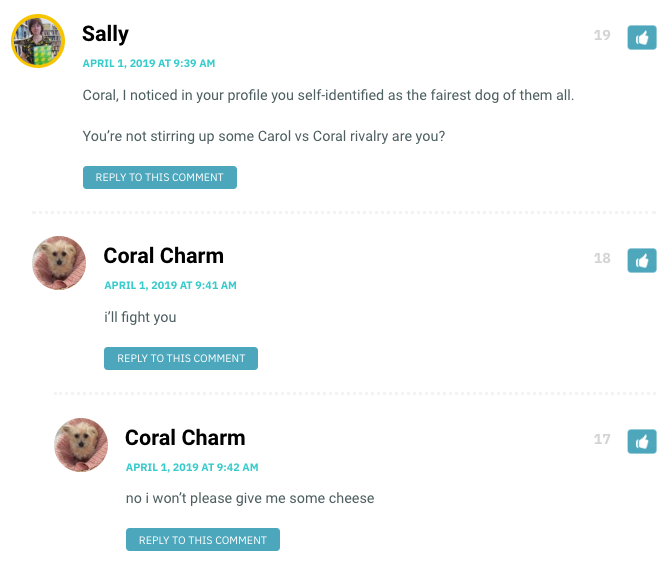 On BREAKING: There Is Another Dog In This Neighborhood and They Won't Stop Barking!!!!
The We're Gonna Need a Bigger Boat Award to Carol, Zuzu, and Coral: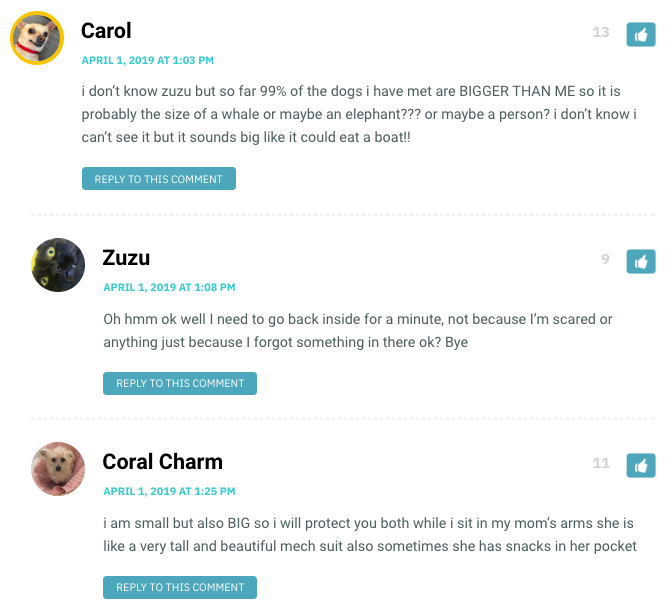 On 9 Reasons Why Carol Is Actually a Cat, Don't @ Me:
The Don't C@ Me Award to Zuzu: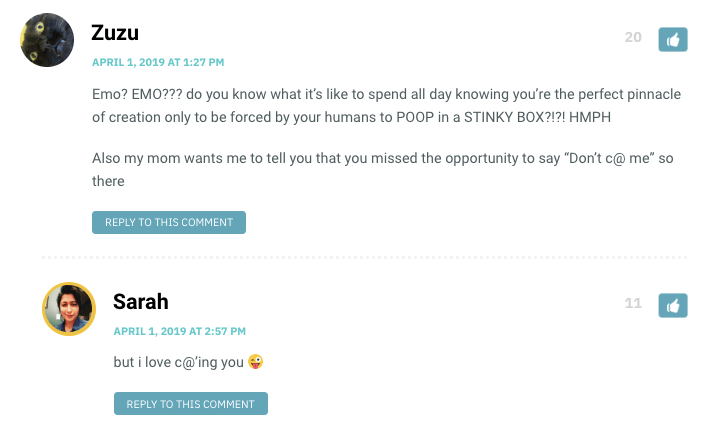 On Other People's Pets, Reviewed by Carol:
The Cold, Hard Cats Award to :):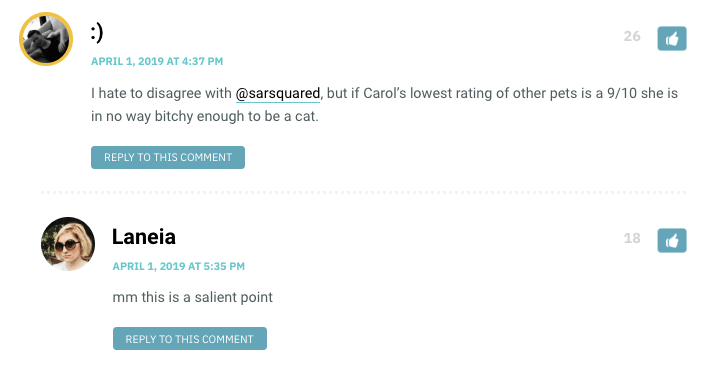 @sarsquared, but if Carol's lowest rating of other pets is a 9/10 she is in no way bitchy enough to be a cat." width="708" height="365" srcset="https://www.autostraddle.com/wp-content/uploads/2019/04/Screen-Shot-2019-04-04-at-9.21.57-PM.png?w=708 708w, https://www.autostraddle.com/wp-content/uploads/2019/04/Screen-Shot-2019-04-04-at-9.21.57-PM.png?w=640 640w" sizes="(max-width: 708px) 100vw, 708px" />
On Songs to Make You Cry in the Grocery Store, as Ranked Compared to "Fast Car":
The Anatomy 101 Award to Molly Priddy and Isabel: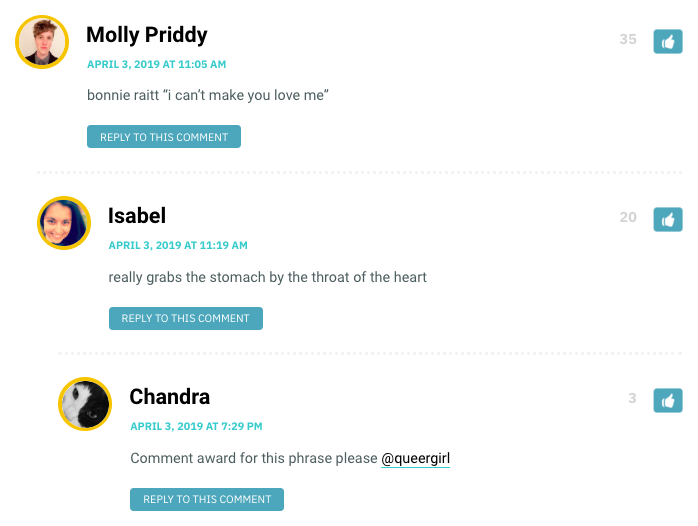 And the Shitty Synchronicity Award to Kayla and Vanessa: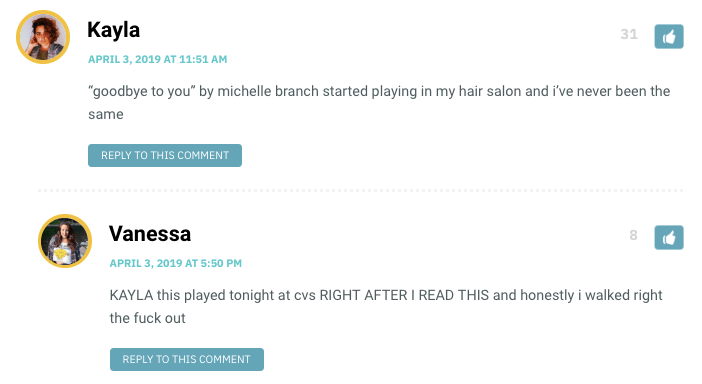 On 10 Queers on What's Made Them Go for the Second Date:
The Love Is Not A Lie Award to hex: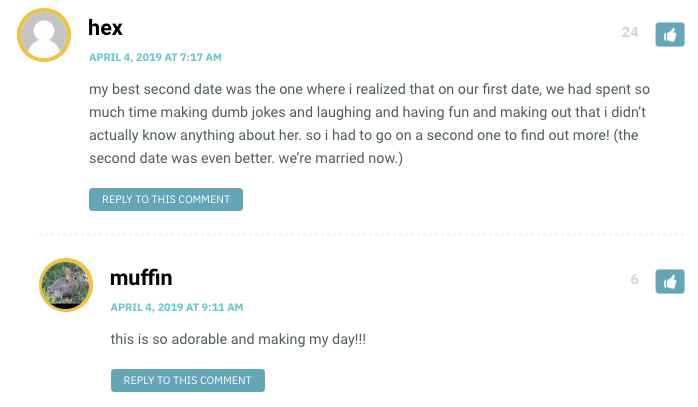 And on Also.Also.Also: Mormon Church Will Now Allow LGBTQ Parents to Baptize Their Children and Other Stories from Your Week:
The Melon-est Proposal Award to Corvus: