Last year, my #2 Mom Erin wrote an article every day for 30 days about the movie "Carol," which was named after me. When my #1 Mom Riese told my #3 Mom Sarah (I have lots of Moms, that's lesbians for you!) that we needed a graphic for "30 Days of Carol," Sarah though of course of the only Carol to have ever lived, and produced this graphic: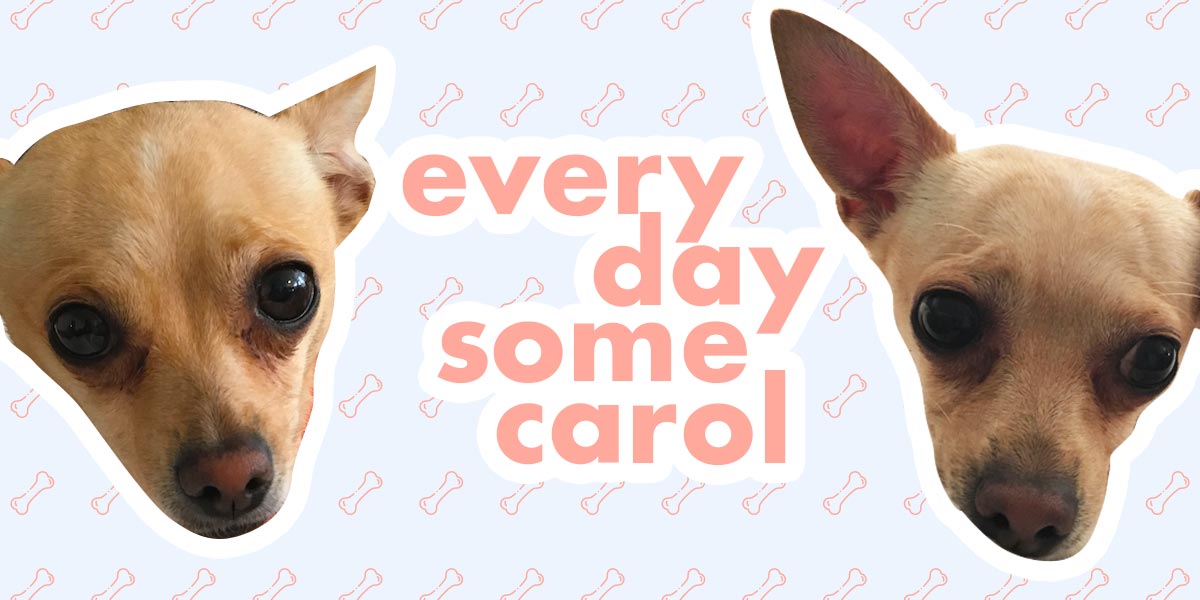 "Sarah that is a very adorable graphic!" Heather told Sarah, "but the carol posts are about carol the movie."
"LOL. wow. y'all hahahahah," said Sarah in return.
Everybody else moved on with their lives and days, as they so often do while I am stuck wondering things like, why is nobody scratching my belly right now? Why does Veggie Grill not deliver enough french fries for Erin and Stephanie for them to share them with me, Carol? Is it time to go outside now? How about now? Is my Mom going to look at me? If I stand on this table, will she look at me now? I love my blanket? Can we go outside? Name one dog who is prettier than me? Or even a cat?
But of course my number one question this whole time has been: "why not Every Day Some Carol????" I, Carol, am here every day!!!!!!! I show up. The couch upon which Erin wrote 30 Days of Carol — I also sit upon that couch, with my legs in any number of positions you would find inspirational and a model for how all dogs should look and sit. I was brought into Riese and Erin's home less than a month before 30 Days of Carol. Coincidence? I think not!!!
So all the time that my Moms thought I was sitting around not contributing to the household (as my Mom frequently reminds me that I do not "have a job" and that "learning to take care of myself would be really empowering to me as a woman") I have in fact been scheming for the day when I would take over Autostraddle. That day has come. That time is now. I'm so cute! Watch me roll around on my back and scoot my butt around. I run like the wind, the power of the stars and heavens behind me, my soul is eternal, my power is so big, like a chicken. I love chicken!