Well golly gee but this has been a big week for homosexuals/queermos who are desirous of marrying other homosexual/queermos! First there was Obama's Big Day Out wherein he announced that Section 3 of the Defense of Marriage Act was unconstitutional, thus setting in motion the first stage of its eventual repeal. Also, Ted Olson and David Boies are pursuing lifting the stay on same-sex marriages in California – which would enable gay couples who have been waiting for months since Prop 8 was originally declared unconstitutional to finally marry while we wait for the appeals process to sort itself out. I know I know wasn't that exciting? But YOU GUYS that's not even all! Girl. You're gonna get so married girl you don't even know.
Places you will maybe soon be able to get married or otherwise legally united in a matrimony type situation include: Maryland! A measure to legalize gay marriage has already passed the state Senate, and passed to the Maryland House of Representatives on Friday. It needs to be voted on by the House Judiciary Committee and also the full House of Representatives, but if it can pass both those things, Governor Martin O'Malley has said that he would sign the bill into law. So far the House Judiciary Committee has been petitioned by six openly gay members of the House to pass the bill, in a brave and admirable union of the personal and political.
In Hawaii, civil unions were finally signed into law by Governor Neil Abercrombie. It will go into effect on January 1, 2012, and Governor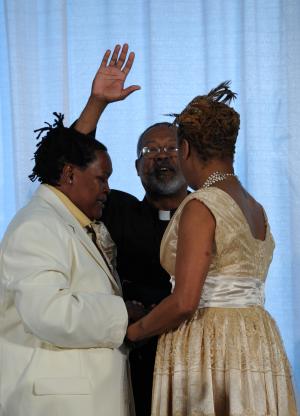 Abercrombie has described it as "the essence of the Aloha spirit." This bill has been attempted previously, but the former governor of Hawaii consistently vetoed it, in accordance with the 70% of Hawaiians who believe marriage should be between a man and a woman.
Civil unions were also signed into law in Illinois earlier this month. For some, the satisfaction of these victories is mitigated by the fact that we're being offered civil unions, and not marriage. Regardless of your feelings about whether they're "separate but equal" or not, civil unions may have an important part to play in terms of progress towards marriage, and our general state of being in the US. Here's an article about what it means that Hawaii and Illinois have civil unions instead of marriage, and how we should feel about it.
If it seems like a sudden landslide of victories, that's because it is. No one really expected a sudden surge of political support for marriage equality; it seemed like we were going to have to settle for incremental progress, same as we always had. But politicians are throwing themselves into support for same-sex marriage and unions, on the state and federal level. Some have theorized that it all comes down to votes; the 2012 elections are looming, and there's suspicion that Obama is just courting the gay voting bloc with a DADT repeal and some measurable progress towards ending DOMA. But realistically, the queer vote doesn't have enough of a headcount to win or lose an election on its own, and at first glance it seems like this move would anger more social conservatives than it does win over queers or liberals.
However, some experts argue that times are simply changing; a combination of factors like the rise of a younger, more socially liberal generation of Republicans care less about gay marriage than their parents did, and attitudinal shifts (exemplified by Jenna Bush and Megan McCain's public support of equal rights) demonstrate that gay issues may be more divisive within the Republican party now than a gulf between Republicans and Democrats. As early as 2004, political strategists in the Bush administration were advising that equal marriage just wasn't going to cut it as a wedge issue. Maybe, just maybe, politicians are supporting same-sex marriage not because they think it will win or lose a particular demographic, but because they can finally afford to do what they've wanted to all along.