The Duke of Burgundy is a lesbian BDSM film that you probably don't know about, but should. Directed by British filmmaker Peter Strickland, it stars Sidse Babett Knudsen (Birgitte Nyborg, Borgen) and Chiara D'Anna. Here, my friend slash fellow SBK lover Rushaa (@thesecondrussia) and I discuss the film in two parts: first, on why you absolutely should watch this movie, and second, unpacking what went on in it. This film and discussion contains sexual content that some people may find distressing.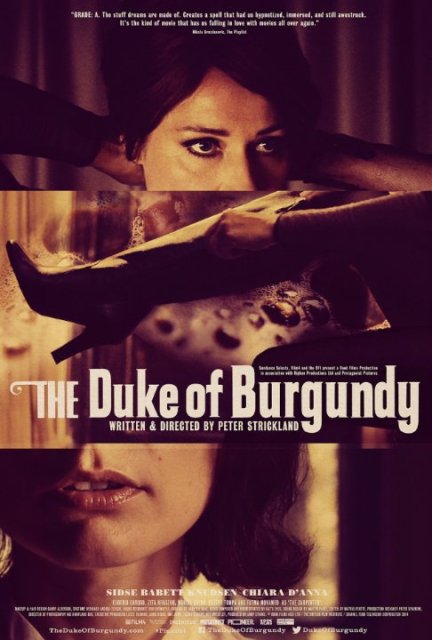 The Review
Fikri: Let's start with how amazing it is that this film exists. When I was looking for people to go watch it with me I described it as a "British lesbian S&M film," because of course, but hi it is a LESBIAN S&M FILM and it is a real thing! And one with a May-December couple at that.
Rushaa: After you told me about it, I googled it and my friend peered over my shoulder and said, "It looks like a lesbian Secretary so I'm going to watch it."
Fikri: Yeah it's also really weird that the two of us, of all people, were late to hear about it. I think its mainstream/non-festival release was probably overshadowed by this other big-money film I hear is about "BDSM," which I shall refer to from now on as The Movie That Shall Not Be Named.
Rushaa: I think it's great to get a film exploring queer women's sexuality that isn't lesbians having babies. Or babies and then tragic accidents, as a particular show I used to watch had.
Fikri: Grey's?
Rushaa: Last Tango in Halifax.
Fikri: Of course there's more than one. I might have just discredited myself as a reviewer by outing myself as a Grey's viewer but that's related to why I'm doing this at all, right, the reviews that exist now just weren't doing it for me. In particular, virtually every review I've read has pointed out that The Duke of Burgundy has an all-women cast but in a "there are no men but it's still good!!" way. One of them actually describes this as "an alternate universe in which … reproduction is irrelevant" — I'm sorry, how often is reproduction relevant to your fictional universes?
Rushaa: The all-women cast is a good point. I didn't even notice.
Fikri: Me too, but if there's a strong reason to watch the film THIS IS IT.
Rushaa: I mean, all-women was my Friday night.
Fikri: All-women is my aspirational every day.
Rushaa: Amen to that.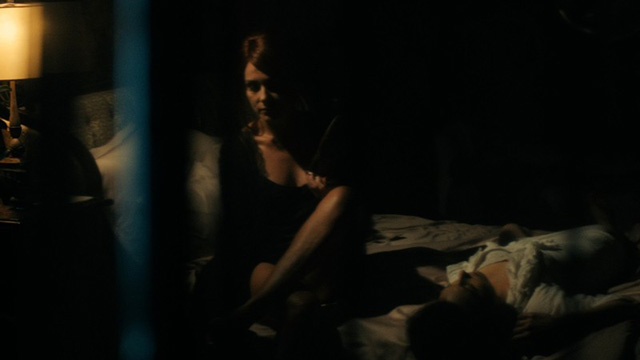 Fikri: But back to the portrayal of queer women's sexuality. What I really appreciated about the film was that it was most definitely not made for the male gaze, which was my no. 1 fear upon hearing it was yet another sexy lesbian film directed by a man.
Rushaa: Agreed. When I got to the cinema they had allocated seating and they sat me right in the middle of two lone men. It was a guy, seat, me, seat, guy. They totally thought it was a different movie. The first guy ran away after I sat down and the second guy was really feeling it until the climax of the first scene and then moved his hand across his mouth away from his crotch and was silent the rest of the time.
Fikri: HAHAHAHAHA
Rushaa: It was certainly better than the time I went to see Blue is the Warmest Colour. I didn't have to stare men into shame.
Fikri: The movie did it for you!
Rushaa: Which is another reason to love it.
Fikri: The trailer is fairly heavy on the sex and lingerie but I found it to be an incredibly sexy film even with a lot fewer actual sex scenes than you might expect. I don't always know how to use the word "erotic," but this captured it perfectly. I might never look at soap bubbles the same way again.
Rushaa: Washing up will never be the same. I may have to retire our machine. My flatmates won't know what happened.
Fikri: The film involved a fair number of kinky things an ordinary audience probably wouldn't be into — it really isn't afraid of pushing boundaries here and right from the start too — but I particularly appreciated that it doesn't rely on expensive props to flesh out what consensual power play in a relationship might look like, which The Movie That Shall Not Be Named does. Nor does it rely heavily on the infliction of pain, which isn't a good or bad thing but rather something that I found interesting and might perhaps make it easier for some folks to watch. (Though of course you'd need to be prepared to be uncomfortable to watch this at all.) 
Rushaa: The film works its way into your head, and the power play is certainly central but also incidental at the same time. From the trailer I expected a lot more gimmicky stuff but it was sweet and also sad at parts. Everyone in it was just a human doing their thing, and sometimes mucking up. I think the lack of fancy gear not only put the focus on the characters themselves more but also makes it a bit more relatable to the ways in which many people themselves might experiment in their relationships.
Fikri: Yeah, it dealt with love and relationships in such a nuanced and sensitive way that I'd recommend it just because, not just as "a BDSM film." Also, because SBK.
Rushaa: Lesbian S&M with Sidse Babett Knudsen! Be still my beating heart.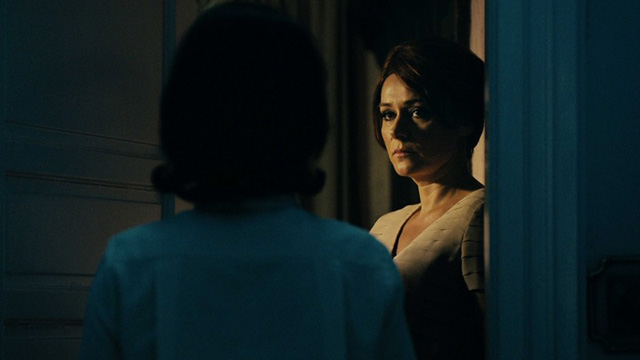 Fikri: Can we talk about how SBK as a lesbian domme is basically all of my dreams, ever?
Rushaa: I both want to be her, and serve her.
Fikri: That was definitely something I felt watching it too, which was confusing sometimes as someone who only strongly identifies with one side of that dynamic in my own life but I think that really speaks to how good the movie dealt with shifting, complex power play… and in particular how good SBK is at expressing both dominance and vulnerability.
Rushaa: It just reaffirmed everything I felt during Borgen.
Fikri: Right! I know it's unfair to keep defining an actor by a role they did once, especially because in so many ways Cynthia is not Birgitte, but this whole film was like a lengthy extension of how I felt during that scene when Birgitte swipes everything off her desk and cries. I'd loved her before, but that fully captured my heart. And SBK, just… why is she so good at that?!
Rushaa: IDK, BUT SHE IS AMAZING. And my future wife.
Fikri: Mine too and I believe we have even proposed this.
Rushaa: Could we make her big in queer circles? Invite her to A-Camp?
Fikri: YES I would really like her to be a gay icon, unfort she's straight as far as I can tell. But it's at least mildly forgiven because she played a lesbian domme. How many actresses would do that?
Rushaa: I don't know, I don't think the film industry has really tried to test the amount of lesbian dommes they can make movies about. At least not in films that can be shown in mainstream cinemas.
Fikri: True.
Rushaa: I was afraid that Cynthia's character might be quite tropey but Sidse beautifully exceeded my expectations and crafted something heartbreakingly wonderful. I guess we should add that Chiara D'Anna and the rest of the cast were also amazing? It's just that we have a longstanding love of SBK and she is in killer outfits (and lingerie) for most of this film so obviously we gravitate towards talking about her.
Fikri: Oh yeah, this film has a lot of lingering looks. Everyone was very good at lingering looks. A+ for lingering looks, and also everyone's boots.
Rushaa: It was wonderfully intense.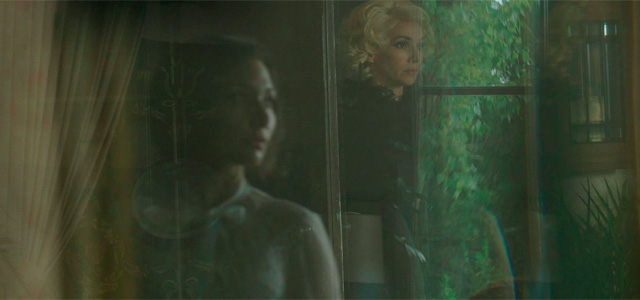 Fikri: Other things that were intense: bugs. I'm not sure why reviews and blurbs keep describing Cynthia as a "butterfly professor" because doesn't she study crickets? I'm also not entirely certain what Cynthia and Evelyn's professional relationship is, if they have one, but it's charming that that's what they have in common. (Tangent: people who are deeply bug-phobic probably shouldn't watch this, they really are a fairly big part of the film. I mean you know a film's gonna be good when it starts with credits for "dress and lingerie," but then it also lists every insect that was featured in the final rolling credits.)
Rushaa: I will admit that I wasn't 100% certain where they were going with the moth motif.
Fikri: Neither was I. I think independent of what the bugs were supposed to ~mean~ though, even if they were supposed to mean anything, what stood out was the all-women audiences at the bug conferences. (Yeah that's definitely the technical term for it.) One Guardian review says that the film "reflects one overlooked truth: contrary to stereotype, many great butterfly obsessives have been women." And by "stereotype" I assume he's talking about how most of the Bug Keepers in Pokémon were boys.
Rushaa: If I remember my Pokémon all those boys were extremely attached to their bugs as well.
Fikri: Their "bugs."
Rushaa: *cough cough*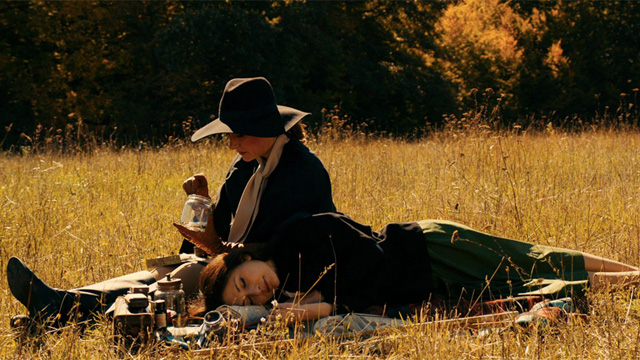 Fikri: ANYWAY. Wanna sum up why you'd recommend The Duke of Burgundy?
Rushaa: Okay. In short I would recommend this film because 1) Sidse Babett Knudsen, 2) there aren't enough queer lady films anyway, I don't really know any focusing on power play, and this one is heartbreakingly good. If I am willing to walk around busy Leicester Square during Chinese New Year celebrations in the rain to process my feelings then it is a film everyone has to see.
Fikri: Ha! And I ice-skated to downtown Manhattan during the ice-snow-slush situation we had going on to watch it at midnight. No regrets. (I should mention at this point that when we both learnt of this film's existence, we booked literally the first viewing of it we could find — rest of our plans be damned.) And why I want others to watch it now: I hate reducing The Duke of Burgundy to these terms, but to me it's first and foremost a love story, and an exquisitely told one. I came to it expecting an exploration of kinky desire and I got that, but also way more. It was far, far more emotionally intense than I expected (or was prepared for!) but because of that it's all I've been able to think about since watching it.
And yes, SBK is ON POINT.
Next: We process our feelings after watching the film! It is super spoilery, so don't click through if you haven't. Again, this discussion contains sexual content that some people may find distressing.
Pages: 1 2See entire article on one page