Hey, super spies. Welcome to Secretly Gay Movies, where I deconstruct movies that, underneath their pandering to the heterosexual audience exterior, hold a world of super queer thematic elements. Have you ever wanted to watch LGBT movies on Netflix without your entire account-sharing family knowing your sneaky gay agenda? Or just wished there were more LGBT movies for you to become obsessed with? Consider me your guide to the wonderful world of swimming in subtext.

Whenever someone asks me what my favorite lesbian/queer movies are, I'm always tempted to scream, "Dude, Fried Green Tomatoes. That shit is the gayest. And it is perfect." Sure, most people who love that movie would never categorize it as gay, but that's just because they don't watch it with hopeful queer eyes.
If you've never seen this girls-to-the-front female-driven movie, let me break it down for you. The story (that was based on a novel by the same name) is set in the 1980s and is told from the perspective of Ninny Threadgoode (Jessica Tandy), an elderly woman who befriends the shy, unhappily married and totally '80s housewife Evelyn Couch (Kathy Bates) and tells her stories about a Depression-era friendship between some women she used to know. The present-day 1980s scenes also include things like this: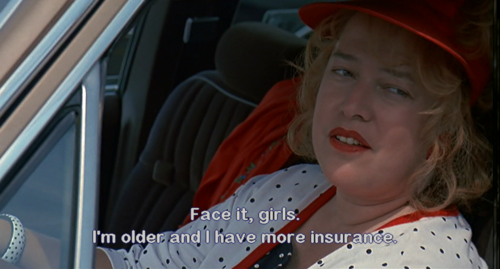 Are you Googling it yet? You should be! Because you're watching it with me tonight!
So Ninny's story begins with "tomboy" (wait for it) Imogene "Idgie" Threadgoode (Mary Stuart Masterson), who Ninny says is her sister-in-law. This is little Idgie: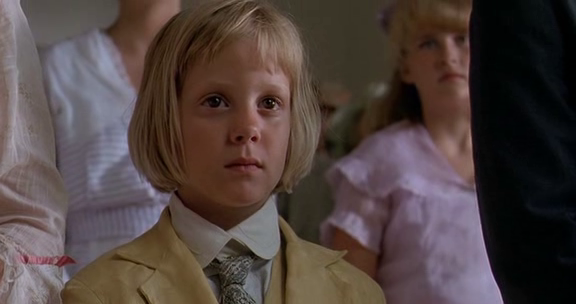 Definitely just a straight tomboy. Super straight. Yes. I am believing it. So anyway, Idgie has a crazy adorable relationship with her charming-as-all-get-out older brother Buddy (Chris O'Donnell) that is tragically cut short when he is hit by a train because he had to go find a runaway hat (just watch the movie). Idgie is devastated and locks herself away from the world until Buddy's former girlfriend, Ruth Jamison (Mary-Louise Parker), intervenes with her hotness.
The two eventually become very good "friends" until Ruth leaves the great city of Whistle Stop to marry he-doesn't-deserve-you-girl Frank Bennett and moves to Valdosta, Georgia. Idgie is heartbroken that she lost her "friend" and tries to move on (yeah, right). Time goes by and Idgie drives to visit Ruth, only to find Ruth is pregnant and her husband is hitting her. Idgie, LIKE A BOSS, takes her back to Whistle Stop as "Come To My Window" plays on the stereo, even though it's like 1922. That's the magic of the movies, people.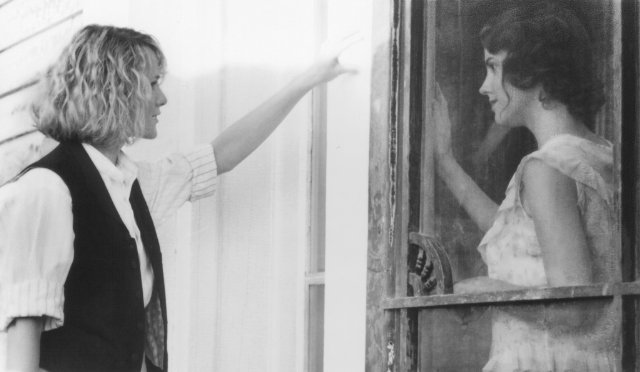 So the two of them open up the Whistle Stop Cafe (awww) together and their barbecue becomes a huge hit with the town. Of course, pile of shit Frank comes back and tries to kidnap Ruth's kid, but fortunately he's stopped when he's hit by an unseen attacker and then he goes missing and his truck is found in the bottom of a lake. WIN!
I won't spoil the rest of the movie for you, but suffice it to say, the number of missed opportunities for lesbian sex scenes in Fried Green Tomatoes is 4,876,238,997. You can cut the sexual tension between Mary Stuart "Why Aren't You Gay" Masterson and Mary Louise "I Know You're Not But I Can Dream" Parker with a knife. I never watch this movie without thinking, "OH MY GOD JUST MAKE OUT AND BE THE BEST COUPLE OF ALL TIME!!!!!!!!!!!!!!!!!!!" It's torture. Awesome, awesome torture.
And apparently I'm not alone in this. One YouTube search of "Idgie and Ruth" lead to me this.
And yes, I did get chills when I watched it and I don't even like that song. THEIR LOVE IS THAT POWERFUL. IT CAN TRANSCEND MUSIC I AM NOT INTO!
I know what you're thinking: how is this secretly gay when it's so obviously gay??? Well I did a little digging and was shocked to discover that after all these years of sitting in my room alone going, "Oh come on! They are totally gay!!! Right? Anyone? Anyone?" I found out that in the novel, the lesbian romance between the two is not ambiguous in any way. It was only until the screen adaptation that they decided to make the relationship more ambiguous, even though it's not at all.
According to Wikipedia:
The film adaptation does not explicitly present the lesbian romance between the two central characters, instead making the relationship between Idgie and Ruth ambiguous. The DVD edition of the film contains an audio commentary in which the director acknowledges the relationship and points out that a scene between the two women engaging in a food fight was intended to be seen as symbolic love-making. At the time of the film's debut, it was criticized by reviewers and activists for what was seen as "glossing over" the lesbian overtones of the relationship. However, the film won an award from the Gay & Lesbian Alliance Against Defamation (GLAAD) for best feature film with lesbian content. The film also focuses more on the racial theme rather than the lesbian plot of the novel. 

Hmm. People were upset at the movie for glossing over the lesbian relationship? I don't know why that could be. I mean I guess it could be the whole "comparing lesbian sex to a food fight" thing. Yeah, probably that.
Toned down or not, Fried Green Tomatoes is a gay love story, baby just say yes*.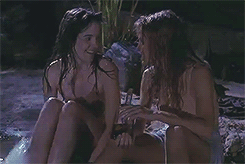 *I solemnly swear to never quote Taylor Swift again. That was a first and a last.
If you have a film you think should be featured on Secretly Gay Movies, tweet me @Hellolanemoore, send me an ASS message, or ask on my tumblr!