Oh Barbara Hammer! I had a bit of a crush on you when I met you last year at a film screening. You had spiky silver hair, thick square glasses and wore a shirt that had silver zippers up and down the sleeves. I sat in a squeaky chair to the left of you that made an unpleasant sound whenever I moved my feet. You read out of your then recently-published (and now Lambda-award-winning) book, Hammer! Making Movies out of Sex and Life (on Amazon!) with one arm propping your book open and the other swaying in the air as if conducting a small orchestra. And, after a short period of waiting in an unusually long line, I talked to you excitedly about queer Asian American film and you signed my copy of your book with "For Whit — an incredible career awaits you now — here's to Asian queer identities!" with the 'ies' underlined a few times (I'm not quite sure why, but I'm sure you have good reasons). I am reading out of that book right now. It's shiny.
Weirdly, Hammer has often materialized in big, often expectedly queer, chunks of my life. Hammer, for those of you who don't know, is an iconic experimental lesbian filmmaker, known for being the first lesbian to make a film depicting lesbian sexuality (i.e., lesbians doing it) in her 1974 film, Dyketactics. Since then she's directed over thirty short and feature-length films that engage with topics like gender, sexuality and the history of LGBTQA culture and individuals. Her work has been universally seen as groundbreaking and trailblazing; her films have been exhibited at the Museum of Modern Art, the Whitney Museum of American Art and the Brooklyn Museum, among many others.
I had actually researched Hammer's film, Dyketactics, in the preliminary parts of my thesis. With her film being the canonical first lesbian film, I thought I should start at the beginning. From there it became like that children's book, If You Give a Mouse A Cookie, leading to a seemingly endless amount of connected events: Researching Dyketactics led me to attend her film screening and book signing; this led me to buy her book (bouncing on my heels as I left, signed book in hand), which led me to research her book publisher, the Feminist Press, which I ended up working with that summer (I told her about this when I briefly met with her and she said, approvingly, that she loved the people there; that seemed to cinch it with me). The Art Director at the Feminist Press later wanted to invite me to a dinner with himself, Hammer, and her partner, but Hammer was in Sweden at the time, and couldn't make it. Ah well — this would have been a great story ("If You Show a [Feminist, Queer] Film to Whitney" would have been the title).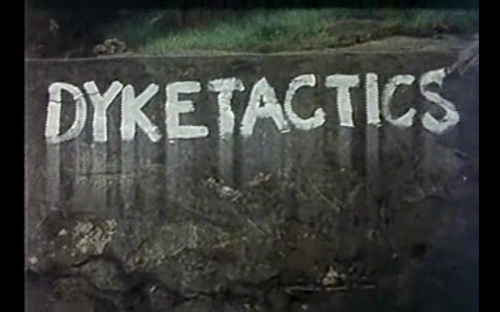 In the same way Hammer's creative influence has woven herself into some of the events in my life, her first groundbreaking film, Dyketactics, has woven itself into the history of queer cinema as a whole. Dyketactics's uninhibited presentation of women's bodies, lesbian sex and sexuality on a film screen has paved the way for every subsequent depiction of lesbian sexuality on screen, from Rose Troche's Go Fish to Alice Wu's Saving Face. Hammer's first film was the first real filmic presentation of a lesbian's body as filmed by a lesbian.
Dyketactics runs four minutes long and depicts images that evoke tactile sensations: fingers running through blades of grass, legs walking through fields, hair being blown by gusts of wind, bodies intertwining in orange sunlight. It debuted as a student film at San Francisco State University, and the response was generally positive, with professors congratulating her after the showing. Seeing graphic images of women's bodies on screen was shocking for some, though, and revelatory of how few people were used to seeing women's bodies, as facilitated by a woman, in film. Hammer recalls a moment in an interview with BOMB magazine: "At the end of Dyketactics, I showed a vagina on the screen and this man screamed, 'AAAAAAAHHHH!' "she says. "All the women said, 'Haven't you seen that before?'"
Judging from his reaction, maybe this guy was Freud ("Nothing's more uncanny than a vagina!" he once wrote, my paraphrase). The shock of seeing a woman's body on screen, uncensored by a mainly male-regulated media, was likely astonishing; the camera being unflinchingly aimed at a lady's "nether bits" as opposed to widely-acceptable boob shots was surprising. There were probably lots of dudes screaming at vaginas that day, and Hammer's film seemed to point at them and go, "This is my body. Fuck you."
The Uncanny Vagina wasn't the only beef Hammer had with Freud. She actively hunts down Freudian theories in her essays on film, too, in an active quest to reclaim her own body not only in film, but on paper. "Dyketactics … is not made with the Freudian belief that the sublimation of erotic energy into creative pursuits is the only hope of a civilized society," she writes. "Freud's belief is apparently proven wrong by the secularly repressive, capitalistic, obsessive, chauvinistically oppressive world we know." In other words, sex isn't ruining the world; guys who look at women's bodies on film and scream about it are.
It's this reclamation of cinema, and of her own body, that I love her for — for putting together a film so powerfully anchored to her life and bodies that are hers and like hers. It's astounding that lesbian filmmaking really only been around for about 37 years (younger than Ellen DeGeneres), and it's even more astounding that the birth of lesbian film can be pegged down to one woman with a 16mm Bolex camera, who, as she filmed Dyketactics, was naked save for a pair of high-waisted jeans and a silver chain necklace. Freud be damned.