Fact: lesbian movies suck. Fact: Not every lesbian movie scales the pinnacles of suckdom achieved by most lesbian movies, e.g., Go Fish's mind-blowingly wearisome Sapphic History seminars and Lost & Delirious's Bird-Metaphor Overkill. Some lesbian and bisexual themed films actually feature good writing, good acting, and good plots. Some even feature smokin' hot lesbian sex scenes (though the MPAA always fights to censor female sexual pleasure with the financially damning NC-17 card, which is an even tougher battle for female-on-female sexual pleasure peddlers) with Women We Love like Angelina Jolie, Leisha Hailey, Jordanna Brewster, Ally Sheedy and Clea Duvall.
So today, Autostraddle celebrates our top ten favorite lesbian films!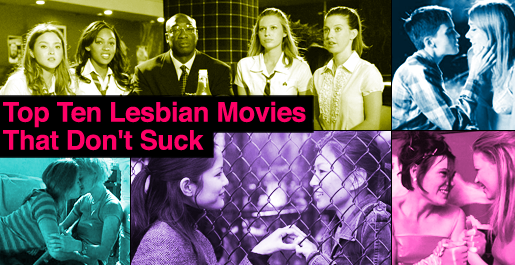 Names highlighted in PINK represent actually lesbian, gay, bisexual or otherwise-inclined persons. They are in order from "1" being our FAVORITE LESBIAN FILM EVER to "10" being a lesbian film we kinda liked.
---
1. Fucking Amal/Show Me Love (Swedish), 1998
Directed & Written by: Lukas Moodyson
Starring: Alexandra Dahlström and Rebecka Liljeberg.


When Fucking Åmål was released in Sweden in 1998 it beat out Titanic at the Box Office — a feat that lesbian-themed movies aren't exactly famous for in the U.S. But Fucking Amal (a.k.a Show me Love) is really that appealing! Fucking Amal offers a strikingly realistic interpretation of two high-school aged girls from different crowds but similar states of weirdo-mind who find themselves incredibly attracted to each other — Agnes (the loner, her only friend is wheelchair-bound) and Ellin (popular with a "reputation" amongst the boys).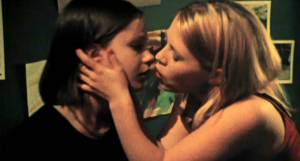 Amal resonates because its coming-of-age story doesn't feel forced. Ellin & Agnes deal with different levels of resistance from friends and family to both lesbianism and each other, from Ellin's friends saying lesbians are disgusting and get AIDS to Agnes's Mom defining lesbian as "a perfectly normal woman who just happens to fall in love with another woman."
Quiet throughout but with a feel-good resolution; Fucking Amal leaves you giddy with first-love nostalgia and no Celene Dion songs stuck in your head. (By Intern Lily)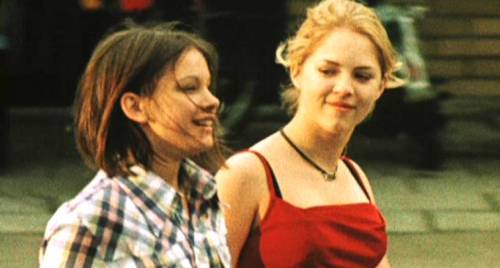 2. But I'm a Cheerleader, 1999
Directed by: Jamie Babbit
Starring: Clea Duvall, Natasha Lyonne, Michelle Williams, RuPaul, Melanie Lynskey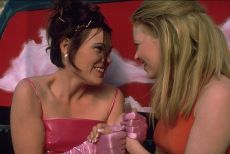 The Ex-gay movement is a serious problem affecting the GLBT community, but with a heavy dose of Camp, Jamie Babbit has transformed the topic into one of the best, funniest lesbian movies ever: But I'm a Cheerleader. I mean, Ru-Paul plays an ex-gay counselor who's in love with the obviously gay son of the oblivious woman who runs the program, how could this movie not be fun? The central characters are Megan, the cheerleader sent to Ex-Gay camp "True Directions" by her concerned parents & friends & boyfriend, and surly misfit Graham (Clea DuVall), who Megan meets at True Directions.
Highlights include: The opening scene of Megan's gay intervention where Megan herself doesn't think she's gay. True Directions' blue & pink color scheme and 50s-style costumes which look GREAT, and its therapeutic activities like the girls caring for baby dolls or housecleaning while the boys play football and make cars.
The film challenges, mocks and exposes the ridiculousness of gender norms on both sides of the game while charming audiences with nonstop campy humor and quick, witty dialogue. But most of all, there is Clea Duvall putting her hair behind her ear at just the right moment, being homosexy and making the movie end on a high note. (By Intern X/Alexandra Walters)
Fun Facts: When it was initially rated as NC-17 by the MPAA, Babbit made cuts to allow it to be re-rated as R. When interviewed in the documentary film This Film Is Not Yet Rated Babbit criticized the MPAA for discriminating against films with homosexual content.
Babbit says that her influences for the look and feel of the film included John Waters, David LaChapelle, Edward Scissorhands and Barbie.
---
3. Boys Don't Cry, 1999
Boys Don't Cry definitely isn't a "lesbian film" — there aren't any lesbians in it! But it has a lesbian director and a queer sensibility and is important for other reasons so we wanted to talk about it anyhow.
Director: Kimberly Pierce
Written by: Kimberly Peirce & Andy Bienen
Starring: Hillary Swank, Chloë Sevigny, Peter Sarsgard, Brandon Sexton II, Allison Folland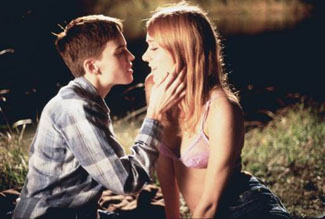 "This is the scene that made my friend realize he was trans!" exclaimed my genderqueer non-romantic life partner during Hilary Swank's chest-binding, underwear-stuffing scene as Brandon Teena in Boys Don't Cry. And though not all viewers come to that same conclusion, it can't be denied: this movie's got the potential to change lives, or at least change minds. Released in 1999, before even LGBT rights worked their way into the mainstream, the Academy Award-winning Boys Don't Cry tells the true story of Teena, a young Nebraska trans man who was raped and murdered after it was discovered that he was born anatomically female.
Swank captures Teena's all-American boy charm. Smirking and drinking and picking up chicks, Teena makes clear what was once (and often still is) confusing to many: being transgender and being gay are not the same thing. Mistaken by locals for a butch dyke, Teena refuses to accept this label and insists upon the truth: he is a man.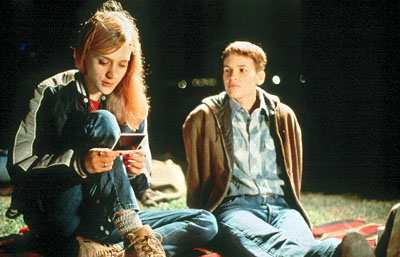 Disturbing and thought-provoking, this movie brought the idea of transgenderism to the mainstream media in a way that was sympathetic rather than stereotypical, exposing the bitter truth of a true story and giving life to the idea that gender is more than the sum of one's parts. (By Intern Katrina)
---
4. Saving Face, 2005
Directed & Written By: Alice Wu
Starring: Lynn Chen, Michelle Krusiec, Joan Chen, Jessica Hecht
You know how we're always complaining that we wish someone could just make a sweet movie about love that happens to involve the particular challenges of a lesbian relationship without making it A BIG LESBIAN MOVIE? Saving Face, which you've probably not heard of, is the unsung heroine of lesbian films. The sweet love story addresses the pros and cons of Chinese-American family life and specifically how Wil (Michelle Krusiec) navigates her world as a lesbian.
Fulfilling the pressures of her family and her own drive,Wil is a hard working doctor who looks on track to become head of surgery, a position currently held by the father of the woman she falls in love with; proud and gorgeous lesbian dancer Vivian Shing (Lynn Chen). Meanwhile Wil's mother is having trouble with traditional relationship norms as well and has moved herself in to Wil's apartment. Mother and daughter both come to understand one another and accept each other's secret loves despite their deterrence from traditional cultural expectations, which is one of many things the film does so well.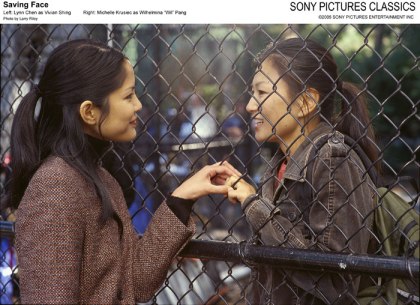 The awkward but endearing dynamic between sweet & shy Wil with passionate & outgoing Vivian is a joy to watch, in addition to being the first lesbian film about an Asian-American couple.
(By Intern X/Alexandra Walters)

5. Bound, 1996
Directed & Written by: Lilly and Lana Wachowski
Starring: Gina Gershon, Jennifer Tilly, Joe Pantoliano, Christopher Meloni
Visually stunning and sexy as fuck, Bound is a masterful film noir-style suspense flick known as one of the first mainstream films to include homosexual lead characters without centering the plot around homosexuality. Lesbian ex-con Corky Sinclair, played by Gina Gershon, is hired as a plumber in the building where she meets Violet (Jennifer Tilly), the smoky-voiced Siren and girlfriend of money laundering mafioso Cesar. When they aren't having hot lesbian sex, the duo are planning a major $2,000,000 heist.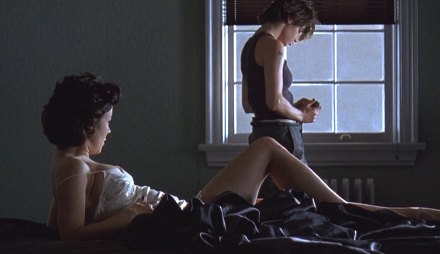 Won a GLAAD Media Award (1997) for Outstanding Feature, a Grand Jury Award at Outfest and was nominated for "Best Kiss" at the 1997 MTV Movie Awards.
Fun facts: Feminist sex educator and pioneer Susie Bright was hired as a "lesbian sex consultant" for the film. Most studios told the Wachowskis that if they changed the character of Corky to a man, they would be interested in producing Bound, but they declined, saying "that movie's been made a million times, so we're not interested in it." Their eventual budget was an unheard of $6,000,000. (By Riese)



Next: "Remember 1998 before Angelina Jolie was super famous? Neither do I."
Pages: 1 2See entire article on one page