EDITOR'S NOTE (added several hours after publication in response to response): This post was intended to make fun of the sensationalized online media industry turning little, irrelevant stories into BREAKING SHOCKING NEWS. For more on this topic, please read "I Don't Care About the Future."



I don't know if you've heard but there is some major shit happening with Glee. Yeah, Glee the teevee show about the singing homosexuals, otherwise known as "the most important show to ever happen on the history of television, basically."
Get your lips off the television set, put down your animated gif, cancel the download of Glee Vol. 37 – Road to Grand Regional Sectional Nationals – The B-Sides and rip up your ticket to "Glee: The Live Tour (The Shipper's Edition)" because your head's about three seconds away from complete implosion and/or explosion.
Why?
At the end of this season, some of your favorite Glee characters will graduate high school.
And then they will leave. The show.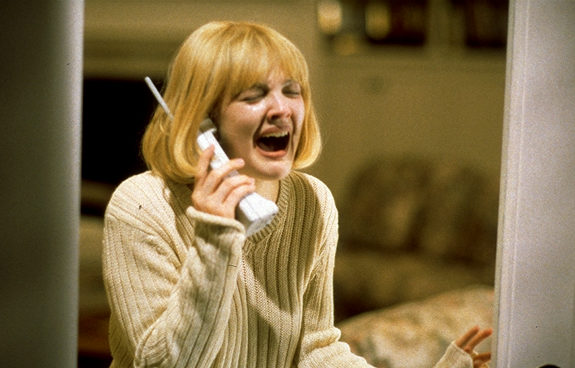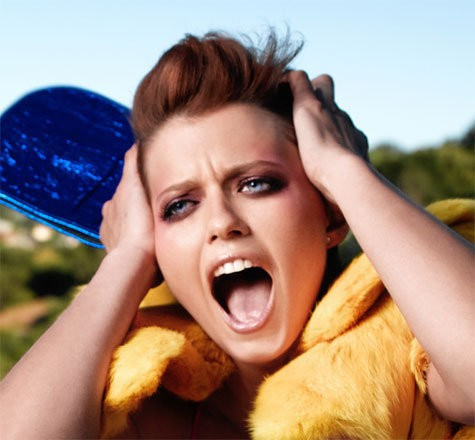 That's right. Lea Michelle, Chris Colfer and Cory Monteith are not returning for a fourth season of Glee, which we imagine might start in late 2012 or early 2013.
Look, I saw it in the news today. I saw it in the news today like 8 GABILLION times, so I know it's true.
I'm so glad the internet exists on nights like tonight because this is definitely the kind of breaking news that slips through the cracks in the World of Print. Were it not for the internet (Bless It!), I wouldn't have even known about this until it was like, relevant, I guess. I've only just recovered from stabbing my eyes out with nail files upon hearing the news about Chord Overstreet.
The beauty of online media, delivering this breaking story from all angles!!!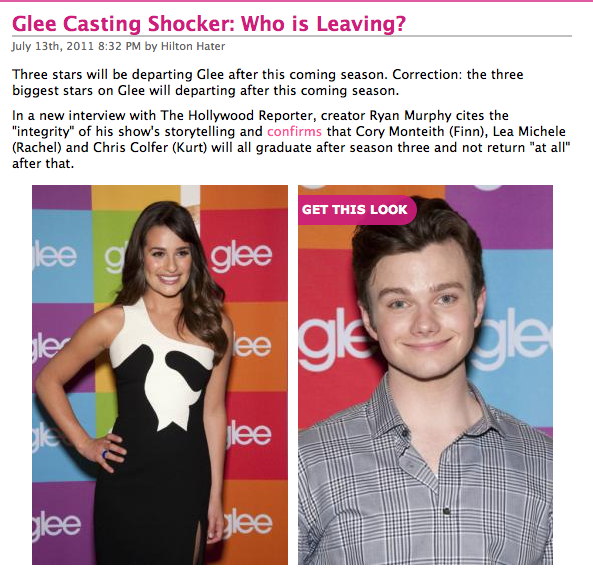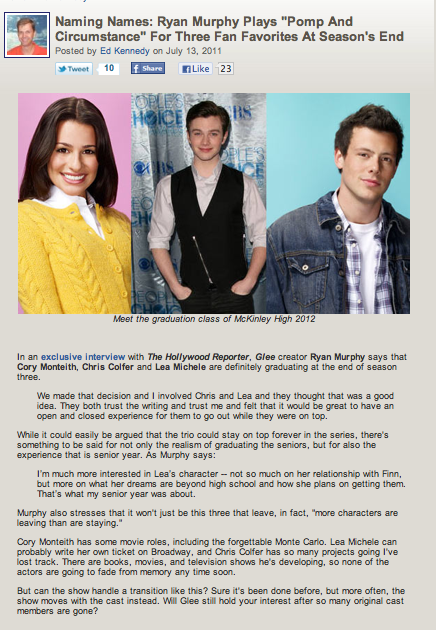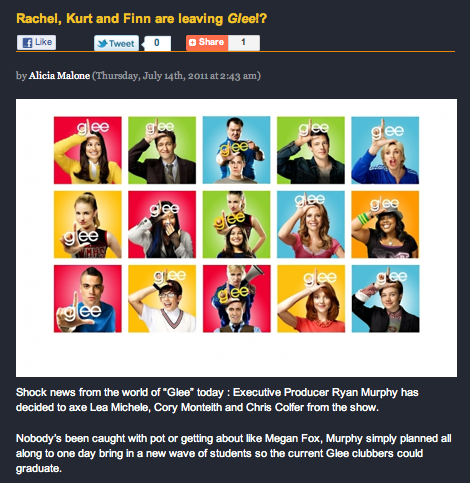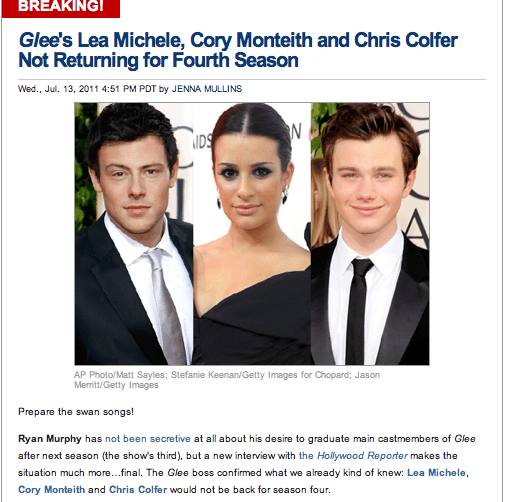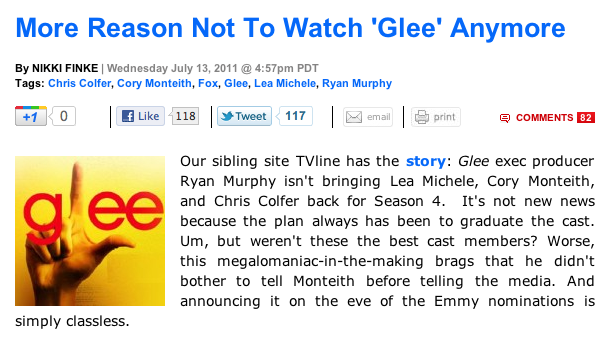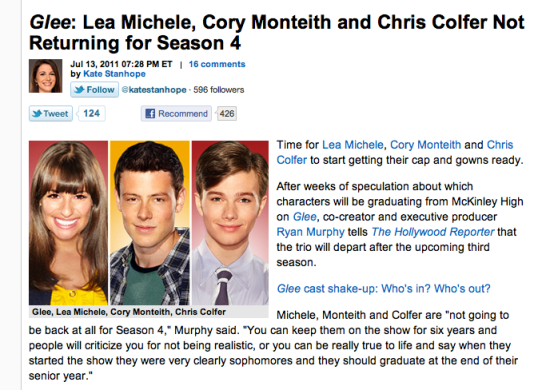 As you can see above, some are calling it "one more reason not to watch Glee anymore." I have to say I agree. How could I enjoy the next 15 episodes of Glee knowing that a year after those episodes END, there will be a new cast of clumsily assembled but very attractive and diverse characters? What is this, Degrassi?
Earlier tonight, after I'd already destroyed my china set and killed all my sea monkeys preparing for the True Death, I heard a bird tweeting in my ear. It was twitter!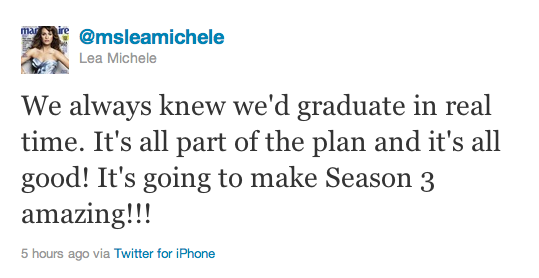 Then I realized that Lea is right! Life is gonna be okay. It IS all part of the plan. It IS all good. And by golly, Season 3 is gonna be AMAZING!
(No but seriously, what's wrong with the internet this week? I think websites need to start thinking about reporting the most important stories of the day, rather than filling a 20-post quota with whatever information happens to shoot their way, regardless of import.)
Oh, however — I saw this thing in that interview you might be interested in. I dunno:
We're doing some great Harry Shum Jr./Jenna Ushkowitz (Tina/Mike) story, we're doing a great Santana (Naya Rivera) story, we're doing a great Brittany (Heather Morris) story and a great Mercedes (Amber Riley) story. Those are the people who didn't get big multi-arc stories – maybe Heather and Naya toward the end – but all of them are getting big ones. When you graduate a certain group of people, examining what they want to do with their lives is a really exciting thing and that's what all these stories are about.