The time has come. The Women's Soccer World Cup concludes this Sunday, July 17th with a game between the United States and Japan. It's your last chance to make as many dirty jokes about Abby Wambach and headers as possible. France and Sweden will face off July 16th in a match to determine third place.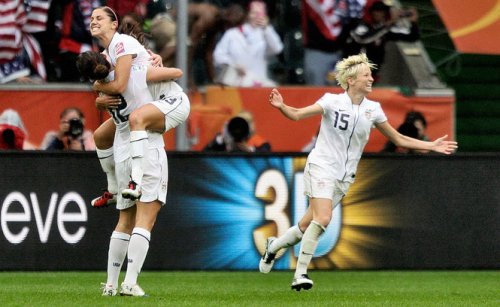 After reaching the semi-finals for the first time, France dropped the match to the ever determined United States. In spite of an early goal from Lauren Cheney, it was clear Les Bleues were a force to be reckoned with. Sonia Bompastor's equalizer sent U.S. fans into a panic as they feared more penalty kicks could be in the cards. France's gutsy play had the U.S. on their toes until a Wambach goal off of a Cheney corner significantly swung the momentum in their favor. Assisted by super sub Megan Rapinoe, Alex Morgan's goal three minutes later gave the game its final score of 3-1. Unfortunately, the decisive win doesn't erase the poor midfield play and less than amazing play from Hope Solo. Coach Pia Sundhage will be faced with a tough decision — return to Rachel Buehler or stick with Becky Sauerbrunn?
Abby Wambach's already legendary header from the Brazil match won the ESPY's Best Play award. This came on the back of her tying Michelle Aker's record of 12 U.S. World Cup goals.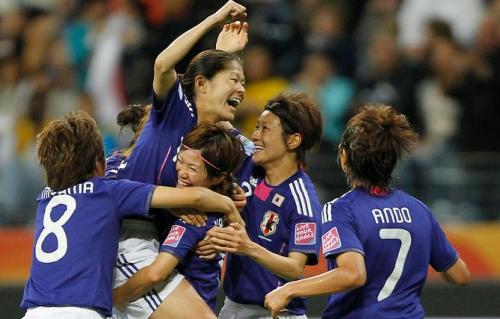 Japan continued their impressive run by taking out Sweden 3-1. The absence of captain, Caroline Seger didn't prevent the Scandinavians from drawing first blood with a goal from Josefine Oqvist. After powering down the field, she sent the ball over the keeper's head for the first and only goal from the Swedes. After that, it was all Japan. Nahomi Kawasumi found the net twice and Homare Sawa, whose name I quite enjoy saying, headed one home for her fourth goal of the tournament.
If you caught  the pre-match festivities, banners, and languages I don't understand, you know the semi-finals shared the spotlight with FIFA's Anti-Discrimination Day. News of Maryam Majd's status just happened to emerge that same day. Majd, an Iranian photojournalist that specializes in women's sports, was arrested in Tehran before leaving to cover the World Cup. The women's rights activist has been in solitary confinement for over 20 days.
Assuming you can't make it to Iran to break Majd out of jail, who will you be cheering for in the final two games? Will the third place game match the excitement of the championship? Will the games help quell your tortured soul after the last Harry Potter movie?