Since my summer's been kinda boring and I will not stand for boredom, I recently decided to make a quilt. After talking to Intern Hot Laura, I learned that I don't actually know how to make a quilt. Here's what went down when I told her my idea.
Emily: I want to make a quilt.
Laura: Then make a quilt!
Start small
Make one patch
Emily: nono
Laura: Why?
Emily: Step one is getting my Dad to drive me to a fabric store.
Laura: Do you not have any bits of fabric or old clothes in your house?
Emily: Step one is searching the house.
Laura: Yes!
Emily: But I need a base.
Laura: Nope, you add the back last.
Emily: Sorry, I should have said "I want to sew things on to one half a pillow sized piece of cloth and call it a quilt."
Ignorance didn't stop me! And it shouldn't stop you either! If you have a whole day with nothing to do, consider making what Laneia calls "honest art". I don't know what that means, but get an idea and run with it! Listen to your heart!
I was inspired by the cover art of the Bright Eyes album I'm Wide Awake, It's Morning: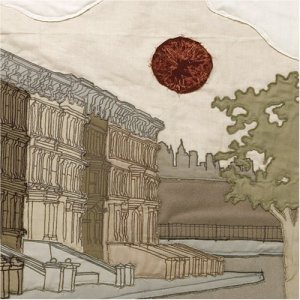 and mine turned out like this:
Obviously you can't see the resemblance because I don't know how to make buildings or trees, but who cares because I MADE A PATCH OF A QUILT WITH MY BARE HANDS YOU GUYS. Most of us won't make something that'll end up on Tegan and Sara's next album unless you're the Alex Vega of quilt-making (or Emy Storey), but that's okay! If your parents love you, they'll appreciate it.
I made a video so you can see how I made it.
+
I used:
+ Old shirts
+ Thread
+ A shoelace
+ A hat
+ Cotton balls.
These are all things you probably have in your house right now! Just to clarify, the yellow thing is not a giant spider, but the sun. The green thing is not a volcano, but a tree. The black blob is not a poodle, it's a cat, and the red thing is a sidewalk. (The clouds are obvious right?)
Keep in mind that in 10 years when I'm really famous people will want to pay me for this decorated piece of cloth.
So what are you waiting for? Go make something with your hands!
[If you read my blog, you probably recognized this post in about 2.5 seconds. If you don't, then that's cool, we can still be friends. This version was better written anyway, right?]