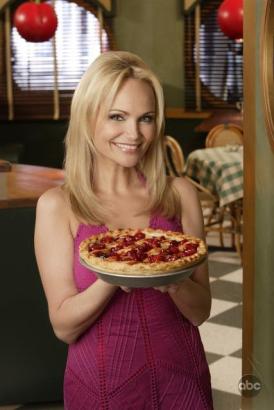 Kristin Chenoweth can do no wrong.  She's worshiped by Broadway lovers everywhere for originating the role of Glinda the Good Witch in Wicked (alongside Idina Menzel). Over the last decade, she's seamlessly transitioned into film and TV work with roles in The West Wing, Running With Scissors and even snagged an Emmy for Pushing Daises.
Last year, Kristin Chenoweth made a splash as April Rhodes on a little basic cable show called Glee. When she participated in the National Equality March a few weeks after her Glee debut, marching down the streets of Washington D.C (with Autostraddle!), alongside a couple hundred thousand LGBT people and their allies fighting for equal rights, everybody recognized Kristin. Every homogay in the world wanted to hug/squeeze Kristin Chenoweth for many many minutes.
In March, Kristin returned to Broadway where she stars opposite Will & Grace star Sean Hayes in the revival of Promises, Promises. And when Newsweek scribe Ramin Setoodeh wrote that terrible confusing, homophobic rant singling out Sean Hayes and Glee co-star Jonathan Groff as evidence that gay actors "aren't believable playing straight," Kristin laid the smack-down, setting off a media firestorm, at which point every homogay in the world wanted to hug/squeeze/RT Kristin Chenoweth for many many hours.
Jess talks to Kristin about her return to Glee for Season Two with Idina Menzel, her brand new ensemble TV project, her strong Christian faith and her feelings about the overwhelming coverage of her Newsweek response article.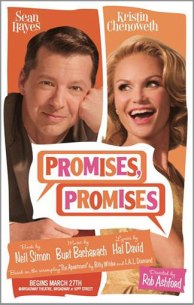 Jess: Was it a conscious decision to go a dramatic route in Promises, Promises, in contrast to the light, bubbly characters you usually play?

Kristin: Yea, it was. It's so funny because people really start nailing you when you start doing the same thing over and over. I've been asked to do more dramatic stuff on TV and in film but never on Broadway, so it's given me an opportunity to do something that I actually relate to more than people would ever want me to admit. So, I'm thrilled that I got to stretch myself as an actor and found it's been a great time of healing for me… and our cast… I'm just in love with each and every one of 'em. So, I just feel so lucky to be on stage each and every night with Sean [Hayes] and Tony [Goldwyn] and Katie [Finneran], and the whole ensemble, who of course makes the show. They probably work harder than anybody every night.
Jess: Are you hoping to branch out into more dramatic projects in film & TV after the Broadway run ends?
Kristin: You know, probably so, because I don't want to be pigeonholed and luckily so far I haven't been. I certainly am known for comedy but the parts I've played have all been very different which makes me happy!  I did an independent film about a year and a half ago called Into Temptation with Jeremy Sisto, which was a very dramatic role and that was very well-received… I just want to play good parts. I want to play real people and continue to work consistently!
Jess: How has your life changed since winning the Emmy for Pushing Daises? Was this year the highlight of your career?

Kristin: I think what it did was make my face more well-known in the mainstream… I was so well-known in the Broadway world although I did do TV with The West Wing and of course Pushing Daises, which was such a gift. My career has been a steady path and I'm lucky enough to get to expand in lots of different areas with having a recording career, Broadway career, concert career as well as work in TV and film. So really the thing that's changed the most is the recognizability factor, I guess. Wonderful opportunities come my way and just as an actor to be able to say that – I know how lucky I am. The hardest part of my work life is trying to decide what I want to do, and that's a very high class problem to have! Certainly no one expected that I would come back to Broadway after the Emmy, but it's my roots and it was very important for me to do that.  I'm going back to Glee and going on a concert tour soon and I'm currently working on a record in Nashville. I fly to Nashville to record my album on every day off from Promises, Promises. So, I think my mantra is "I'll sleep when I'm dead." [laughing]

+
Jess: I know you're also also attached to star in a Dusty Springfield biopic. A lot of women are curious about how much it will reveal about her personal life given that she was so silent about it until her death.

Kristin: Awww, you know, that movie kind of died on the vine, I'm sad to say. I'd love to play her and I had a producer who really wanted me to do it and never could seem to get a script together and that really saddens me because I think that's a great story… not a lot of people know that she was religious but also gay, and battled that. Her sound was different from the way she looked. I really hope that some day I get to play her cause I just think she's awesome.
Jess: Do you have a dream role?

Kristin: Hmmm, I'd have to say… Dolly Parton!

+
Jess: Would you be interested in your own series again after the tough time you had with the "Kristin" sitcom 10 years ago?

Kristin: Well….. I'm actually in development for a new series right now! I can't really say what the subject matter is about, but here's the thing– I don't really have to be the "star" of anything as long as I like my part. A lot of people looked at Promises and went "aw, you don't have the funny role, you're so serious and dramatic" and I go, "well, that's who I am as well." With this new TV project, the important thing will be to cast wonderful people around me, which will be easy because there are so many great actors out there. The writing and the storylines are the most important thing, so I can't even tell you yet if I'm going to be the "star" of the show. When I look at Pushing Daises and other shows that are successful like The West Wing and certainly Glee, there are definitely leads, but everybody's character pops. I'm not out to do a star vehicle for myself, I'm out to work with great people… cause they only make you look better… that's the secret!
Jess: Is the new series a comedy or drama?

Kristin: It'll be a mix of both, similar to the balance they strike in Glee or Pushing Daises.
Jess: We have to talk about Glee. Has Ryan Murphy talked to you about coming back on a more regular basis?

Kristin: There has been some talk of that, but I think for me (and for them) it's great when April Rhodes shows up kind of unannounced, and I think it's really in line with her unpredictable character. But, I have to say… those people [the Glee cast]… they inspire me, and I'm praying that I get to have a scene with either Jayma Mays [Emma] or Jane Lynch. So, we'll see what happens to poor little April!
Jess: I think all the Wicked fans are crossing their fingers that you'll have a big reunion with Idina Menzel as well. Do you know if that's in the works at all?

Kristin: I don't know!  I know they just started work on season 2 but I don't even know what they're writing for April…. I just show up.

Jess: What was it like working with Idina in Wicked?

Kristin: Heaven! She's an amazing, amazing singer… I really miss her because we had such great chemistry on stage and I think that's very hard to replicate in that show.
Jess: Were you surprised that your Newsweek response article received so much attention?

"If Jesus were alive today he probably wouldn't be in churches. He'd be with the sick and the poor and the people who are outcasts and people who feel unloved."
Kristin: Extremely so. Extremely so. I was not prepared… I don't think any of us were…nor was Sean [Hayes]. But, if it was a way to get the conversation started then I'm very happy. I said exactly what I needed to in that article and I stand by everything that I said. And Sean stands by everything about who he is and especially what kind of actor he is.
Jess: You've been very open about your strong religious beliefs and identifying as a Christian while simultaneously advocating for gay rights. Does the negative connotation associated with Christianity upset you?
Kristin: Oh, I hate it!! I hate it, because being a Christian to me is such an awesome thing. And I hate that there have been those before me who have turned it into an ugly word. Of course it can sometimes be connected with very conservative, right wing, intolerant people, and that's not the way Jesus was. So, that bums me out that Christianity is linked to such a negative feeling, because I honestly think if Jesus were alive today he probably wouldn't be in churches. He'd be with the sick and the poor and the people who are outcasts and people who feel unloved and the people who are told that they are not "OK." If I had to read in the Bible that "it's a sin to be 4'11" – what would I do?  Ya know, I think you are who you are and I don't think God makes mistakes.  I'm hoping that there are a lot more Christians out there who believe like I do and won't be afraid to say so.
Jess: What do you attribute your liberal stance on Christianity to? Was it the specific church you belonged to as a child or your parents' influence?

Kristin: I think it came from my parents. They always taught me never to judge anybody, that was my job, and to accept and love people for who they are. I also think it was something I was born with. I know that sounds kind of weird, but I'm not exactly the norm. If you look at me: I have a funny speaking voice, I'm tiny… I'm not exactly what you superficially call a "normal person." I'm in show-business and you get rejected on a daily basis – no matter who you are or what level you're at in your career. I just wish that the word "Christianity" would start to change in the minds and hearts of America, even if you don't believe in it — if you could just respect it.  Even if you don't believe in God or believe in a higher purpose. My Grandma was a great Christian lady and she always used to say, "you read the Bible like you eat the fish – you take the meat that serves you well, but you don't choke on the bones."
Jess: There are a lot of gay readers out there who also have a strong faith but feel conflicted between the two worlds. Do you have any advice for those young gay people who struggle to manage the two?

Kristin: I think they should follow the lord because that struggle is between God and the individual. If they follow the path of prayer and keep a close relationship with God, or the power they believe in, they will find the right answers if they keep their beliefs. I've had so many gay fans who come up to me and say "thank you for making that Christian album and being so gay-friendly." Well, I am… To believe it's a sin for the way you are born… it just isn't right.