Say some Hail Marys and make a sign of the cross, because these episodes are a hot, sexy mess. If you've been hanging in there and waiting for some extra-flamey gay witch action, then these episodes are for you.
EPISODE 5: Witch Empowerment Folk Songs
This episode is filled to the brim with mystical rhymes, chants, songs, and glossolalia. Tituba reanimates the faces of the dead and even more Salem ladies try to start a mini witch coven by singing around a fire. Let's get started!
Mary realizes that she's finally been outed as the Big Bad Witch. Mercy caught her. Instead of chatting via telepathic Skype, Floo flames, or summoning her snakes, Mary decides to hash things out face-to-face, or rather, lip-to-lip with Mercy in person.
She storms over to Mercy's house in full femdom force, hollering about how "The time for coyness has passed. GIVE INTO ME AND YOU WILL ONLY KNOW PLEASURE!"
I can already hear your fanfic wheels turning.
Mercy is left breathless to make up her mind about joining the dark side. I mean c'mon. We all know what she's gonna do!
Speaking of the dark side, the theme song for this episode is Ladytron's Evil (Tony Senghorne Remix). You can hear the entire Spotify playlist here: Ladies' Night in Salem
Poor, Clueless Bros
After that stunning display of hotness, we get to watch John fumbling around, trying to stab open a box. Stab. Open. A. Box.
Wonder how he's going to handle opening his holiday gifts.
This mauling of the box is so cringe-worthy. You see this illustration? THIS is what happens when you open the mysterious Malum box to complete The Grand Rite.
The witch hunters haven't solved the witch mystery in Salem? I'm not too surprised.
Finally, the box magically snaps open and John pulls out this religiously-loaded symbol.
What would you do with an evil apple artifact? I dunno, I'm a part-time Discordian, so I'd probably just throw it at someone.
Mercy Owns Salem
This scene is so sublime and so epic. In historical and TV colonial Salem, women and people of color had few rights. Tituba is presented as Mary's servant in public. Reverend Mather killed the midwife after a farcical "trial," shortly after she spoke out for women's rights. So far, the only woman in power is Mary Sibley, and that's because she got married to the guy in charge.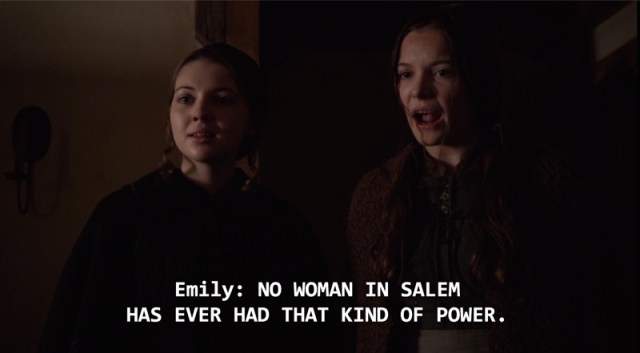 Mercy's got new allies in town. Dottie, Emily, and Elizabeth are three young women who seek her help. Every time Mercy points her finger to accuse a witch, heads go rolling and the gallows start creaking.
We learn that Emily's father is an abusive drunkard who wants to sell his daughter into prostitution once she turns 15. Considering the climate of oppression in Salem, it's no surprise that they're asking Mercy for help.
Mercy's witch-hunting shackles, cage mask, and harness give her a way to gain power over their oppression….starting with Emily's father.
Mary realizes just how much power Mercy's gained and she's aroused / scared.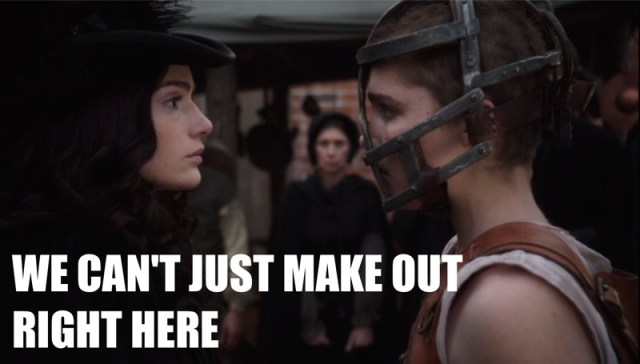 Tituba, Queen of Dark Magicks
So what about that Grand Rite? Well all of the elder witches in Salem know that Tituba's taking this mission seriously. They know that John's got the Malus box, and they need to find a way to get him out of Mary's life.
Remember how Pirate Guy knew a bunch of secrets about John? Well Tituba PEELS HIS FACE off his corpse with a knife, and then summons his spirit back from the dead with a spooky chant.
Mary's got an exciting, romantic life. She and Tituba are live-in Witches with Benefits, she's smooching Mercy on the side, and she's still in love with her old beau, John Alden.
However, Dead Pirate Guy reveals that John murdered innocent people during the war. Tituba runs off to tell Mary and hopefully break her heart.
It doesn't work. Mary confronts John about his secrets, and they both admit that they're terrible people who have made Major Life Mistakes and enjoy killing innocents. Hey, maybe they can work together on the Grand Rite!
Baby Witch Coven
After Mary finishes her 14th make out session of the day, she stumbles across Mercy's girl gang, dancing around a fire, chanting, and singing riot grrl classics.
I dunno about you, but I'm really excited to see where this goes.
Unfortunately, the Witches and the Wanna-Blessed-Bes in Salem are in trouble. John and Rev. Mather have finally caught their first witch by rigging a trap with the Malus box as bait. A mysterious figure broke into John's house to steal the Malus, only to fall the floorboards onto some seriously painful wooden spikes in the basement.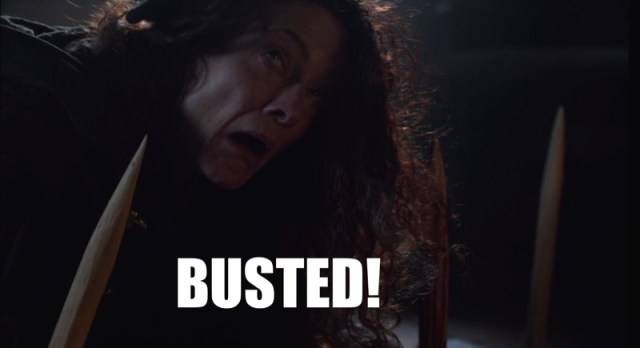 It's Rose, one of Mary's elder witch mentors! Is she going to be a snitch, or will she keep the witches' secrets safe? Let's find out in…
EPISODE 6: WOMANHOOD, STORYTELLING, AND WATER
After accusing and executing several innocent townsfolk, Cotton and John have captured a Real-Life Witch! They sedate Rose, toss her on a wheelbarrow, and take her to the woods for questioning.
According to Rev. Mather, tonight happens to be the rare night when Saturn's position in the sky compels witches to tell the truth. However, they have to position Rose directly underneath Saturn out in the woods to make this work.
Don't you love the irony of Rev. Mather knowing all this occult stuff? I won't be surprised if he's killed off as a witch later in the show.
A Lesson in Queer History
Back in Mary's School of Witchcraft and Wizardry, Mercy is snarfing down food so fast, she isn't bothering to chew.
Tituba's throwing some stink eye at Mercy. Mary quips, "Afraid she'll steal the silver?" Hilarious, since Mercy doesn't seem to have a fork or knife. Poor Tituba though, this house is getting crowded with Mary's love interests.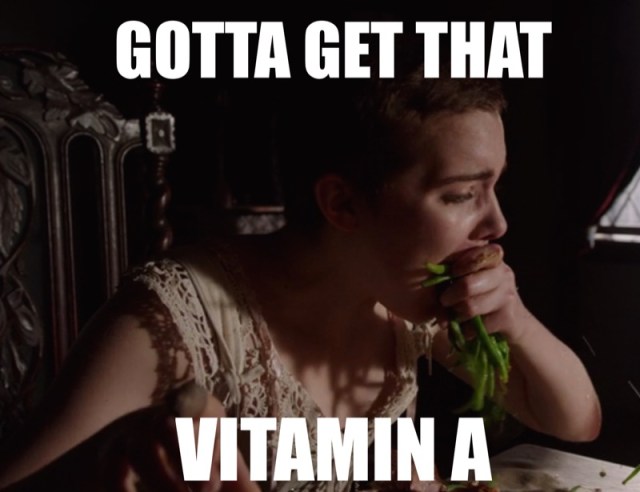 After lunch, Mercy snuggles up with Mary for story time.
And wow, what a queer villain origin story it is! During the flashback cut scene, we learn how Mary's heart "turned grey as ash" after George Sibley sent John away to fight in the war years ago. She was recruited by the witches, who assassinated Mrs. Sibley during a dinner party. This enabled Mary to enter a loveless marriage with Mr. Sibley, the most powerful man in Salem.
One night, Tituba and Mary get Mr. Sibley wasted and attempt to seduce him. It's one of those typical "guy thinks its so hot to watch lesbians make out" situations. Of course, Mr. Sibley falls into their trap.
They tie him to a chair and shove that gnarly frog familiar down into his throat, magically binding him and holding him as a prisoner. Since Mr. Sibley's unable to speak, Mary becomes the new leader of Salem.
However, the cuddles between Mary and Mercy don't last for long. Mercy opens her eyes and discovers that Mary has apparated both of them into the middle of the forest.
Mary's holding a razor blade and saying that her witchy secrets will never be made public. Is she going to kill Mercy?!

Oh no! RUN MERCY! She takes off through the forest, screaming.
Witches Hunting Witches
Femdom Mary catches up with Mercy, and it seems like they can't figure out whether to kill or fuck each other.
Mary uses her razor blade to cut off Mercy's clothes, asking her to please open her heart and accept Dark Witchy Powers as her Lord and Savior. Mercy scream out, "Yes, YES!" and now she's officially Mary's new Witch-in-Training.
This episode's theme song is Anna Calvi's cover of "Wolf Like Me", because of the sexually-charged forest chase. Listen to the Ladies' Night in Salem Spotify playlist to hear all of the theme songs I've selected for this season.
Somewhere else in the forest, John and Rev. Cotton tie Rose to a tree at the right place, right time, right Saturn. Her eyes roll back into her head, and Rev. Cotton wastes this prime opportunity having a conversation that sounds like this:
Cotton: So what's with this Grand Rite?
Rose: We're sacrificing innocent people so we can take over Salem and build some condos, maybe establish an In-n-Out franchise.
Cotton: Innocent blood?! So you haven't started killing people, right?
Rose: Nope, we've killed tons of people in Salem.
Cotton: What do you mean? The only people who have died are the ones I righteously executed!
Rose: Sucks to be you, Cotton!
Cotton: What do you mean?! *goes into denial*
Rose snaps out of her truth-telling whammy. And holy shit, she's angry. She scrambles up the tree with broken arms, bites into her own wrists, and sprays blood down onto John and Cotton while summoning up the dead. While they're busy fighting off zombies, Rose makes her epic getaway!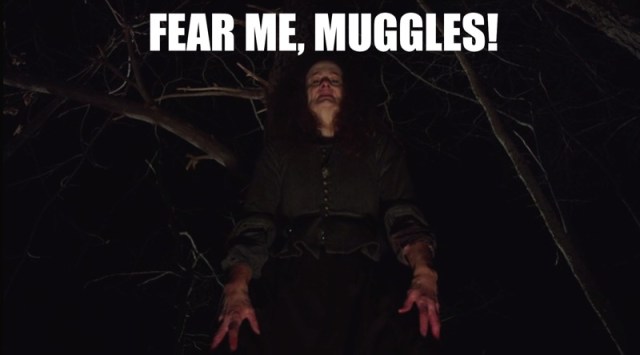 However, her freedom is short lived. Rose sits down on a stump to catch her breath after bleeding everywhere and raising the dead. However, Mary wanders by and asks Rose why they ordered the Malus via Amazon, since it's like the "Plan B" to completing The Grand Rite.
Rose explains that the witches all doubt Mary's commitment to evil, since she still loves John. In fact, Rose influenced George Sibley to send John to war years ago. *gasp*
Rose has been the Keyser Soze mastermind behind the Grand Rite all along!
Mary is understandably upset. She sics Mercy, her new Witch-in-Training to decapitate Rose. Wow!
Everyone returns to Salem covered in blood.
Tituba, Mary, and Mercy are having a difficult time getting adjusted to their new non-traditional gay witch relationship.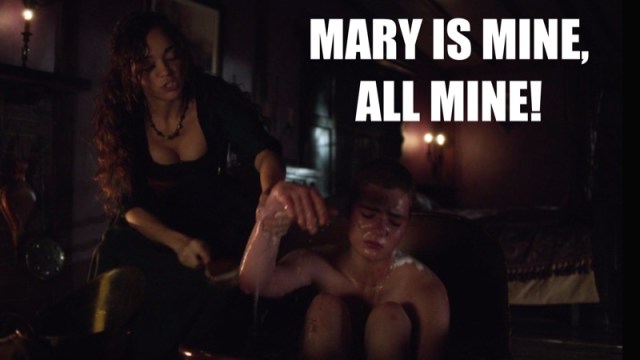 Mary tries to comfort Mercy with this poignant lesson about the water magic and the power of women. It's so great that I want to quote the entire thing.
"Men think of themselves as rock, hard as stone. So they are. Hard, brittle, easily broken. Women know that we are mostly water. Sea around us, sea inside us. When I hurt, I remember that. I remember what water is, what it does. It flows. It changes. It endures far longer than the rock."
Then Mary gives Mercy a special gift: a gold thimble to cover up her missing fingertip. You know, the one that she bit off while under the influence of bad magic? Uhhh…thanks?
More Witches Revealed
Back at home, Anne Hale notices a tall robed figure wandering around her home. Instead of calling out for help, she tries to have a conversation with it.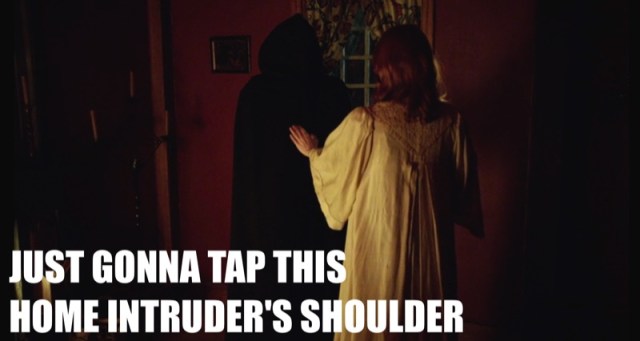 The figure disintegrates with a WHOOSH, leaving this suspicious mask and black robe on the floor.
Anne's mother walks in and says, "It's time we talked about your father."
How long will the peace last in the Mary-Tituba-Mercy household? Will Anne become a witch too? Are they seriously going to kill eight more innocent people before the end of Season 1?
Keep watching along, and maybe we'll find out next time!