Feature image via tea coffee and books.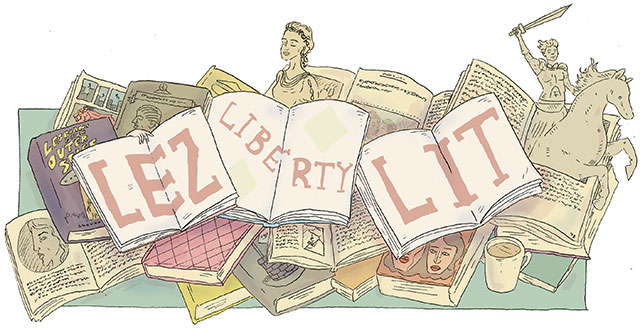 Cultural Front rounded up poems from #BlackPoetsSpeakOut. Lambda Literary highlighted the queer works that are part of the project.
Janet Mock is running her second #TransBookDrive to give books to trans people in prison.
The Millions has started its annual Year In Reading series and everything is beautiful and I have so much to read.
There is a new Toni Morrison novel to look forward to.
Miranda July's new book The First Bad Man is also coming out soon, and July has paired it with an online store selling objects mentioned in the novel, with proceeds going to the National Partnership for Women and Families.
Victoria Law wrote about reading 50 books by people of color this year (and includes her whole reading list).
Rachel Kincaid wrote this short story, "Erika and Klaus Mann Walk Into A Bar," in Columbia.
"You are thoughtful, well-read, and ruthlessly practical. You never marry." How to tell if you're in an Alice Munro story.
Electric Literature has the most popular books, infographic style.
Jacqueline Woodson talked to NPR about growing up with segregation, coming out to her family, her memoir and more.
You should know the work of these contemporary Native American poets.
At Salon, Laura Miller looks at the way the New York Times' notable books lists have changed over time.
JK Rowling will be releasing new Harry Potter things for the 12 days of Christmas.
At Lambda Literary, Courtney Gillette reviewed Under This Beautiful Dome, a memoir by Terry Mutchler. The BookGeek reviewed Just Girls by Rachel Gold. Philip Clark reviewed A Queer Capital: A History of Gay Life in Washington by Genny Beemyn. William Johnson reviewed Under A Falling Star by Jae. Daisy Hernández talked about bisexuality, her new memoir and more.
At the Lesbrary, Danika reviewed Lies We Tell Ourselves by Robin Talley. Kalyanii reviewed Her Name by Alicia Joseph.
Casey the Canadian Lesbrarian reviewed YAW, a poetry collection by Dani Couture. She also reviewed Happiness, Like Water, a short story collection by Chinelo Oparanta, at the Lesbrary.
Recently on Autostraddle: Mey wrote about the rape in Batwoman and queer and trans women comic creators. She also made you a comics-related gift guide. Riese posted a #BlackLivesMatter reading list.
What We're Reading:
Rachel: I finally got my Topside Press tour zine, "Where We're Going We Don't Need Roads," and it was so good! Everyone should buy one. Buy two. I also started reading Alice Notley's Songs and Stories of the Ghouls, which is verse and prose poetry that reimagines and fleshes out narratives for tragic Greek mythic women like Dido and Medea. I love it so far and am excited to continue loving it.
Carolyn: I'm currently reading Smoke Gets in Your Eyes: And Other Lessons from the Crematory, a memoir about working in a crematorium, and Janet Mock's Redefining Realness, finally. This weekend I read Antonia Crane's Spent, and the zine "Where We're Going We Don't Need Roads," after Rachel recommended it a few weeks ago. I also read Alone in the Kitchen with an Eggplant, a book of essays by writers and also people like MFK Fisher about eating weird or elaborate things alone and was, from a "it is okay to cook elaborately for yourself but also it is okay to eat cabbage 87 meals in a row if you want" standpoint, extremely validating.
Riese: I just finished the second Harry Potter book! It's called The Chamber of Secrets and it's about a chamber of secrets!
---
Books! They are really great. You just won't believe how great they are. You may think that the Internet's great, but that's just peanuts compared to books. In Lez Liberty Lit, we talk about literary shit that's happening that you should probably care about.
The name "Liberty Lit" was inspired by the short-lived literary journal produced by Angela Chase at Liberty High School in 1994.