2014 has been a pretty good year for female comic book fans and women in comics. There are a bunch of new female-led titles, some female superhero movies were finally announced, there are some super great women writing and illustrating comics and it looks like the pushback against the whole "fake gamer girls" thing is finally winning. It's also been a pretty good year for queer women. Same-sex marriage and anti-discrimination ordinances are spreading across the nation, we got a second season of Orange is the New Black, Ellen Page came out. So let's celebrate by buying a bunch of cool lesbian superhero memorabilia and other comic stuff for Queer Lady-Types!
---
Graphic Novels
Of course, any list of gifts for a Lesbian Superhero is going to start off with a bunch of comic books. That is, after all, where we're getting all of this from. If you're looking for comics that actually include queer lady superheroes, the most classic choices are, in my opinion, Renee Montoya, Batwoman and Runaways.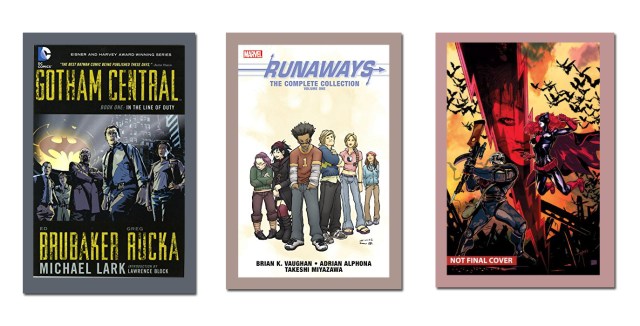 If you ask me, Renee was at her absolute best in the Gotham Central series, and this first collection is tells the story of her being outed and addresses the fact that she's a lesbian for the first time. It's a super classic detective story that sort of about Batman, but not really. You should also make sure to check out Renee's one-time girlfriend, Batwoman, whose latest trade paperback includes an adventure that's tied into her current girlfriend Maggie Sawyer's past. Finally, Runaways issues 1-18 have been collected in Runaways The Complete Collection Vol. 1. This brilliant young adult (but perfect for older readers too) comic features the queer teen hero Karonlina Dean and her betrothed, the shapeshifting, genderqueer Xavin and is a must-have for any comics lover.
Gotham Central, Book 1: In the Line of Duty
Runaways: The Complete Collection Volume 1
Batwoman Vol. 5: Webs (The New 52)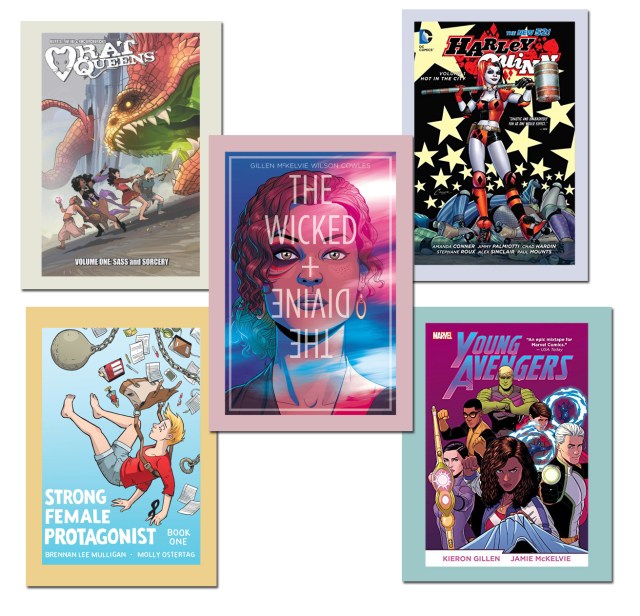 However, for more modern takes on ass-kicking queer ladies, I would suggest taking a look at Miss America Chavez in Young Avengers (which features a ton of other queer characters), which has completed its run, so it's easy to ask for all of it for the holidays; Betty, the drug, fighting, sex and candy loving halfling from the punk rock fantasy series Rat Queens; Harley Quinn and Poison Ivy who are like, totally gay for each other in the Harley Quinn series; Feral from the absolutely wonderful book based-based-on-a-webcomic Strong Female Protagonist; and about 60% of the main cast of the just plain stunning British-teenagers-as-reincarnated-gods tale The Wicked + The Divine.
Rat Queens Volume 1: Sass & Sorcery
Harley Quinn Vol. 1: Hot in the City
Strong Female Protagonist Book One
The Wicked + The Divine Volume 1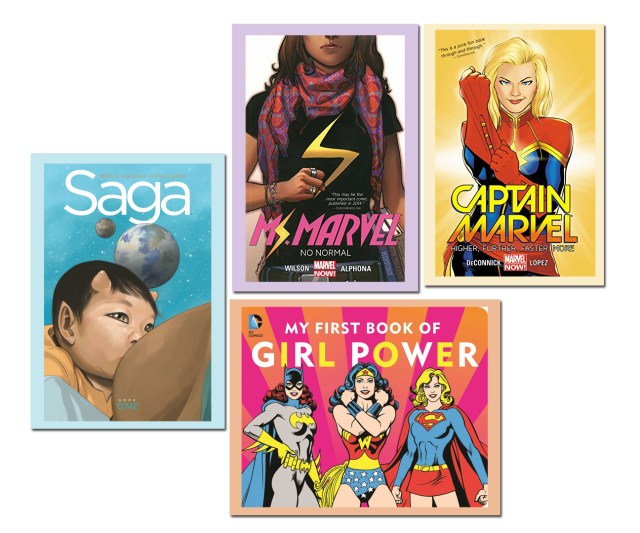 There are also a bunch of great comics starring women that have great feminist messages, but are a little light on the actual queer lady content. But I think you should still check them out. With the recent announcement of a Captain Marvel movie, it only makes sense to ask for her latest run. Also from Marvel comes Ms. Marvel which is about an awesome Pakistani-American Muslim teenager figuring out how to be a superhero for the first time. And if you want to check out just a top-notch beautiful, funny, exciting, and just perfect comic with a ton of great female characters across one of the most creative space settings you'll ever see, you've absolutely got to check out Saga. Also, if you're looking for a gift for a young girl in your life, from DC Comics comes My First Book of Girl Power, which looks to inspire girls everywhere to reach their full superhero potential.
Captain Marvel Volume 1: Higher, Further, Faster, More
Ms. Marvel Volume 1: No Normal
---
Preorders
Patience is pretty much a superpower, right? Unfortunately, some of the best comics aren't coming out for a few more months after the holidays. But that doesn't mean you can't ask for them right now. You deserve it.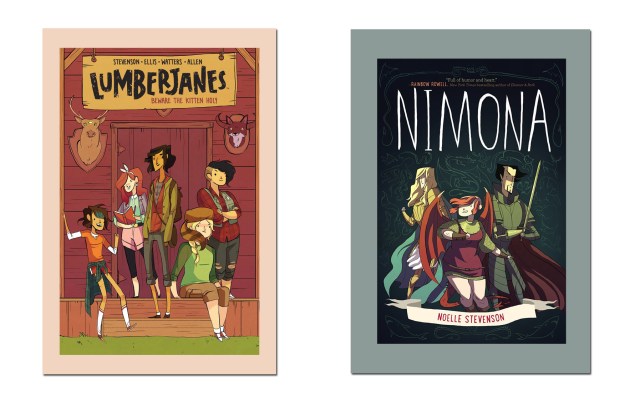 Of course, we gotta put Lumberjanes, which has its first trade paperback coming out in April, on here. Honestly, if I were to suggest one comics-based present for any young person in your life that you'd like to recruit into the world of geekery, Lumberjanes would be it. Also in May, from Noelle Stevenson, one of the writers of Lumberjanes comes the book of Nimona, her terrific webcomic that recently ended its online run.
---
Costumes
Being a Lesbian Superhero isn't just about reading. It's also about dressing the part. There are few things more satisfying than annoying an entitled male nerd who thinks he's a better fan than you by proudly wearing a shirt featuring some of your favorite characters.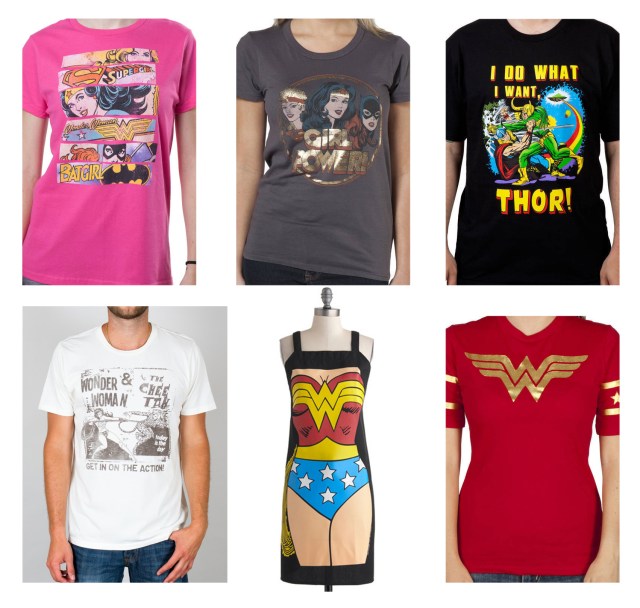 There are a ton of cool Wonder Woman and other DC heroine shirts, including this cool Girl Power one. There's even a great Wonder Woman apron so you can cook like a real Amazon (that's a saying, right?). And you can never go wrong with Loki being at his most evil, shouting "I do what I want, Thor!" on a t-shirt.
DC Comics Super Heroines T-Shirt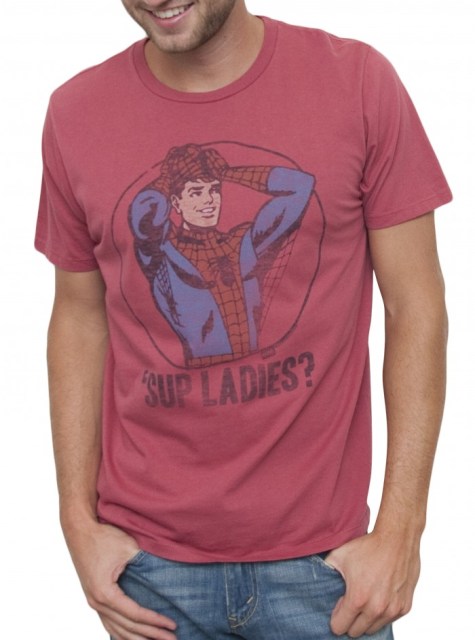 Spiderman 'Sup Ladies Tee
Even though it's supposed to be a shirt for men, I think a lot of Autostraddle readers would totally rock this Spider-Man "Sup Ladies" shirt. Speaking of that, why don't women ever play Spider-Man? I mean, he's basically the comic book version of Peter Pan, right? How amazing would that be, a cute lady with an alternative lifestyle haircut playing Peter Parker in the next Spider-Man movie!?! Let's get this done, Hollywood.
---
Toys and Decor
You also need to make sure your Batcave/Fortress of Solitude/X-Mansion/Baxter Building is full of awesome toys and decorations.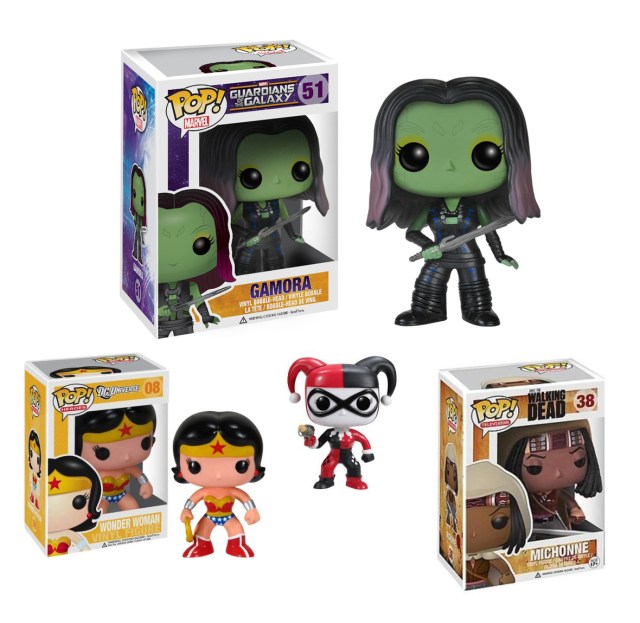 These Funko figurines are super fun. They're cute and adorable, but still totally badass. Who doesn't want a little Wonder Woman, Harley Quinn, Michonne or Gamora sitting on their desk?
Heroes: Harley Quinn Action Figure
Television Walking Dead: Michonne Vinyl Figure
Guardians of The Galaxy – Gamora Vinyl Bobble-Head Figure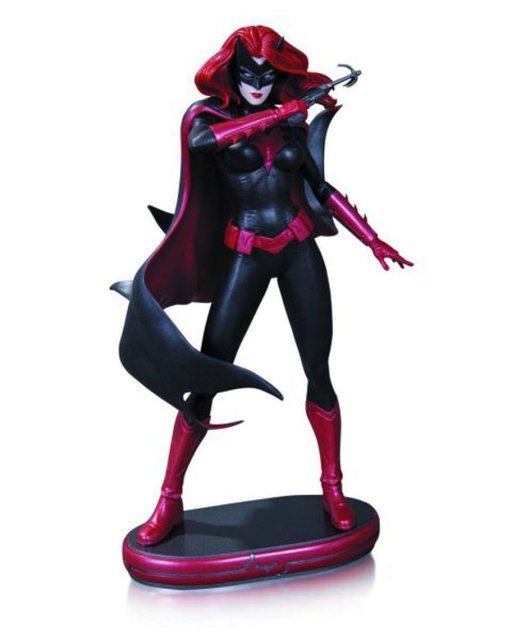 DC Collectibles Comics Cover Girls: Batwoman Statue
For a more realistic (at least by comic book standards) statuette, how about this Batwoman one? This is nine and a half inches of total badass lesbian crimefighter. Plus, it comes with the bonus of being able to brag that you've got Kate Kane hanging out in your bedroom.
Posters are also a fun way to subtly (or not so subtly) let any houseguests know that you're a not just queer, you're also a big nerd. If you want a cool lady-superhero poster, there are plenty of good options. So, whether you're into Michelle Pfeiffer's Catwoman or a Harley Quinn, Poison Ivy or Wonder Woman poster from DC's Bombshell's series we've got what you're looking for.
Michelle Pfeiffer Catwoman Poster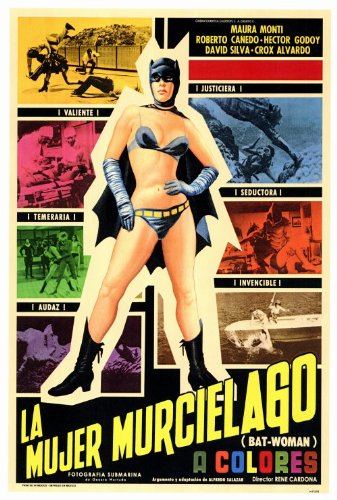 Bat-Woman Foreign Poster
There's also this really amazingly weird Spanish Batwoman poster. I have no idea what it's for, but it definitely makes a really bold statement about who you are and what you're into.
---
Movies/TV
As I think we all know, there aren't really that many superhero movies starring women. Although there are several coming in the next few years (Wonder Woman, Painkiller Jane, Captain Marvel, Amazing Spider-Man Spinoff) finding current movies that are actual quality is pretty hard.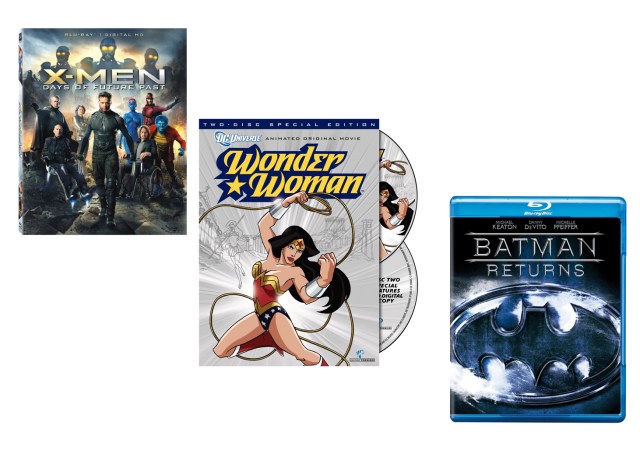 Still, there are a few. This excellent animated Wonder Woman movie was written by Gail Simone and features the voice talents of Keri Russel (as Wonder Woman) and Rosario Dawson (as Artemis). Also, I think we all remember where we were the first time we saw Michelle Pfeiffer's Catwoman in Batman Returns. Finally, the recent X-Men: Days of Future Past features the character Mystique, who in the comics is queer, and stars the adorably kickass real-life queer superhero Ellen Page.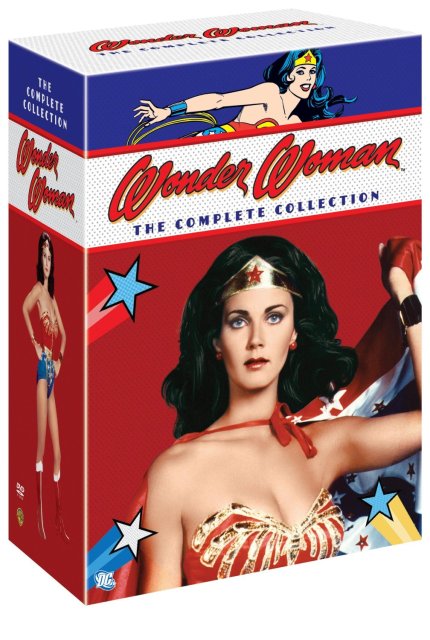 Wonder Woman: The Complete Collection
Of course, you could always tide yourself over with the classic Wonder Woman TV Show Box Set. Watch Lynda Carter kick some serious butt and spread the messages of feminism, misandry and spinning in circles in all three seasons of the show.
Wonder Woman: The Complete Collection
---
Hopefully this time next year there will be even more comics and merch for and about queer ladies, and just ladies in general. But for now, if you want to check out even more awesome comics about and for queer lady-types, you can always check out the weekly Drawn to Comics column.