Strong Female Protagonist, written by Brennan Lee Mulligan and drawn by Molly Ostertag, is the perfect superhero comic for people who aren't really interested in the superhero genre. Actually, it's also a pretty perfect comic for people who are interested in superheroes. It takes a viciously fascinating look at what it would be like to be a super hero and also be a 20 year old young woman trying to find your place in the world. When it's showing scenes of super powered brawls and people in costumes, both the writing and art slip perfectly into that style. It's action packed, dynamic and stylish. When it's showing scenes of friends going on a road trip, college students in class, or young people going to night clubs and bars, you would almost forget that they're super humans if they weren't constantly talking about mind reading, being invulnerable and their former super hero exploits.
This comic stars Alison Green, formerly known as Mega-Girl. Even though she was just a teenager, she was the most powerful superhero in the world – she's super strong, invulnerable and she can fly. She developed her powers in her early teens, and ever since then, she was trained to be a super hero. However, after a fortuitous meeting with one of the greatest super villains in the world (known as Menace), she became disillusioned and revealed her secret identity on national TV. Now, she still has all of her powers, she's a celebrity, but she just wants to be a regular college student, friend and young woman making a difference in the world without having to beat it up.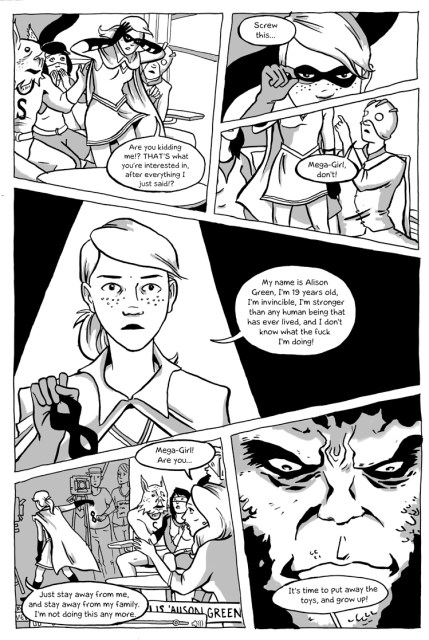 Alison used to belong to a group of superheroes called The Guardians. Then, on a mission against Menace and some of his evil drones, Alison burst into Menace's lab, only to be surprised when he took off his mask, introduced himself as Patrick, and told her he wasn't interested in being a super villain any more. He had found out that secret organizations were killing off all the super humans who had the kind of powers that could really make a difference – being able to communicate with diseases, being able to create an unlimited power source – and that nothing that he, or Mega-Girl for that matter, did was really going to change the world. They could fight crime or commit crimes, but in the end, that's all it would be – fighting. As the comic points out, you can't punch away poverty or hunger. After this heart-to-heart, Alison let Patrick go and gave up the superhero business. This gives the comic a very philosophical take on the superhero genre. While there are enough hero-villain fights to keep comic book fans satisfied, there are also plenty of scenes that are just deep conversations on the nature of heroics and right vs. wrong. This might seem like it fits into the genre of "gritty and realistic" takes on superheroes that are so popular right now, but what makes it stand out from all of those is it's heart. It's not cynical or cruel or hyper violent. It's not filled with tragedy for tragedy's sake. Even though it questions the validity of superheroes in the traditional sense, it shows how people with super powers can become very real heroes that are just as super.
Alison has a really, really strange group of friends. There's her government-appointed doctor and therapist, a local group of firefighters, her college roommate who too often takes advantage of her status as a former superhero and one of her former teammates in The Guardians. And those are her more normal friends. Far more interesting is her friendship with Patrick, the former super villain leader known as Menace. Patrick is such a powerful mind reader, and his concepts of communication, privacy and relationships are so different from the average person that he doesn't even really consider himself to be a person. He reads minds even when he sleeps, he can't even listen to music or watch movies, so when Alison introduces him to Looney Tunes, it's beyond charming to see him laugh his head off.
In chapter three, we're introduced to my favorite character, Feral. Feral is a more rough and tumble superhero type with regenerating powers who, at first, Alison doesn't want to work with. She's tough, Southern, straight forward and kind of like a cute, butchy Wolverine. Even though she's pretty much the opposite of Alison's neat, clean and professional superhero, the two become fast friends after their first mission together. Later on, when Alison hears that something's going on in Feral's life, she gets together with Patrick and goes on a road trip to visit her in the hospital. What happens there truly is amazing story telling. I don't want to spoil it, but when you find out what Feral is doing, it hits you like a brick wall. I cried the first time I read this storyline and I cried rereading it for this review. I already loved Feral, but this chapter makes me love her even more. She has a truly great character arc that is masterfully written by Mulligan and is definitely one of my favorite superheroes in any universe. Plus, Drawn to Comics favorite Hazel Newlevant did a really cute guest comic about her and a nurse.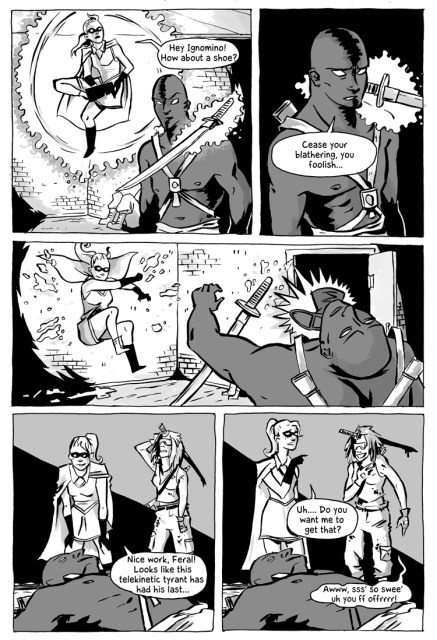 The art really wonderfully compliments the storytelling. It's not too far on the side of superhero comics, and not too far on the side of slice of life comics. Ostertag is able to draw exciting, action-packed fight scenes on one page, and then draw nuanced, character-filled pages of conversations between friends on the next. There are some truly beautiful pages that strike the perfect balance between the mundane and the super. Ostertag is also brilliant at drawing facial expressions and showing exactly what emotions the characters are going through at any moment. Alison, despite basically being a living goddess, has a face that is drawn with such humanity. Her face is one that is constantly looking for the right answers to questions big and small, she's trying to do her best and it really shows. Patrick is drawn in a way that really shows how unaccustomed to humanity he is. But he's also trying, and that shows. Feral is drawn in a way that makes her look both tomboyish and tough, but also cute and full of heart. When she's getting down to business, she's all business, but when she's talking to Alison, she's all tenderness and humanity.
Alison is struggling to both live a normal life and change the world. She realizes that being a superhero isn't going to save the world, so on one hand, she wants to be a regular person. On the other hand, she's still determined to do everything she can to help people. It's heartbreaking to see all the characters go through their journeys. They were promised a bright, exciting future filled with superheroics and epic battles, but in the end, they realize that nothing's that simple. Mulligan and Ostertag have put so much work and creativity into the world building, it really is remarkable. Mulligan is a writer and actor from New York who has studied at the Upright Citizen's Brigade. For more information on him, you can visit his website. Ostertag is also from New York and you can check out her work at her website or at her tumblr. If you're interested in buying a chapter one or two minicomic or shirt of Strong Female Protagonist, you can check out their store or if you're interested in purchasing some art from Ostertag, you can check out her personal shop.
---
Welcome to Drawn to Comics! From diary comics to superheroes, from webcomics to graphic novels – this is where we'll be taking a look at comics by, featuring and for queer ladies. So whether you love to look at detailed personal accounts of other people's lives, explore new and creative worlds, or you just love to see hot ladies in spandex, we've got something for you.
If you have a comic that you'd like to see me review, you can email me at mey [at] autostraddle [dot] com.
Header by Rory Midhani