Welcome to Drawn to Comics! From diary comics to superheroes, from webcomics to graphic novels – this is where we'll be taking a look at comics by, featuring and for queer ladies. So whether you love to look at detailed personal accounts of other people's lives, explore new and creative worlds, or you just love to see hot ladies in spandex, we've got something for you.
Header by Rory Midhani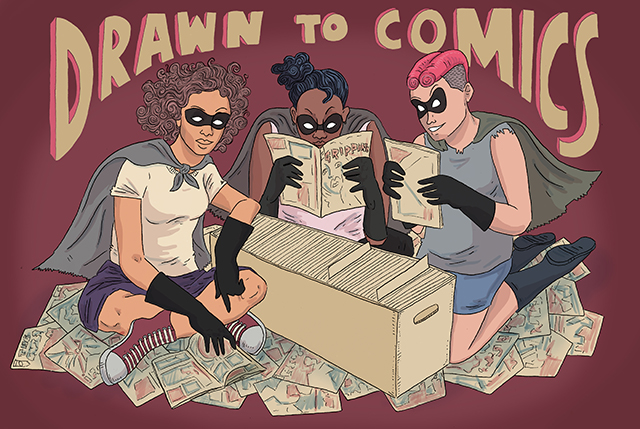 ---
Instead of focusing on a specific comic this week, I've decided to focus on a bunch of different comics by one creator – Hazel Newlevant. Newlevant does so much great work that it would be a shame to look at just one of her comics and ignore the rest. From her weekly concert reviews and cute and funny diary comics to her fully fleshed-out stories about queer ladies trying to find happiness in music, she always is able to create the perfect mood to transport you right into the place and time that she is writing about.
While she does have some mini comics and books, some of her other comics are more like black and white diary comics. Since she is currently an art student and has assignments where she has to make comics within very specific parameters, these comics are often very creative Her weekly concert review comics are exactly as rock and roll as you could possibly have hoped. They're scratchy, loud, moody, fun and busy. This crowded atmosphere and Newlevant's use of negative space and shadowing really draws you in and makes you feel like you are actually in the venue at the concert she is writing about. Plus it shows that she has really good taste in music.
Her junior thesis project at the School of Visual Arts has to be one of the highlights of her collection. Titled If This Be Sin, it tells the story of Harlem Renaissance blues singer, drag king and all around dreamboat Gladys Bentley. If you don't know about Gladys Bentley, Newlevant's comic does a great job of telling an abbreviated version of it. Bentley became famous for her amazing singing and piano playing, her penchant for dressing in fine men's attire and her habit of adding bawdy lyrics to the songs she sang. While she was openly a lesbian for the first few decades of her career, during the 50s she married a man and claimed that she had been "cured" of her homosexuality in what many thought was a move to save her career from the grip of McCarthyism.
I had been a fan of Newlevant's comics for a while and had been planning on featuring her in Drawn to Comics, but when I found out that she had recently been awarded the Prism Comics Queer Press Grant I new that I couldn't wait any longer. According to the press release, Prism Comics set up the Queer Press Grant in 2005 in order to "encourage the publication of LGBT-themed comics" and that it is "the only grant today given to independent comic book creators." They awarded this grant to Newlevant specifically for her queer-lady-and-blues-music comics If This Be Sin and Dance the Blues. Dance the Blues tells the story of a dance competition where our heroine dances with several people before finding her perfect partner in another woman. Newlevant is going to use the grant money to keep on making comics featuring queer ladies.
I'm excited to keep exploring gender and sexuality through comics. Queer people deserve comics with attraction, love, and search for identity that resonate with them and non-queer people can see the world through our eyes for a change.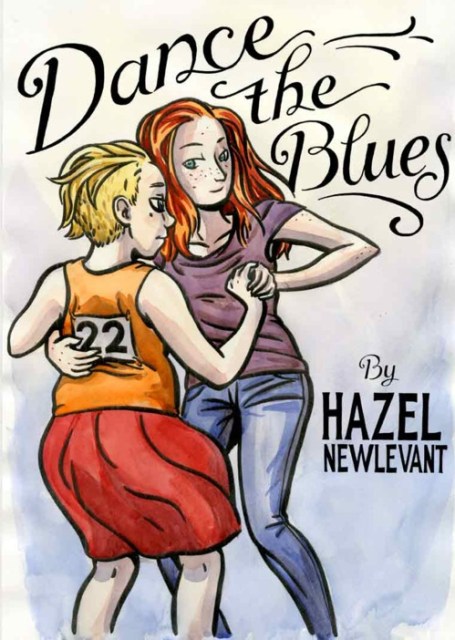 Newlevant's use of watercolors creates absolutely beautiful colors that make her comics feel extremely comforting and warm. She also has some comics with that make dramatically creative use of papers and book-making techniques. Her comic Mariposa, which is Spanish for butterfly (and also slang for either a gay person or a promiscuous woman depending on where you are), that she made with Jesse Reklaw was originally bound in custom paper and shaped like a butterfly, and the later extended edition is still shaped like a butterfly, but has a new silk screened cover. Another one of her comics, the lauded Ci Vediamo, is a wordless comic made on translucent vellum paper which gives it a very atmospheric and almost memory-like feel.
Newlevant regularly sells her minicomics and books at cons and other events she appears at and some of her comics are available at independent book stores across the country. If you don't have the chance to meet her in person, you can buy several of her comics online in print form or as a pdf. She is also currently working on a third comic that will be added to If This Be Sin and in an full color anthology that will be printed in the spring using the grant she recently won.
---
If you have or know of a comic that you would to be featured on Drawn to Comics you can email me at mey(at)autostraddle(dot)com.