What a week! Batwoman and Legends of Tomorrow and Euphoria and RuPaul's Drag Race came back to us, and Nic and Valerie and Drew recapped those gay gay gaynesses! Miranda's descent into full-blown queerness continued on And Just Like That, and Heather was on top of it like a Che Diaz. Yellowjackets continued to be batshit insane, and Kayla was there to unpack it and also wonder how much of what's happening on that island is real and how much of it is supernatural? Himani reviewed Sort Of. Drew reviewed the most recent season of Search Party. By popular request, we unspooled Natalie's Vigil recaps and made them into their own post. And Kayla and Drew got together to talk about the original Matrix trilogy.
Notes from the TV Team:
+ A Naomi standalone post is on the way, first thing tomorrow! — Natalie
+ I'm sorry if I missed anything gay on Queens or Home Economics but I had some personal emergencies and will be back on it next week. — Carmen
+ Still no sign of Leyla on New Amsterdam but we did get hope of a forthcoming reunion: one of the residents gives Lauren an address for Leyla this week. Also? Bloom treats a patient this week whose Knick fandom is actually killing him…and, as a long suffering NC State fan, I can totally relate. — Natalie
+ I've only watched the first few episodes of the newest season of Letterkenny so far but it seems we have another queer woman on the scene. Maybe everyone is gay in Letterkenny! Maybe everyone is gay in Canada! Only time will tell. — Valerie Anne
+ I liked the movie The Suicide Squad to give the show Peacemaker a shot and it's basically like if The Boys was DC canon in that it's severely lacking in Harley Quinn (aka there is zero Harley Quinn) and very bam! pow! and like…purposefully offensive? That said, I'm not hating it so far. Viola Davis does make a brief appearance reprising her role as Amanda Waller and, most importantly, Danielle Brooks plays queer and has a wife played by queer actress Elizabeth Faith Ludlow, and that's the kind of bam! pow! I'm into. — Valerie Anne
---
Claws 406: "Chapter Six: Greed"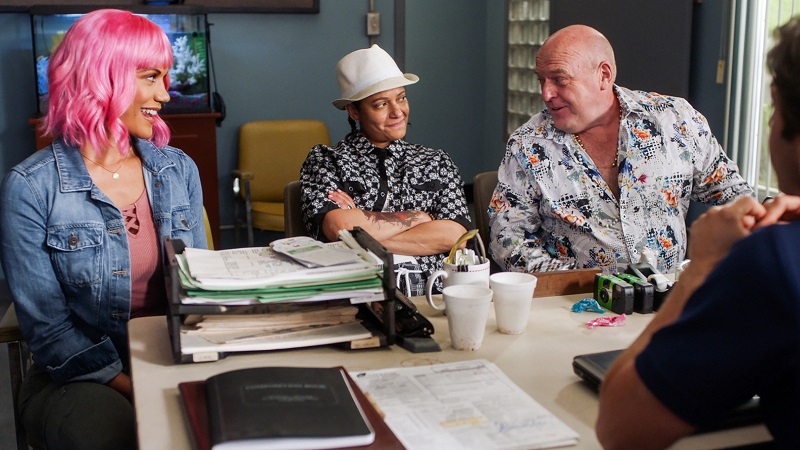 The friendship between Quiet Ann and Uncle Daddy — however unlikely — has been one of my favorite aspects of Claws' fourth season. But with Ann eyeing a quick exit (and just four episodes of Claws left), it seemed inevitable that things between them would eventually go awry…but like this? I did not expect it and I'm worried that Quiet Ann won't see the betrayal coming either. It's an odd turn for Ann — who earned the moniker "Quiet Ann" because she would just sit in the cut watching everyone else — but she refuses to let anything distract her from bringing her escape plan to fruition.
Including, apparently, a half naked woman.
Cherry strides out of Ann's trailer wearing only a baseball jersey and suggests plans for getting tickets for a show in a few months. A simple gesture between gal pals but also a clear overture that Cherry plans to be around in a few months. Ann doesn't acknowledge the overture at all and dismisses the offer as a distraction from her escape plan. Over the next 10 weeks, Ann reveals, she wants to clear her criminal record (which she does thanks to the skills of a 13 year old hacker) and bank enough cash from fentanyl sales to get out of Palmghetto. Undeterred, Cherry offers Ann a way to speed up the cash grab and invites herself along to wherever Ann's going next. Ann takes a sip from her cup of Hetero tears and looks intrigued.
Cherry gives Ann and Uncle Daddy a path to a new customer base: providing fentanyl patches to all the cruises ships that dock in the port. She connects them to the health inspector — a guy Cherry used to date and who buys patches from her now — who agrees to get their patches aboard the ships. But just as Uncle Daddy is closing the deal, he collapses. While incapacitated, Uncle Daddy dreams of his late wife, Juanda, who urges him to secure his legacy. His plan to do that? Not training Bryce to be a better manager or getting Roller back in Palmetto or getting his grandchildren back…no, to secure his legacy, Uncle Daddy's going to steal Ann's baby.
Realizing that securing his legacy later means securing the bag now, Uncle Daddy redoubles his efforts to destroy Desna's business, especially once he hears that she's snaked his deal with the cruise ships. He and his henchman beat down all the Claws Up consultants leaving Des with no one to sell her product.
---
Nancy Drew 310: "The Confession of the Long Night"
The Drew Crew is back! And jumping right into shenanigans!
Bess is still trying to play nice with Temperance (who is still in Charity's body) and helps her pick out a dress for their candle ceremony. The Drew Crew still can't find Ace but they all assume there's a good reason for it, even though you'd think by now they had some kind of "not kidnapped/haven't turned into a ghost/currently in the regular plane of reality" daily check-in.
Bess is stressed about the Temperance situation and Addy is being so understanding. She realizes Bess is being literal when she calls Temperance a witch, and Bess is surprised she hasn't bolted, but Addy responds with a kiss and reminds Bess that "interesting is hot."
At the party, in an attempt to find out what Temperance is up to, Bess uses a truth spell on her, but ends up dousing the whole party, causing about as much mayhem as you'd expect. She says, "I've been outfoxed" which is hilarious since she's talking about Olivia Taylor Dudley who played Alice in The Magicians who was once notoriously and literally a fox.
Amongst the chaos, Bess interrogates Temperance and learns she didn't kill anyone, and Ace manages to morse code a message so his friends know he's trapped. Nancy asks Temperance for help and they do a little magic and get their friends back to the real world. Hannah, understandably shook by this, says she has to retire and asks Bess to look over the Historical Society a while longer until she finds a replacement.
Bess is in the Historical Society licking her wounds from the day's mishaps when Addy walks in and plants one on her, telling Bess not to worry; mistakes or not, Addy thinks Bess is pretty great. They dance since they didn't get to at the party, and it's very cute and sweet. Temperance is definitely up to no good, but for now we have this and I'll enjoy it while it lasts.