In the opening minutes of her eponymous show, it feels like Naomi McDuffie's superpower is being able to get along with everyone. She skates through town, greeting everyone she passes along the way. She's that girl that effortlessly moves between high school cliques — the nerds, the geeks, the jocks, the military brats, the townies — and is beloved by them all. So when a stunt involving Superman happens over the Port Oswego town square, everyone rushes to alert Naomi, an unabashed Superman fanatic.
Naomi speeds out of debate practice to find out exactly what happened but, the closer she draws to the square, the louder the buzzing her ears becomes, until eventually, she collapses on the sidewalk. By the time she awakes, the event…the stunt…the fight…the whatever it was…is over and Naomi's forced to piece together what happened from other people's reports. Naomi's best friend, Annabelle, and the Naomi's friend fellow comic book nerd, Lourdes, both wonder how a Superman stunt happened without Naomi knowing about it.
I should pause here to note that Naomi (the show) is based on the comic book series of the same name co-written by Brian Michael Bendis and David F. Walker and is being adapted, for television, by Ava DuVernay and Jill Blankenship. The comic book authors have given their blessing to DuVernay and Blankenship to usher Naomi to the small screen in whatever way they see fit. In the show's pilot episode, DuVernay and Blankenship craft a new world for Naomi McDuffie to inhabit…a world that was, until that moment in the square, superhero-free. Naomi clings to Superman mythology because they were both adopted, not because she ever believed he existed beyond the page.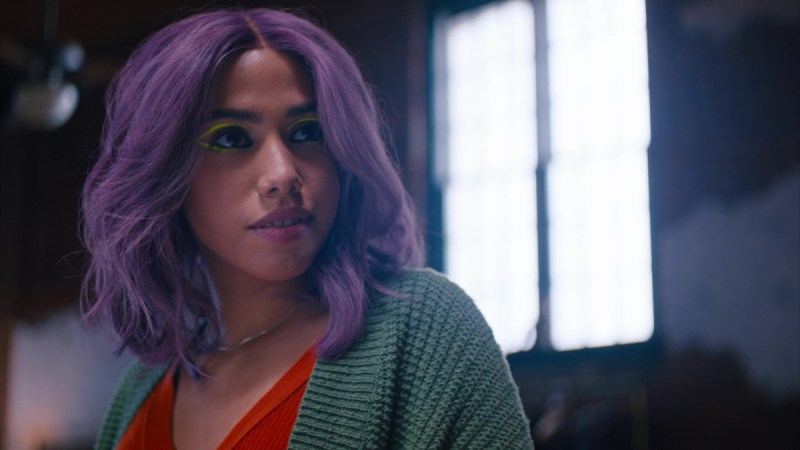 Another difference between comic book Naomi and the television version? The friends that surround her. In the comics, we're only really introduced to Annabelle, but the television show introduces us to Naomi's entire inner circle: Annabelle and her boyfriend, Jacob, Nathan, a fellow military brat with a jealous streak who, until recently, was Naomi's boyfriend, Will Meyers, a Port Oswego townie and fellow debate club nerd, and — most importantly for our purposes — Lourdes, who is here and queer and has very gay feelings for Naomi. It's still TBD if the relationship between Lourdes and Naomi will go anywhere, especially with Nathan and Anthony competing for Naomi's attention as well, but it's clear that Naomi likes Lourdes too. For now, though, everyone's in the friendzone.
It's not the first time DuVernay has added queer characters to a pre-existing canvas: in 2016, she added Nova Bordelon, a bisexual journalist/activist, to the world Natalie Baszile created in Queen Sugar. The goal, the creator told television critics earlier this week, isn't representation, it's normalization.
"We're doing really muscular things that relates to race and gender and class but we're doing it by playing it normal, like it's just a part of the everyday. I say it kiddingly but it's real," DuVernay said. "The more you can portray images without underlining or highlighting them and putting a star next to them — by showing a different type of hero that centers a girl, a Black girl, that centers different kinds of folks — we start to make that normal and that's a radical and revolutionary thing."
It's also worth acknowledging that, even though she's not directing here (yet), DuVernay's presence here raises the bar for the Naomi's direction and the show's pilot rises to meet it. The show is absolutely gorgeous. Amanda Marsalis delivers one of the best looking pilots I've seen on the CW. I'm hoping that DuVernay can do with Naomi what she's done with Queen Sugar in terms of building a stable of female directors who can direct superhero fare.
But, I digress. Back to the story…
---
In hopes of finding out what really happened in her hometown, Naomi works with Nathan to stitch together all the video footage of the Superman incident. While reviewing the footage, Naomi notices that everyone else in the footage is frantic except for Dee, a local tattoo artist. She and Nathan go to question Dee about the Superman incident and he stonewalls them initially before confessing that he planned the whole thing as a publicity stunt. But the abrupt about-face and the fact that Dee knew her adoption date, leaves Naomi with doubts about Dee's candor.
Later, at a debate in front of a group of military dignitaries, Naomi faints again. The doctor chalks it up to a panic attack but the incident sharpens her senses and Naomi spots a note being shared by the dignitaries: "Evidence of Superman Landing Discovered in Red River Forest." Having, apparently, never seen a single episode of Pretty Little Liars, Naomi ventures out to the forest alone and snaps pictures of the damage caused by Superman's landing. She finds a disk but Zumbado, the owner of the local used car dealership, (seemingly) whips up the wind, trees and leaves around her until she drops it. He picks it up and leaves her with a warning: "Don't believe everything that you think, Naomi. It's dangerous."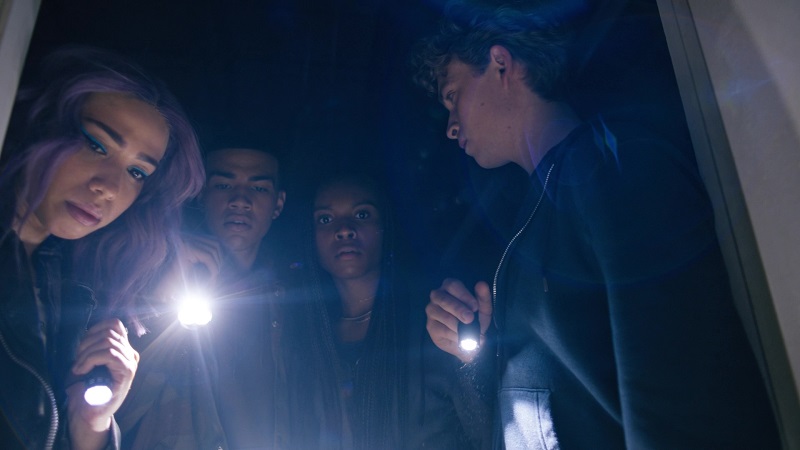 Naomi recruits her friends to break into Zumbado's shop and retrieve the disk. It's giving me Scooby Gang flashbacks. Annabelle and her boyfriend, Jacob, serve as lookouts, while Lourdes picks the dealership's lock and joins Naomi, Anthony and Nathan on the search. They don't find the disk but Naomi finds an old newspaper detailing a UFO sighting over Port Oswego on the day she was adopted. In one of the pictures? Dee, looking exactly the same as he looks in present day. Her friends discover a safe but they barely have enough time to escape before Zumbado arrives.
Instead of going home, Naomi goes to the tattoo shop to get the answers she needs from Dee. He's not convinced that he has the answers she needs but he promises to try. Naomi tells Dee about the fainting spells and the buzzing sounds that she's heard since the Superman incident. It may have something to do with people like them, Dee responds. Confused, Naomi asks what that means but this time, instead of answering, Dee sprouts metal wings!
And then, finally, Naomi asks the only question that ever truly mattered: "Who am I?"
---
New episodes of Naomi air Tuesdays on the CW.