Welcome to the Yellowjackets 109 recap. Written by Ameni Rozsa & Sarah L. Thompson and directed by Daisy von Scherler Mayer — of Party Girl (1995) fame! — "Doomcoming" is the penultimate episode of Yellowjackets's first season. Don your antler crowns and pour yourselves a mugful of berry poison. We're getting weird this week. Catch up on past recaps here. And throw your theories, questions, and reactions in the comments!
---
At its core, Yellowjackets is a survival story. It tracks trauma across two timelines. These characters have all been forced to make difficult, life-or-death choices, starting when they were just kids. They've built up survival skills, but there's a paradox here: Those survival skills can also harm them. As adults, the Yellowjackets use lies, secrets, and manipulation to stay afloat. They slash and claw their way through life. They do everything they can to keep the world from finding out what really happened in those woods, because they have convinced themselves they'll be seen as monsters. And not just kids who were lost. Who were doomed. They know how to survive, but they don't know how to live anymore.
"Doomcoming" has the most exhilarating opening sequence of any episode so far. We pick up where adult Shauna left off last episode: at the door of Adam, who she recently has become convinced is the blackmailer after finding glitter in her closet. She barges in, and at first, he thinks she's initiating sexual roleplay. He catches on when she starts rifling through his things and talking about her journals. This is real.
When Shauna finds a stack of magazines with Yellowjackets headlines in Adam's cabinet, everything shifts. It's a genuinely effective reveal, even for those of us who have long suspected Adam is hiding something. Shauna's surprise is fully felt. She feels betrayed and bamboozled, and it immediately awakens something in her. Those survival instincts. She grabs a knife like it's the easiest thing. She has done it before, after all. And here we get one of my favorite horror moments to date. As Shauna holds the knife in front of Adam, quick bursts of violent images pop in. Some of them are things we've seen, glimpses of the girl dragged through the snow in the pilot, of hands reaching for chunks of meat, of the plane going down, of the skeleton in the attic. They are, presumably, Shauna's memories, so it's safe to assume she had a direct hand in the slaying of the girl in the pilot.
But how much can we trust memory?
This sequence suggests a chasm in Shauna's mind. Taissa, Shauna, and Nat have all been to some extent living doubled lives as adults, their teen selves still a part of them, their growth stymied by holding so much in about what happened in the woods.
We get a few flashes of things we definitely haven't seen, like these: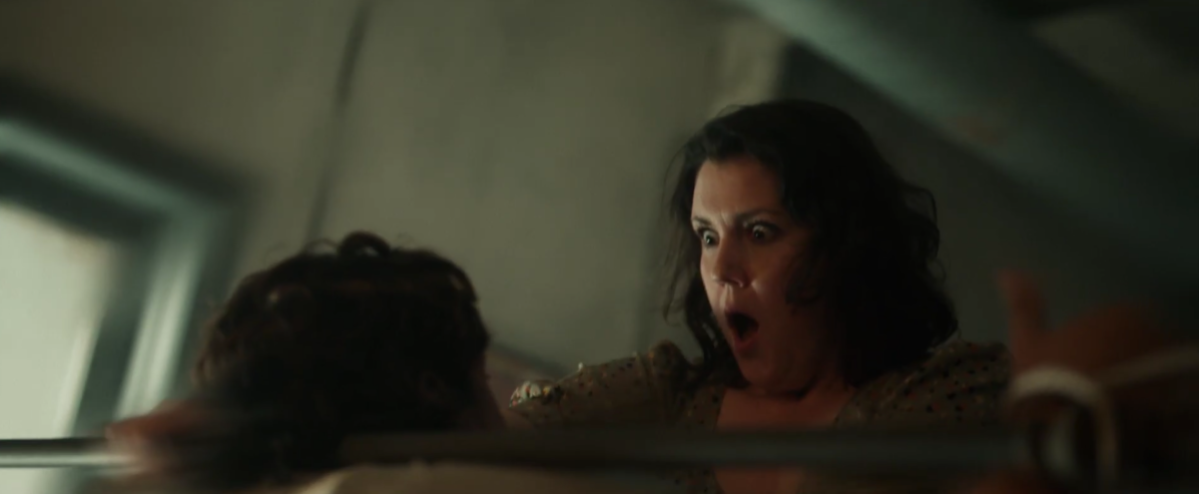 It's easy to assume these are just bits and pieces of the sexual dynamic between Shauna and Adam. After all, we've had a few hints at their kinks. But that look on Shauna's face is difficult to read. She looks afraid? Surprised? It's difficult to discern. The flashes are jumbled and confusing, a blur of timelines, a blur of meaning. We've seen Shauna hallucinate Jackie. We know the images and scenes she conjures can't always be trusted. How warped are these memories? They could be corroded by time, twisted by trauma. Shauna's recalling a nightmare and living one, too.
But when she plunges the knife into Adam's gut, it's really happening. There's the violence flashing around in her mind, and there's the violence of this actual encounter, one that escalates and then ends so quickly. As she stabs him, adult Shauna becomes young Shauna, the two interchangeable. Young Shauna maneuvers the knife like we've seen her do so many times. Both Shaunas look shocked. And then, resolute. There's a memory-flash of young Shauna turning with a knife in her hand, an image we see again, in context, later in the episode. Spliced in here, it looks almost like she's looking over her shoulder for her adult self's approval. Shauna is quite literally fractured here, her young and current selves protecting each other. But also…conspiratorial.
She really did it. She really killed him.
It's all so disorienting and intense that it's almost easy to ignore the fact that Adam's explanation for why he had the magazines…could be true? It is entirely possible he found out about Shauna's past, wanted to know more, and then did some research. It is entirely possible Adam was never a real threat. It has been easy to be suspicious of Adam, but could that be just because Yellowjackets has steeped us so thoroughly in the minds of the adult Yellowjackets that we, too, have become as distrustful as them about people, about reality? Adam popping up repeatedly in Shauna's life is weird, sure, but isn't such a crucial part of this show's narrative that real life contains unexplainable things? Even things that might seem paranormal? That seem like a conspiracy? This show does a fantastic job of obscuring who is the victim, who is the threat. Everyone is almost a little bit of both.
It's another great, subtle horror reveal much like the magazines in Adam's drawer when Shauna opens her safe and finds the journals neatly stacked there like they never left. For a moment, I thought maybe she imagined them gone entirely. But then we learn the truth. It doesn't take much prying from Shauna for Jeff to come clean. He was the blackmailer. The furniture shop wasn't doing well, and he got a loan from some bad people. He never thought his wife would get tangled up in it at all. Oh and Bianca? Yeah, not his mistress. She's one of the loan sharks ("Bianca scares the shit out of me," Jeff says, which is such a hilariously honest confession). Jeff thought he was just trying to save his family. So he lied and kept this a secret. And even though his intentions were good, it blew up in his face. Secrets and lies have a tendency to fester and become infected wounds on this show.
From a narrative pacing perspective, I love all of this. There has been sufficient suspense to the mystery of who the blackmailer might be. And the mystery goes on. Because clearly Jeff had nothing to do with Travis's murder. And Nat is still waiting on her former sponsor Suze to get the bank account info. But Yellowjackets doesn't string us along too much with this Jeff reveal. Once it's pretty clear it's him, he confesses outright. It's all about knowing when to withhold and when to reveal; so many shows — especially mysteries — fail at that dance. Yellowjackets is so fucking good at it.
Not only does Jeff waste no time confessing, but nor does Shauna. I love that she doesn't even try to hide the fact that she has committed some lite murder. "I stabbed him, and now he's dead," she says matter-of-factly. In the process, she also reveals her affair with Adam, still under the assumption Jeff is cheating. But just like Shauna saw Adam as a threat and then immediately took action by killing him, Shauna's assuming the worst of someone here. Again, Jeff wasn't cheating. Jeff has been more loyal to her than she ever realized.
(Give Warren Kole an award for his delivery of "WHAT THERE'S NO BOOK CLUB?!")
There's a reveal beneath the reveal here, one that ultimately has a much greater impact on the narrative and its emotional stakes. Because yes, on a plot level, Jeff being the blackmailer doesn't necessarily feel like a twist at all. The real twist, instead, is that he read the journals years ago. I mean imo, that's a very rude and inappropriate thing to do to your partner, BUT invasion of privacy stuff aside, this is a genuine shock for Shauna, one that reframes the way she sees herself and her marriage. He knows everything about the woods. And it never changed a thing he thought about her. He never even let on that he knew. It's a twist of the knife, really. She thought Jeff was cheating on her and, in turn, cheated on him. When really Jeff has known her darkest secrets all along and never stopped loving her. And now he's also willing to take the fall for her for this, too. When Shauna laments that they've become people who lie and stay together despite those lies, Jeff says: "Secrets have always been a part of us." It's true. They began as an affair; they began as a betrayal of Jackie. They've just repeating the same patterns over and over.
There's definitely something unnerving about how casual Shauna is about stabbing someone to death. It's like nothing can faze her. When she learns it was really Jeff, there's no big moment of guilt or panic over having possibly killed an innocent man. Instead, she just sorta seems…inconvenienced. Maybe this is another one of Shauna's survival skills. She has to take the horror out of the horror. She has to shut off. She lies to the other Yellowjackets at the end of the episode, setting Adam's apartment up to look like he really was the blackmailer so she can enlist their help (also give Tawny Cypress an award for her delivery of "I practice LAND USE, not murder cleanup" when Shauna asks Taissa to flex her lawyer muscles). Here's Shauna, the famously bad liar who becomes eerily good at lying in the most extreme scenarios. She can't come up with a convincing fake name, but she can frame a dead guy.
It is, of course, a massive betrayal on her part. She knows how badly Nat wants to find out the truth about Travis's death, and she's fucking with that. She's saving herself and putting the two of them at risk in the process. We keep seeing the adult Yellowjackets repeating and reliving the mistakes of their pasts, so what does this say about Shauna's entire arc? That she will always ultimately choose herself? That lying is an intractable part of herself? She's unflinching in the face of violence, of mess. Why does Shauna always betray the people who care the most about her? Jackie, Jeff, Taissa and Nat. She has stabbed them all in the back.
This scene between Taissa/Shauna/Nat again taps into that strange, hard-to-define relationship between them. There's acerbic comedy to it, for sure. They bicker with Shauna like siblings. Over murder! Taissa's grossed out when Nat starts touching the dead body and, like, hasn't she probably seen and done worse? She doesn't shut it off like Shauna does. Hell, she doesn't even eat meat. I think what makes the adult Yellowjackets such compelling characters is not the ways they are alike but the ways they're different. Yes, they're all wildly out of control. But in their own distinct ways. And more specifically in ways that connect back to the different traumas and different ways they navigated those traumas in the woods.
Misty has no idea how to connect with others in healthy ways, and that probably started before the woods (we did see her watching a drowning rat rather enthusiastically the morning before the flight), but the woods certainly amplified it. In fact, all of the Yellowjackets exhibited behaviors pre-woods that the woods that intensified. We saw Shauna lying to Jackie, seemingly simultaneously repulsed by and drawn to Jackie's power and popularity. We saw Taissa so determined to win that she drove another teammate to break her leg. We saw Nat underage drinking. I don't think the woods changed these characters so much as amplified them, forcing them into extreme conditions with extreme ripple effects.
Now, here's Misty bonding with a woman she kidnapped. It is indeed the most extreme version of Misty's ultimate fantasy: someone who has to be nice to her. Jessica Roberts is living it up by kidnapping standards, now freely moving around the murder-basement in a wheelchair and throwing back orange sodas and regaling Misty with work stories while Misty folds laundry. Like Nat and Misty's scenes together, it's like a weird, macabre buddy-comedy. "I'm so glad I kidnapped you before the reunion," Misty says after Jessica Roberts gives her feedback on her lipstick choice for the impending high school reunion (which the finale will be set at!).
Back in the woods, nihilism has creeped in. Everyone's beyond hungry. Everyone's drained of hope in the wake of Laura Lee's death. Akilah and Shauna scrounged up some bugs to cook up, and everyone chews them in horrible silence. Jackie doesn't even see a point in eating. Mari whips out a jar of berries accidentally turned to booze, and that gives Jackie an idea: It's the end of the world, so why not party? The girls brought dresses for awards day at nationals, and as Akilah adorably points out, it'd almost be homecoming back home. Homecoming. In and of itself a devastating concept in the context of their current situation. These girls don't know if they'll ever come home. So they plan a Doomcoming, coinciding with a full moon. What could possibly go wrong? The last time Jackie suggested an activity (the seance), it was fun! Until, of course, it wasn't.
"Tomorrow night. We'll drink rotten berries and celebrate our impending death," Jackie announces. Sounds like a fun party!
I wrote last week that Jackie's lack of purpose in the woods seems to be festering into something dangerous, and "Doomcoming" confirms that. She doesn't believe in anything anymore. Not in friendship, not in love. She's not even eating, refusing to see any point in life. If Jackie no longer believes in meaning and sees herself and others as empty husks who don't matter, it means she likely doesn't believe in consequences. She's still toying with Shauna, not letting on that she knows, but saying things to stoke the coals of Shauna's seering guilt. She tells Shauna she doesn't want to die a virgin, and she sets her sights on Travis, something that was hinted at last week when she drove a wedge between him and Nat. Shauna's upset. Jackie doesn't see what the big deal is. She's far from the team captain now. She's a sole actor with no ties to anyone or anything.
Misty asks Jackie for boy advice as Jackie does her makeup. She has convinced Ben to take her to the dance, by manipulating him into doing so, naturally. "When a girl sets her mind to it, there's nothing she can't get from a man," Jackie says, apparently quoting her mother. I feel like this…tells us a lot about Jackie. That her mom would say something like this to a young girl is pretty revealing! This is also the second time we've heard of Jackie's mom's pill-popping tendencies. This all does lineup pretty well with the version of Jackie's mom we've met in the present. She's delusional about her daughter, absurdly mean to Shauna. Her relationship advice for her teen daughter is basically "use your feminine wiles to manipulate men." Yikes!
Jackie scares me, because Jackie is a person used to having control and power, and now she has none. "What if this is it Shauna?" she asks. What if all the mistakes they made were permanent? "What mistake did you make? Everybody loved you," Shauna responds. Again, she doesn't know Jackie knows her best friend and boyfriend have been lying to her. Of course Jackie feels like life is meaningless. First of all, they're all starting to feel that way. Stranded in the woods with no way out. But Jackie's reckoning with the cruelty of life is happening on an interpersonal level, too. I don't think Jackie cares about Jeff's betrayal nearly as much as she cares about Shauna's (and that much is confirmed when she later says to Travis she's pretty sure she never even liked Jeff). But Shauna broke Jackie's heart. And having a broken heart as a teen feels like, well, the world fucking ending. For it to happen simultaneously within an actual apocalyptic scenario like the one they're in in the woods? DEVASTATING. I fear Jackie, but I also feel for her. Again, this show obscures people's motives and roles.
Who and what should we really be afraid of?
Watching this show, it's impossible to forget about those scenes from the pilot. They pop into my head as a viewer from time to time, not unlike the way those flashes pop in for Shauna at the beginning of this episode. And all along, the suspense and tension as to how the girls get to that point has been clawing at me. In "Doomcoming," we get the first real glimpse of that shift. I mean, sure, we've seen the group start to fracture. We've seen characters start to become desperate and start to lose their grip on reality. But in "Doomcoming," that all gets ramped up a notch, especially visually. We see characters going feral. We see surreality seep in. We see blurred lines between what is real and what isn't.
And it's not just because of the berry booze, oh no. Misty really takes things to the next level when she inadvertently doses the entire team with shrooms. She'd intended for only Ben to take them — apparently, drugging someone is her interpretation of Jackie's advice — but they end up in the stew everyone's eating at the party. But before we get to the episode's trippy descent into psychosexual horror, let's start at the beginning of the party! Which is actually quite nice!
Much like the seance, it begins in a way that reiterates the characters' youth and innocence. Strip away their environment and place them instead in a basement or school gymnasium, and it really could just be a high school dance! But there are little touches of weirdness that shift things into horror territory even before the shrooms sink in. Their animal regalia, for one. Reminiscent of the animal pelts and parts worn by characters in the pilot. The berry booze that makes them look like they're drinking blood. But they manage to make the best of things. They have no music, so instead they all sing "Kiss From a Rose" together (I'm counting this as the show's musical episode!!!!). They do a processional that includes Van and Taissa walking out together and then kissing in front of everyone! Everyone claps! Ben toasts to them for their bravery! It's very sweet and gay! Taissa made masks for her and Van to wear, because Van has been feeling self-conscious about her face. Nat and Ben, who started bonding last episode, end up peeling away from the group to hang out in the woods and talk about boys. Again, it's sweet. For once, no one is thinking about how hungry they are or how they're just on the brink of death.
But it can't last. The mushrooms kick in, and suddenly things go full Bacchanalia. Jackie whisks Travis away to have sex in the haunted attic. She hasn't been eating, so she's the only one who doesn't succumb to the psychedelic effects of the drug. But back at the party, everyone's losing it. Van can't stop laughing. She says Taissa looks like a tree, and the others agree. The observation is both funny and chilling. We know Taissa has a tendency of ending up in trees with no memory of how she got there. Shauna feels the baby move. Lottie says something's coming and then, ominously: "We won't be hungry much longer." They all realize Jackie and Travis are gone and decide to go find them, possessed with an idea that what they're doing is wrong. "He doesn't belong to her," Lottie says.
This could mean something more mysterious and supernatural or this could all literally stem from Lottie and the others thinking Jackie is just being a bitch by hooking up with Travis given his history with Nat, that drama and conflict heightened by drugs, alcohol, starvation, and the tenuous grip on reality most of these girls currently have. They become bloodthirsty, running through the woods like a pack of wolves. In fact, when they hear an actual pack of wolves, they pause for a moment before making animal sounds of their own. Again, who is the real monster here? What should we be afraid of?
"What were you doing up there?" Mari asks, the girls descending into mob justice when they arrive at the cabin. They're possessed by a thought. They think what Jackie and Travis are doing is wrong, and their reaction is outsized and unhinged. They turn on Jackie and claim Travis, kissing him in front of a very bewildered Jackie until Lottie locks her in the pantry.
Shauna, Mari, Akilah, and Lottie surround Travis. They kiss and grab him. And their movements become increasingly more violent. Again, reality bends. Shauna pulls off a piece of Travis' skin, and it can't really be happening. Their eyes widen and darken, and their teeth become more prominent. They start to look like wicked fairies. And when Travis asks them to stop, they don't. He's only able to free himself when he pushes them away and run. But when he runs, the girls see a stag to be hunted. They run through the woods again, their animal sounds which were before used as a method of protecting themselves against the wolves becoming more like a warning call now. And when they finally trap Travis, they string him up and prepare him like he's the feast. Shauna takes the knife, and when she looks at Travis, she sees a stag's head on his body.
She almost does it. She draws blood. But Jackie and Nat get there just in time to stop her. Lottie, wearing a foreboding antler crown that confirms she's likely the shadowy figure from the pilot, laughs. "It's in all of us, you know," she warns. "Even him, even you."
What is it? Again, Yellowjackets thrives in its ambivalence. Lottie's words unnerve, and her visions suggest paranormal activity, and there's no denying strange things have happened in these woods. But this descent into a violent, psychosexual, cult-like ritual is shockingly organic. Listen, shrooms AND moonshine on extremely empty stomachs? That can do a lot! But even more than the drugs and the alcohol, it makes sense that a certain wickedness, a certain madness might take over these girls.
Because while Jackie is the most overtly nihilist at the moment, they're all giving up hope. Hope went boom with Laura Lee. The expedition before that failed, too. These characters are empty. Literally because they have no food to sustain them. And also philosophically. "Do we care?" Ben responds when Taissa asks if drinking the berry juice is safe. Everyone seems like a hollow shell. So it would be easy then to fill that hole. With something that might not have made sense in their before-lives but with something that offers purpose, order, and rules in their new lives of chaos. It's the perfect breeding conditions for a cult. Maybe if they can find meaning, they can feel less helpless and more in control. Even if that meaning results in violence.
Under the influence of the shrooms, Ben declares that love is the reason for everything, that love is the solution to everything. He encourages Nat to go to Travis, saying that their love can save them all. And in a way, his words are a premonition. Nat does save Travis from being butchered. Misty overhears Ben's soliloquy on love and misinterprets it as a confession of his love for her. He finally outright rejects her by shouting that he's gay.
"Doomcoming" presents two paths. There's love. There's the love between Van and Taissa, who not only kiss in front of the whole group for the first time but also have a sex scene in the woods while the others are busy chasing Travis. There's Ben saying love is the solution. And then there's the other path, the one that says love doesn't mean anything, the one Jackie represents in her unattached, free agent mentality. Death seems inevitable. Hope is gone. The characters' insides are hollow. What's going to fill the void? Love and peaceful cooperation with each other? Or a different kind of collaboration? A cultish one. One that instills rules that might be animalistic and violent but feels better than the emptiness.
I've written briefly on the religious motifs and images in the show, drawing connections between cannibalism and transubstantiation. I've touched on Greek mythology, calling Lottie the show's Cassandra. And now "Doomcoming" is rife with Greek and Roman mythology. Wine, sex, violence, music, ritual. This is a Yellowjackets spin on a bacchanal. I went down a research rabbithole (can you tell how thoroughly this show has taken over my life?!) and came across this paper on representations of "knife-wielding maenads" — female devotees of Dionysus who were frequently depicted in art and on the stage as wild women who danced and drank a lot. Ummm!!! Knife! Wielding! Women! In a FRENZY! Sound familiar? There's lots in there — and the sources in the footnotes — about sacrifice, fertility, violence, sex. All themes that have snaked their way through Yellowjackets, especially as the seams of reality start to unravel in the woods. I won't turn this recap into a history lesson, but you're encouraged to join me down this particular rabbithole as we head into finale week.
---
Last Buzz:
SPEAKING OF FINALE WEEK! Have you heard? I'm hosting a special watch-a-long party over Discord for A+ subscribers on Sunday, January 16 at 10pm eastern! Come hang out! I'm making special themed cocktails and snacks!
So I was WRONG about the blackmailer being Callie, but I was right about Jeff NOT having an affair!
I do love that RANDY keeps popping up. It turns out he knows about the blackmail, because as Jeff earnestly explains, he's his best friend and he had to tell someone. I really love how much of a lil softy Jeff is.
This interview with the creators dropped a while ago, but it's full of interesting things, especially the tease about other survivors. I know we've all assumed there are other Yellowjackets out there, but it's still good to know the creators are actively thinking about — and taking their time with! — certain narrative reveals.
What is happening here? It's one of the other flashes we get in that Shauna-stabs-Adam sequence that I didn't recognize:
So…Adam is indeed just a dude, right?! I feel like if he were Javi, Nat would maybe recognize him? That said, teen Shauna tells little Javi to run in that demon voice, and wouldn't it be ironic if then all those years later she killed him "lol"
Misty apparently has spilled her secrets to Jessica Roberts, who has been working Misty rather expertly. She promises Misty a ghostwriter and a massive book deal. But Nat also shows up on Misty's doorstep asking for help with burying a body, and I think Misty is always going to choose the team over anyone else.
DID MISTY KILL BEN?