This Euphoria recap contains spoilers
I don't hate watch television. There is simply too much good TV to waste my time watching Emily in Paris or something else that brings me no joy beyond Twitter camaraderie.
I say this, because as I embark on my self-imposed task of recapping the second season of Sam Levinson's hit teens-gone-wild HBO drama, I must clarify that I want to love Euphoria. I would never waste your time — you presumably being someone who likes Euphoria enough to read recaps — if I didn't share your enthusiasm. I think the show has one of the best casts on television — not just young casts, I'm talking in general — and it has a style that is wholly its own. And yet.
To understand my relationship with Euphoria, you need only to look at its central relationship — trans girl dreamboat Hunter Schafer's Jules and literal Emmy winner Zendaya's Rue. Jules loves Rue and she wants her to get better, she believes she can get better. She's rooting for Rue at every step and yet… and yet… and yet… Rue keeps relapsing. But based on this premiere Jules isn't giving up on Rue and I'm not giving up on this show. So let's begin, shall we?
The season begins with Fezco. Or, rather, it begins with Fezco's grandmother. If you missed Rue's omniscient narrator in last year's holiday specials, she's back to fill us in on the history of her drug dealer, friend, and chosen family.
Fez's grandma was a drug dealer who shot his father (not her son) after he beat up Fez. He became her assistant and eventual heir, adopting little Ashtray along the way. Before you know it he's a high rolling drug dealer with his own kid assistant and Rue Bennet in his backseat.
It's New Year's Eve and he's on the way to a drug deal. Rue is high and rapping along to "Hit Em Up" by 2Pac and Fez and a very concerned little Ashtray tell her to calm down. She's supposed to wait in the backseat with this other dude's girlfriend named Fay. Fay starts to do heroine and Rue is like maybe don't before Fay says she's just a "junky bitch" too. Then they're both getting pulled out the car windows by drug goons.
Inside, Fez, Rue, Fay, and Fay's boyfriend are told to strip. Ashtray is taken into another room. The main goon starts dancing around to "Right Down the Line" by Gerry Rafferty in a moment that feels like a film student failing to imitate the Alfred Molina Boogie Nights scene. Rue is hesitant to strip and then taken into the shower and forcibly stripped there. It's a rough and uncomfortable scene which I guess is Sam Levinson's whole deal.
Eventually the drug kingpin — a soft-spoken female former teacher — trusts them and makes the deal with Fez. And despite the experience being traumatic just to witness, Rue is chatty and excitable once they're back in the car.
This takes us to the main setting for the rest of the episode — a predictably wild New Year's Eve party. We see Jules with her incredible new haircut — it looks so fucking good on her! — and so does Rue who immediately runs away to hide.
We then check in with Maddy and Lexi and Kat and Cassie! I won't spend too much time on them since we're primarily here for the gay stuff but my feelings for Alexa Demie and Barbie Ferreira are gay and I'm invested in every female character on this show regardless of who they're dating.
Someone I'm not invested in is Nate who has a wild drunken joy ride with Cassie before fucking her in the bathroom. Maddy knocks on the door and this leads to a chaotic episode-long hijink where Cassie is hiding in the bathtub while Maddy smokes and flirts with a new guy. Meanwhile, goody goody Lexi begins to have an unpredictable spark with the episode's main dude Fez.
Back to Jules — she's dancing with Kat and she makes eye contact with Nate once he's removed himself from the bathroom. She says her goal is to blackout the entire year. Then we move to Rue who is doing just that as she makes friends in the laundry room with a guy named Elliot and starts doing more drugs. At first I thought he was transmasc because he's short, has dyed blonde hair, and is named Elliot, but actually he's played by cis musician Dominic Fike.
Jules begins to look for Rue and as if a broken heart could be literal, Rue's heart begins to stop. Really it's the drugs and she's going into cardiac arrest. She asks Elliot to crush up some Adderall from her sock and with a chuckle she narrowly avoids death. Elliot says he's not sure that it's good they met and Rue says he's her new favorite person.
Meanwhile, Jules has given up her search and apologizes to Kat for not being better friends. Jules says she let her world get too small. For a brief moment, I abandoned my Rules shipping and started dreaming of a Jules/Kat romance! Imagine how hot! Alas Kat is still with the boring guy from last season. If she's happy, I'm happy, I guess.
Jules finally sees Rue sitting by a fire with Elliot and she makes her way over to her. She walks over and says Rue and Rue looks up and the sound design drops. The look, look back, walk over, first word is stretched across so much other chaos with the other characters. A glance between these two holds the drama of a fuck or fight between the others.
Before we get to this conversation, we unfortunately must check in with Nate. McKay has just had a sad conversation with Cassie where she finalizes the end of their relationship and when McKay emerges, Nate asks if he was back there "dicking her down." McKay says no and Nate gets increasingly intense as he asks McKay how he fucked Cassie and where he came. He's towering over McKay like he wants to dick him down. Nate's confused closeted hypermasculine sexuality is one of my least favorite aspects of the show. I don't find it to be compelling or to be a sharp commentary on masculinity or for it to be anything but a big cliché. If you want to see this trope done well go watch Sex Education. But here I fear Levinson continues to miss the mark.
From upsetting in a bad way to upsetting in a good way, Jules asks if she can talk to Rue. Elliot leaves and Jules sits down. She asks Rue when she relapsed and Rue lies and says it's just weed. Jules asks her again. "Do you want me to be honest?" Rue asks. "The night you left." Hunter Schafer and Zendaya are devastating in this moment, their faces filled with so much pain and love. Now that we know the guilt about her mom Jules is bringing to this relationship, Rue's words cut even deeper. Their conversation gets cut short when Fezco sees Nate, gets Lexi's number, and tells Ashtray to start the car. On his way to the getaway, Ashtray tells Rue they're leaving.
Euphoria then gives us some stylistic flourishes in a slo-mo montage where each character gets overexposed as the camera pushes in. Eventually we get Rue going back up to Jules and apologizing She says she didn't mean to be mean. She's just having a tough time and misses her. Jules says she misses her too. Rue says she really wants to be with her. AND THEN THEY KISS.
Because of the fantasy sequences of the holiday specials, I fully thought this was a dream sequence. But it's not! I know officially I should not be rooting for these two to get back together. It's almost definitely not what either of them need. But I can't help it! I love them together so much! The bond between these two characters and these two actors is what keeps me coming back to the show, it's what makes it such a special work of television. It doesn't matter how many swooping camera moves you do if you're not swooping over something worthwhile — Rules is what's worthwhile.
I will always bristle at Sam Levinson's gaze. I will never be as fascinated with gratuitous nudity or corny violence as him. And I'll remain frustrated with his limited writing as long as he keeps insisting on writing this show about all these different people solely by himself. But even if Euphoria will never be my favorite show, I want to meet it as the show it's trying to be. I won't nitpick complaints or criticize it for not being the show I wish I could watch with this cast. Instead I'll enjoy what it offers — silly plots, dramatic form, and actors I adore.
It helps that the episode ends with Fezco doing what all of us have wanted to do since 2019 — beating the absolute shit out of Nate. Sometimes all you need is one good kiss and a very tall asshole getting what he deserves.
Extra Glitter:
+ Thanks for joining me on this journey! I've been told by some people who I really respect that I'm too harsh on this show and other people that I really respect that I'm too easy on it. So I'm going to assume my opinions are perfect and correct!
+ Okay but seriously can we just take a moment and appreciate Hunter's haircut!?!?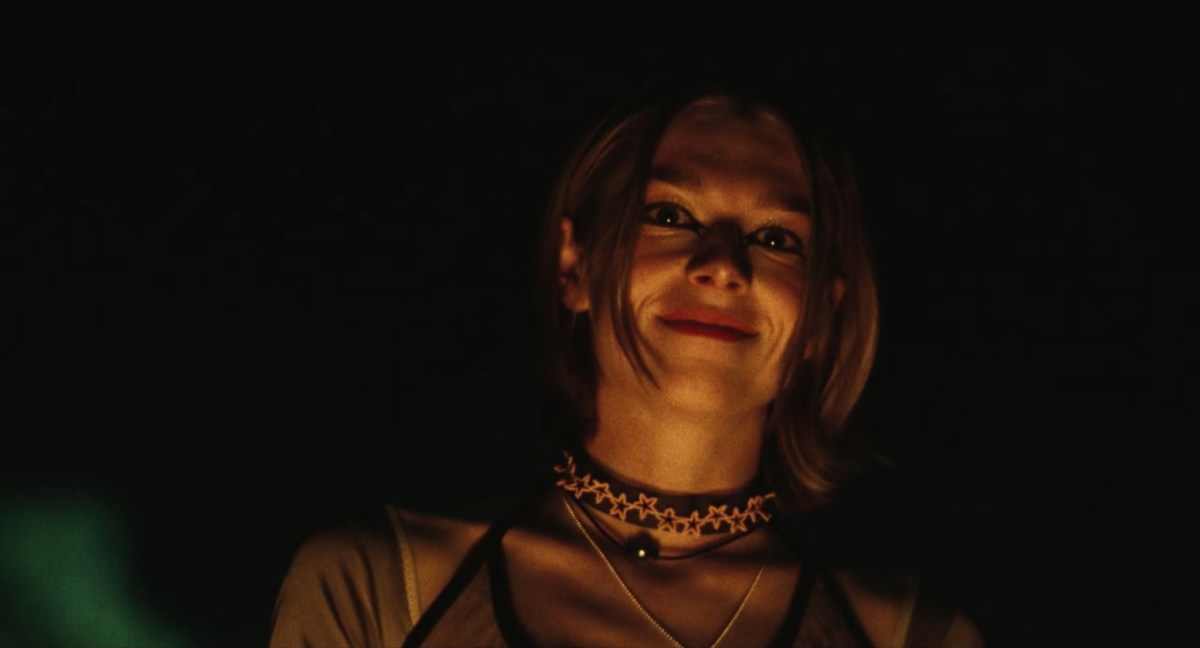 + Sam Levinson is obsessed with showing dicks and we get a hard one between two bullet wounds first thing in this episode.
+ Nate is over-the-top in a lot of ways but the assholes at my high school really did drink and drive with that level of abandon.
+ Now that we've gotten a Fez episode, is Lexi the only main character who hasn't had an episode focusing on her? I wonder if the show will start repeating characters or drop that format like the season one finale and holiday specials.
+ I'll be curious to see how many episodes Sam Levinson directs himself or if pilot director Augustine Frizzell or any other directors join him. I am pretty sure unlike the second holiday special co-written with Hunter, he's still writing the entire season solo. I really wish he wouldn't!
+ Anyway, shoutout to the uncredited writers of Euphoria. See you next week!