Last year I wrote what I would call a highly critical review of Euphoria's first season. Show creator, and sole season one writer, Sam Levinson is a cis straight white guy and that fact resonated through every one of the show's many, many missteps. But did you know that when you search Euphoria on GIPHY it's just Zendaya and Hunter Schafer and Barbie Ferreira and the rest of the cast being hot and cool and charming and cute and GAH OH MY GOD I LOVE EUPHORIA.
My critiques of the first season largely remain, but when productions shut down due to Covid my first thought wasn't for any number of the shows I wholeheartedly love. It was for this messy, often terrible, sometimes transcendent program about some very fucked up teens. Maybe that's because Levinson doesn't lack talent, only perspective. Or maybe it's just because he was wise enough to fill his limited writing with the best cast one could imagine.
I ship Zendaya's Rue and Hunter Schafer's Jules like some people shipped Brittana. And while last season ended on a sad note for them, my hope for the future remained. At the very least, I imagined I'd get more GIFs. The circling around the bed kiss and the "Are you talking to your momma about me?wp_postscan only be used so many times before my group chat starts to worry.
Well! Here we are! It's not season two, but last night the first of two Christmas specials dropped and yes I did watch it on HBO Max immediately. AND OH MY ARE WE GETTING SOME NEW GIFS.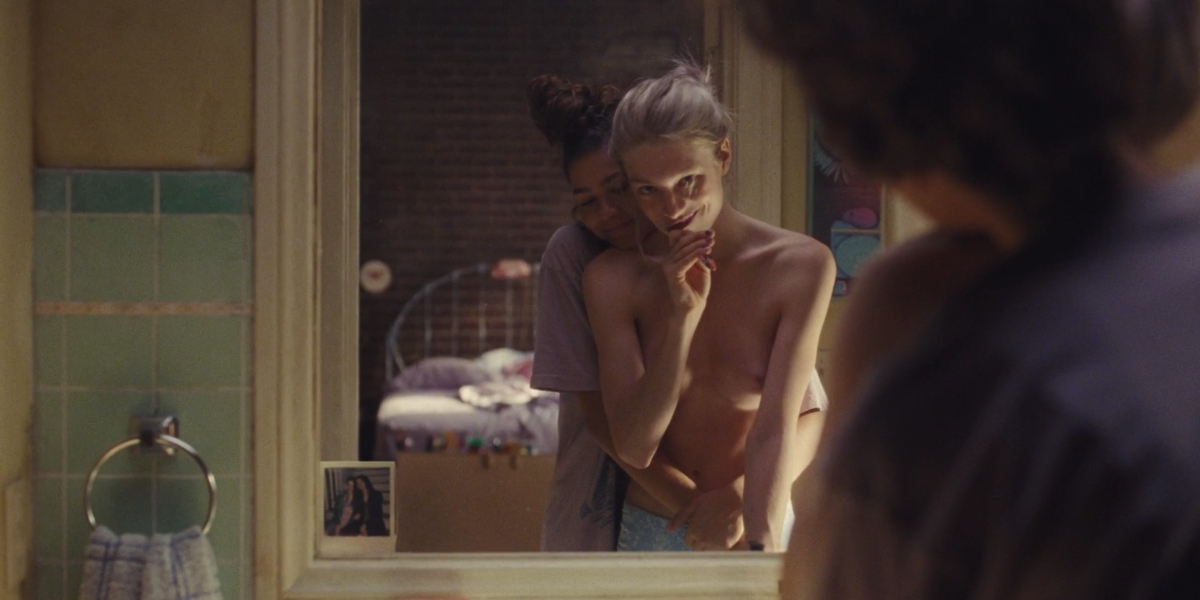 Euphoria Special Episode Part 1: Rue begins with what can only be described as fanfic torn straight from my brain and every other teen and stunted queer twenty something's Rules-obsessed brain. We open on Jules' naked back. The sun is rising on a new day in the type of artsy studio apartment that represents freedom to a certain kind of teen. Rue kisses Jules' butt. She kisses the top of Jules' underwear. She kisses up the skin encasing her ribs. She kisses her shoulder. She kisses her cheek. She kisses that awkward place between your lover's cheek and mouth and nose that isn't awkward at all when what you need is just to feel their face on your face, their skin on your skin. Rue kisses Jules' lips.
Jules has a presentation. She's in art school it seems. And today is a big day. Jules is nervous and Rue is intent on kissing the nerves right out of her — morning breath be damned.
Jules gets up and her body looks like my body. She's skinny with minimal hips, broad shoulders, and cute wide-set boobs. Rue looks on with desire. Emmy winner Zendaya looks on with desire. An audience of people — cis and trans — look on with desire.
Rue hugs Jules while she brushes her teeth. Then there's a montage: Rue sitting in the windowsill all bohemian. Rue hugging Jules again as she puts on a paint covered button-down. More hugging. More kissing. It feels like a fantasy. It is a fantasy. Rue is actually doing drugs in the bathroom of a diner on Christmas Eve where she's eating pancakes with her sponsor Ali.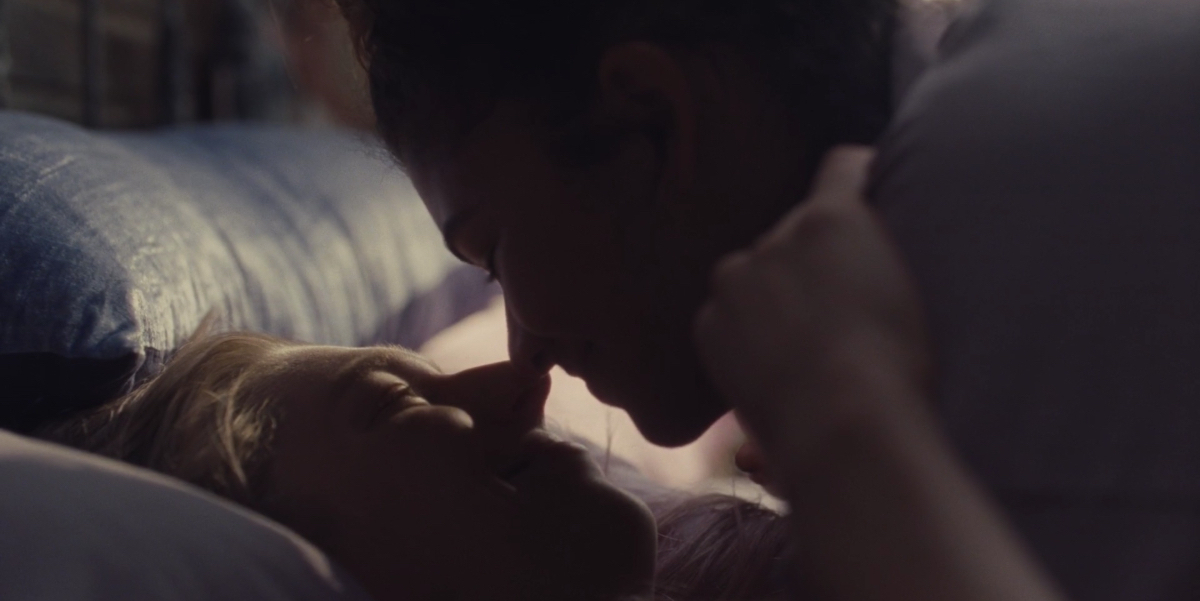 The next fifty minutes are a bottle episode — a one-act play of sorts — where veteran of stage and screen Colman Domingo spars with arguably the best actor under the age of 25. Euphoria is not a show that likes to settle in one moment for very long and it's such a treat to spend this much time just sitting with Domingo's Ali and Zendaya's Rue. Sure, Sam Levinson's camera is up to his old swooping tricks, but given the limited setting it lends the episode some dynamism and actually works really well.
Rue starts by telling Ali she's doing great. Ali knows she's high and that those two things are mutually exclusive. He breaks down her walls as they get into a debate around shame, responsibility, and the salvageability of the world itself.
There are parts of this episode that really work. The discussions of addiction feel sharp and true. The moment when Ali steps outside to call his estranged daughters while Zendaya listens to Moses Sumney's "Me in 20 Yearswp_postsis effective in an unsubtle expressionistic Euphoria sort of way. But then there are parts that don't work — or if they do it's only because Domingo and Zendaya are salvaging the writing.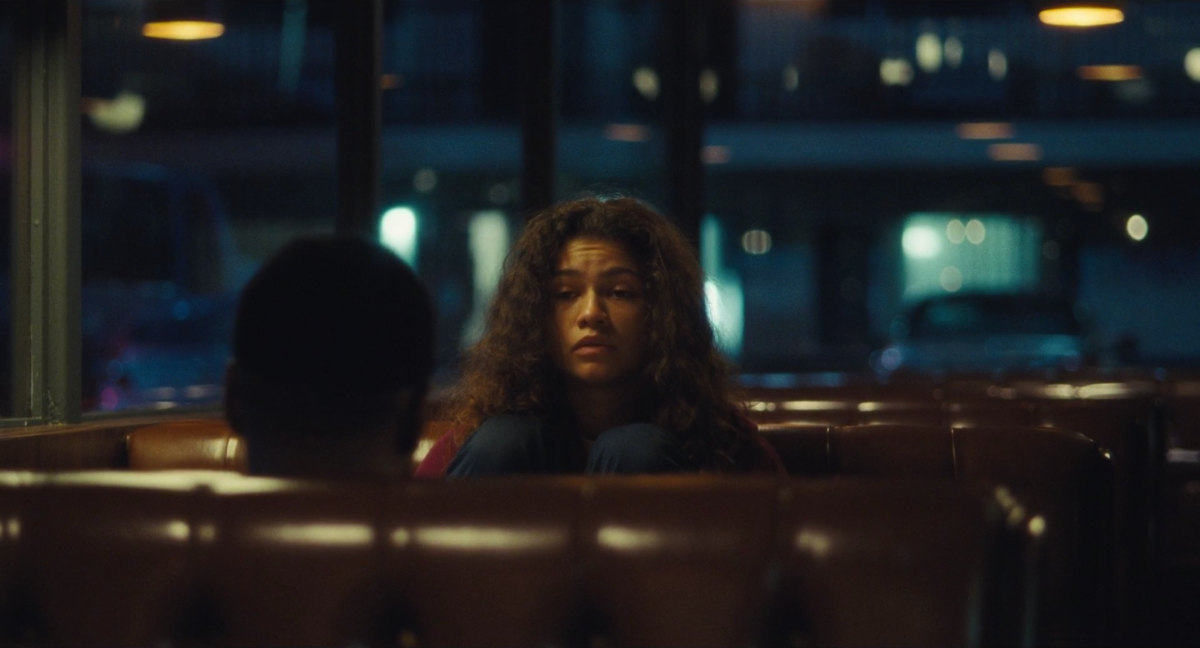 One of my biggest critiques of the first season was Levinson's lack of a writers room. Levinson's decision to filter his experiences with addiction through a queer Black girl in love with a trans woman was welcome. But his insistence that he could write this story alone is baffling. Unfortunately, Levinson is again credited as sole writer.
As a white screenwriter, my brain simply cannot grasp the ego of a white person who would write this episode on their own. There's one monologue about Nike supporting Black Lives Matter and another monologue about Malcolm X and MLK and I just cannot understand the insistence of doing these things alone! I'm not even qualified to write about these moments as a critic! (But even I know Levinson's representation of MLK's politics and how people viewed MLK when he was alive is completely inaccurate.)
The great thing about television is it's a medium based in collaboration. It's frustrating with all the talent he has that Levinson refuses to collaborate on his show's writing. Imagine if this episode's discussions of race hit as hard as its discussions of addiction — imagine the nuances someone else could bring to the moments not about race but still influenced by race because that's part of who these characters are. Colman Domingo and Zendaya are so fucking good and there is so much good about this show and yet it continues to frustrate me deeply.
I don't want to criticize this show. I want to talk about the moment where Rue says Jules cheated on her and Ali slowly explains why kissing someone and telling them you love them is not the same as agreeing to a relationship. I want to talk about the moment when Rue finally admits Ali is right about sobriety but says it doesn't matter because she doesn't plan on being alive much longer. I want to talk about these moments where the actors meet the material and it resonates with my past in ways that shake me. I want to talk about how it's unlike anything else on TV.
But as long as Levinson insists on writing the show by himself, my complicated relationship to it is likely to continue. "Rue's perspective is very much Rue's perspective,wp_postsLevinson says in the post-show talkback. "She's not always accurate in her retelling of things. She is limited in her ability to understand the other emotional worlds of other characters."
So I guess Levinson understands these concepts in theory. Ego is a hell of a drug.