Welcome to Home for the Holigays! Although it's been said time and time again — the holiday season looks quite a bit different in 2020. Many of us will be spending these special days solo, in the cozy comforts of our homes. In this series, a few of our writers welcome you to spend the day with them virtually, and live-tweet one of their favorite holiday films, with the hopes and wishes that it will make us all feel a little less alone.
---
Home Alone for the Holigays
The way things have changed this year hasn't really altered my feelings about the holidays.
My general consensus is that I hate them. The Holiday season makes me miss my family in our happiest moments but then I get bombarded with visions of us at our worst, and that makes me really sad for my little kid self. Growing up in chaos is hard. The holidays were a point of organization and as much as I dislike this time, I still find myself implementing practices my mother instilled in me to keep "tradition" alive.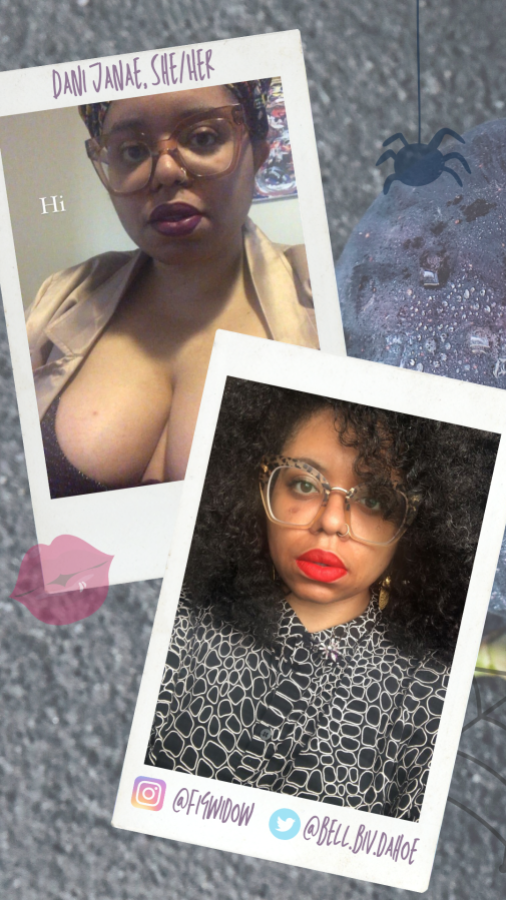 I make a big feast every Thanksgiving and lasagna every Christmas. This year and a couple of years previous, I have spent the holidays on my own and I like it that way. Spending time by myself is so treasured and while this quarantine has given me lots of that, I still crave it.
Whether you're alone or with your chosen family, I hope your holiday is full of care!
Dani Janae
---
Black Christmas
I like my Christmas like I like my women –Black! I loved the original 1970s Black Christmas, it's truly an exercise in terror. So I was apprehensive but open to watching the remake!  I'll be watching and live-tweeting it this Saturday, December 5 2020 from the Autostraddle Twitter at 8 PM EST! 
It's available for streaming with an HBOMAX subscription, and also available on YouTube and Amazon Prime. Watch the trailer here!
---
Keeping it cute on Christmas Day
I am admittedly a bit of a clothes horse. I love spending my money on stuff I know I'll look cute in. As a plus-size woman, it's hard for me to find things that I can fit into that don't fall under the fast fashion umbrella. One of the places I shop most is ELOQUII, the other is ASOS. I recently bought something from ASOS that is just begging to be worn at a holiday party. If I was still drinking I'd put it on and stumble around with one of my tits out probably.
Here's what I imagine Christmas Day will look like for me this year:
7:00 am to 8:00 am Waking up, making coffee, and a nice big breakfast.
8:00 am to 12:00 pm Writing, reading on and off. Trying to find inspiration between the pages.
12:00 pm – 1:00 pm Lunch, watching YouTube videos of tarantulas or people eating massive amounts of food.
1:00 pm – 3:00 pm Realistically I'll be on my phone tweeting about either being mentally ill, gay, or horny. Probably all three in one tweet.
3:00 pm – 5:00 pm I rewatch Black Christmas every year so I'll reserve this time for that. If you haven't watched it and you're a grinch like me, it's a great watch!
5:00 pm – 8:00 pm Going back to reading and writing, popping some non-alcoholic sparkling apple cider.
8:00 pm – 10:00 pm Dinner, watching more YouTube videos, maybe Facetime a friend or two.
---
A Holigay Mocktail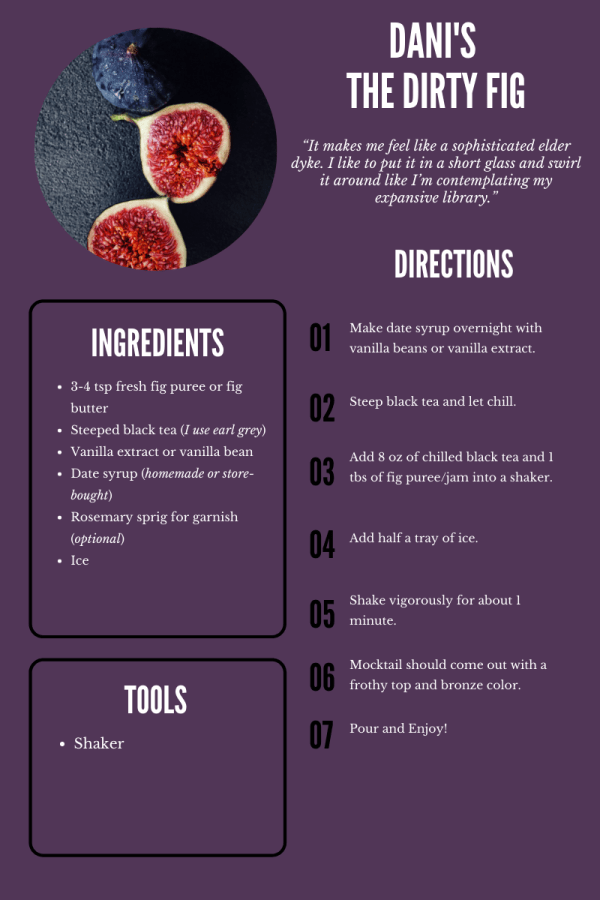 I'm sober, and I know that being sober is especially hard during the holidays, so I'm gonna drop one of my favorite mocktail recipes here.
It's warm, a little sweet, and sexy. I love making a couple when I have the ingredients on hand and I actually made it first for an article here on Autostraddle. That's right, it's The Dirty Fig!
The Dirty Fig is not too sweet as the unsweetened black tea adds a tartness and depth. The fig brings an almost caramel tone and the vanilla date syrup adds a touch of sugar.
---
I hope this holiday season is full of what you want — whether that be love, frights, or friends (safely of course).
Happy holigays!