One thing I truly miss about alcohol is the sheer theatrics of a cocktail: the rosemary sprigs, the twist of a lime, a flaming surface, some juniper-flavored something or other. When I did drink, I was known for making signature cocktails for my guests or girlfriends at dinner parties and anniversaries. What can I say, I'm a dramatic femme who loves a good show. Since getting sober I've missed a lot of the fanfare, and maybe you have too. But I have good news, my sweets, we don't have to miss out anymore. The magic of mocktails provides all the best flavors of their alcoholic sisters but with none of the dry mouth or hangovers. These three mocktails are perfect for the reunion of exes you'll be having this holiday season to show that this whole chosen family thing can really work out and you're all evolved adults now. You'll need a few easy ingredients, a cocktail shaker, and lots of ice. Make sure your shoulders and forearms are well-rested.
Something Fruity for the Femme
Queer Magnolia or Cranberry Spritzer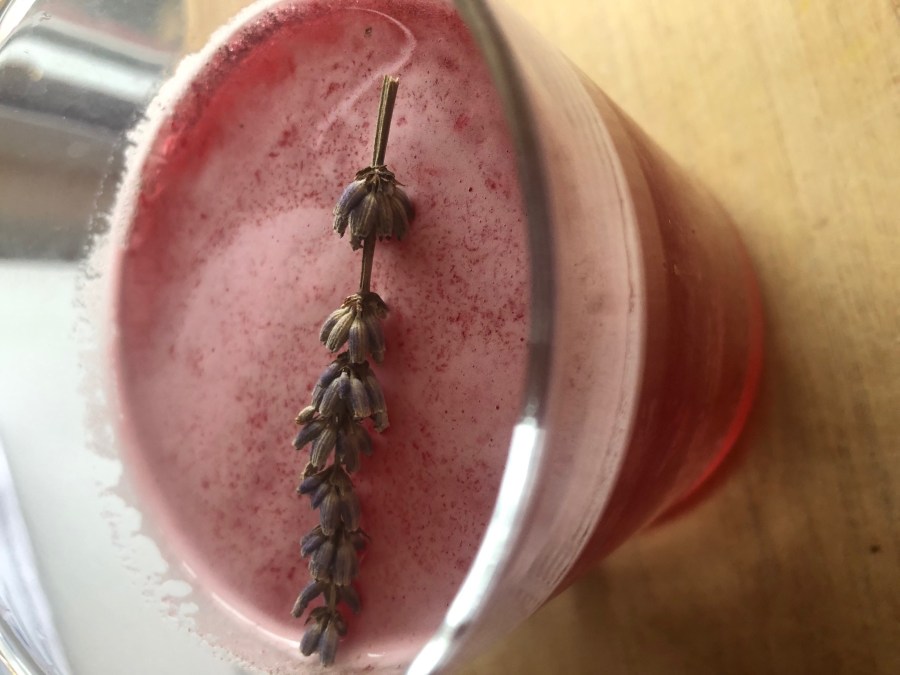 This one is fruity, sweet, and gorgeous. I make my own cranberry sauce with ginger and lime juice to add more depth than the traditional canned variety, add a dash of salt to really brighten the flavor. I leave the ice out of the glass so the pomegranate flavor doesn't get watered down. Garnish with a sprig of lavender too for a lovely, instagrammable shot.
Take your stemless wine glass out of the freezer and rub an orange peel, white side up into the glass to get the oils inside
Drain 2 shots of syrup out into a glass or a shaker
Add 8 oz of pomegranate juice
Squeeze in a quarter of a fresh lime
Shake or stir for 30 seconds
Pour mixture into a glass
Top with Seltzer (Trader Joe's has a cranberry-clementine seltzer that pairs very nicely)
For the Whiskey Dyke

The Dirty Fig
The Dirty Fig is not too sweet as the unsweetened black tea adds a tartness and depth. The fig brings an almost caramel tone and the vanilla date syrup adds a touch of sugar.
3-4 tsp fresh fig puree or fig butter
Steeped black tea (I use earl grey)
Vanilla extract or vanilla bean
Date syrup (homemade or store-bought)
Rosemary sprig for garnish (optional)
ice
Make date syrup overnight with vanilla beans or vanilla extract
Steep black tea and let chill
Add 8 oz of chilled black tea and 1 tbs of fig puree/jam into a shaker
Add half a tray of ice
Shake vigorously for about 1 minute
Mocktail should come out with a frothy top and bronze color
Something Different for the Poet

Persimmon Sunrise
The persimmon is a fruit that I first read about in a poem so this is a great mocktail for a date. It's pretty, it's tasty, and it lets the persimmon star at center stage with no frills and fuss. The persimmon itself tastes like honey and apricot, with a bit of a custard texture and undertone. You'll want to remove the skin unless you have a high powered blender, it's a bit tougher than that of an apple. The citrus in the mocktail adds a brightness to cut through the rich persimmon flavor. Garnish with star anise for a cute treat.
1 ripe persimmon, skinned and cubed
Lemon juice
8 oz Tangerine seltzer
Agave nectar
Ice
Water
In a blender, puree persimmon with 2-4 tbs of water and agave (to taste)
Add this into a glass with 1 oz of lemon juice and ice
Stir vigorously for 30 seconds
Top off with tangerine seltzer