Sort Of tells an inherently queer story and not because the main character Sabi Mehboob (played by the show's co-creator Bilal Baig) is a non-binary trans person whose parents immigrated from Pakistan. In an interview with Complex Canada, Baig discussed what convinced them to collaborate on this project with a straight cis white man like Fab Filippo. Their thoughtful answer perfectly encapsulates what undergirds this quietly incredible, deceptively understated show:
"[Fab Filippo] talked about his own personal transition that he was navigating… a thing in his life that was really changing how he was looking at the world, how he was looking at his own relationship to himself, to his family, to his child. There was such a power in a cis person using the word transition, without any sort of taboo, stigma, like, 'Oh, I can't say that word, that word is for only one community in particular.' … There was a real power in acknowledging that it's a human experience to evolve. And we, the more we all embrace it, the better we all are. … [I]f we can put work out into the mainstream like this, we really are at least evoking some conversations on what it means to evolve. And I think what that does is it helps build empathy for trans and non binary people, because we're seen as the ones who evolve and transition in very particular ways. But when we can all kind of tap into that for ourselves, I think trans and non binary people start to feel less like outsiders. And actually, we are among everybody else. There's such power in that."
Sort Of is a story about transition, but, exactly as Baig said, it's about the universality of transition as a human experience. Part of what makes the show impressive is how masterfully it conveys that point again and again. Over the course of eight short episodes, pretty much every character in this story has to contend with their assumptions about themselves and the world around them.
---
Starting with our protagonist, Sabi, their journey isn't about coming into their identity. From my read, Sabi is plenty clear on who they are. Their struggle lies in being able to trust that they can occupy space in this world as they are.
In episode one we see the life that Sabi has patched together for themselves. They have two part-time jobs as a nanny to two biracial kids and as a bartender at a gay bookstore / bar. They live with their sister Aqsa in downtown Toronto. They have a small network of close friends and confidantes, including Aqsa, their best friend 7ven and Bessy, the mom of the two kids they care for.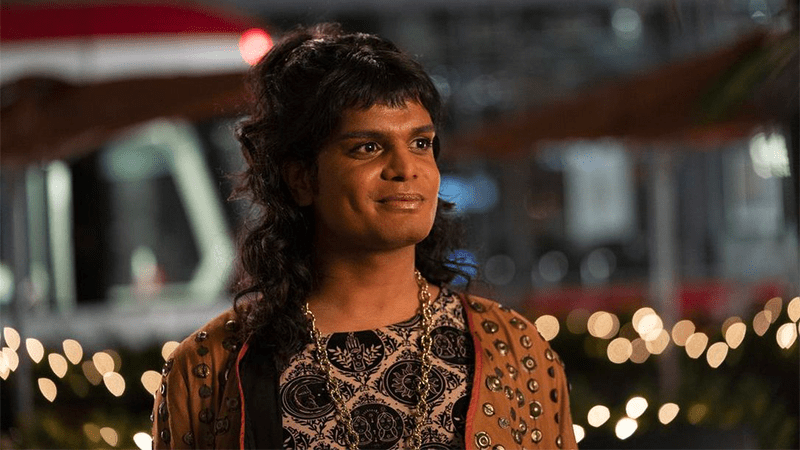 But immediately we see that this life is falling apart at its seams. Sabi finds out that their cis white queer-ish boyfriend Lewis is cheating on them, just hours after having been unironically told by Lewis that Sabi "doesn't really see him." They get fired from their part-time nanny job with no real explanation, though the father Paul's offer to help Sabi find another family "because it can be difficult to find the right family for someone like you" says it all. Later, Sabi has an uneasy conversation with Bessy, who eventually says, "I'm going to miss you. Are you going to miss me?" — a question Sabi leaves uncomfortably hanging in the air. And, if all that weren't enough, they unexpectedly run into their mother — who Sabi has been avoiding because they aren't out to her — on their way home from breaking up with Lewis.
Until that moment, Sabi had been taking it all in stride, responding to everything that's been thrown at them with an emotionless deadpan. With this last straw, though, they finally crack and start crying.
Earlier, Sabi's friend 7ven had presented them with an escape: 7ven was just offered a paid internship in Berlin (a queer oasis in 7ven's eyes) and 7ven invites Sabi to join her rent free. Sabi had been on the fence, but under the weight of everything — the breakup, the lost job and changed friendship, the impending fall out with their mother — Sabi decides to take up 7ven's offer and run away from it all.
Who here hasn't fantasized about this: when life feels unrelenting, to escape to a European city we've fetishized as an open and welcoming place where we can "live our truth"? How many shows and novels and movies have been built on this exact premise?
But mere hours after Sabi has made their decision to go to Germany with 7ven, Bessy gets into a crash on her bike that leaves her unresponsive. And so, Sabi is faced with a choice: cast all this turmoil behind them so they can build a new queer life in Berlin or stay in Toronto to support Bessy's kids?
Sometimes, our greatest journey, the one where we really find ourselves, is the journey we take when we stay and face the cracks in our relationships to uncover the self-truths we've been running away from the whole time. And that is Sabi's story.
They stay to be there for these two kids they love so, so dearly because it's clear that Paul really cannot get it together. They stay out of a sense of duty to Bessy, a person who has been so critical in their life, even though they're afraid to admit that — to themselves or to Bessy. They stay because they know it's the right thing to do.
And in staying, they both uphold their own status quo, burying their own needs to care for others, while also being forced to confront that status quo. In my own life I've found that when we can finally stand up for ourselves within the relationships that have come to define us, we learn longer, lasting lessons than if we had run off and started fresh somewhere else. Because after all, setting boundaries with the people who already know us requires a greater degree of trust — both within ourselves and in others — than starting off anew elsewhere.
---
Of course, Sort Of isn't about staying within toxic, abusive relationships either. And that's where the other stories of transition come in.
First, there's Paul. Cis straight white man Paul is so used to being the center of it all, so used to having everything he wants the way he wants it. But when Bessy enters the coma, he completely falls apart, unable to answer simple questions about his wife's health or even be present to the fact that his kids are also really struggling with the uncertainty of their mother's future. Eventually, he learns even more about how little he actually knows the woman he is married to and the family that "is everything to him," as Bessy put it in episode one to Sabi.
See that's the boon and the curse of having privilege, especially being at the height of privilege. The rest of us have no choice but to contend with what it means to be who we really are because from a young age it's incredibly obvious that the world has a lot of opinions about that and isn't shy about enforcing those opinions. In the case of someone like Paul, though, he only has to face that question after great loss, incredible grief and complete uncertainty over the future.
It would've been easy for Sort Of to fully demonize Paul or to offer him some great redemption. But this isn't a show that goes for easy, one-dimensional characterizations. We never walk away feeling completely bad for Paul, but we also don't hate him. He's just a real person, going through something unbelievably traumatic that has forced him to confront his own shortcomings. He's self-absorbed, as so many cis white men are, enough of a woke liberal to know what he should and shouldn't say about his own privilege — in a way that, of course, still centers him — but he grows, slowly, painfully, bit by bit, over the course of the season.
And then, there's Raffo, Sabi's mother. Ellora Patnaik gives a masterful performance of Raffo's slow transformation over the course of the season. Like so many South Asian women of her generation and who grew up on the subcontinent, Raffo has accepted the role that's been prescribed for her since birth. But in Aqsa's refusal to get married and Sabi's coming into their identity (and accidentally coming out to her) Raffo has begun to realize that if she wants to have any sort of relationship with either of her children, she's going to need to reassess some of her own beliefs about what life should look like.
As I said before, Sort Of isn't endorsing staying in toxic relationships merely for the sake of preserving relationships. Raffo has to work to earn Sabi's trust, and that doesn't come easy for her by any means. Already in denial about Sabi's trans non-binary identity, 7ven outs Sabi's work as a nanny to Raffo in episode three. Horrified, Raffo berates Sabi, saying, "You're telling me you're a servant, for this man? You had so many choices, but you became a nanny?"
One of the things Sort Of does so masterfully in its portrayal of queer trans South Asian identity is how it demonstrates the complicated interplay between race, class, immigration and gender. It's clear that Raffo is just as upset by what she sees as Sabi's "choices" around their gender identity and sexual orientation as she is about their occupation. Parents immigrate to afford their children better opportunities, or so we're always told, and here is Sabi taking on what Raffo derisively considers a low-class woman's occupation.
(As a side note, I greatly appreciate Sort Of for explicitly showing that this classism isn't unique to South Asians. Since episode one, it's clear that everyone looks at Sabi's occupation with a degree of disdain coded in care — they're not living to their full potential, people keep telling Sabi. And, Raffo pointedly asks Paul if he wants his son to grow up to be a nanny when Paul tries to woke white man her by asking, "Are you saying there's something wrong with being a nanny?" One of the show's main themes is not only is there dignity to Sabi's work but also that Sabi's work is invaluable.)
It's through that same occupation that Raffo begins to finally see Sabi for who they are. After having some time to take it all in, Raffo confronts Sabi while they're at work. She's still confounded by everything, by Sabi "choosing" to take on the life of being a caretaker for a man and children that was thrust upon her, but she wants to try to hear Sabi's perspective. Eventually, they're able to bond, food bridging the gap, as it does in so many Asian immigrant stories. It's a tenuous peace that breaks as soon as Paul comes home. His quiet anger eerily reminds Raffo of her own husband, and she later warns Sabi to not lose themselves in caring for other people. Even though she doesn't fully understand or accept Sabi, Sabi knows that their mom's words on this point, in particular, are true.
Eventually, Raffo realizes she needs to turn her own advice inwards. After all, accepting other people's differences often requires taking a hard look at the ugly parts of our own lives we don't want to confront. Raffo's journey is only beginning when the season ends. There are so many questions left open, most of all the specifics of the dynamics of the Mehboob family. In Raffo's eyes when she talks about her husband, and in Aqsa's fears in episode seven, I can't help but read gender-based violence (which is disproportionately high in South Asian communities), but the show never says this explicitly. For so many reasons, I sincerely hope Sort Of gets renewed for another season, but one of my main interests is to see more of how the show will grapple with gender dynamics within Sabi's family.
---
For the many things that Sort Of does incredibly well, there's one character and one storyline that left me disappointed. Bessy is largely seen through other people's eyes, but the bits of her we get don't hang together, in my view. Worse, the catalyst for the entire show, for all the changes and evolutions that all the characters must undergo, is Bessy's incredibly unrealistic bike crash, which reinforces the harmful notion that cyclists just get themselves killed in "bicycle accidents" and taps into troubling stereotypes about Asian women being bad drivers transposed onto biking.
It's a small thing, mere background context for the actual story, but it's hard for me to ignore given that there are five memorials I know of for cyclists and pedestrians killed in car crashes within a mile radius of my apartment. It's also hard to see something so violent and painful played off for laughs. (At the hospital, a health professional tells Paul that Bessy crashed into a parked poutine truck, going for the same kind of dark, deadpan humor that tempers many serious moments throughout the series.)
Despite this, Sort Of does a masterful job. It's incredibly well-done slice of life TV. In just eight short episodes, Sort Of covers so many issues and develops so many characters, it's hard to say the show is about one specific thing. But if there's one theme that seems to transcend them all, it's that we find ourselves by working through the messiness of our relationships.