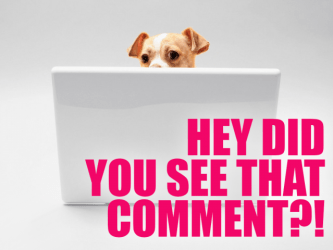 The holigay season is officially here and so is the scissoring sweatshirt you never knew you needed.
Last week Heather tackled the OITNB cookbook, holiday gift guides started popping up again and so did some cozy, seasonal straddler meetups.
Also, how to show up for Ferguson, a team roundtable on Leslie Feinberg and supporting queer black-owned business.
In some very welcome good news last week, same-sex marriage bans in Arkansas and Mississippi were ruled unconstitutional and Jill and Doc got married in Montana! Finally, should Laneia put eggnog in her coffee? Your vote matters because #vapidfluff .
---
On FRIDAY OPEN THREAD: What Are Your Thankful For?:
The Me-ow Award to Tessa: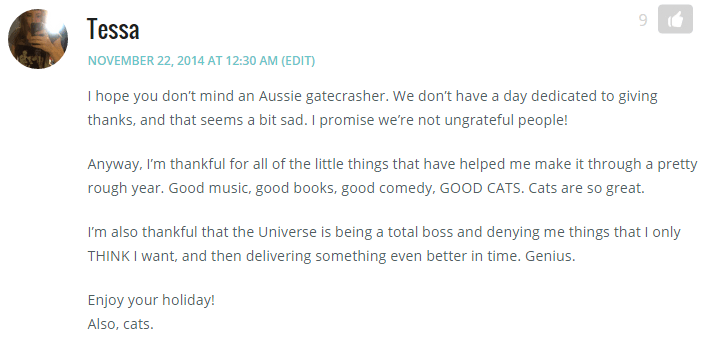 On Fan Fiction Friday: 7 Pretty Little Liars Stories to Set Your Heart (and Pants) on Fire
The We're Scissorly Sorry Award to Jessica:

On Autostraddle Insider Issue Five: November 2014:
The All We Want For Christmas Award to Chelsea
The Don't We All? Award to lomy:

On 5 Apps To Track and Predict Your Period (and More!):
The Seeing Red Award to JP:

On Sunday Funday's Making Herstory with Samira Wiley, Jodie Foster, and 18 Trans Models at Montana's First Gay Wedding:
The Mazel Tov! Award to JellyBean (and Doc!):
On BETTER TOGETHER: You'll Wanna Buy This 'Zine Autostraddle and Everyone is Gay Made For You:
The Shane Bait Award to Sarah Anne:
On The 50 Best Photos of Lesbian Subtext in Sears Christmas Wish Book History:
The Kindred Spirits Award to Madge and Patricia:
On Faking It Episode 210 Recap: I Was Just Happy To Share A Cardboard Castle With You:
The And Hallelujah Award to Jen:

On THANKSGIVING OPEN THREAD: Who Wants A Holiday Hug?:
The Cold Cut Award to Gia Fino:
---
See a clever, hilarious or thought provoking comment around this website-ship? Email it to me at: carrie [at] autostraddle [dot] com!