Let's talk about BLACKOUT, a movement to boycott commerce on Black Friday in hopes of getting somebody powerful to give a flying fuck about the lives of black people in this country. Most advocates for the boycott describe it as being just a boycott of large corporate retailers, others say it's just a boycott of the specific brick-and-mortar Black Friday sales, others believe it should be a boycott of all businesses that are not black-owned. There are also live protests happening at malls all over the country. All of these actions resonate and offer hope for their own reasons, and we hope in this post to point you towards some black-owned businesses that need your support.
There will be two more posts coming out today that we wanna talk about a little bit w/r/t #NOTONEDIME. The holidays are a big time of year for us, and this year more than ever — we've literally never needed a profitable holiday season as badly as we do right now. We're absolutely not black-owned, however, which is why we've had mixed feelings about doing the two posts we always do on Black Friday: 1) Our round-up of good Black Friday deals (all of which we profit from via affiliate kickbacks — we make more $$ from affiliate merchants than direct sale ads, and a huge chunk of that happens today and during the holidays) and 2) Our Black Friday Autostraddle Merch sale post.
So, here are the facts about what we are, and you can decide whether or not you feel okay about spending your money at our merch store or through any affiliate links this weekend: again, we are not black-owned, the co-founders of this business are white (Riese) and white-passing Puerto Rican (Alex). 43% of the work we've published this year was written by people of color. Almost our entire outside submission/solicitations budget is spent on writing from QTPOC. We donate to black queer pubs like ElixHEr and Black Girl Dangerous whenever possible. Of our 13 Senior & Subject Editors, six are WoC and two are black. This year Gabby Rivera started The QTPOC Speakeasy, a closed facebook group for Straddlers of Color, and we're already seeing so much great work come out of that community, including the Sister Outsider Book Club and Speaking Out With Love For Mike Brown and individual posts from writers found through the speakeasy. This weekend, we're doing a 20% off deal for our merch but anybody who doesn't use the discount code will have 20% of their purchase funneled straight into the budget we're building to do even more long-term editorial projects with The QTPOC Speakeasy. That's us. You might find that information inspiring but you very well might find it useless or even disappointing. We're not asking for a cookie or saying we deserve one (we don't!), we're just giving you the facts and you can do what you want to do with them.
Now, let's talk about some places who without a doubt absolutely and most definitely could use your support today!
---
Queer Black-Owned Businesses/Organizations

Haute Butch
Founder and CEO KMichelle is an African-American Butch Woman and her label celebrates the fact that butch women feel most empowered when they are in clothes and shoes that they connect with.
Black Girl Dangerous
Founded by Mia McKenzie as "a scream of anguish," BGD is a forum that amplifies the voice of queer and trans people of color. In addition to donations, you can purchases a copy of Mia's self-published book.
ELIXHER
ELIXHER is a GLAAD Media Award-nominated website and magazine. It is your go-to resource for all things empowering, thought-provoking, and pertinent to Black queer and trans women.
bklyn boihood
bklyn boihood's mission is to spread love through community-building events, music and art while sharing our journey as bois of color who believe in safe spaces, accountable action and self-care
Trans Women of Color Collective
TWOCC was created to uplift the narratives, leadership, and lived experience of trans folks of color.
Audre Lorde Project
The Audre Lorde Project is a Lesbian, Gay, Bisexual, Two Spirit, Trans and Gender Non-Conforming People of Color community organizing center, focusing on the New York City area.
Toni Newman
Toni Newman is the author of I Rise, and is the first African-American transgender person to write a memoir in the United States.
MsHandsome T-shirts
T-shirts designed with queer black women in mind.
ZM Productions & Media 
Founded by Z'ma Wyatt and Michelle Fitzhugh-Craig, ZM productions publishes Shades magazine and offers media, social media/networking, organizational development, and website design services.
Dalila Fairy
Dalila is a Fairy Card reader who wants to help you create a life you love through intuitive guidance, clear decisive action, and clearing of blocks.
---
Donate to the Speakeasy!
The QTPOC Speakeasy
You can donate to our QTPOC Speakeasy. We currently pay all QTPOC contributors to Autostraddle, but we're working on building up a budget that Gabby and other Speakeasy leadership would have independent control over and that would enable us to do more long-term editorial projects, essay series, and to be able to solicit more work from writers we typically can't employ.
---
More Black Queer & Trans Authors You Should Support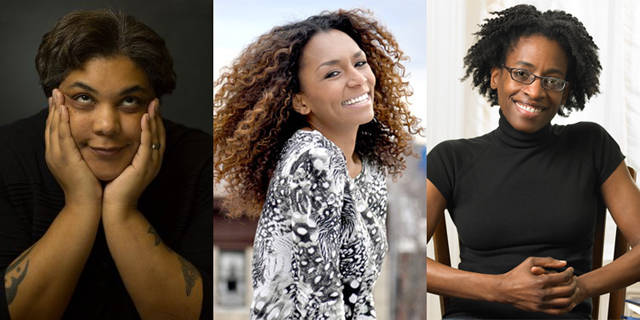 You can find lots of links to books you need to pick up here: 10 Novels & Memoirs By and About Black Lesbian, Bisexual and Queer Women. Here are some others that have been in the news recently:
Roxanne Gay
Bad Feminist, An Untamed State, Ayiti and more. 
Janet Mock
Redefining Realness: My Path to Womanhood, Identity, Love & So Much More
Mia McKenzie
The Summer We Got Free and Black Girl Dangerous on Race, Queerness, Class and Gender
Jacqueline Woodson
Brown Girl Dreaming
Nia King
Queer and Trans Artists of Color: Stories of Some of Our Lives
Samantha Irby
Meaty: Essays by Samantha Irby
You should also support the work of the writers and artists talked about in 100 LGBTQ Black Women You Should Know: The Epic Black History Month Megapost.
---
Other Resources
---
If you know of any queer black-owned businesses or organizations that we missed, let us know in the comments and we'll update this post!