Feature image via friendsofchangfordlibrary.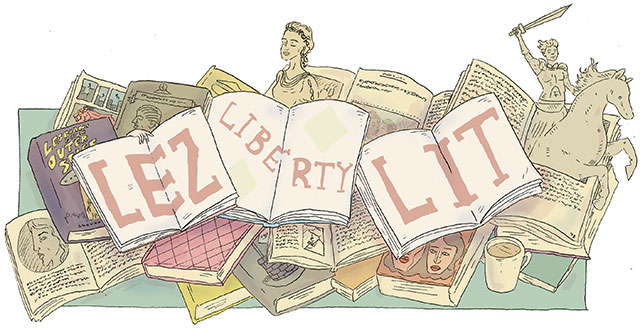 You Need Help: A Tiny Quick List of Modest Gift Suggestions For The Directionless
Lit Links
The Ferguson Library had a huge donation spike earlier this week when it remained open as schools closed in advance of the grand jury decision, and you can donate to it too.
The Strand, a second-hand bookstore in New York, keeps going while tons of other bookstores have closed. Vulture has a great discussion of how that's even possible, along with a look at second-hand book buying, the way that bookstores are becoming more than a place to buy books and more. Pair with the work of Bryan David Griffith, who travels around photographing independent bookstores.
A new style of confessional writing doesn't apologize.
Vanessa Willoughby writes about loving Sylvia Plath, and other people being confused by her loving Sylvia Plath:
"Why Plath? People are surprised or disappointed or embarrassed when I automatically cite her as one of my writing influences, one of my life influences. I think it's because of the stigma of suicide and ingrained bias. She's a polarizing figure, serving as a feminist icon or a creative failure, depending on the person wearing the judges' robes. Why Plath? Maybe they think that a young black woman wouldn't hold much regard for a white woman author who died decades before she was born. What do the black woman in your life have to say about you liking Plath? Maybe they assume that my mother is black and I was surrounded by a group of female elders who taught me This Is What Black People Do and This Is Not What Black People Do."
Readers tend to prefer reading books by authors in their gender category, says a new (gender binary following) analysis by Goodreads.
People often expect to like or empathize with characters, especially female ones. But likeable characters are unnecessary and less fun. Pair with California author Edan Lepucki writing about her own unlikable characters, Emma Jane Unsworth on how there are no lady antiheroes and Emily Nussbaum writing about "bad" fans "who brave not bloodshed but empowerment," and who are put off when they can't identify with characters.
Sometimes you fail.
It's okay to read new books.
But if you are going to read new old books, the recent translations of Grimms' fairy tales are a lot darker than you remember.
We still need public libraries, but they still need defenders. Also there is now a library on a camel.
Breaking: librarians have sex, too.
Putting these Canadian lit scene jokes here in the hopes that other Canadians will read it and nod solemnly and then turn to the woods.
At Lambda Literary, Courtney Gillette reviewed The Woman Who Borrowed Memories by Tove Jansson. Isaiah Vianese reviewed Blue Horses by Mary Oliver. Sara Rauch reviewed Miracle Girls by MB Caschetta. Mitch Kellaway reviewed Blue,Too: More Writing By (For or About) Working-Class Queers edited by Wendell Ricketts. John Bavoso reviewed New York 1, Tel Aviv 0 by Shelly Oria. Courtney Gilette reviewed Forgive Me If I've Told You This Before by Karelia Stetz-Waters.
Casey the Canadian Lesbrarian reviewed Shani Mootoo's Moving Forward Sideways Like A Crab and Raziel Reid's When Everything Feels Like The Movies.
At the Lesbrary, Elinor reviewed Down on the Other Side by Jennifer Cie. Danika reviewed Twixt by Sarah Diemer. Marthese reviewed The Girl on the Stairs by Louise Welsh. Krait reviewed Winged Things by Sarah Diemer. Danika reviewed Hero Worship by Rebekah Matthews.
Recently on Autostraddle: Kaelyn wrote about Leslie Feinberg and so did the team. Alley wrote about the National Book Awards. Mey wrote about Lumberjanes issue 8 which is amazing and also the best. Autostraddle and Everyone Is Gay made you a zine. Also check out Heather's book and beer recommendation in the Insider.
Events To Watch Out For:
Dec 1: Submissions for this year's Lambda Literary Awards close.
Know of a queer event with literary merit? Send it to us! The Liberty Lit is bi-weekly.
---
Books! They are really great. You just won't believe how great they are. You may think that the Internet's great, but that's just peanuts compared to books. In Lez Liberty Lit, we talk about literary shit that's happening that you should probably care about.
The name "Liberty Lit" was inspired by the short-lived literary journal produced by Angela Chase at Liberty High School in 1994.