It's never too early to start recruiting girls into STEM, right? And there's no better time than the holidays to further the feminist agenda, I always say. With that in mind, here are some toys you can give to encourage scientific inclinations in girls of all ages!
---

Under Age 3
Here Comes Science CD+DVD by There Might Be Giants 
A catchy children's album featuring 19 songs about science. I listen to this at work sometimes.
Dino Pet 
A bioluminescent "pet" toy that photosynthesizes during the day and glows brilliantly when shaken in the dark. I totally want one of these.
Rainbow In My Room 
This projector puts a rainbow on the walls and ceiling. NOTE: The toy contains a small ball, so you'll want to keep this out of physical reach. But placed up high — like on a dresser, maybe — I think this is a pretty sweet gift!
160 Pc Science-tool Kit 
Large, colorful pieces which can be built into 88+ models. Helps develop shape and color recognition while encouraging hand-eye coordination.
---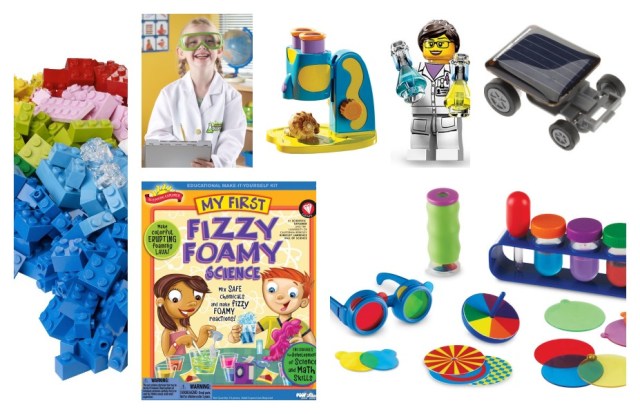 Ages 3-4
LEGO Bricks & More 10662 Creative Bucket
This kit specifically features elements to build zoo and classic house and farm-themed creations, but really it's just a big bucket of LEGOs. The possibilities are limitless.
Learning Resources Primary Science Lab Gear
Toy lab glasses and a lab coat. So just in case she wants to dress up as a doctor or a scientist, she'll be well equipped to do so.
Educational Insights My First Microscope
Designed by a mother of two preschoolers, this toy puts the world of the close-up in the hands of small children with a fully functional microscope.
LEGO Minifigures Series 11, Female Scientist
This series of female scientist characters was launched in response to a strongly-worded letter from a seven-year-old girl. Love it.
World's Smallest Solar Powered Car
A toy car that moves automatically when placed in sunlight.
Scientific Explorer My First Fizzy Foamy Science Kit
A chemical experiment kit that encourages young scientists to measure, predict, and investigate reactions using safe chemicals and common household materials
Learning Resources Primary Science Color Mixing Set
This set helps girls explore the full spectrum of color mixing with a customizable kaleidoscope with color chips, spinning top with interchangeable color mixing discs, a 6-piece translucent color wheel, Color Mixing Glasses with 6 lenses, and 3 test tubes with lids and a dropper in a stand.
---
Ages 5-7
Little Labs Stepping into Science
25 fun experiments to help girls learn what plants need to grow, build a soap-driven boat, observe capillary action, paint with sugar, watch a balloon inflate itself, and more.
Learning Resources Gears! Gears! Gears!
This set allows girls to experiment with simple mechanics and science. It also has a wonderfully enthusiastic name.
Goldie Blox
Goldie Blox's story and construction sets are designed to bolster young girls' confidence in their spatial skills while giving them the tools they need to build and create amazing things. I've previously written about Goldie Blox in my column.
Perplexus Epic
A puzzle ball that has players navigate a steel ball along the tracks through 125 barriers. Easy to play but difficult to master.
Write It! Engineering a Win Writing Workbook
A LeapReader audio workbook that develops girls' math and science skills as they design virtual soap box derby cars.
Scientific Explorer Magic Science for Wizards Only Kit
10 safe and fun activities with a step-by-step manual to help girls cast color-changing spells, make powders magically dance, perform magic card tricks, make a crystal ball, design their own magic wizard hat and more.
Dash & Dot
Robots that help girls learn to code! My girlfriend ordered some just for us to play with, and I can't wait for them to arrive.
---
Ages 8-9
Code Monkey Island
A board game that teaches girls programming concepts such as assignment operations, Boolean operators, conditional statements, basic looping, and strategic thinking.
K'NEX Education Intro To Simple Machines: Gears 
"Sprocket Gears! Spur Gears! Rack & Pinion! And More!" So much enthusiasm about gears.
Static Science Kit
Educational science kit teaching girls how to do electrostatic "tricks," including bending water, making sparks, lighting up a bulb, and making salt jump.
Scientific Explorer Disgusting Science Kit
This kit teaches fun facts about body parts and by-products as girls create a stinky intestine, slimy snot, fake blood and learn how to grow friendly molds and bacteria.
Scientific Explorer Spa Science Kit
A science kit with 10 activities that allow kids to make colorful and fragrant bath gels, bath fizzers, spa lotion, bath balm, face masks, shampoo and exclusive spa fragrances.
Educational Insights Nancy B'S Science Club Moonscope And Sky Gazers Activity Journal
The moon scope has 18x to 90x magnification, a moon filter, and a tripod with built-in red LED for easy night viewing. The 20 page Sky-Gazer's Journal includes stories, tracking prompts, areas to write and draw, and other activities.
Breed Your Own Triops Science Kit with Coloring Book
With this kit girls can breed Triops in an aquarium and learn about ancient aquatic animals.
Green Enviro Battery & Salt Water Powered Robot Science Kits
Use these kits to power lights and sound buzzers using household items, and robots powered by salt water and charcoal. Pretty cool, right?
---
Ages 10-12
4M Eco Science Toys
Use common household trash to create interesting toys such as a hover device and a cyclone tube.
Snap Circuits LIGHTS Kit
An electronics builder kit featuring a color-changing LED and strobe light that can be set up to sync with the beat of music playing from an MP3 player or iPod.
Frightened Grasshopper Kit – Solar Powered
A nifty educational robot and mini solar kit. End result: a life-size grasshopper that hops around using the power of the sun.
Girls Think of Everything: Stories of Ingenious Inventions by Women
An outstanding collective biography of women and girls who changed the world with their inventions.
Wild Science Snow Flake Lab
This has like the worst description ever on Amazon: "More fun than 'serious scinece' [sic]. More scientific than a craft kit." Which, ugh. However, it supposedly teaches about Crystallography and Chromatography, and it looks like a thing I really would have enjoyed as a kid!
Space Exploration Science Experiment Kit with 50-Pack Litmus Paper PH Strips
A kit to guide girls as they learn to launch three types of rockets; build a telescope and star map; model the solar system; investigate the revolution and rotation of Earth; recreate lunar and solar eclipses; and more. The set also includes an extra 50-pack of litmus paper PH test strip indicators for girls to create their own experiments and test hypotheses.
ScienceWiz DNA Experiment Kit
Use this experiment kit to extract DNA from a fruit then probe and spool real DNA, build a double helix, solve a chromosome puzzle and ask, "Is it a boy or a girl?" Then have a conversation with the child about sex, gender, and the grossness of biological determinism.
Effect of Drugs Lab Kit
Okay, this is a supply kit for teachers to lead their classes in studying the physiological aspects of drugs. But I think it's really cool and I bet a particularly motivated adult could also use it outside the classroom to entertain kids in this age group. So I'm including it — just know that you can't hand this straight off to a child.
---
Ages 13+
Metal Earth 3D Mars Rover Model
So cute and tiny and cool. As Vinzzz27 can attest, Metal Earth model building kits are also fun for adults!
Break Open Real Geodes Science Kit
When girls gently hit the geodes with a hammer, they break open to reveal a hidden mineral treasure. Six geodes included.
The Girls of Atomic City: The Untold Story of the Women Who Helped Win World War II
Intensive interviews with 10 women who, during 1942-1945, labored in a range of occupations at Oak Ridge, from janitor to machine operator to secretary to engineer.
Wildflower Seed Bomb Kit
This kit makes 100 1/2″ US native wildflower seed balls. Which sounds like an awful lot, right?!
Cubelets KT06 Kit of Six and Battery Charger
According to Amazon, you use these cubelets to: "snap together an endless variety of robots without programming and watch the behavior emerge like with a flock of birds or a swarm of bees." I feel like these definitely can't be as terrifying as described, though. Please buy these and report back.
Escape Robot Kit
Once built, this robot sends and receives signals to detect obstacles, then uses artificial intelligence to find its way out of mazes.
Subscription to Popular Science
A monthly magazine that writes about science for general audiences and has been inspiring young scientists since the late 1800s.