So, I've been talking a lot about everyone's favorite Gotham City-Based lesbian Latina cop recently, what with her being featured somewhat regularly in the new show Gotham and her winning the Queer Women Character Hall of Fame Award at the first annual Autostraddle Comic and Sequential Art Awards. But I realized, maybe there are a lot of you who only know about her from what you've read here, or maybe from the time she dated Batwoman or was The Question. That's why I'm bringing you the first of a new version of Drawn to Comics, called Drawn to Comics Classics, that I'll occasionally use when I want to highlight the queer women's comics that have helped us to get to where we are today. The first instillation is on Gotham Central: In the Line of Duty, the comic that first featured Renee Montoya as an out lesbian.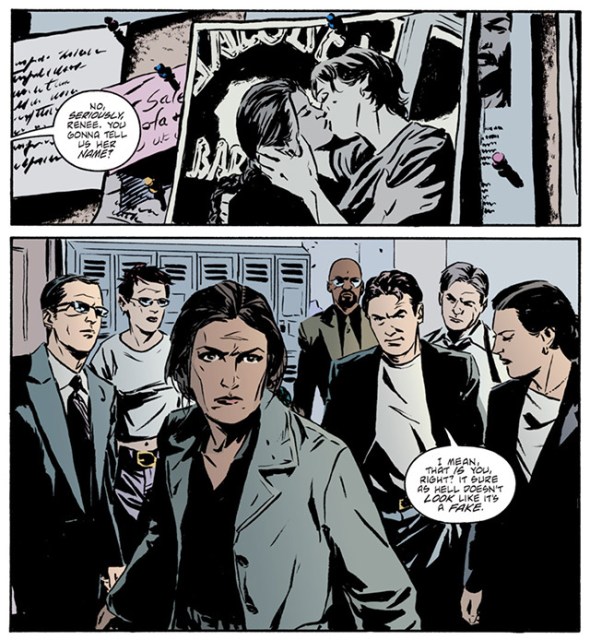 Now, the first thing you should know about Gotham Central is that it is a damn fine book. In my opinion, and the opinion of many others, it's one of the best Batman comics of all time. And Batman barely even shows up. Instead, it focuses on the officers of the titular Gotham Central, the police of the Major Crimes Unit and how they deal with being normal cops in a city filled with very abnormal criminals. The first book that collects issues of Gotham Central is titled In the Line of Duty, but that's just the first story arc in it. We're going to be mainly focusing on another story in the book, Half a Life, which covered issues #6-#10 of the series and focuses Renee Montoya being outed and trying to figure out who is trying to ruin her life.
In this story, Renee's life seems to be completely falling apart. But not just the kind of stuff that comes when life deals you a few bad hands, more like someone is actively messing with her. She's under investigation from internal affairs for murder, she's being sued, and then, to top it all off, she's publicly outed to her conservative Catholic parents and to her entire police precinct. It's tough seeing her outed like this. But she deals with things infinitely better than I ever would be able to. And dealing with this major event in her personal life isn't all she does. She's also using her excellent detective skills to try to figure out who's trying to frame her for murder.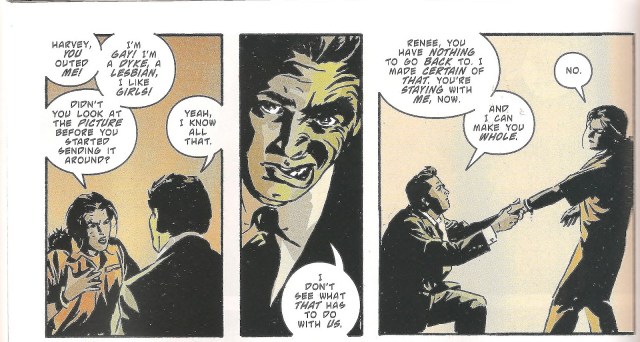 This is a wonderfully brilliant story. It very much fits in the world of Batman of Gotham City, but it's also painfully real. It actually features one of Batman's greatest foes, Two-Face, also known as Harvey Dent, and he makes the perfect villain for this story. Harvey's complete denial of Renee's lesbian identity is so familiar in a world where men often think they'll be the one to finally "turn" or "fix" a queer woman. But as disgusting as Two-Face's actions are, Renee's reaction is equally wonderful. After he reveals what he's done, how he's ruined her life, her career and her relationships, all so that the two of them can be together, she just replies, "No."
After reading Gotham Central it's easy to see why Renee Montoya became such a fan favorite. She's shown to be a tough cop who will relentlessly and cleverly seek out justice. She's shown to be a tough person who can withstand being publicly outed and disowned by her parents and still stay strong. And she's also shown as a very human character with real emotions, real relationships and an extremely compelling personal story. The final scene in Half a Life, where Renee and her partner are just talking, is really, really sweet and touching and reveals a real vulnerability that we don't often get to see in Renee Montoya.
Gotham Central is one of the defining books for queer women in comics, and it's one of the defining books for serious and human portrayal of characters in a superhero world. It's a great comic for any fan of Batman (or really any character who lives in Gotham City), any fan of queer women in comics, or anyone who just wants to read a beautifully written and illustrated comic with a great cast of characters. Another great thing about reading this comic is that it gives you a nice insight into a lot of the characters who have already shown up on Gotham, like Montoya and her partner Crispus Allen, and others who will likely show up in the future.
New Releases (October 15)
Lumberjanes #7 (Boom!)
Sleepy Hollow #1 (Boom!)
Steven Universe #3 (Boom!)
Batwoman #35 (DC)
Supergirl #35 (DC)
Red Sonja: The Black Tower #2 (Dynamite)
Ms. Marvel #9 (Marvel)
Painkiller Jane: The 22 Brides #3 (Marvel)
Storm #4 (Marvel)
---
Welcome to Drawn to Comics! From diary comics to superheroes, from webcomics to graphic novels – this is where we'll be taking a look at comics by, featuring and for queer ladies. So whether you love to look at detailed personal accounts of other people's lives, explore new and creative worlds, or you just love to see hot ladies in spandex, we've got something for you.
If you have a comic that you'd like to see me review, you can email me at mey [at] autostraddle [dot] com.