Last week my gift guide for Lesbian Superheroes and Other Queer Lady-Types went up and Anna Bongiovanni, who's one of our Saturday Morning Cartoon artists, suggested a roundup of ways you can support indie queer and trans comic creators. I thought that was a great idea. It's super important that we don't just read and talk about the comics that queer and trans women (there are also a few non-binary creators on this list) create, we also should support them financially whenever we can.
Many of these creators sell their comics or art online. Others have Society6 stores where you can not only get prints of their art, but also shirts, mugs, phone cases and even sometimes pillows with their art on it. Still others have Patreon accounts, where you can give to them monthly, as little as one dollar, and get bonus content like extra art or access to works in progress and livestreams. So if you have some extra cash this holigay season or you're looking for a creative gift for the art or comic lover in your life, look no further than supporting these great people.
As many of you know, it's pretty difficult to make a living doing independent comics, and the world would be a much worse place if these queer and trans creators weren't able to keep putting their art and stories out there. So thanks Anna, this was a great idea. Also, feel free to add any other queer and trans women artists that you can support who you know about in the comments (that's aimed at everyone, not just Anna).
---
Blue Delliquanti
Delliquanti is the creator of the amazing queer scifi webcomic O Human Star. If you're a fan of robots or really great trans characters in webcomics, you can support her through Patreon or her online store.
---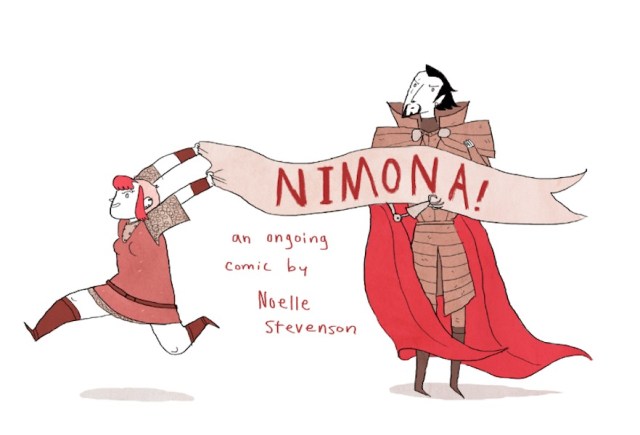 Noelle Stevenson
You might know Stevenson from her work on tumblr as gingerhaze, or maybe from her recently-ended webcomic Nimona (which is available for preorder as a book). Or perhaps you know her as one of the co-writers of Lumberjanes. Either way, she has one of the best and most diverse resumés of any comic creator working today. She also has several online stores including a Society6 store where you can buy everything from stickers and charms, to shirts, art prints and tote bags.
---

Katie O'Neill
Also known by her online moniker, Strangelykatie, she's the creator of the adorable fantasy online comic, Princess Princess, which was one of my favorite standalone comics of  the year. She has a couple online stores, plus she'll be announcing on her tumblr other books for sale and other ways you can support her soon, so make sure you keep an eye on that!
---

Aliza Layne
Creator of the webcomic Demon Street, which features several queer characters and is about a couple of children who have found themselves in a strange alternate world populated by demons, witches and other fantastical creatures. You can support her through her online stores.
---
Kat Leyh
The person behind Supercakes, a webcomic about the lives of two superheroes who also happen to be girlfriends. She has a couple of online stores where you can buy her stuff.
---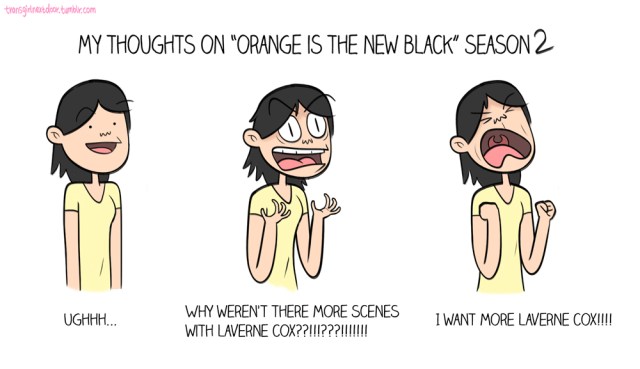 Kylie Summer
Summer is a trans woman who makes the webcomic Trans Girl Next Door and is just super funny and adorable all the time. She has an online store and takes donations on her tumblr to help with her transition.
---
Mariko Tamaki
Mariko, together with her cousin Jillian Tamaki, have put out two books, Skim and then most recently, the beautiful and nostalgic This One Summer.
---
Lucy Knisley
Knisley is a super talented comic creator who, frankly, I surprised myself by realizing I had't written about her yet for Drawn to Comics. She has an online store, accepts donations, and has written several books, including An Age of License, Displacement (which comes out in February), Relish: My Life in the Kitchen, French Milk and Radiator Days.
---
Melanie Gillman
A genderqueer artist who uses a limited set of colored pencils to make some stunningly beautiful comics, including the the webcomic As the Crow Flies. You can support them via their online store or through Patreon.
---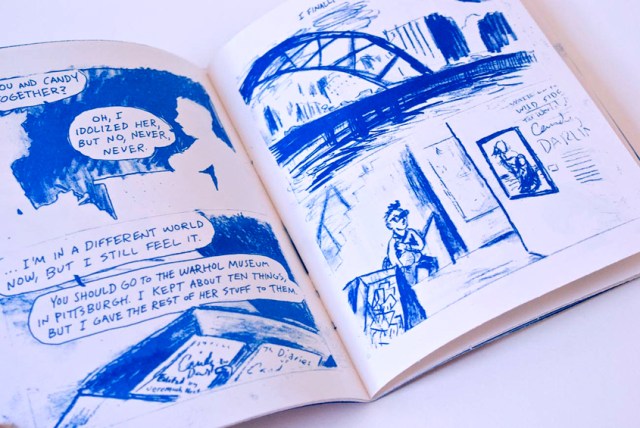 Annie Mok
Mok is a trans woman who makes lovely comics including including the comic Screentests, which combines very personal stories with a history about Candy Darling's life. She has a couple of online stores where you can buy her stuff.
---
Emily Carroll
One of the absolute best writers and artists in all of comics. If you're into the spooky stuff, the absolute best option in the world is Carroll's work, including her book Through the Woods.
---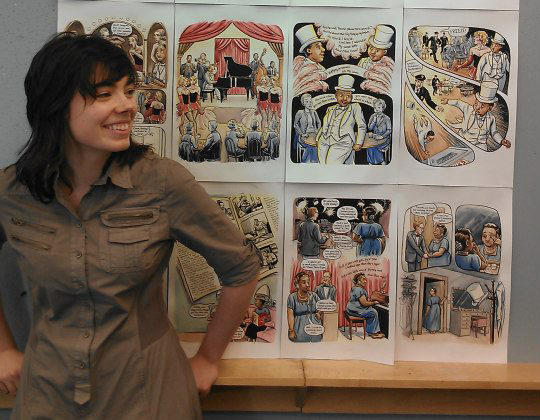 Hazel Newlevant
Newlevant is a comic artist who, a few months ago, published her book If This Be Sin, about queer women and music (including some great stories about Prince and the Revolution and Gladys Bently) that she was able to make through a grant she won. You can buy this book and other works by her at her online store.
---
Ariel Ries
Now, I'm going to talk about Ariel Ries more in a few weeks when I cover her webcomic Witchy, which is about witches of color (honestly, the best premise to a comic ever), so I'll just say a few things here. I only started reading Witchy about a week ago and right now it is my current #1 favorite webcomic in the world. Like seriously, it's wonderful and you can support Ries through her online stores or on Patreon.
---
Maya Kern
The writer and Illustrator behind the shoujo-style webcomic Monster Pop! about a bunch of diverse monster friends who go to college together and have alls sorts of cute moments like the one above. Kern has a Patreon where you can support her.
---

Laura Ķeniņš
Ķeniņš is the Latvian writer and artist behind the lovely book She Wants to Tell Me and several other comics. You can buy her book online.
---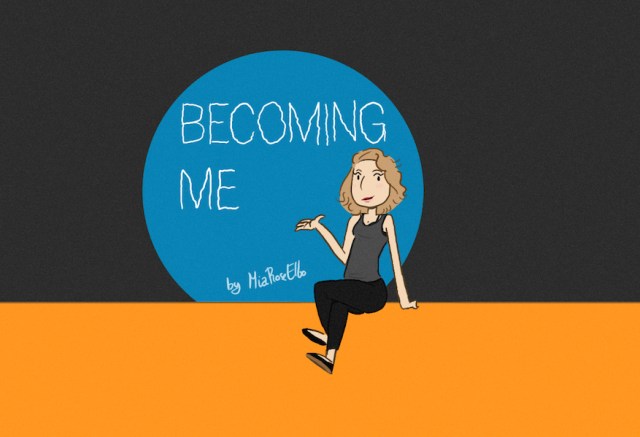 Mia Rose Elbo
A Chilean trans woman who makes the largely autobiographical webcomic Becoming Me. To support Elbo, you can donate to her Patreon.
---
Brooke A. Allen
The terrific artist of the super wonderful Lumberjanes, Allen also has an etsy shop.
---
Molly Alice Hoy
Hoy has some really terrifically cute online comics about her life. Although she doesn't have an online store or Patreon account, she often accepts commissions to help support her.
---
Team Girl Comic
This one isn't one person per say, instead it's a series of collections that includes many queer artists. They not only sell issues of the collection, but also a lot of other merch online.
---
Joana Estrela
Estrela is the author and artist of the book Propaganda, which is about her time working with the Lithuanian Gay League to help organize Baltic Pride. You can buy the book online.
---

Elisha Lim
I really love Lim's art style, you guys, and they have an etsy shop where you can buy some.
---
A. Stiffler and K. Copeland
These two make the webcomic Chaos Life, along with a ton of other stuff. If you've been on tumblr in the past two years, you're more than likely to be familiar with at least some of their comics, and if you want to own a piece of them, you can check out their online store, or you can donate to them to help keep their comic going.
---
Trillian Gunn
Gunn is the colorist on the upcoming Boom! series Help Us! Great Warrior! that's a physical comic version of Madéleine Flores' wonderful webcomic. I definitely plan on buying that series when it comes into comic shops next year and you should to, but in the meantime, you can support Gunn through commissions via her tumblr.
---

Yao Xiao
One of the resident Saturday Morning Cartoon artists, Yao Xiao is a native of China who is living in New York making great illustrations and comics. You can support her by donating to her.
---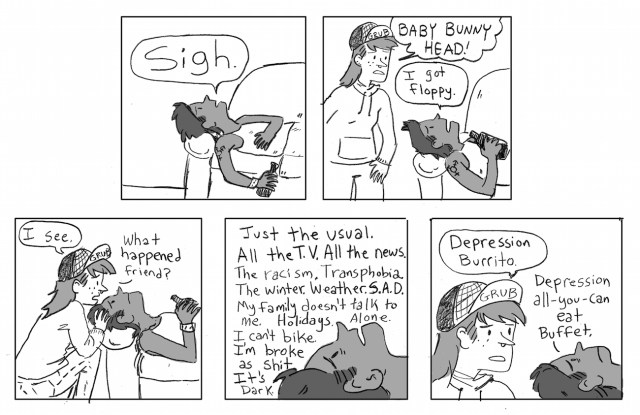 Anna Bongiovanni
Last, but not least, the person who suggested this article, the wonderful Anna Bongiovanni. They make terrific comics about Scout and Andy here on Autostraddle, and have both an online store and a Patreon.
---
It's really important that we support these creators if we want to see them keep on making the comics that we love so much, so even if you can't support them yourself, maybe put some of these things on your holiday gift list.
Other News
Cara Delevigne will be playing Enchantress in the upcoming Suicide Squad movie along with Margot Robbie as Harley Quinn, Jared Leto as The Joker (I'm not excited about this at all), Jai Country as Boomerang, Will Smith as Deadshot and Tom Hardy as Rick Flagg.
On the Marvel side, the amazing Kristin Ritter from Don't Trust the B in Apartment 23 has been cast as Jessica Jones in the upcoming Netflix series about the superpowered private detective. I'm really excited about this news.
New Releases (December 10)
Afterlife with Archie #7 (Archie Comics)
Bravest Warriors #27 (Boom!)
Batgirl #37 (DC)
Harley Quinn Holiday Special #1 (DC)
Bitch Planet #1 (Image)
Sex Criminals #9 (Image)
Shutter #7 (Image)
Thor #3 (Marvel)
X-Men #22 (Marvel)
Princess Ugg #6 (Oni)
---
Welcome to Drawn to Comics! From diary comics to superheroes, from webcomics to graphic novels – this is where we'll be taking a look at comics by, featuring and for queer ladies. So whether you love to look at detailed personal accounts of other people's lives, explore new and creative worlds, or you just love to see hot ladies in spandex, we've got something for you.
If you have a comic that you'd like to see me review, you can email me at mey [at] autostraddle [dot] com.