Just in time for pride month, I got a chance to read Joana Estrela's wonderful, touching and personal comic Propaganda. Propaganda tells the story of Estrela's time working with the Lithuanian Gay League, helping to organize Baltic Pride and hanging out with friends in one of the most anti-gay countries in the European Union. Having the look and feel of a journal (in the absolute best way), this book really made me feel all the most cliché emotions of a book review: I laughed, I cried, I cheered and I got lost in the story.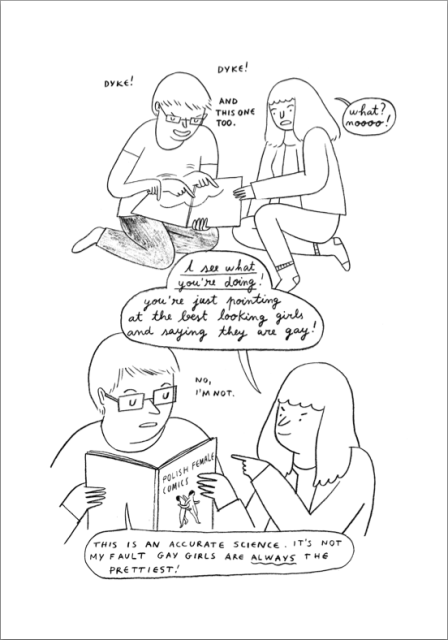 The characters in this comic are so likable and funny in the most relatable and familiar way. The way they talk about things like how all the prettiest girls happen to be queer, whether or not Robyn is gay and how one of them has a gluten intolerance (of course) made me not only laugh, but also made me want to go out and hang out with all of my queer friends. Estrela really did a brilliant job of capturing what that kind of friend group is like. Joana herself is boundlessly likable. There are little moments, like when she uses her giant map as an improvised umbrella, or when she tries to take a selfie and just gets a shot of the very top of her head that really make me fall in love with her as a character.
There are also some familiar things (or things that are vaguely familiar, but to much less extreme levels) that aren't so funny. One of the characters, Elena, talks about how she was a part of a Living Library where the main thing that people said to her was that they just wanted to see what a lesbian looked like. The characters also bond over the willful ignorance that their parents and peers had when they came out to them.
Then there are some parts that are even more frightening. Joana and some friends are at an art gallery when they overhear one of the artists say "Gays can be cured, they just need a good beating, that's all." Throughout the book, the group has to navigate around the various anti-gay laws that exist already and then deal with new ones that get passed. It must be so frustrating to have the news constantly edit what you say and to have laws constantly preventing you from even just saying that you're proud to be gay on TV. Things get even more tense when one of their commercials is banned because two women hold hands and then anti-gay posters start to get plastered all around town.
When Baltic Pride week arrives, I breathed a sigh of relief. Even though the comic up until then featured a lot of little stories from Estrela's life, where she would go to bars or walk around town or hang out with friends, most of the parts that discussed getting ready for Pride were extremely stressful and made me worried for the people involved. Despite all of the problems, things seem to go pretty well. They get Eileen Myles to come and read some poetry, they have a zine fest and of course, they have the parade. The end of this comic, for me, was a really cathartic experience and even brought me to tears.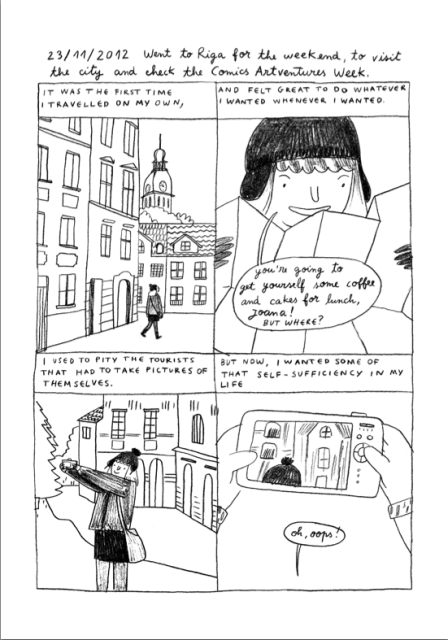 I am super in love with the art in this book. Estrela uses clean line drawings, no color, little shading and a lot of handwriting. This all makes it seem so much more intimate, like this is something that is personal and just between friends. I really enjoy this kind of art, it always seems so homey, journal comic, and it really hammers home the fact that this is actually what happened to a real person in a year in her life. There are also misspelled or missplaced words crossed out here and there, which makes the comic even more charming and personal.
This is really a wonderful comic and I can't stress how much I think everyone should check it out. I loved the art, the characters, the story and the peek into what it's like being queer in a part of the world other than the US. You can check out the publisher, Plana, to buy a copy or download it or check out this other retailer. Estrela graduated from the Fine-Arts Faculty of Porto and has made a couple self-published zines before working on Propaganda. You can keep up with what she's doing on her tumblr, her facebook and her blog.
New Releases (June 11)
Bee And Puppycat #2 (Boom! Studios)
Lumberjanes #1 (2nd Printing Variant Cover) (Boom! Box)
Lumberjanes #3 (Boom! Box)
Batgirl #32 (DC)
Birds of Prey #32 (DC)
World's Finest #24 (DC)
World's Finest Vol. 3: Control Issues (TPB) (DC)
Shutter #3 (Image)
Captain Marvel #4 (Marvel)
Ms. Marvel #1 (4th Printing Variant Cover) (Marvel)
She-Hulk #5 (Marvel)