Are you really into glitter? Do you find yourself throwing batons in your sleep? Do you enjoy a combination of alcohol, sunlight, mardi gras beads, and potentially crowds so large you might suffocate? Have you ever dreamt of going to your city's local LGBT pride events with a full posse of amazing-looking, kindhearted queers ready at any point to have more fun than you've ever had before?
If you answered "yes" or even sheepishly muttered "maybe" to yourself in the last few minutes you spent sorting out your emotions during that series of sentences, I've got good news for you! This June, Autostraddle is on a mission to make your pride month the Best Pride Ever, complete with the posse of queers and — let's be honest — probably doubly so on the glitter. And we're doing it by offering you wild and beautiful souls the chance to meet and greet in real life all month long. That's right. June hath now been declared Autostraddle Pride Month, and y'all will be celebrating together until the very last parade has left a trail of frisbees and flyers in your neighborhood.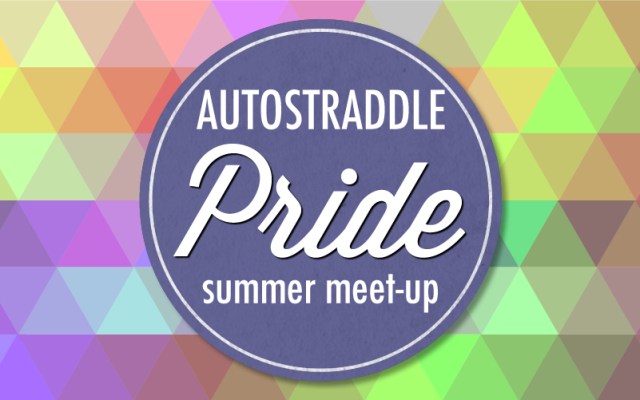 However, in order to satiate this amazing dream of yours, you need to be the meetup you wish to see in the world. In other words, we need you — yes, you crazy and quixotic reader /commenter / vague passerby  — to volunteer to make it happen! And soon! If you'd like to host an Autostraddle Pride Meetup, we need to know by Sunday, June 8. The good news is, it's as easy as 1-2-3! (I make no promises about ABC.)
Here's your game plan, brave meet-up minx: First, you choose the time and place for your meetup, which can be during, before, after, or completely unrelated to the Official Pride Happenings in your current geographic region. Then, you go ahead and decide on or create an RSVP mechanism — be it an email, an Eventbrite, a Facebook event, or a day-of flagging system based on everyone wearing a You Do You shirt in public — and fully commit to it. Lastly, email the following information to carmen at autostraddle dot com and chelsey at autostraddle dot com, who will add it to our soon-to-come megapost chock full of Autostraddle Meet-Up goodness.
Host Name
City
Date
Activity
Location
Time
Special Instructions
Facebook Event URL [be sure to make your event public!]
Hosting a meet-up is super fun and can be as easy or complex as you'd like — you could host a clothing swap, rent a hall and throw a dance party, or just invite people over to watch Spice World and eat rainbow ice cream. Follow your heart. Trust me: if you plan it, they will come.