Welcome to Drawn to Comics! From diary comics to superheroes, from webcomics to graphic novels – this is where we'll be taking a look at comics by, featuring and for queer ladies. So whether you love to look at detailed personal accounts of other people's lives, explore new and creative worlds, or you just love to see hot ladies in spandex, we've got something for you.
Header by Rory Midhani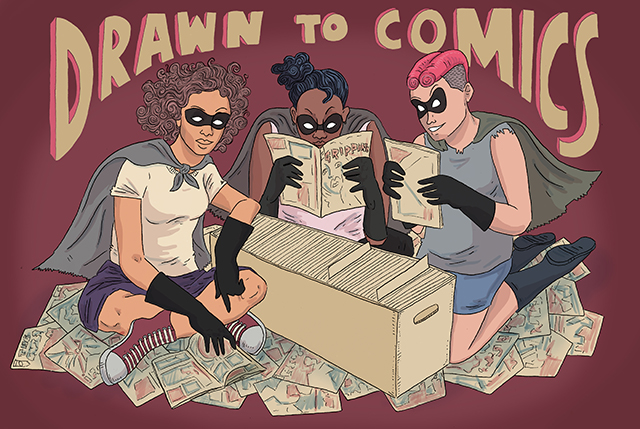 ---
One of the great things about webcomics is the incredible freedoms that it allows for its creators. Unlike the major comic publishers, the writers and artists don't have editors telling them who's allowed to marry or not and they don't have to worry about writing characters that are almost exclusively white, male, muscular and straight. Creative writers can come up with worlds that, like the real world, are full of people of all sorts of sexualities, ethnicities and body shapes. That creativity is fully shown in the Supercakes series written and drawn by Kat Leyh. While DC and Marvel are struggling to have just a handful of queer superheroes, Supercakes has two in the starring roles.
The stars of the series are May Ai and Molly LeMark. May is a powerhouse character who goes by the superhero name Tank. She's a rare female superhero who has super strength and actually has the bulk to match. Her girlfriend Molly is a demure redhead with a cute haircut who goes by the name Shift. Her powers include the ability to turn into a vapor that can form all sorts of shapes, allows her to extend her limbs and gives her the ability to fly. The two make a disarmingly cute couple and a great crime fighting team.
These comics started with one minicomic, titled "Pancakes" (this is where the series gets its name). At first it seems like it's just a ridiculously cute story about a queer couple sharing breakfast and talking about their relationship. They share breakfast, they chat, they talk about whether or not they want to take things to the next level. Then in the last few pages, it keeps the cute relationship dynamic, but adds in an extra dose of superheroes. This showcases what's so great about the series of comics. Even though the main characters and many of the supporting characters have super powers, it's really just a comic about two ladies who are in love and how they navigate their world and their relationship.
These comics feature not only queer lady superheroes, but plenty of PoC, a wide variety of body types for both men and women and a multicultural family made up of adopted kids. In one comic, called "Welcome to the Family," we see Molly visiting May's family for the first time to have a meal. She is shy about meeting them because she doesn't know if they will welcome her on the account that she has powers. What happens is heartbreakingly cute. As she meets May's siblings, she realizes that she doesn't have as much to fear as she thought. While some other comics have taken the idea of mutants as an allegory for queer people (I'm looking at you X-Men), Leyh does that while keeping the focus on actual queer people. While allegories can be a useful tool, it's really nice to see that it's not also used as an excuse to not need to include the actual people that you're talking about. Like "Pancakes," "Welcome to the Family" makes sure that you know it takes place in a world populated with people who have superpowers, but it remains a story about relationships at heart.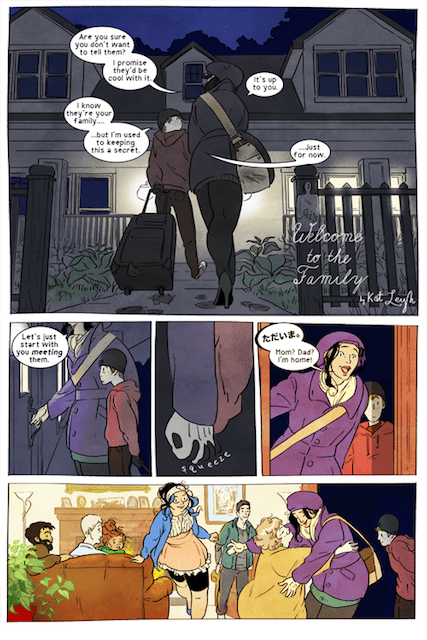 So far, Leyh has focused more on letting the readers get to know the characters rather than seeing them in super-powered action (although there is some of that). This world of superheroes is so different and inventive compared to the average superhero story. People have creative powers that aren't your normal flight, super strength and super speed. The characters have very well thought out backgrounds and home lives, and although we've seen more of May's family, Molly's seems just as interesting. The little hints that we've seen of Molly's background seem so sad that on one hand I can't wait to find out more and cry for the character, and on the other hand I'm completely afraid to read it.
The drawings absolutely flow around the pages. The smooth pen strokes and faded colors combined with the way the characters are drawn to be curvy and flexible make it seem like they are actually moving from panel to panel. Supercakes doesn't look like other comics out there and that is a good thing. Mainstream superhero stories often have strong inking, bold colors and dark shadows to show the intensity of the characters and the world. Supercakes is nothing like that. It knows that, while its characters do have powers and some of them do fight crime, they are loving, happy people and the art should reflect that. It's refreshing to see such a unique art style to match the unique story and world that Leyh has created.
You can read all of the comics, plus look at a bunch of behind the scenes character designs and sketches on Kat Leyh's tumblr. You can also see the original minicomic at the comics section of her website. You can buy that first story from the Yeti Press store. While she still posts new sketches or small comics every now and then on her tumblr, Leyh says that because she has other publishing priorities, more full Supercakes comics won't be available for purchase for a while, but I would suggest reading and re-reading the old ones and looking forward to new ones like I am.
---
If you have or know of a comic that you would to be featured on Drawn to Comics you can email me at mey(at)autostraddle(dot)com.