Ashley (the poet) and Marine (the scientist) met at A-Camp, fell in love and set off into the sunset – on a budget. These shoestring-travel enthusiasts are hitting every major city between Boston and Los Angeles on a country-wide tour and staying with as many Autostraddlers as they can find. Ashley just released a book of poems and is promoting it on the road, while Marine is keeping things organized and on budget. This is their journey.
---
Tonight we're relaxing in a hostel in Houston, reminiscing on the week behind us and getting nostalgic about how awesome and beautiful A-Camp was. Luckily, we were able to drown out our A-Camp sorrows over some retail therapy at the Mall of America and a few drinks on Bourbon Street.
After dancing around in our jammies in Minneapolis, we awoke the next day sans hangovers and to a bright clear sunny morning. We set off for Minnehaha Falls, to take in some nature and pretend we could be on a mountain top with 300 queermos.
We saw the falls, and followed the creek to the Mississippi river, which was quite peaceful. After the falls, we spent the rest of the beautiful day in the next most logical place, the Mall of America! There is a roller coaster in the middle of the mall! There are tons of stores! There is a Betty Paige store and multiple Godiva stores! After playing dress up, and probably spending too much money, we left and went to Soapboxing Poetry Slam.
Ashley: I entered the slam, and experimented with something new in round two. It was a fun night, and I was super excited to lose to Danez Smith, an incredible queer spoken word artist whose work you should probably youtube right now.
We were starving after the slam, so we went to Pizza Luce for a late night bite and some happy hour drinks! We think Swindle made a friend outside before we left.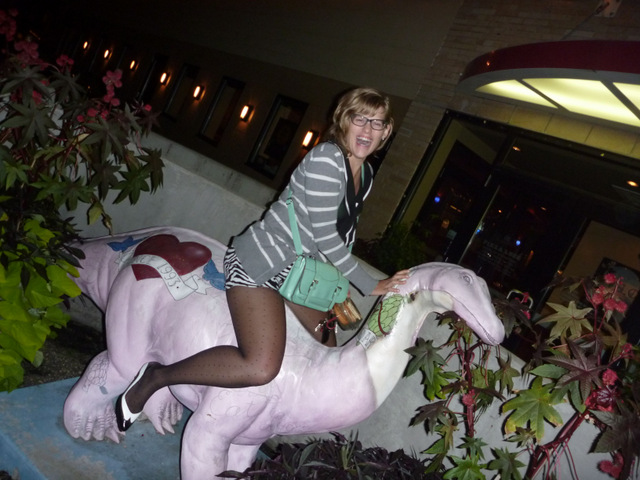 We got in late and still had to finish packing before heading to the airport to catch our 6:00am flight. We are so very grateful that Swindle drove us after our short nap, so we could wave goodbye until next time.
Ashley: My very first job at 16 years old was at the Ragin Cajun in Hermosa Beach. I was one of the only employees working who wasn't from Louisiana, let alone the only one who'd never even been! I was nostalgic for a place I'd never visited and I couldn't wait to get there!
We arrived in New Orleans in the afternoon after a four hour layover in Atlanta, and an hour-long bus commute to our host's apartment. We were greeted by David and Jessica, two anthropology/archeology majors and straddlers who had bought us Abita beer and Zapp's Potato Chips as a welcome gift! We stayed and chatted and Jessica invited us to a party that evening. We figured we'd take a power nap and awake refreshed for the party. Unfortunately, we laid our heads down at 5:30pm for a nap and didn't stir until around 2:00am.
When we did make it up in the morning, it was time to go exploring! We took a bus in to the French quarter and went window shopping until we stumbled across the Voodoo Museum. We learned about the origin of Voodoo, and how Marie Laveux was not only a high priestess of voodoo, but a rather impressive entrepreneur.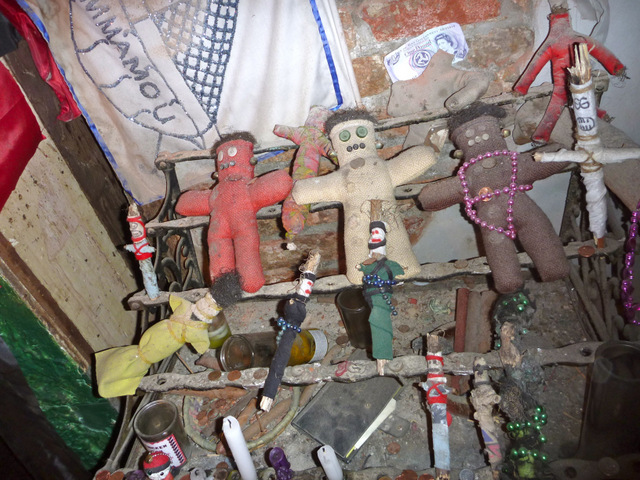 After the museum, we stopped at Café du Monde for some beignets and café au lait. The whole place was a little disorganized and covered in powdered sugar, but it was also extremely delicious! After, we walked over to the Mississippi river, and checked out more of the quarter.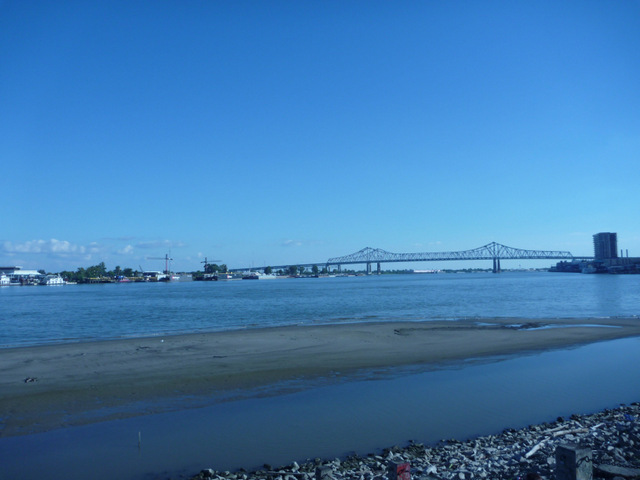 Walking through the French Quarter is entertainment in and of itself. On every corner there's a jazz band or a tap dancer. Each sidewalk houses an artist at work selling paintings or jewelry. Each store-front and apartment looks like a beautifully haunted building straight out of a vampire romance. The place is crawling with history and drunk revelers who can take an alcoholic beverage to-go from any local bar or restaurant.
Marine: We even stumbled across a French pharmacy museum, which is essentially me or soon to be me. I'm currently applying for pharmacy schools and was born in France.
As the sun set over the French quarter we walked along the river and found a delicious Cajun meal via groupon at Poppy's Crazy Lobster.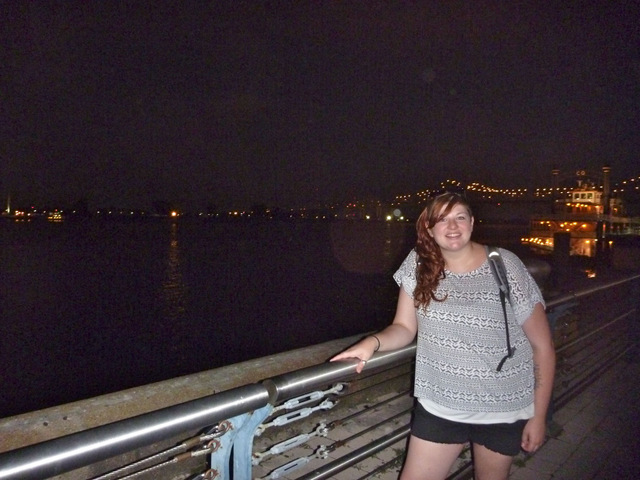 Next up was the Esoterotica reading at the Allways theatre and lounge.
Ashley: I was lucky enough to get a featured spot in the show, but I truly loved how the show was run. Sometimes the term erotic can be misinterpreted by writers, and become overly triggering, misogynistic, racist, homophobic, transphobic, etc. This event seeks not only to avoid it, but to alert writers to what may be problematic.
After the show, we went for a drink with our host and new friend, Jessica, who informed us that Allways often hosts a naked karaoke night, which she has previously won. This trip is never short on interesting people!
The next day was spent cooking and walking through the neighborhood, followed by Word Connections, hosted by John Lacarbiere at the Ju Ju Bag Café. Free food was served, drinks were poured and poetry was shared.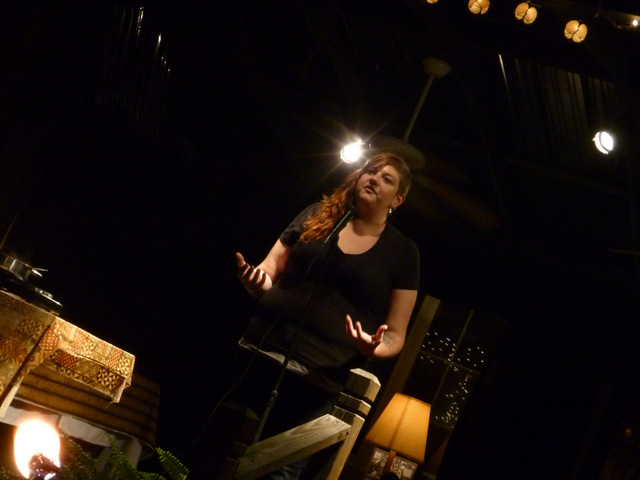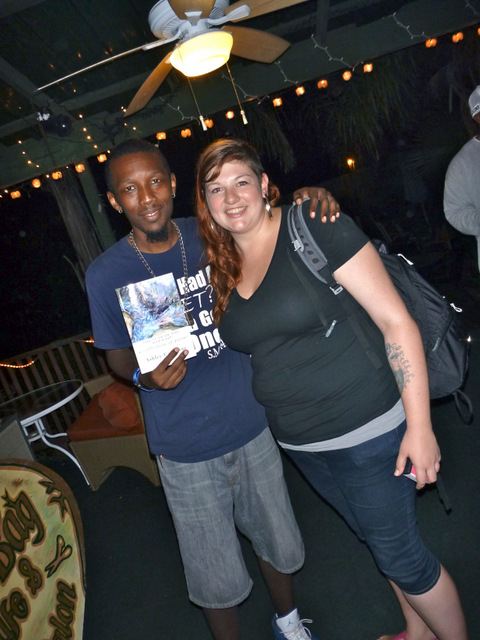 With only two days left in New Orleans, we decided to experience Mardi Gras off-season at Mardi Gras World. It's a bit of a tourist trap, but they give you the history of Mardi Gras in New Orleans, a slice of king cake, dress up time, and a look through their amazing float factory.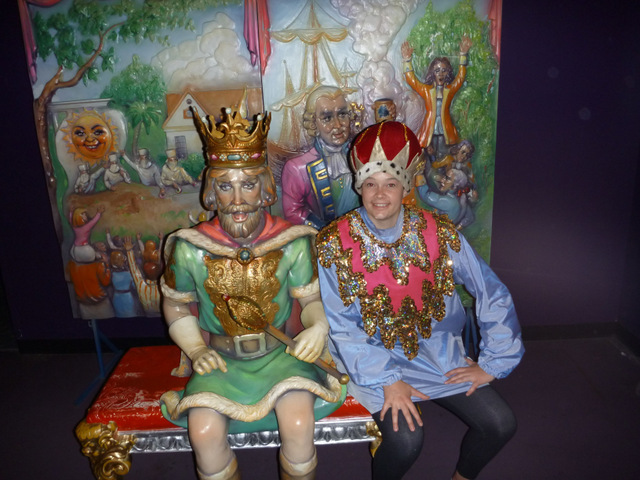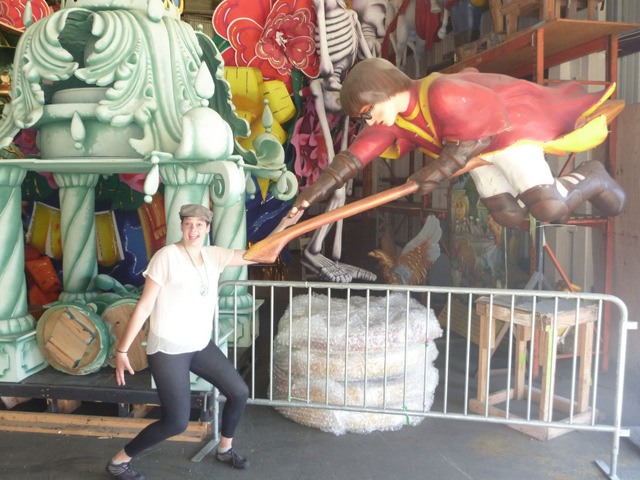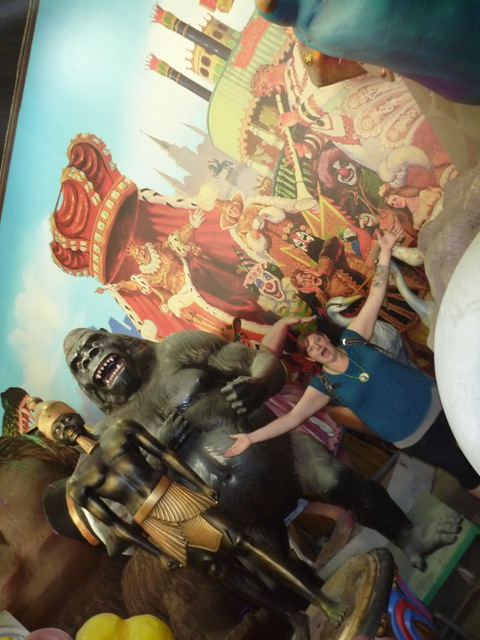 The next day we went to the Louisiana seafood festival, after which we ended with another amazing night of poetry, potluck style, with Desiree Dallagiacomo and friends.
It was now Saturday night, and we headed out to Bourbon Street. Drunken frat boys, refined foodies, LSU fans, hipsters, and older vacationers alike convened for drinks, dinner and dancing. We reveled in the debauchery and found a place to eat dinner on a second floor balcony while listening to the musical stylings of Tanya and Dorise on the street below!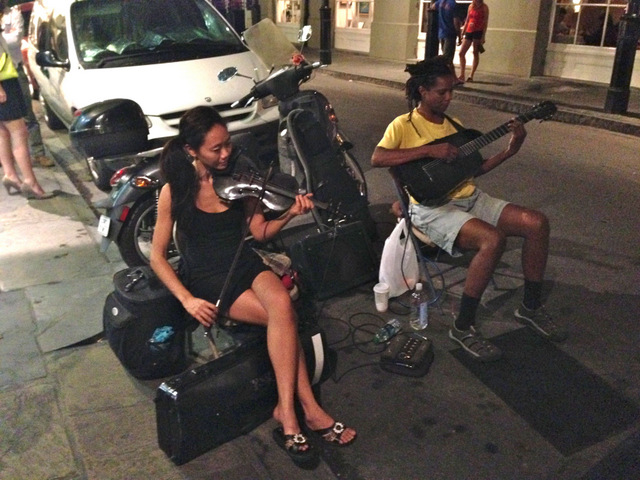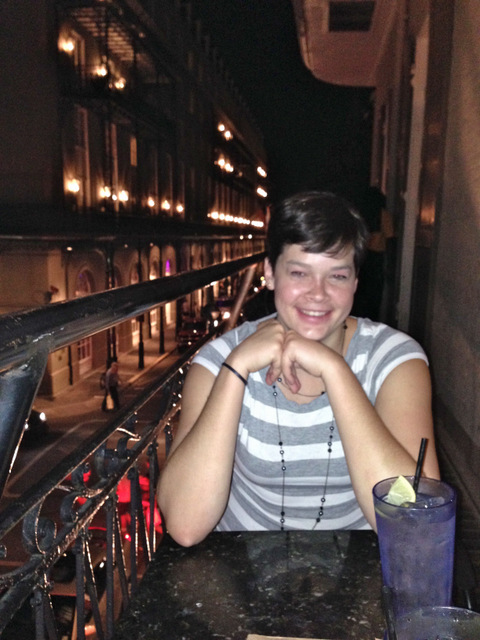 Despite the fun of Bourbon Street, it can get even more over the top here than Vegas. If you plan on joining the crazy crowd, be safe. Use the buddy system, don't drink and drive, you know, use common sense!
The next morning we hopped on a 6am street car to get to our megabus for Houston, TX. Our taste for adventure may be just as big as the lone star state.
Up next: Houston and Austin, TX
Don't forget to check out our wordpress for more stories, poems and pictures from the road!