Ashley (the poet) and Marine (the scientist) met at A-Camp, fell in love and set off into the sunset – on a budget. These shoestring-travel enthusiasts are hitting every major city between Boston and Los Angeles on a country-wide tour and staying with as many Autostraddlers as they can find. Ashley just released a book of poems and is promoting it on the road, while Marine is keeping things organized and on budget. This is their journey.
---
After brunch and flag football with the Chicagostraddlers, our adventure in the windy city was hardly complete. There was still poetry to be had, A-Campers to reunite with, and oh yeah, Ellen DeGeneres.
Ellen sent out a tweet to meet her in Chicago at the bean, wearing something that would make someone smile. Seeing as we only have the clothes in our backpacks, and we still manage to make each other smile every day, we threw on our outfits and headed over to the park. It wasn't hard to find out where we were supposed to be, as there was a massive crowd of weirdoes that had gathered in hopes of catching Ellen's attention. There were unicorns, hot dogs, mascots, crazy colored wigs and face paint, all vying for a shot at some camera time.
Unfortunately, Ellen herself was at a studio in LA skyping in to the scene that was unfolding in Millenium Park. However, this did not stop us from an amazing afternoon of unparalleled people watching!
We would have loved to stick around and see which crazy outfit warranted a $10,000 cash prize, but there was poetry to be had! We were on our way to The Green Mill Lounge for some poetry and history. The Green Mill is where the game of poetry slam got started. Its venue host, Marc Smith (so what??) started the game to liven up the open mics and get the audience more involved. The open mic was exciting in that there was a house band, which accompanies the poets with any style of music requested.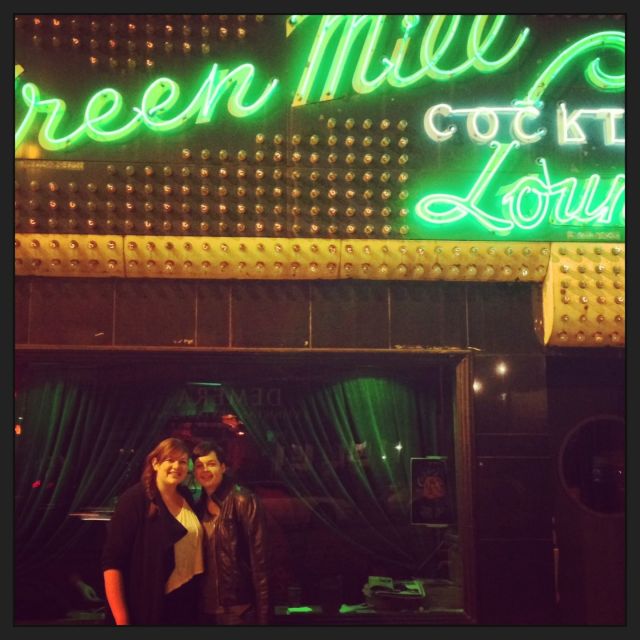 Ashley: I'm kind of glad we got in too late to get on the open mic list. It's intimidating to be at the birthplace of slam and have no idea what kind of music you should pair with your poems! I've got lots more to think about if ever I'd like to record some poetry!
After Green Mill, we had a bombshell reunion! We met up with our fellow A Camp cabin member Amanda and another A-Camper, Kay. We caught up, laughed, joked, and bitched about the government shutdown.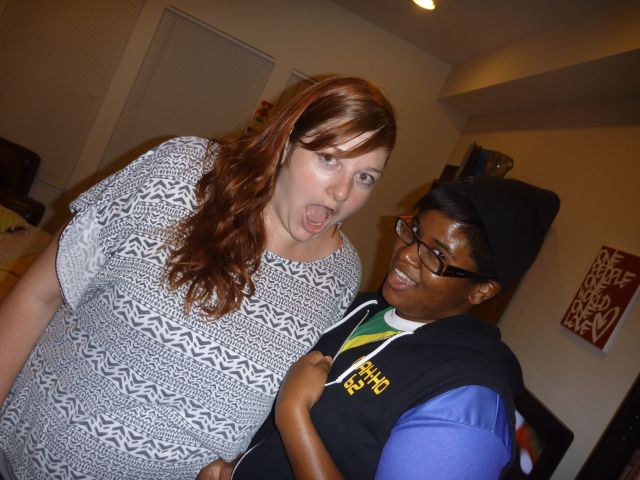 It was a great way to end our visit, and the next afternoon we were on a bus headed to Minneapolis.
Our bus ride was 9 hours long and the woman three seats behind us insisted on playing loud music and singing along terribly. So far, we don't have any megabus horror stories, and we're grateful for it! However, this was our longest trek yet and we had to come up with all sorts of ways to stay entertained.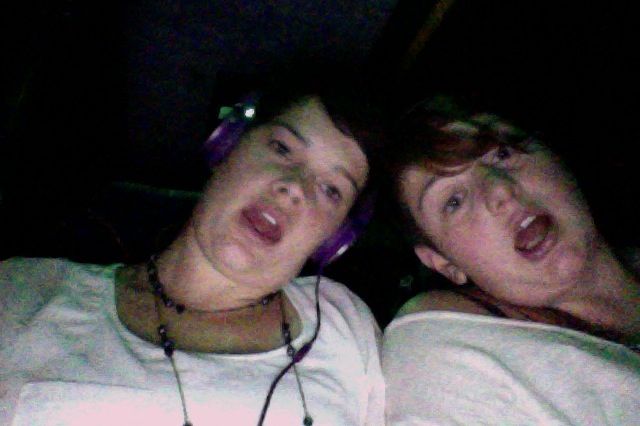 We arrived at around 10pm in pouring rain and our Snatch-22 A-Camp cabin mate, Sarah Swindle, was there to pick us up.
Ashley: We were in Minneapolis for the first time back in March when I competed in the Women of the World Poetry Slam (remember the one you helped me get to?). Everything was covered in snow, and now it's covered in water. I will forever equate Minneapolis with having lots and lots of weather!
After a night in, we were ready for some adventure! Swindle took us to the Walker Art Museum for Target Free Thursdays. Swindle is a pro at finding cool free things to do in her city. One of the exhibits was participatory, and we were invited to sit on a large hand woven rug and sip tea with each other!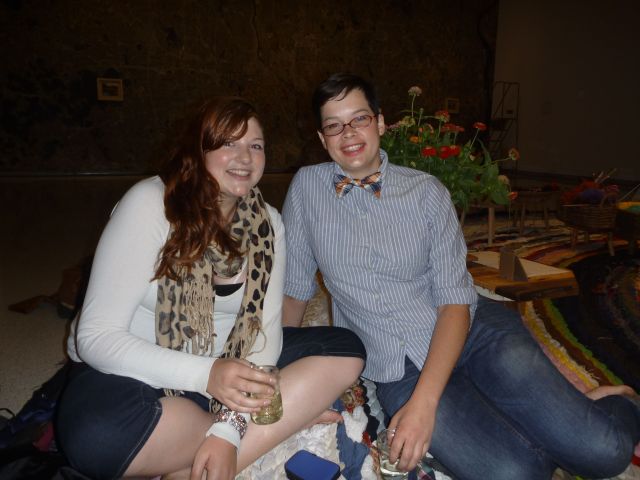 After we took in all the art, we went to the Science Museum of Minnesota for their Social Science event, Murder at the Museum. We were given a packet of evidence when we entered and had to walk through various exhibits and find clues, examine the crime scene, and interview the suspects. We also got a chance to meet real forensics experts who answered a lot of our questions and gave us real life examples of the things we were learning.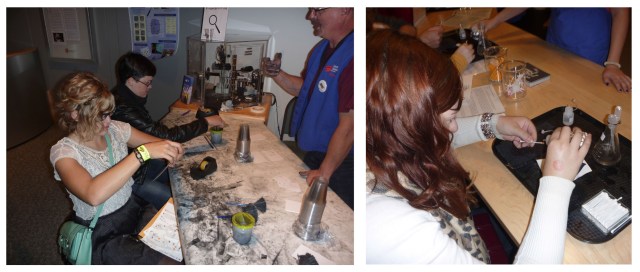 Marine: of course, we spent a lot of time goofing around on the kid's exhibits too! It was nice to participate in something science related rather than being at a poetry venue. It was a nice departure from the usual, and I got to teach Ashley a few things!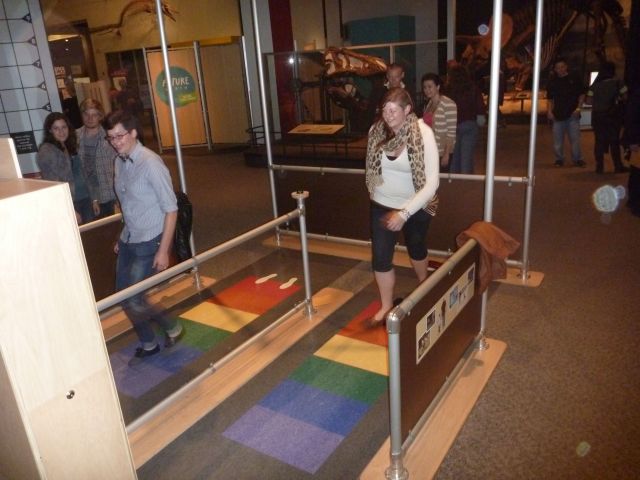 Friday was filled with rain, snuggling and Netflix. After our bout of laziness, we went bowling! Bryant Lake Bowl is a restaurant/theatre/bowling alley and we made it in just in time for happy hour!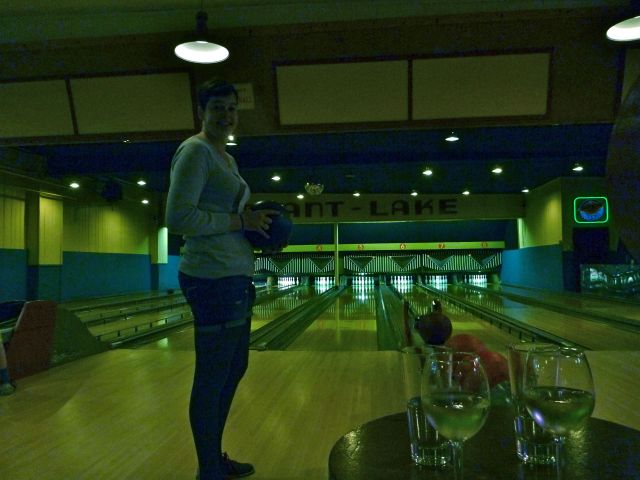 After two games and two glasses of wine, we went into the theatre for Bender Gending, a cabaret of popular musical theatre played by the opposite gender it was written for. We heard songs from Rent, Avenue Q, Hedwig and the Angry Inch, and Fiddler on the Roof, among others. After the show we grabbed a drink outside at the restaurant.
Ashley: An old friend I hadn't seen since high school contacted me after seeing us on Autostraddle and realized we'd be in her neck of the woods, so we decided to meet up for drinks! It was fun rehashing old times and comparing notes on our old classmates. We had such a good time and invited her out for our adventure the next day!
Saturday, we went to the Afton Apple farm with Susy and Swindle, where we could get lost in the corn mazes, sip on cider, pick apples and see animals at the petting zoo (wearing outfits kinda like this). It is a seasonal treat we don't find easily back in California.
We managed to stay out of the rain long enough to wander through the corn and sample some fresh picked apples before heading back into the city for a night out!
We made dinner and drinks at home, grabbed some ice cream and then went to Lush nightclub for $1 drinks. It sounded too good to be true, but the rails and drafts were indeed all only $1! The DJ was kind of a dud, but as soon as he played TLC's No Scrubs, everyone was back out on the floor. The bar had a nice outdoors spot with a fire pit, and we warmed up with some rum chata shots!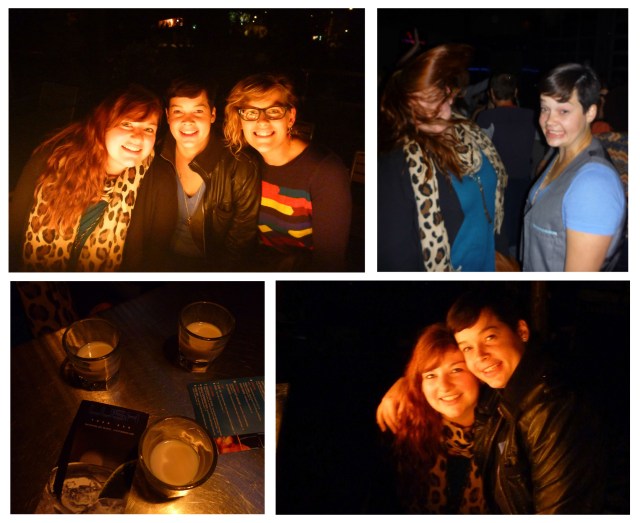 After the cab ride home we put on our PJ's, ordered pizza and danced around in the kitchen to the Spice Girls like a 7th grade slumber party. What Minneapolis offers in weather, it equally matches in character. We may be halfway through our trip, but there are still many adventures ahead!
Up next: More Minneapolis, MN and New Orleans, LA
Don't forget to visit our wordpress for extra poems, stories and pictures!