Hey, super spies. Welcome to Secretly Gay Movies, where I deconstruct movies that, underneath their pandering to the heterosexual audience exterior, hold a world of super queer thematic elements. Have you ever wanted to watch LGBT movies on Netflix without your entire account-sharing family knowing your sneaky gay agenda? Or just wished there were more LGBT movies for you to become obsessed with? Consider me your guide to the wonderful world of swimming in subtext.

If you're queer and you haven't seen A League Of Their Own, you should probably question your sexuality and/or watch this immediately because it is the GAYEST and it will maximize all of your homo powers x 3000, resulting in the acquisition of some sort of homo crown.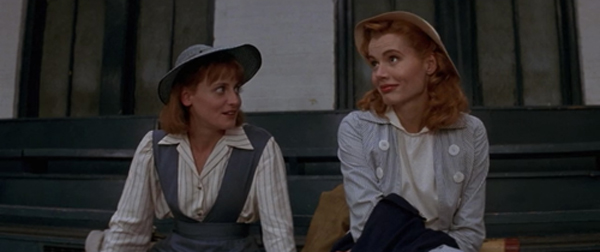 Much like Fried Green Tomatoes, A League Of Their Own is a movie that starts out at the present day (well, 1992 present day) opening of the new All-American Girls Professional Baseball League exhibit at the Baseball Hall of Fame in Cooperstown and then, through the power of movie magic, goes back in time to 1943 where we meet hot sporty farm girls who previously only existed in gay dreams.
Dottie Hinson (Geena Davis at her all-time You-Should've-Existed-In-The-1940s-For-Real dreaminess. If ever there was someone who was born in the wrong decade, it was Geena Fucking Davis. I am fanning myself. She is so gorgeous in this movie.) and her younger sister Kit (Lori Petty in her "when is Lori Petty not the greatest person ever why can't we have more Lori Petty movies seriously Hollywood I'm not fucking around" glory) both work and live at home on a farm in the middle of nowhere Illinois, play baseball together in their spare time, and dream of a world of adventure and vague lesbian subtext.
Luckily for them, Chicago Cubs owner Walter Harvey is in the midst of trying to fill the gap in baseball games created by World War II and marginalize women's sports at the same time! Multitasking! And even luckier for us, on top of being four-star 1940s superhot, Dottie is also a killer hitter/ball player.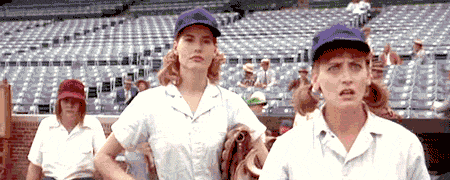 Sadly, when Ernie Capadino (John Lovitz) comes to scout for baseball players, Dottie claims to be content milking cows on the family farm while she waits for her who-cares husband to get back from the war, BUT THEN! she comes to her senses and agrees to go if and only if her less impressive athlete but dying to get the fuck out of dodge sister Kit gets to come too. So they go! And it's great! Because their farm is boring to watch!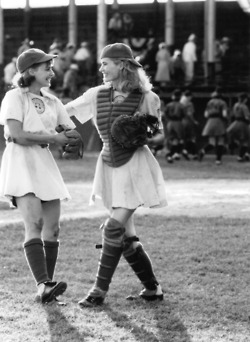 But wait wait wait! We cannot go any further without introducing….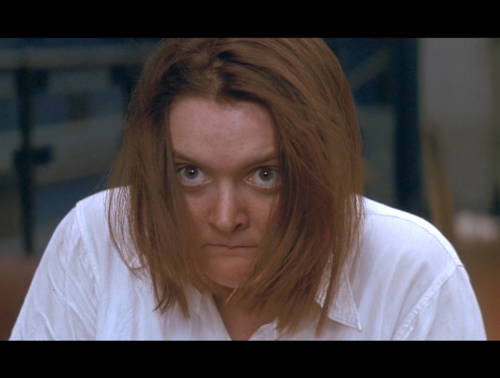 Marla Hooch.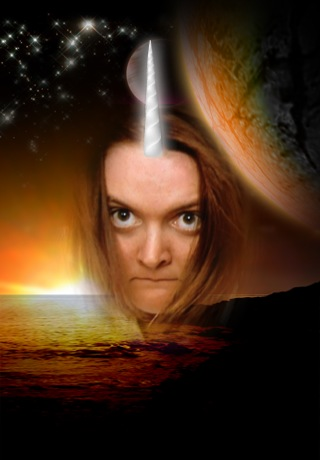 One Google search and I was pleased to find out I am definitely not Marla's only fan.
Marla is a tomboy and isn't as "pretty as the other girls" but is a blow-your-mind amazing switch-hitting slugger. Despite these case-closed qualifications, Ernie isn't nuts about her because she doesn't have the one thing you really need when it comes to being a major league sports star… conventional good looks.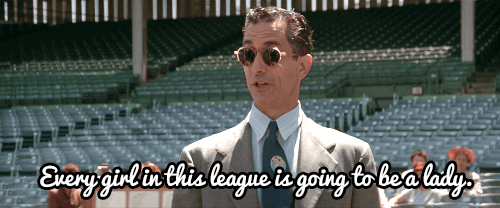 Fortunately, Dottie and Marla's dad (kind of) tell him he's a fat moron and this is baseball, not a beauty pageant and Marla gets to go and it is one of the sweetest scenes in the whole damn movie. Seriously, thinking about her crying because she wasn't sure if she'd get to play baseball because she WASN'T PRETTY ENOUGH makes my heart hurt and I want to hug someone but I can't because I'm in the library right now and everyone here is super creepy.
Dottie, Kit and Marla all arrive to the tryouts in Chicago, where we get to meet a shitload of amazing characters.
Side rant: Of all the movies to make a sequel about, this one never got one? I know they tied "everything" up at the end but man would this make one hell of a TV show I would watch nightly. Look at all the hook-up potential!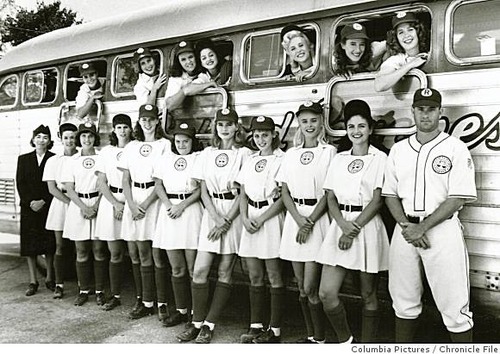 This is also the point when Rosie O'Donnell's character Doris Murphy is introduced, which should be your first clue this movie is holding some secretly gay cards. Even if Rosie wasn't out at the time, any adult lesbian worth her adult lesbian salt had to have known that when you see a character who is best friends with Madonna (at her hands down, all-time hottest and playing her best role ever, taxi dancer Mae Mordabito) and basically looks like a female version of Babe Ruth, that character probably doesn't have a boyfriend waiting for her back home.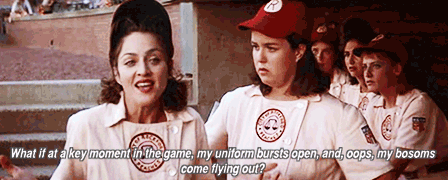 Just look at every woman's face here and tell me they are straight. I dare you.
Except this is the movies, so yes she does! Hollywood loves the old "off-camera heterosexual love interest for the obviously lesbian star" because people who don't believe in homos and children who have been taught to believe everything a character says will blindly accept these things.
But no amount of Stella Adler coaching is going to prevent us from reading between the lines of her "I do! I do have one! He uh lives in Canada and uh is a model and uh is very heterosexual. Can I go now?" casual mention of her "People will believe this because it will never occur to my teammates that being a gay is a thing even though most of us have made out" boyfriend.
Seriously there is so much gay evidence piling up on my desk right now that I am going to have to resort to this photo so that you can truly understand.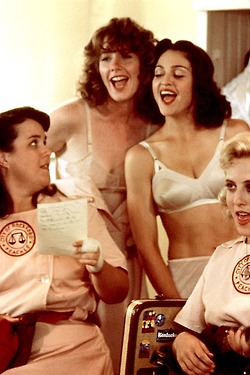 Hetero friends do this allll the time.
Now I know what (none of) you might be thinking. Just because they're all girls and they all play sports and some of them are the most obvious-looking dykes I've ever seen, doesn't mean they're all gay. True! But to those people, I say: Kit.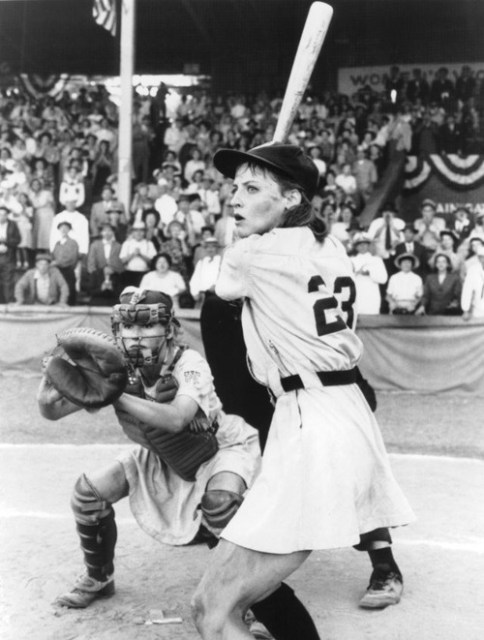 Oh, Kit, Kit, Kit, Kit, Kit. How hard I crushed on thee in my youth, despite your "Really? We can't do anything better than that? Maybe something a little shorter? A little more Mary Stuart Masterson-y? No? Okay that's cool" haircut. My love saw past horrible bobs.
You were aggressive, you were fun, you were sporty, you were scrappy, and no one like you existed in my world for another 10-15 years, or even really in present day (where are you, NYC bois???). And yet, no one was into you (unless you count childhood-Lane, in which case you had a perfectly suitable companion, so congratulations! And no I am not counting the giant tool they set you up with for like 2 minutes in the movie to straighten you out.) because you weren't like your girlie (ahem, straight) sister.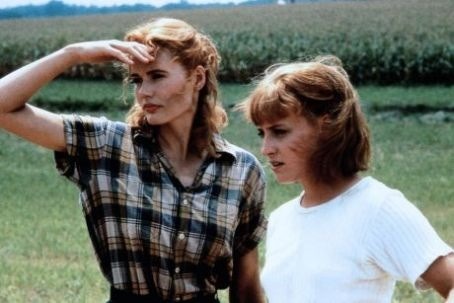 "This is our straight daughter, Dottie. And this is our other daughter, Dottie's sister."
Yes, everyone in this movie gets a straight love interest. Even Marla Hooch gets her very own George Costanza to sing to and run off with. I won't spoil the ending or anything further but man, this movie is so bursting with strong female characters, probably-lesbians, incredible female friendships, and amazing sports scenes for people who normally don't give a shit about sports, that I could probably write another 4,000 words about it, which means GO WATCH IT.
I'll even come over wearing that Rockford Peach uniform you bought for me (I am not kidding. Someone buy this for me so I can wear it every day just because) and we will ooo and ahh at one of the best female-ensemble casts of all-time.
No joke, every time the movie comes to a close and we see all of the characters rounding the bases in horrible '90s clothing, I tear up because I don't want it to end (the movie, not the clothes. Their present-day clothes should definitely stop existing)! Especially not with them all leading heterosexual suburban lives! I won't have it! But then I remember one very important rule and I am once again tough as nails.
Spoiler alert: There totally is. And they're still awesome athletes.
If you have a film you think should be featured on Secretly Gay Movies, tweet me @Hellolanemoore, send me an ASS message, or ask on my tumblr!