Welcome to Queer Outfit of the Week where I scour the world and tell you all about my one favorite queer outfit this week. I'll envision a scenario where you or your girlfriend or your best friend or your mom or your cat could wear it and talk all about why it's a great outfit for that event. Every week will be a different style, gender presentation and event so there's a little something for everyone — even the person who just wants to look at pictures of stylish queers! So let's get to it — we're going to figure out what the heck we're going to wear this week!
Header by Rory Midhani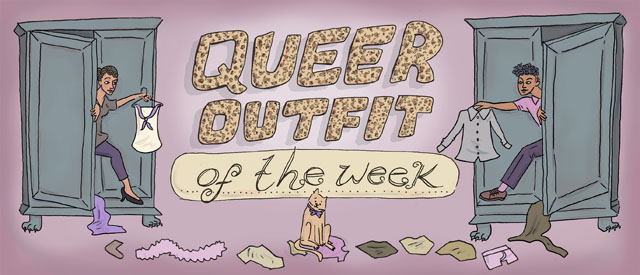 ---
I know how you can be in the fall. You've been so busy getting back into the swing of things with school/work/your new cat that you just haven't been spending as much time as you used to doing adorable things with your girlfriend. But this weekend is different. This weekend you're taking your boo on the ultimate show of autumn love and affection.  You're going apple picking!
Your apple-picking outfit has to be perfect. You're going to pose for enough squishy romantic photographs to make all of your Instagram friends lovesick and you need to look fresh to death in them. But it's also a little chilly! Should you bring an extra layer just in case your girlfriend wants it? Oh the decisions!
Disclaimer: these outfits are also fully functional for going apple picking with your friends, your family or even by yourself. Autostraddle.com does not discriminate against apple-picking companion choices.
Start with the ultimate autumn combination of a denim jacket and sweater or hoodie. If you're more butch you might want to opt for a hoodie or, for a dressier look, a men's crew-neck sweater. For a more femme look, you can go for a knit sweater and an infinity scarf.  Take a tip from our model above and use this opportunity to bust out something goofy in a fun fall shade. Something ugly-pretty or totally retro. Regardless of your sweater/sweatshirt choice, make sure your layer is small enough to fit under a denim jacket. Nothing is more uncomfortable than layers bulking up in your armpits.
On bottom it's usually best to go for pants or jeans. It might be tempting to wear a skirt, but it will cool down at night and you might get cold. Plus, you'll want to feel free to climb a tree if the moment so moves you. Cargo pants are a particularly good option if you think you might want to tote along some apple-picking gear. Generally I would also stay away from leggings. If you fall in a puddle or the mud you want a little more of a barrier between the elements and your skin (not that speaking from apple-picking-falling experience or anything). Whatever you decide to wear on bottom, you should make sure it isn't denim that matches your jacket. Never match your denims or you'll look like you're wearing the classic Canadian Tuxedo.
Finally, boots are a must. Apple picking is genuinely kind of a lot of work. Or at least a lot of walking. Plus orchards can be muddy or rocky. If you're femme or center of center military style books are a great option and go great with skinny jeans. They look cute but they're also supportive and functional. High heeled boots with get stuck in the grass and leave you looking overdressed. If you're more MOC you might want to go for a masculine boot, perhaps a classic hiking boot.
This is a good opportunity to keep accessories to a minimum. After all, you wouldn't want to lose a ring and end up spending your afternoon rooting around in the orchard for it.
Just remember, you want your look to be charming for photos but functional and worry free! That way you can forget about the world and just focus on your girlfriend and, more importantly, all those delicious Granny Smiths!
---
If you see something that you think should be featured on Queer Outfit of the Week, send me an ASS message, ask on my tumblr, or tweet me @Ohheyitslizz