A few years back, my friend hired Michelle Rodriguez to DJ her party and took her out to lunch the next day. I grilled my friend about their mealtime conversation topics — Did she talk about Kristanna? Did she deny liking girls? Did she say anything gay? Does she have a girlfriend? A boyfriend? After all, she could just be one of those Clea Duvall types who are completely open person-to-person but more reserved when it comes to public declarations of lady-loving. My friend, who has been my go-to source for the secret scoop on Hollywood and Washington DC's closeted homos for years, had been left flabbergasted by Michelle's seemingly ace performance as a not-gay person when they hung out: "I'm really not sure that she's lying! I know it sounds crazy, but she might actually be straight!"
I shook my head. "No, it's impossible. Michelle Rodriguez for sure dated Kristanna Loken so she's at least bisexual," I paused. "But I don't think she'll ever, ever, ever say so."
And then, last week, she did.
In an interview with Entertainment Weekly, Michelle Rodriguez, for the first time ever, officially and publicly disclosed her affections for ladies as well as gentlemen:
Rodriguez, needless to say, speaks her mind. She doesn't shy away from addressing her fraught early days in Hollywood ("I was loud, obnoxious, crazy") or even her sexuality. "I don't talk about what I do with my vagina, and they're all intrigued," she says of the media. "I've never walked the red carpet with anyone, so they wonder: What does she do with her vagina? Plus, I play a butchy girl all the time, so they assume I'm a lesbo." When EW points out that that's not a fair assumption, Rodriguez laughs. "Eh, they're not too far off," she says. "I've gone both ways. I do as I please. I am too fucking curious to sit here and not try what I can. Men are intriguing. So are chicks." She shrugs.
If you've not been keeping tabs on the evolving conversation around M-Rod's orientation, good news: I have. (Despite the fact that Blue Crush and LOST are the only things I've ever seen her in.) Michelle Rodriguez has been actively and vehemently denying her Sapphic inclinations for years with unrivaled conviction and the fact that she's now changing her tune — and that the response to her coming out has been so muted that I didn't even know about it until reading our Sunday Funday today — is, honestly, a pretty big deal, and really awesome for her. As I've said over and over again lately, the rate at which celebrities have been coming out over the past two years is unprecedented and honestly quite thrilling, and M-Rod's revelation is the cherry on top of the sundae that might actually be an endless sundae bar, if you get my drift. She's also the latest in a long line of women of color to come out over the past year, like Raven Symone, Brittney Griner, Jasmine Jordan and Charice, bucking the flawed stereotype (often offered as an excuse for whitewashed lesbian media) that women of color just aren't out.
So, let's look at Michelle's rocky road towards this monumental occasion, starting with her first (and last, until last week) actual disclosure of girl-on-girl culture appreciation.
In a July 2006 interview with UK Cosmopolitan, she answered a bunch of questions about her love and sex life, including mentioning a boy she'd just met in Brazil and discussing how she isn't the type to "go out looking for a man" but that her failure to do so is "sad because I'd feel more complete… perhaps there is a gap in my life." Although it's not included in the article itself, interviewer Lucy Broadbent said of the interview:
"There was something about her that suggested to me she might be gay. I was hesitant about asking, but she was so easy to talk to that I took the plunge. She said she wasn't, but that she'd experimented with both sexes. I found it admirable that she was so open about it."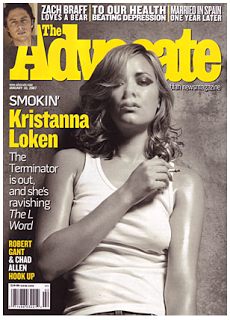 That openness pretty much stopped then and there. At the time, rumors were swirling about Michelle Rodriguez's relationship with bisexual actress Kristanna Loken, who co-starred with Rodriguez in Bloodrayne and was then playing the role of Shane's love interest Paige on The L Word. In an interview with FHM in December 2005, Loken "pleaded the fifth" when asked if they'd made out. In a November 2006 interview with The Advocate, Loken attempted to remain coy, affirming that she was seeing someone but refusing to disclose the gender or name of her partner. As the interviewer went on to ask about shooting BloodRayne, Michelle Rodriguez came up again:
What about all the stuff that was said about you and Michelle on the shoot? [Laughs, then takes a deep breath]
There is the $64,000 question. Um…I don't even know how to answer that.
It seems like you both had a lot of fun partying.
Uh-huh. [Smiles, doesn't say anything]
OK, your silence says volumes. [Both laugh]
Just don't look upstairs, OK?
Ooh, OK. You don't want me to print that?
You can print it. [Laughs again] The very hot housekeeper. No, just joking.
Then came 2007's Curve Magazine cover story. Curve writer Kristin A. Smith wrote of the ensuing fallout in Curve's October 2010 20th Anniversary Issue:
We never said she was gay or coming out, but the blogosphere (thanks Perez Hilton!) went wild with the story and our website got so many visitors it crashed eight times in six hours. Rodriguez, who unwittingly spoke to our writer at a movie junket, was pissed, blogging back: "If I wanted people to know what I do with my vagina, I would have released a sex video a long time ago."
Michelle took to her blog to lash out against the magazine for what she saw as "outing" her "on the premise of their own suspicions." Rodriguez said she wasn't insulted and did appreciate her big lesbian following "for whatever reasons they show me love," claiming she'd never "shun, disrespect or neglect" anyone who shows her "genuine non-psychotic Love." But she condemned Curve for "putting words in her mouth" and placing her in a "category" that would impact her marketability as an actress, pointing out that she wasn't even aware they were planning on putting her picture on the cover. She also condemned the "MTV A.D.D. mentality," US Weekly, In Touch and "the readers of sites like Perez Hilton.com" for spreading misinformation.
She then brought Ellen into it, sharing a deeply flawed understanding of what Ellen went through when she came out in 1997:
If I were Ellen I may get away with: ' The I'm Gay' level of exposure, but I'm not a comedian, I like men; ( real One's Anyway) and I've only bin in this business for 7 years not 20. Years of recognition can give a person lots of leverage especially if you have many years of positive recognition under your belt.
Rodriguez argued that being gay is an "extremist" position, and "extremists can rarely be mediators, mass communicators or chameleons for that matter" because there are "certain things that can close doors between a celebrity and certain audiences." She implored audiences who called her gay to think harder about how they could affect her chances with producers, directors, would-be husbands and future audience members. From the blog:
I want to communicate on a worldly scale, i don't care if your a bigot, highly religious, gay, poor, rich,stupid, or intelligent, i close no door when it comes to my media work. Some people, ( I call them 'the sheep People'), are highly susceptible to outside influences and suggestions, Especially that of recognizable media channels. These people may make up most of the worlds population. They may not want to even watch a film I produce, direct, or star in, because of Mediocre Rumors produced by insect sucubus media hounds looking for a quick buck. Who knows, I could have inspired his kid with a kids flic I produced, i could have done a female drama, that a girl would have felt empowered by, yet she didn't go see it because her religion says to 'steer from the queer', or the kid didn't see it cause highly religious Poppa doesn't want anything to do with films made by Michelle Rodriguez that DUI, Dyke, Misfit. I am free spirited enough to understand 'the keep it real be free' and 'The I can't care about everything they think' factor, yet I'm not stupid to the powers and influences of communication and I've screwed up enough to see the various repercussions of miss- communication. So All I say to both the audience and Media is to be mindful of what you say and do simply because Karma is real and you reap what you sow.
There's so much to criticize and side-eye in that post that it's hard to know where to begin — but also, I don't want to, because underneath all that transparently defensive aggression is a girl from a strict religious background who sounds, quite frankly, petrified of losing her job. Her foothold in Hollywood wasn't entirely secure yet, she's not known for making friends in the industry and as a Latina woman who refuses to take roles she sees as disempowering for women, her continued employment probably didn't seem like a sure thing. She sounds scared. That was 2007, a year which came on the tail end of Rodriguez's law-breaking period, during which she'd been arrested for assault (charges were eventually dropped) and for multiple driving violations including driving under the influence, a hit-and-run, speeding, and driving with a suspended license. She spent brief periods of time in jail and a lot of time on probation and community service. By the time the Curve story debuted, Rodriguez had a reputation in Hollywood for being unreliable.
Rodriguez grew up a headstrong troublemaker, offering physical protection to weaker kids in exchange for homework help and eventually getting expelled from five different schools. The daughter of a Dominican mother and Puerto Rican father, Rodriguez spent her early years in Texas, The Dominican Republic and Jersey City, raised Jehovah's Witness by her devoutly religious grandmother. Rodriguez eventually dropped out of her Jersey City public high school, later obtaining a GED. "Fucking public schools suck ass, dude, "she told Entertainment Weekly. "But it's all good. It taught me how to socialize." When her brother expressed concern that she'd end up 17 and pregnant, she told him, "That won't happen to me — I dress like a boy on purpose!" She worked as an extra before snagging her career-defining role in Girlfight in 2000, telling the director that she'd not graduated high school "but I can beat girls up and you want a boxer."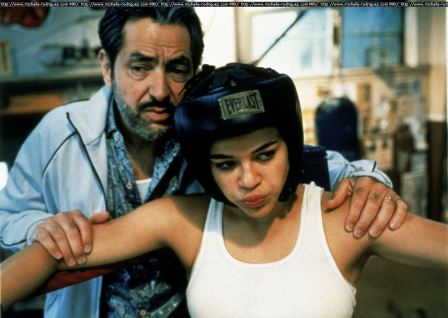 She then went on to play leading roles in Fast & Furious, Blue Crush, Resident Evil, Avatar, BloodRayne and on the television show LOST, among many, many others. Her troubles with the law quieted down after her release from jail in 2008, and in 2009 she started DJ'ing, including a gig at the 2010 GO Magazine Lesbian Nightlife Awards in New York City. Besides Loken, Rodriguez has been linked to Vin Diesel and Oliver Martinez, and in 2000 reportedly broke off her relationship with a Muslim boyfriend who proposed engagement and made religious demands of her she found disempowering.
In 2008, she told Dominican women's magazine Cayena that she is not a lesbian. When asked by RumorFix in 2011 if there were any rumors she'd like to dispel, Rodriguez quickly snapped, "I'm not a lesbian. Mitchie likes sausage." While it's true — Michelle isn't a lesbian, and she does probably enjoy eating sausage (And perhaps also enjoys penises? Specifically penises attached to cis male bodies? Is that what she's getting at here? It's hard to tell.), it's also clear that her denials haven't ever been attempts to clarify that she likes both men and women, they've just been about making sure everybody knows she likes men.
I never expected Michelle Rodriguez to come out because Michelle Rodriguez, perhaps moreso than any other actress we've followed in eager anticipation of her big reveal, has gone miles out of her way to insist that she's not gay. In a 2010 interview with Bound Magazine, Kristanna Loken was talking about her then-girlfriend Victoria when M-Rod indirectly was summoned:
It's been a year now and it's really nice to be with someone who's really happy to be out and identify as a lesbian and be secure in that because I've also had relationships with women who are really afraid of their sexuality, which I think is really sad. Without giving away too many details, because it's personal: being outspoken about who people are is important for acceptance of sexuality and I think that's something I've learned from my [gay] sister: the more you speak about who you are, the less taboo it becomes. Being outspoken I have fans write to me, very grateful young girls… I think I'm probably one of the only out bisexual celebrities that's willing to talk about it.
This is why Rodriguez's repeated statements of exclusive affections for pork products were so heart-breaking, in a way — because Rodriguez herself is committed to being a positive and empowering role model for young women, which for a long time didn't seem possible because drunk driving is not Role Model Behavior, but now might actually be possible. And as much as I understand, logically, that humans are entitled to private lives, emotionally I just can't get on board with somebody preaching strength and integrity while actively denying their own personal truths, especially at the expense of their partners. (Also, I don't think it's fair to hold her (or most people) to the extreme levels of political consciousness and correct-terminology-mastery often established in academia and consequently taken for granted on the queer internet despite its relative inaccessibility to the majority of human beings, so I don't, but the words she's chosen to talk about these things have often added insult to injury.)
From the get-go, Rodriguez has explicitly committed to films that empower women, telling Entertainment Weekly, "Female empowerment became my torch to bear. I won't bend on what I believe in. I don't care who you are — you can be the best director on the planet. If you don't get what I do, what I'm good at, I will not bend for you." In a special video to fans in 2009, she emphasized her dedication to seeing "hot girls kicking ass" on screen because she's "tired of seeing the ways girls are viewed on screen… there's a lot cooler, sexier, hotter things that women have had to offer for the last thousand years and now that we have the opportunity to show that, I'd like to be part of that movement." She's working on a script about a secret society of women and told EW she'd love to write one about a Latina superhero. Amongst Latina women in Hollywood, her career box office earnings are second only to Cameron Diaz (who most people don't even know is Latina). She's been in all the lad mags, she's a big deal, and now she's one of us, officially. If Michelle Rodriguez feels okay about coming out now, it's anyone's guess who might be next in line.
What prompted this change of heart? We'll likely never know, but she did tell Entertainment Weekly that she's been getting a lot out of therapy. It's also entirely possible that she just wasn't sure of her sexual orientation until recently. And now I'll end this piece on the same quote her Entertainment Weekly story ended on: "I always felt like a loner, and now, you know what? Fuck that! I want to know who's out there. I want to hang out with the kids and see what they are thinking about. I want to mingle."