Today, Joan Jett and the Blackhearts release their 10th studio album, Unvarnished. In celebration, I have penned this love letter to Joan for providing us with glorious inspiration since she first strummed a powerchord with the Runaways in 1975.
Top 10 Reasons Joan Jett Is Everything
10. The Runaways were many things – they were pioneers, they were jailbait, they were badass rock'n'roll icons, they were a really good excuse to watch a young, hot Lita Ford wear short silver shorts and slay some epic guitar solos. The thing is though, under all the glitter and eyeshadow and hairspray, those girls could play, and that was pretty unusual for a band of teenagers, regardless of gender. Teenage Joan helped write a number of the band's songs, including "Take It Or Leave It," "I Love Playin' With Fire" and the band's classic hit "Cherry Bomb."
9. Joan Jett in the '70s was a lithe, sneering rock goddess who oozed dangerous sexuality. Kristen Stewart was a lip-biting, blank-faced actress whose biggest claim to fame was starring as the wishy-washy perpetual victim Bella Swan in the Twilight movies. Kristen Stewart as Joan Jett in the movie The Runaways though? That was a thing. K-Stew studied Joan's mannerisms, guitar stance and even her gravelly singing voice, and her performance was easily the sexiest, most emotive work she's ever done. The movie was a vaguely hopeful work of fiction based loosely off Cherie Currie's autobiography Neon Angels On The Road To Ruin, and it didn't shy away from young Joan's queerness, or the fact that she and Cherie hooked up a few times. When Dakota Fanning's Cherie and K-Stew's Joan stare into each others' eyes in a hazy roller rink (?!) while "Now I Wanna Be Your Dog" plays in the background, each of the film's viewers' lives became just a little bit better. Thank you, Joan Jett. Thank you, Kristen Stewart. Thank you for everything.
(If you're interested in more information about the Runaways' internal dramas and sexual exploits, I highly recommend a documentary called Edgeplay: A Film About the Runaways.)
8. After the Runaways disbanded, Joan formed her own band and shopped her new music to labels. In 1981, she offered songs like "Bad Reputation," "Crimson and Clover" and "I Love Rock and Roll" to 23 different labels, and was rejected by all of them. She and her writing partner Kenny Laguna formed Blackheart Records, printed 500 copies of "Bad Reputation" and sold them out of the back of Kenny's Cadillac. They never looked back. Blackheart Records still exists today, and fosters incredible talent like the Eyeliners, the Dollyrots, the Vacancies, and Girl In A Coma.
7. Because she was out there at an early age, being badass and playing music that women didn't normally play, Joan Jett influenced a lot of young girls to grow up to be musicians. On more than one occasion, she's been referred to as the original riot grrrl or the godmother of punk. In 2004, the Blackhearts released Pure and Simple, which included songs Jett had cowritten with Kathleen Hanna of Bikini Kill, Kat Bjelland of Babes in Toyland and Donita Sparks of L7. All of those women cite Joan Jett as a major role model who helped inspire a powerful movement.
6. In 1993, singer Mia Zapata of the up-and-coming Seattle grunge band the Gits was raped and murdered. While the investigation was underway, Joan Jett collaborated with the band on a live album called Evil Stig ("Gits Live" backwards). The proceeds from this record helped fund the search for Mia's murderer, and Joan even appeared on the Mia Zapata episode of Unsolved Mysteries. The band never lost hope, and Mia's attacker was found, brought to trial and convicted in 2004.
5. Joan Jett plays a white Gibson Melody Maker, and has since 1977. Few musicians, female or otherwise, have ever looked so amazing holding a guitar. In 2008, Gibson released the Joan Jett Signature Melody Maker, which is no longer in production.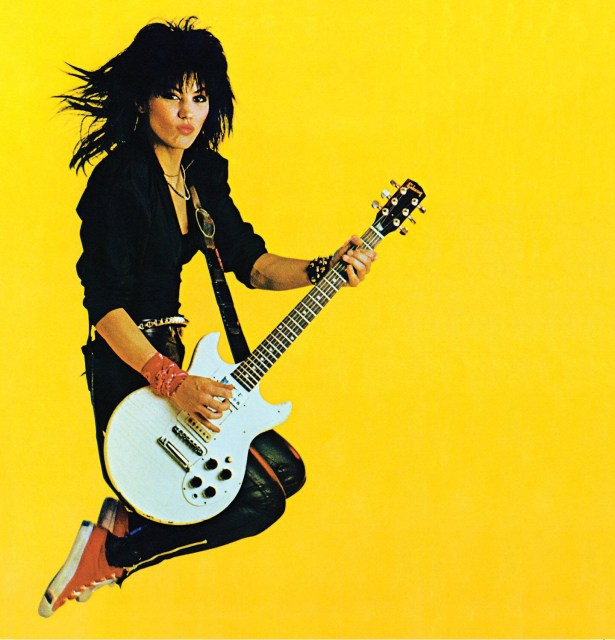 4. Hey, have we talked about the video for "Do You Wanna Touch Me (Oh Yeah)" ???? She considers it "the dumbest thing [she's] ever done" and Beavis and Butthead had a lot of strong feelings about it, but that's OK because we do too:
https://www.youtube.com/watch?v=XELpxApT8Kc
3. After decades of touring, recording and hard living, most rock stars start to look kind of like the Cryptkeeper, but Joan Jett still looks fresh-faced and amazing. She credits most of that to a healthy lifestyle and her vegetarian diet, and over the years she's done a great deal of work with PETA and other animal rights organizations. In 2012, she received the Nanci Alexander Activist Award for her compassion and tireless activism.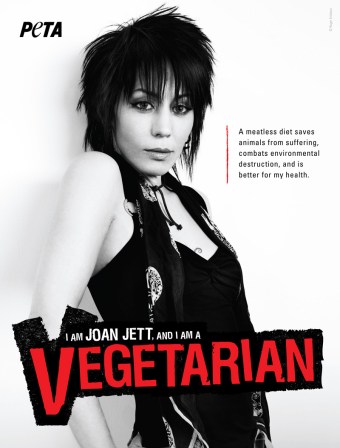 2. For years, Joan's refused to make an explicit statement about her sexuality, claiming that the truth is in her lyrics and that her personal life is personal. At the same time, she's appeared on Cyndi Lauper's "True Colors" tour, performed and recorded with trans* Against Me! frontwoman Laura Jane Grace, and covered Sweet's ode to bisexuality "AC/DC" on her 2006 record Sinner. It was around that time that she was also heavily rumored to be dating the star of the "AC/DC" video, world-renowned attractive person Carmen Electra. Despite her refusal to directly acknowledge any speculation about her private life, Joan's been a visible and supportive queer presence.
https://www.youtube.com/watch?v=qtO2qkh6rF8
1. Some artists spend their entire careers reinventing themselves, changing their sound, their hair, their dance routines. Joan Jett (thankfully) is not one of those artists. She's been in the business since 1975, and in that time she's only gotten stronger. Her new record Unvarnished is out today, and it includes collaborations with Laura Jane Grace of Against Me! and Dave Grohl. Every song on it sounds like it could have been on Up Your Alley or I Love Rock and Roll – which is a huge compliment. Sometimes when older bands put out new records, their audience wince and wish they'd just shut up and play the hits, but Joan Jett keeps bringing it harder every album. Never stop, Joan. We love you.