"'Filthy pussy' is so much better than 'flea-bit dog cunt.' If somebody called me a 'flea-bit dog cunt,' I'd laugh at them. But if somebody called me a 'filthy pussy,' I'd be truly offended. That's something that I quote from the movie: filthy pussy."
— Kristen Stewart
Listen up, jokers. I feel like most of you saw The Runaways while it was still in theaters (due in part to Julie & Brandy's reenactment, The Runagays, no doubt), and yay for you, but guess what: I didn't. Lucky for me and you and everyone we know, it was released on DVD this week and I finally have a copy in my greedy little hands.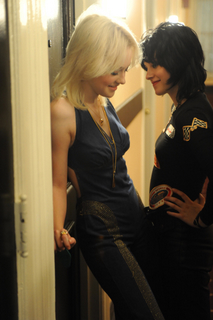 LISTEN TO ME, ARE YOU LISTENING? LISTEN. The commentary of this DVD is The Fucking Best Thing I've Ever Heard and you have to go watch/listen to it now. It's Joan Jett, Kristen Stewart and Dakota Fanning and they cover the typical commentary-type stuff: what it was like to film that day; this one scene was cut; I loved that extra, etc. HOWEVER BABIES, there's more. This commentary will just feel, I don't know, familiar to you, maybe. You know? I think the thing you'll love the most — THE MOST — is Kristen. It'll be like you just relate to her. DO YOU UNDERSTAND WHAT I'M SAYING TO YOU.
Go get it. Here: order The Runaways from Amazon and we'll get a dollar or something. Watch it. THE COMMENTARY. You will love it. You've loved a lot of things in your life, but this? This is a thing you will ADORE. It's awkward and funny and familiar. Let me know what you think.