Hello, radical rabbits! This week I ate a lot of (store-brand) pasta, walked Eli 8 miles in one day, and watched hella Simpsons. Tomorrow I'm leaving on a jet plane to see Intern Grace. Life is good, is what I'm saying.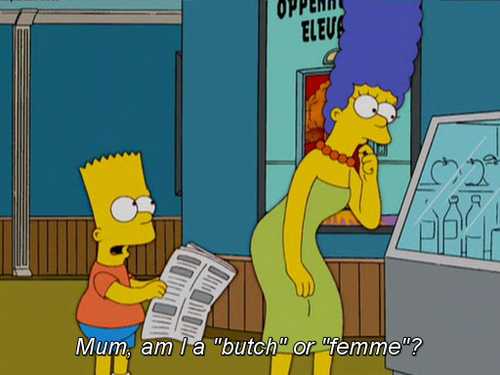 A Pasta You Can Believe In
Bertolli is a magnifico pasta choice for queers and their allies who have carb addictions like mine during this trying time. Pasta is important. If you don't agree, you're not my mother's child.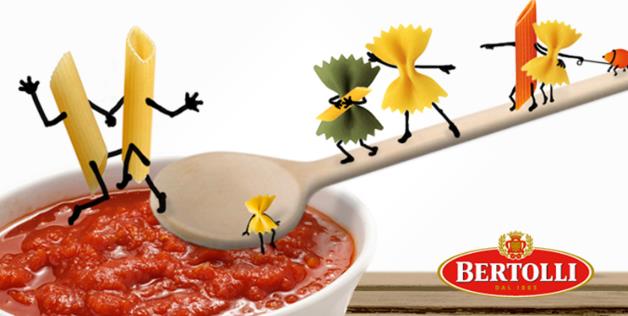 Friday, Bertolli Germany posted this pro-gay ad on its Facebook page with the caption: "Love and pasta for all!" "We just wanted to spread the news that Bertolli welcomes everyone, especially those with an empty stomach," a representative for Bertolli, which has a history of being gay-friendly in its U.S. advertising, told Adweek.
You Should Go: Queer Yr Media w/ CLAGS
The Center for Lesbian and Gay Studies in New York has two events coming up and I don't want you to miss them!
+ EMBODIMENT: A Portrait of Queer Life in America: Monday, September 30, 2013 from 6:30 PM to 8:30 PM
Molly Landreth, the recipient of the Robert Giard Fellowship in 2010-2011 for her multi-platform visual survey EMBODIMENT: A Portrait of Queer Life in America, will present images from the project and engage in a freewheeling conversation about it with art historian Professor James Saslow of Queens College and the Graduate Center of the City University of New York.

Describing her grant-winning project, Ms. Landreth says that Embodiment is "is a multimedia archive and a journey through a rapidly changing community and the lives of people who offer brave new visions of what it means to be queer in America today. Stopping in churches, parks, high school classrooms, backyards and bedrooms, I have collaborated with individuals from both urban and rural areas for over 6 years. … Created as a joint effort with participants who boldly stand in front of my lens, Embodiment reveals images of love and survival, creative forms of gender expression and the ever changing anatomy of a family. It is my hope that these photographs, written statements, and short films will become a lasting archive for generations to come."
+ Gay Media in America: Wednesday, October 2, 2013 from 7:00 PM to 9:00 PM
This roundtable convenes nationally acclaimed gay media professionals to discuss and examine the role of gay media outlets in U.S. and proffer arguments about the vital importance of reporting by gay media outlets known as specialty media. The panel includes Ann Northrop (co-host of a weekly cable Gay USA television program), David Badash (publisher and editor-in-chief of The New Civil Rights Movement forum blog), Andrés Duque (publisher and editor-in-chief of the Blabbeando LGBT blog), and Michaelangelo Signorile (host of OutQ Radio and the Michaelangelo Signorile Show, who are carried by Sirius Radio XM). Tanya Domi, Director of Media Relations at the Graduate Center will moderate the panel.
Michelle Rodriguez Likes to Go Your Way
 Rawr.
Girlfight and Fast and Furious star Michelle Rodriguez, previously very cagey about how she identifies, speaks openly about bisexuality in an interview in Entertainment Weekly's latest issue.

"I don't talk about what I do with my vagina, and they're all intrigued." she says of the media. "I've never walked the carpet with anyone, so they wonder: What does she go with her vagina? Plus, I play a butchy girl all the time, so they assume I'm a lesbo." When EW points out that that's not a fair assumption, Rodriguez laughs. "Eh, they're not too far off," she says. "I've gone both ways. I do as I please. I am too f—ing curious to sit here and not try when I can. Men are intriguing. So are chicks." She shrugs.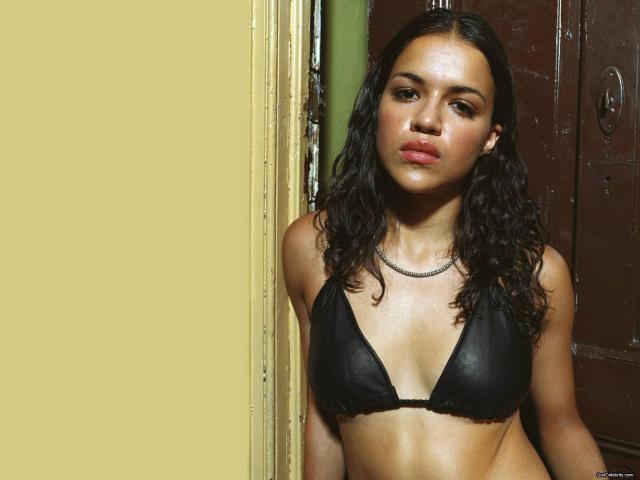 Drunk Women from 1795
When I was 21, my two lesbo roommates, Katie and Katy, moved out suddenly without a peep. No, really. We discovered their empty room at the beginning of the month in which they'd moved in. To cope, my roommate and I drank copious amounts of gin and sat at the dining room table laughing about it for no less than three hours.
Turns out, I was a small part of a long history of gin-swilling ladies who get brazen. And that history dates back to 1795.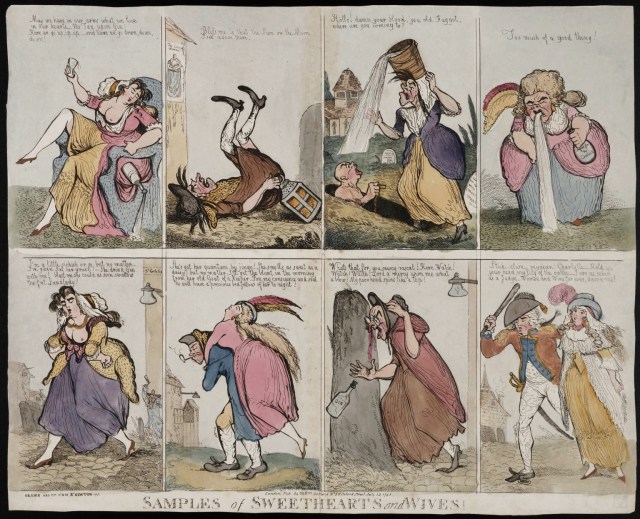 Rosie's Still Riveting
Bells Will Be Ringin'
IT'S TIME FOR THE WEEKLY GAY MARRIAGE ROUNDUP! HIDE YOUR PRIEST AND KIDS!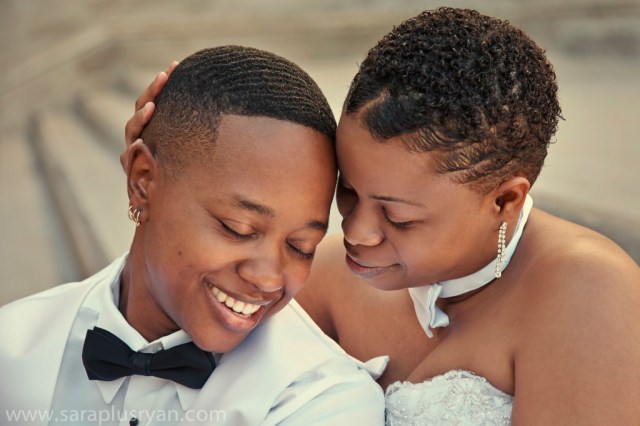 + The Illinois gay marriage ban challenge will proceed.
+ I'm willing to celebrate gay marriage coming to New Jersey with a solid fist pump.
+ Exxon will extend healthcare benefits to same-sex couples, but is still one of the most evil corporations in the history of time, Rupert Murdoch's empire aside.
Don't Mess With (Gay and Gay-Friendly) Texas
Why are my eyes leaking? What is this? Texas, I'm damn proud of you.
Meet Lulu, A Trans* Girl from Argentina
Luana, or Lulu, may be the youngest person in Argentina's history to legally change her gender.
Lulu's mother, Gabriela, petitioned Buenos Aires Mayor Daniel Scioli and Argentine president Cristina Kirchner to allow her daughter to be legally recognized as female, though she was assigned male at birth. Gabriela told the public officials that her daughter has identified as female since she first began to speak.

"By accepting that my son was not the son I gave birth to, but a girl, I accepted her identity and put myself at her side," Gabriela told the Telegraph from Buenos Aires.
Queering Disney
Haruki Godo has put into images what I've been fantasizing about for my entire life.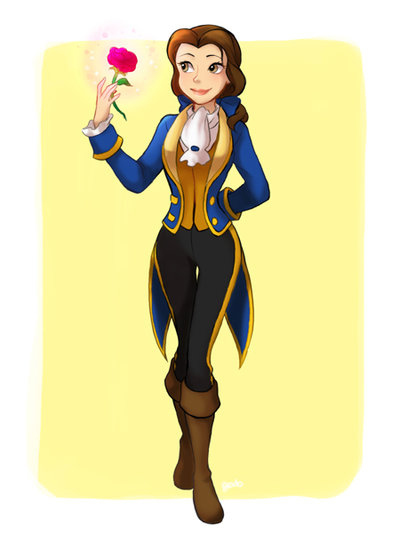 My Ultimate Soul Twin
Sometimes when I go out, I feel like I'm going to fall over if I don't get home by 12AM. This pup understands.